• Why a trade out of Pittsburgh will only come on Phil Kessel's terms
• Will captain Joe Pavelski move on from the Sharks?
• Colorado, Philadelphia and Chicago interested in Kevin Hayes
It is the Stanley Cup of calm.
The unflappable Bruins against the unshakeable Blues. One of the themes of their 12-5 Eastern Conference run is that Boston's experience convinces them they will win. There's no panic, no despair. They've seen it all before. As Zdeno Chara said last week, the rookies are accepted without hierarchy. In return, they trust the veterans to pull them through.
One opposing coach said the Blues really won the Western Conference between Games 3 and 4, when they reset and disposed of their anger from Timo Meier's hand-pass overtime winner. Instead of letting it affect them long-term, they took over the series. When you're in last place on Jan. 3 and in the Stanley Cup five months later, you can leap the high hurdles.
Coaches create the atmosphere, but calm comes from the goalie. Jordan "Do I Look Nervous" Binnington is 6-1 in Games 5-7 of the first three rounds. Just twice (Games 3-4 vs Winnipeg and Games 4-5 vs Dallas) has he lost two in a row.
Only Hall-of-Famers George Hainsworth (1.86) and Turk Broda (1.87) have a better road playoff goals-against average in their careers than Tuukka Rask's 1.97 (minimum 25 career starts). He's got a 1.84 goals-against average and a .942 save percentage in 17 games. The only goalies to beat those totals in at least the same number of appearances are Jean-Sebastien Giguere in 2003 and Jonathan Quick in 2012.
Carolina's talented defence outscored Washington 21-13 in the first round and the Islanders 9-4 in the second. Boston's defence, which had two players above 18 points in the regular season, outdid the Hurricanes 10-3 in the conference final.
There is a running theory — with good statistical backup — that teams who hit a lot don't have the puck. The Blues had three games in each round that were anomalies to that. They were either outshot or equal, but still played the body and delivered greater punishment. That includes Games 1, 2 and 3 of the Western Conference Final. In the latter, shots were even, but hits were 43-21. Yes, the Sharks won two of those games. But the physical pounding was a huge part of the turn.
Bruce Cassidy was no guarantee for a second NHL coaching job. Neither was Craig Berube. One is going to lift the Stanley Cup.
Neither team spends much time near the bottom of the NHL. The Bruins hold the longest playoff streak in NHL history — 29 years from 1968-96. The Blues are third — 25 in a row from 1980-2004. Boston's missed the playoffs twice in the past 12 years. St. Louis had a bad run when its streak snapped, but made the playoffs in seven of the past eight. Neither team's had more than two top-five picks this century, so they've had to find players.
Boston took Patrice Bergeron 45th in 2003 and Brad Marchand 71st in 2006. One's going to the Hall of Fame and the other is building a resumé. The Blues' late picks don't have those pedigrees, but they snare important pieces out of nowhere. They latched onto Colton Parayko where most of the NHL missed. No one left in the post-season hits like Samuel Blais: six per game, behind only William Carrier (6.1) and Matt Martin (6.8). As a 17-year-old, he spent most of the year playing Quebec Triple-A, then was brought to QMJHL Victoriaville for Les Tigres' final 25 games. The Blues gambled on his offensive skills and sense, taking a chance with the 176th pick in 2014. He scored 26 as a first-year pro in AHL Chicago, and they are confident that touch will come at the NHL level.
If there is a difference, it is their path to now. Both clubs had high expectations. While the Bruins soared, the Blues had to crawl out of a ditch. It must be incredible to them, remembering all the rumours — Alex Pietrangelo to Toronto, Vladimir Tarasenko to Carolina — and seeing where they are now.
Both where they hoped and expected to be. Looking forward to it.
[snippet id=4532907]
1. Here's my sense of what's going on with Phil Kessel: he vetoed a trade to Minnesota and the story is out because both teams are unhappy. He cannot be traded to the Wild without specific approval, and, if you know Kessel, you know he will stand up for his rights no matter what anyone else thinks. The fact it got out may make it even harder to complete, because he'll push back against pressure.
I'd heard things went badly last season between him and the organization, and this confirms it. He knows he will be traded because there's no benefit to staying, but he's going to make sure it is on his terms if the Penguins want to send him anywhere other than his eight-team list. My guess is Arizona would be high on his choice of destinations, but I don't see an easy fit. The Penguins want scoring in return and the Coyotes finished 28th in goals-for. Memorial Day weekend comes at a perfect time for everyone to take a deep breath, drink some strawberry daiquiris, then search for a solution.
2. You know who else can't be thrilled? Jason Zucker. That's twice (Calgary at the deadline) he's been sent somewhere, only to have it aborted. Someone is going to get a very motivated player. He must want to strangle someone.
3. One of Carolina's big off-season questions: Would Don Waddell stay as the Hurricanes' President and GM? His contract is up. "The answer is yes," he said Friday afternoon. "(Owner Tom Dundon and I) are working on terms, but we have a mutual agreement to continue in this direction."
4. Like everyone else, Carolina's got roster questions. Both Curtis McElhinney and Petr Mrazek are unrestricted free agents. Justin Williams is "East Coast Joe Thornton" — he can take the time he needs to decide his future and has indicated he will play there or retire. But Waddell, who expressed mild dismay with Rod Brind'Amour's exclusion from the Jack Adams Award finalists, knows the key thing to recreate is the bond between the players. "They did everything together. It was a unique group. The mindset and the culture. You talk about playing for the crest in front, not the name in the back — that was this group."
Two moments stood out. He mentioned back-to-back games March 8-9. On the Friday, they were destroyed 8-1 at home by Winnipeg, then boarded a plane for Nashville — a very tough place to play. They won 5-3. As for the second, if you follow Jaccob Slavin on Instagram, you know that he and wife Kylie are adopting a baby girl. "Jaccob really wanted to be there for the birth," Waddell said. "It was very important to him. We understood, but it was between Games 1 and 2 of the Washington series. The only way it could work was that Jordan Staal owns some hours on a private plane. Jordan made sure it happened. That's how they treated each other." Not a surprise from a Staal, but that's a great story.
5. After the Hurricanes were eliminated, a couple of sources indicated there was some in-season frustration from Brett Pesce that might force a trade. Waddell confirmed that was true, but is no longer a concern. From the start of the season through December, Pesce was seventh on the team in ice-time, down 1:31 per night from his 2017-18 average. From New Year's Day on, he jumped to 21:20, behind only Slavin and Justin Faulk. (His playoff number was 23:06, also third). Crisis averted. Good news for Carolina, he's a good player. If there is a defenceman who might get moved, it is Haydn Fleury. No longer waiver-eligible, he needs a place to play.
6. It was clear at San Jose's season-ending media conferences the deep respect GM Doug Wilson and coach Peter DeBoer have for Joe Pavelski. The captain said all the right things at his availability: "I'm pretty confident," and "I've got a pretty strong belief system that I'll be here." What's created doubt is that there appears to be little or no negotiations to this point. Historically, the Sharks don't let things get this close. Logan Couture, Martin Jones and Marc-Edouard Vlasic all signed one year early. Brent Burns was extended seven months before freedom. Joe Thornton is a different story, since he's been flexible, needs time, and will only play there.
The one exception in recent years was Patrick Marleau, with the Sharks deciding to pass when Toronto offered a third year. He was turning 38 when that occurred, three years older than Pavelski is now. I've asked around, and most teams expect Pavelski to stay, simply because that's what they think he wants and Wilson makes things work when he wants them to. Because of what happened with Marleau, anyone who wants to snare Pavelski knows term will be what it takes.
7. Logically, Erik Karlsson's future affected Pavelski. Wilson is a vault when it comes to contract talks, but word is San Jose kept hope they could extend the defenceman. Karlsson made it clear he's curious about the process, which could force the Sharks to change priorities. It is widely believed he'd like to see if Tampa Bay can make it work. Last summer, then-GM Steve Yzerman pursued John Tavares even though that looked impossible. Is there any reason Julien BriseBois would think differently?
8. In addition to the injuries, thought the Sharks' veterans — so good in the first 16 games — ran out of steam. It will up to their younger core to continue to grow. Curious to see if Dylan Gambrell, who scored in Game 6, gets more of an opportunity. There was an occasion at NCAA Denver where then-coach Jim Montgomery showed one of Gambrell's goals, saying, "That release is why he'll be in the NHL."
9. Kelly Hrudey saw something interesting with Martin Jones. In two similar plays vs Vegas and Colorado, he was three feet apart in goal. Against the Golden Knights, he was 7.4 feet out. Against the Avalanche, it was 4.2.
10. We just passed the fourth anniversary of Mike Babcock's hiring in Toronto. Babcock made it very clear that he hoped others benefitted from his eight-year, $50-million-ish mega deal and that is indeed happening. It is believed that Babcock, Florida's Joel Quenneville, Montreal's Claude Julien and Philadelphia's Alain Vigneault's average at least $5 million per year, while Ralph Krueger (Buffalo) and Todd McLellan (Los Angeles) weren't too far off. Coaches are loathe to reveal their numbers to annoying reporters, but the estimation is that the average bench boss now makes between $2.5-$3 million per season. That's a big win for them.
11. Edmonton and Dave Tippett aren't married yet, but they are arranging who is sitting with who. I do believe new GM Ken Holland compiled a list of potential interviewees in case something went sideways, but it will be a major upset if this doesn't happen. (I think the list included Scott Gordon, Glen Gulutzan, Lane Lambert, John Stevens and newly unavailable DJ Smith). Would not be surprised if Jim Playfair (with Tippett in Arizona) and Mark Lamb (with him in Dallas) join his staff. The only other opening is Anaheim. We know Lambert is getting interviewed there, but wouldn't it be weird if Dallas Eakins, coaching future Ducks in the AHL's Calder Cup semifinals, doesn't take over?
[snippet id=3816507]
12. DJ Smith first ended up on Ottawa's radar in 2014-15 when one of their 2013 draftees, Tobias Lindberg, joined OHL Oshawa. They liked how Lindberg (later traded to Toronto in the Dion Phaneuf deal) developed under Smith. The Generals won the Memorial Cup with a group that was greater than the sum of its parts. In 2016, the Senators wanted to interview him for the previous opening, only to be denied by then-GM Lou Lamoriello. Smith was going to become the Islanders' coach last summer until Barry Trotz became available. With Pierre Groulx staying on as goalie coach, you can bet what you own that Ottawa will gauge Bob Boughner's interest in joining the staff. Smith was Boughner's assistant at OHL Windsor when the Spitfires won back-to-back Memorial Cups in 2009 and 2010. There will be competition, especially if San Jose decides it wants Boughner back, too.
13. I think the Senators are going to investigate the possibility of bringing back Jason Spezza.
14. Other assistant coaching shuffles: Toronto hired Paul McFarland to fill one opening on its bench. There is another, and you have to assume someone with an expertise on defencemen will be the choice. On the 31 Thoughts podcast, we wondered about John Stevens, who has an incredible reputation for working with them. Stevens, who I believe was the highest-paid assistant in the NHL before being promoted in Los Angeles, is expected to resurface. I think he talked to Chicago, but there may be other possibilities.
Toronto could chase Boughner, too, but another name to watch is Jay McKee, from OHL Kitchener. Trent Yawney, another strong instructor, is expected to re-join McLellan in Los Angeles. Jim Hiller has talked to Arizona and Nashville, and probably others. There's been a lot of speculation about why he's leaving Toronto. What I was told? "It's simply time for everyone involved." He and Babcock have been together the last five years.
15. Word from the Worlds is there's a lot of due diligence being done on Kevin Hayes. Colorado, Philadelphia and, most interestingly, Chicago among them. Hayes, you'll remember, was drafted by the Blackhawks but chose the Rangers in free agency. Chicago saw him score a beautiful overtime winner against them after he was traded to Winnipeg.
16. Speaking of free-agent centres, Derick Brassard is expected to begin workouts Monday in Montreal and has told friends around the NHL that he will be doing more skating than ever. It was a hard season for him, with 14 goals and 23 points for Pittsburgh, Florida and Colorado. He hasn't had too many long summers — 99 playoff games in the past seven seasons — but has made it clear he's determined to take advantage of this one.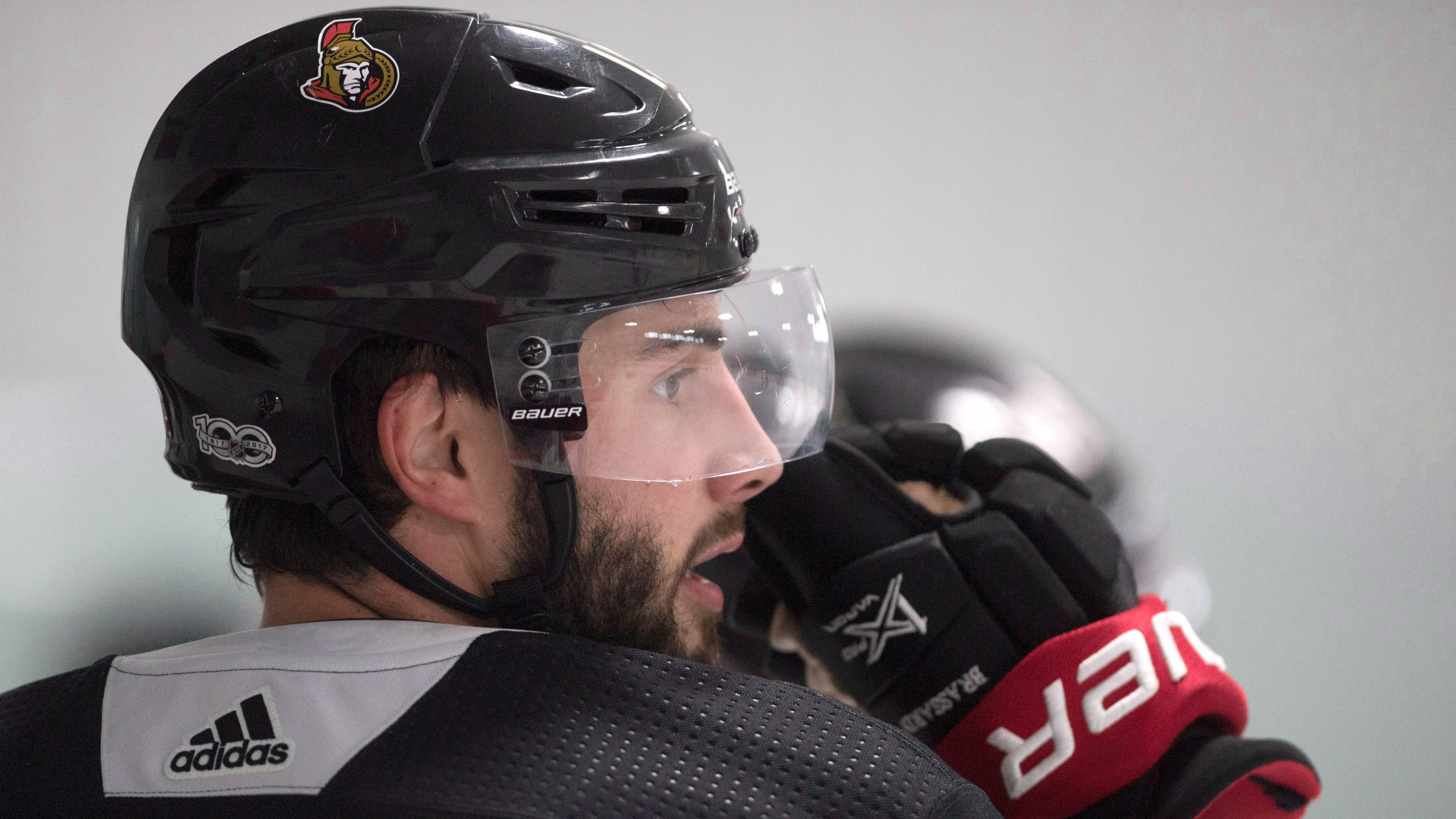 17. One way Vegas can ease its cap crunch is by moving the final season of David Clarkson's contract. The hit is $5.25 million, but it is $3.25 million of actual cash. The Golden Knights will try. Another move is expected on defence.
18. Sergei Andronov, a 29-year-old winger who played at KHL CSKA Moscow, informed interested NHL teams on Friday that he will stay in Russia. A 2009 St. Louis draft pick who spent two years in the AHL, Andronov got a better offer overseas. Calgary, Columbus and Toronto were among interested parties.
19. Didn't know this before the Western Conference Final, but a couple weeks before the 2007 draft, Florida held a private skate for Logan Couture. Legend has it that the Panthers made it clear the OHL Ottawa centre would be their pick if still available at their 10th position. The Sharks found out about it and traded up twice. Their first move was with Toronto (Vesa Toskala), but they realized 13 — where they got to — wouldn't be good enough. So, they flipped that selection (adding a second and a third) with the Blues to get to No. 9, one spot before Florida. Couture finished the playoffs with 14 goals. That's been beaten just 21 times.
20. Commissioner Gary Bettman meets with the media before Game 1 of the Final. It will be interesting to see what he says about the future of video review. We are headed for change, but the question is, "What will that look like?" Watching the aftermath of San Jose's Game 3 overtime winner against St. Louis, I can't tell you how many people were struck by the lunacy of everyone in the building knowing about Timo Meier's hand pass — except the four people who mattered most. It was on the scoreboard, on TV screens, on phones. But not accessible by the officials.
For the second time in the post-season (the Game 7 crew from Vegas/San Jose was the other), officials were sent home because of in-game mistakes. (It should be pointed out the league backed Kelly Sutherland, who did not eject Charlie McAvoy in Game 6 of Boston/Columbus. He is still working — assigned to the Cup Final). No official wants to make that kind of mistake, nor suffer the public rebuke of a post-season banishment. According to multiple sources, they are willing to accept expanded review. But what will be the scope of it?
21. The problem with the debate is that few would have predicted what happened with Pavelski against Vegas or Meier against the Blues. So, how do you protect against what you may not expect? Review all goals? For what, specifically? Brad Schlossman of The Grand Forks Herald reported last week that both of those scenarios could have been reviewed under NCAA rules, where there are 14 different options for replay.
One of the ideas being floated is doing this just for the playoffs, but I think that's wrong. It's hard to make the post-season, and the consequences for failing to do so are severe. Another idea suggested to me is taking one referee off the ice (on a rotated basis) to sit as the "eye in the sky." That would, in theory, open up some room. It is on the Competition Committee's agenda, that meeting set for June 11.
22. Boston/Carolina Game 4, the night after the Sharks' disputed goal, featured six whistles for hand passes. That was the most in any game this season, surpassing the five from Carolina/Buffalo on Feb. 7. Total coincidence.
23. It is expected that the International Ice Hockey Federation will want to know by September 2020 if the NHLers are going to the Beijing Olympics.
24. The Arizona sale is expected to be on the agenda of the Board of Governors' meeting during Awards week in Vegas.
[relatedlinks]
25. One assistant coach who is not available: Rick Wilson. The Flyers brought him out of retirement last December to see if he could help their defenders, with noticeable improvement in several cases. Alain Vigneault brought in Michel Therrien and Mike Yeo, retaining Ian Laperriere, so there wasn't room. But there are no hard feelings. "A new coach wants to bring people he's quite comfortable with," Wilson said last week. "As he should. This is a hard enough job, you want to have everything going your way." If anyone calls? "I'm not taking it right now," he laughs.
26. Wilson's spent most of the last 30 years mentoring defencemen, starting with the Derian Hatcher, Richard Matvichuk, Darryl Sydor, Sergei Zubov-led group that won Dallas its Stanley Cup in 1999, to success story Jared Spurgeon in Minnesota, to current Stanley Cup competitors Joel Edmundson and Colton Parayko in St. Louis. He refuses to pick favourites, but laughed a little thinking about some of the mental battles with Hatcher and Zubov.
"You want to teach them how hard it is to win, and there's nothing better than seeing it happen. But, I would also say that some of my favourites wouldn't be the obvious ones. There are players who weren't expected to be long-time NHLers who stayed for a while on the second or third pair. Helping them make it is special." His best advice for any coach in a new situation: "Be strong in your message, but be patient with looking for immediate return on the message. Be consistent. Be willing to work on the relationship. That doesn't mean you have to be soft." Polite, but firm? "Yes. Strong enough to hold on to your message and expectations. Patient enough to see it grow. Outlast them."
27. Wilson agreed to discuss a couple of the Flyers. I asked him about the belief Ivan Provorov was mentally affected by trying to secure a big second contract. "I don't know if the contract bothered him, or if he was being pushed to get more offence to help that," Wilson answered. "Instead of letting it happen with his natural gifts, he was forcing it a bit. When that happens, you start to overdo it. You're never going to be perfect, but that makes it worse. Less is more. Let the puck do the work and catch up to it, instead of you doing the work." He paused. "But (Provorov) has the right attitude. He wants to be on the ice all the time in every situation."
On 35-point man Travis Sanheim, a left-shot who was moved to the right side next to Provorov: "Very impressive. We gave him a lot to chew on and a lot of responsibility by playing him on his off-wing. It can be good and it can be difficult. He handled it fairly well, but going to his normal side will help him more offensively." Wilson talked up Robert Hagg ("good penalty killer") and Radko Gudas ("he worked really hard to stay in control"), adding both Samuel Morin and Philippe Myers are "both ready. They can play. The key is they will both hit a wall, as all young players do. What do you do then? How do you handle it? It's not easy." Wilson did not mention Shayne Gostisbehere, so I brought him up. He was careful.
"I would just say that I'm a little disappointed I couldn't help him bring more of his best on a consistent basis … he is very talented and it is in there."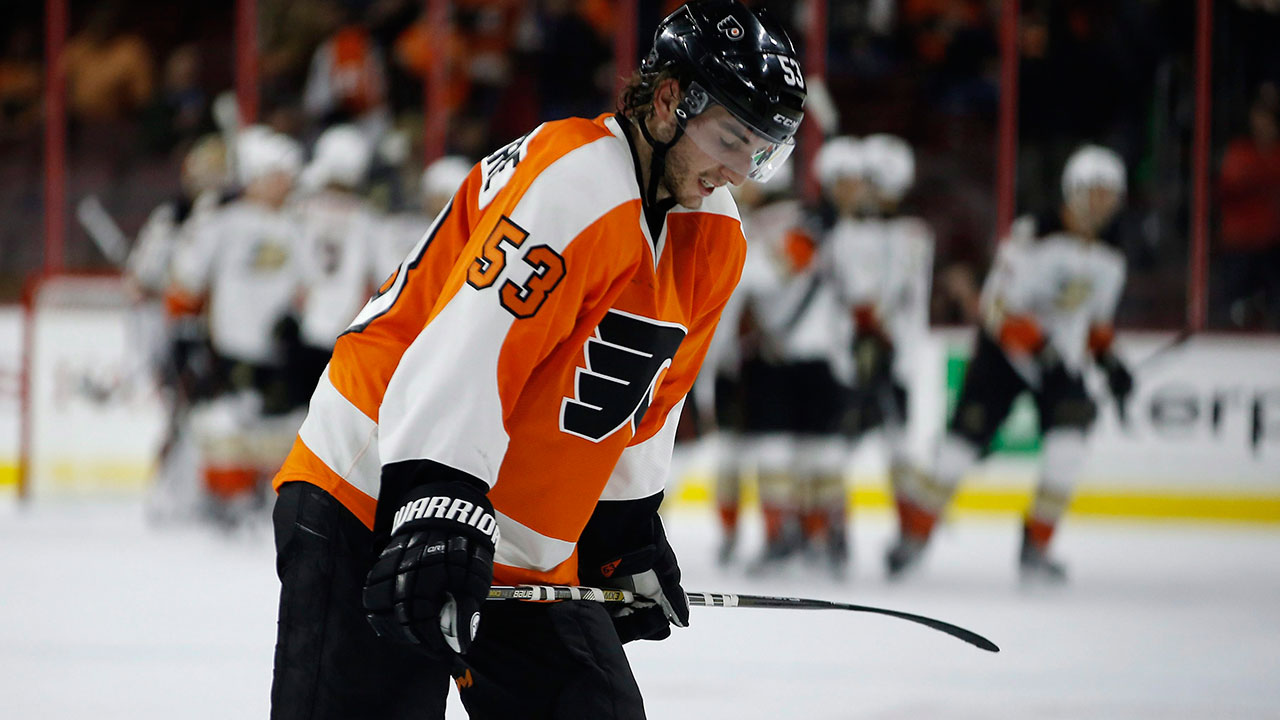 28. Outstanding gesture of the week: The late, great Dan Kelly called the Blues' last Stanley Cup games in 1970. Son John is their regular television play-by-play voice, but local tandems do not work in-game after the first round of the playoffs. However, the team's radio voice, Chris Kerber, graciously offered Kelly the opportunity to call one period per game during the final. Not only does that keep the "Kelly Cup" tradition alive in St. Louis, but allows both voices to fulfill what everyone dreams to do.
29. It has not been easy for the WHL in the Memorial Cup — no wins from its playoff champion since Kelowna reached the final in 2015. But, it hasn't gone unnoticed or unappreciated that their last two winners — Swift Current and Prince Albert — are in their smallest markets.
30. In August 2014, I wrote about Mitch Wilson, who played 26 NHL games with New Jersey and Pittsburgh during a professional career that last over a decade. A tough, tough player, Wilson accumulated more than 3,000 penalty minutes. Months before the article, he'd been diagnosed with Lou Gehrig's Disease (ALS) and desired to raise awareness. (The Penguins made a substantial donation to his GoFundMe page). As you would expect from someone with his resumé, Wilson fought the brutal condition as best he could. Sadly, he passed away on May 18, at age 57. There was lots of help from his former teammates, the NHL and the NHLPA, but a couple of people asked that Jake Goertzen, who scouted for Tampa Bay from 1992-2008, be recognized. Goertzen gave Wilson a big break with the WHL's old Seattle Breakers in 1980, and reunited with him to help Wilson through this. "Above and beyond," is how Goertzen's dedication was described. All the best to Wilson's family and friends.
31. On Sunday March 24, 1996, the Toronto Raptors defeated the Chicago Bulls 109-108 in front of 36,131 fans at SkyDome. Those were the 72-win Bulls, who set a record for most victories in a season. The building was going bananas as the expansion franchise, in its 67th game of existence, unbelievably won that game. It was impossible not to feel the promise behind Damon Stoudamire, who would be Rookie of the Year.
When that went sideways, they regrouped with Vince Carter. Even as his Game 7 jumper clanged off the rim against Philadelphia in 2001, no one could have imagined the years of torture to follow. There were great moments for sure, but too many close calls, painful defeats and infuriating defections. Saturday night, with a chance to clinch a berth in the NBA Final for the first time ever, well, Toronto is going to be Crazytown.
It's been way too long since the city was so electrified. In my lifetime, Roberto Alomar was the best on the local stage. Until now.