• Women's players want NHL-supported entity
• McDavid outburst puts pressure on Oilers
• Little support for playoff teams choosing opponents
Thirteen months after they scored the tying and winning goals in the Canada/USA Gold Medal showdown at the 2018 Winter Olympics, Monique Lamoureux-Morando and Jocelyn Lamoureux-Davidson were driving home from an appearance when a reporter asked how their lives had changed during that time.
"A father came up one day and told me about showing his daughter the move," Jocelyn said about her shootout winner, which is nicknamed "Oops, I did it again." "She was three or four years old, but her eyes lit up. She was surprised, but thought it was awesome a woman, not a man, was doing it. The father was trying not to get emotional. You don't always get those examples to show your daughter. That impact is something we cherish."
It was an uplifting end to a difficult conversation, coming less than 12 hours after the Canadian Women's Hockey League stunningly announced it is ceasing operations. It left a league full of players, coaches and executives in shock. Some of the best were already in Finland for the World Championships, which begin next Sunday.
"We had no idea," said Markham Thunder goaltender Liz Knox, co-chair of the CWHL Players' Association. "We were blindsided." 
That leaves one remaining professional destination in North America, the National Women's Hockey League — featuring franchises in Boston, Buffalo, Connecticut, Minnesota and New Jersey. On Sunday, NWHL commissioner Dani Rylan had this to say:
In response to requests for comment about the players and fans in ,
here's @DaniRylan:
"We will pursue all opportunities to ensure the best players in Canada have a place to play. Those conversations have started already and have quickly become a priority." pic.twitter.com/cAtBYDynVi

— NWHL (@NWHL) March 31, 2019
It's hard to say where this is going, because we're still in the early stages of grief. In talking to several players, it is obvious that they are trying to positively channel their emotions. You can sense, however, the frustration and impatience.
"Before (Sunday), there were two existing leagues," Monique Lamoureux-Morando said. "Maybe their goals and missions are slightly different, but what happened (to the CWHL) partially falls on the leadership of the two leagues. They didn't always agree, but there should be a common goal. Maybe it is time for more leaders, different leaders."
"It is not a secret that North American players have vocalized there should be one league," Jocelyn added.
"As players, we don't always get a seat at the table in making those decisions," Knox said. "So many missed opportunities between the two sides." 
The relationship between the two leagues is frosty, to say the least. The commissioners — Rylan and Jayna Hefford — revealed that merger talks took place in January, and were scheduled again in April. Hefford said the CWHL had met with the NHL, NHLPA, Hockey Canada and the Ontario Women's Hockey Association, but all of those groups (including the NWHL) "have not been in the same room together."
The landscape is changing by the moment. Just this afternoon, it was announced that the NWHL expects immediate expansion into Canada:
While the NWHL announced plans to add teams in Montreal and Toronto, it will look into other opportunities, such as Calgary. Undoubtedly, it will approach the NHL teams and other stakeholders in the CWHL clubs and see if they are willing to support a new venture.
The season begins in October, with a plan to release the schedule in June, so new franchises would have to be finalized in the next few weeks. Another option will be to increase the schedule to 24 games.
Last season, the NHL gave $50,000 to each the NWHL and CWHL. Now, with the CWHL no longer in operation, the league will give the full allotment of $100,000 to the NWHL.
But how much more the NHL is willing to do is still unclear. Up until now, the league has made it very clear it will not step in as long as there are options for women to play at the professional level, which is the case now. It does not want to be perceived as picking favourites or bullying. An NHL-backed league, like the WNBA or National Women's Soccer League, is the obvious solution. Everyone knows it.
End of CWHL may be the right move for pro women's hockey to grow
April 01 2019
This puts the female players and stakeholders in an uncomfortable position. They don't want to say anything that causes a problem, but they want the NHL to stop waiting. In a year where Kendall Coyne-Schofield was the highlight of All-Star Weekend, capitalize on the momentum. Step in now.
There have been rumours of a player boycott until an NHL-supported entity is created, but no one indicated they think it's a possibility at this time. There is a theory that instead of searching for a new model, the CWHL pulled the plug to make it easier for the NHL to act.
"I'm definitely choosing to believe that," Knox said. "I know Jayna. I really do have faith in her. She's a person of good faith in the game. I can't imagine her acting in any other way." 
"Our hope is [potential stakeholders] do step forward with actionable ways," CWHL chairman Laurel Walzak said Sunday. "The women's game is strong, and deserves an opportunity to continue on a growth trajectory. The time is now for that to continue in Canada and the U.S."
"We will get there," Jocelyn Lamoureux-Davidson said. "(Sunday morning), I'm watching NCAA women's basketball. It is no coincidence that those college players are leading the way in the WNBA. Women's hockey is a generation behind. But if (the NHL) creates that league, we will build it from the ground up. It will grow the sport exponentially. Not only the best North American players, but the best European players will be here."
She laughs and borrows from Field of Dreams. "If you build it, they will come."
"We're going to move forward," said Knox, who gets the final word. "It's time for us — the players — to push the boundaries. Doing something we are comfortable with is not what we are thinking about.
"We said to each other, 'You are either in, or you're in the way.'"
[relatedlinks]
31 THOUGHTS
1. For 78 games, Connor McDavid held his tongue. He wants to be the solution, not a problem (although it is hard to see how he ever could be the latter) and has said several times that he wants his play to do his talking. But when Colorado picked up a point Monday night in St. Louis, the Oilers were officially eliminated from the playoffs. And McDavid, asked by reporters about his frustration level, did not hold back.
"It's really high. It's really, really high," he answered. "We want to play in the playoffs as a team. I personally want to play in the playoffs. I'm not happy about it. It's going to be a long summer. It's been an insane season. Coaching change. GM change. Good times and bad times. It's been a roller coaster. It's been emotionally challenging."
He was not interested in charity, either, rolling his eyes when asked if he thought there was reason for optimism in 2019-20.
"We don't even have a GM. We have a lot of crap to figure out. I hope we can put the right man in the spot and can put together a good team. We let (losing) streaks drag on, we let times where we weren't able to find wins drag on. You have to find a way to stop the bleeding, quick."
This, for him, is a major outburst. 
2. There will be a lot written and said about this. Personally, I don't think McDavid is looking to leave the Alberta capital. But I suspect the Oilers know they have to get this right. He's giving them this opportunity to show they can right the ship. If this choice goes badly, they've got a serious problem. 
3. Edmonton's interview list for the GM position is around 10 to 13 names long. As Mark Spector reported last week, you should add Pat Verbeek's name to whatever roster you've put together. My suspicion is he was recommended by Steve Yzerman. His candidacy could be affected by Yzerman's own decision, since he might want Verbeek with him should he go to Detroit.
The expectation is Bob Nicholson begins his quest as soon as this week. There are a lot of different ways this can go, from the number of candidates to the eventual structure.
4. With all of the talk about the next manager or president, there's been little about the coach. The Oilers only committed to Ken Hitchcock for the rest of this season, and they're going to want a fresh start behind the bench, too. They've gone with experience; they've given first-timers a chance. It is as important a hire.
Word on Joel Quenneville is he wants to go somewhere where you can see a path to victory. Dave Tippett also can afford to be choosy; Edmonton makes sense for him, if they are interested. But, it's hard to drive down this road until we see who is given the keys to the car.
5. Alain Vigneault's name is popping up, too. If Florida makes a change, that could be a fit.
6. Trevor Linden declined the opportunity to interview in Ottawa. I think Joe Nieuwendyk is on the radar as well.
7. Another name in the mix for these opportunities is Ron Francis. There is some clarity to his situation. Francis will have an ownership stake in Carolina until November. So he's tied up until then. Even if he doesn't want to be a GM/President, there would be interest in him for whatever role he'd consider. 
[snippet id=3816507]
8. My sense is Sabres GM Jason Botterill does not want a coaching change. That would make five bench bosses since Lindy Ruff was fired in February 2013. It's too much, and the problem is bigger than Phil Housley. But the pressure is mounting and, as the season grinds to an end, results are getting worse. (Even if something does happen, it seems certain that roster surgery is coming with it.)
It may come down to what the Sabres think their options are. If they cannot attract one of the free-agent heavyweights, I'm curious to see how much of a look is given to their AHL coach, Rochester's Chris Taylor. The Americans are very good, with key prospects showing improvement. Botterill was part of three Stanley Cups in Pittsburgh won by coaches promoted from the AHL affiliate in Wilkes-Barre.
9. A follow-up to something from last week. I asked both the NHL and NHLPA if the idea of teams picking their playoff opponents — as suggested by Florida's Keith Yandle — was ever contemplated. The answer is yes, the league has, at times, "kicked around" the idea. Sadly, it doesn't sound like there's enough support, particularly from GMs who would have to make the selection. Boooooooooooooooooo.
10. Carolina, battling with Columbus and Montreal for the final playoff spots in the Eastern Conference, has been one of the great stories of this season. Whatever happens, they will also be one of the most fascinating stories of the off-season. From GM Don Waddell, to several hockey-operations staffers, to AHL Charlotte coach Mike Vellucci (over 100 points this season) to goalies Curtis McElhinney and Petr Mrazek — there's a multitude of key people without a contract for next season. The organization is content to wait and see how things play out. They've exceeded expectations by a long shot.
11. Double-checked with the NHL. NCAA Harvard's Adam Fox cannot sign elsewhere for this season even if traded by Carolina. He can still be traded, however, and the game of poker is about 2019-20. If the Hurricanes do not deal him, Fox can a) join them or b) go back to school, becoming a free agent after next season. A few teams have checked in, saying GM Don Waddell is asking a high price.
The problem is, a lot of them suspect this is about the Rangers, who wouldn't feel the need to pay big under those circumstances. If Fox is considering anyone else, it's a small list and probably close to Manhattan.  
12. OHL North Bay's Justin Brazeau, a free agent after 61 goals in the regular season and one more in a first-round playoff loss, will likely start on an AHL contract. Nothing wrong with that. An unrefined product, he needs some work on his skating, and will put in the hours during the offseason.
13. Minnesota State defenceman Connor Mackey will likely decide by Wednesday if he's going to the NHL or staying for his junior season. Bowling Green's Lukas Craggs is expected to announce by the end of the week. Michigan's Will Lockwood told Vancouver he's going back to school. He can be a free agent after next season. The Canucks are also waiting on Northeastern's Tyler Madden, who just finished his freshman year.
14. Vancouver is also working on a one-year extension for Luke Schenn. He's made a pretty big impact in 15 games. When put on waivers by Anaheim earlier this year, there were rumours he was going to retire. Schenn heard we were looking into those rumours, and reached out directly to say they were false. He didn't want to allow anyone the tiniest reason to give up on him. 
[snippet id=4269767]
15. Wanted to write about him sooner, but it took time to connect with Stephen Weiss. The 35-year-old, who played 732 NHL games with Florida and Detroit, "returned" to the hockey world Feb. 23 when honoured by the Panthers as part of their 25-year anniversary. Beaten down by injury, Weiss played his final games in 2014–15. He politely rebuffed all interview attempts until recently, and people who know him felt badly that he chose to stay away.
I remember doing a feature on Wade Redden being sent from the Rangers to AHL Hartford. He said he wanted to retire, but Curtis Leschyshyn talked him out of it, telling him he'd given his life to hockey and couldn't quit angry at the sport. Weiss said that's not the way he feels.
"I'm real good," he said. "I never hated the game. Never once…. Just frustrated I couldn't get around the way I needed to. I physically couldn't do it. I've got to be real good, and I was not healthy enough to be that good. You just can't compete. I was tired of getting yelled at by coaches, giving it everything you can. It was a hard decision. I don't regret it; wish I was healthy enough to play."
He paused. 
"I love hockey. It gave me my whole life." 
16. Weiss admitted his buyout from Detroit in 2015 hit him hard. One of the best things about Florida's decision to honour him: "It was nice for my parents," he said. "To be there was closure for them. (After the buyout), the end happened so fast. I was golfing with my dad…. I told him I was done playing and that's it. He did nothing to convince me to keep trying. He told me, 'If that's what you want, we support you.'"
Weiss has not played any kind of competitive hockey since he retired. But that is changing.
"It's time," he laughs.
His family lives in Florida during the winter, but Toronto during the summer. He has told his friends to expect him for beer league. His sons, aged three and two, aren't doing much skating, but he's done a little teaching.
"I love that. I'm going to get back in. I have no idea how. But I love watching games. I was saying to myself, 'You better find something to do in hockey, because you don't know anything else.'"
Good to see him back.
17. Awards ballots go out Thursday, due before the puck drops on the Stanley Cup Playoffs. Last week, on the 31 Thoughts podcast, Florida's Vincent Trocheck gave voters some advice.
Hart: "I think it's got to be (Nikita) Kucherov."
Norris: "I think (Victor) Hedman."
Calder: "(Elias) Pettersson, by a mile."
A mile?
"That kid's a freak of nature. He's going to be a stud for a long time." 
March 28, 2019: Fishing For A GM In Edmonton (And More Stuff)
March 28 2019
18. Trocheck was also asked to pick a Stanley Cup champion.
"I think I'd say Winnipeg," he answered. "They just have such a playoff-built team. They're so big, they work hard, their skill is elite. They have a lot of tools."
He did hedge his bet at the end when his mind wandered to Marc-Andre Fleury.
"(That) makes Vegas another team you can't count out, ever. I like Flower behind you." 
19. One GM on Arizona's seven-year, $40.95-million extension for Nick Schmaltz: "At least they got him signed. The rest of us can't get these deals done at all."
20. As Alex DeBrincat surpassed 40 goals (he's now at 41) for this season, I wondered why it was Chicago that chose to select him in 2016. The Blackhawks took him with their first pick of that draft, 39th overall. Their head Eastern Canadian scout, Jim McKellar, did a lot of the legwork. But he would not consent to an interview unless it was made clear that he did not deserve sole credit for the selection.
"There were a lot of people who came to see (DeBrincat)," McKellar said. "And (vice president of amateur scouting) Mark Kelley is the one who has to make the pick. He liked Alex a lot."
McKellar paused and laughed a little.
"I don't want these guys killing me at our next meeting."
Crisis averted.
21. It started at OHL Erie, where DeBrincat debuted in 2014-15.
"He is a late birthday," McKellar said, referring to the player's Dec. 18 birthdate. "We started watching him, and he was scoring goals right away. We were asking, 'Who is this guy?'"
DeBrincat scored 51 times. Intrigued, McKellar asked the Otters about the winger.
"Those guys were dead honest about him," he said, referring to Sherry Bassin and Dave Brown, who ran the hockey operations during DeBrincat's time there. That's important, and while McKellar doesn't say it, teams who are dishonest about their players get a reputation no one wants.
DeBrincat scored 51 more in 2015-16, his draft year.
"Our meetings with him began early that season," McKellar says. "You want to build a rapport. Sometimes, it takes two or three times to get to know someone. It came quicker for Alex. There's a confidence in his eye. When he looks in the mirror, he does not see himself as five-foot-seven, but six-foot-one or six-foot-two. He projects that. You want to learn about it. He's very determined, confident, assertive, comfortable in his own skin. That's the biggest attraction. He doesn't understand why anyone would think his size would deter him."
McKellar says there were no "magic questions" the Blackhawks threw at DeBrincat to test him.
"The biggest thing we try and do is make people comfortable."
They believed very quickly his attitude was not an act — and McKellar continued meeting with the prospect to be certain. DeBrincat was always Chicago's guy if available. (I've heard they tried to move up, but weren't able to do so.) Another rumour was they were worried about a few teams picking in from of them: Columbus and Tampa Bay (both successful with small players); Edmonton (drafted junior teammate McDavid); and Toronto (Kyle Dubas/Mark Hunter knowing the OHL).
"We were taking him," McKellar said. "We believe in character and skill. I'm really happy for Alex."
22. Apparently, the hotspot for prospect meals in Erie is Firebirds Wood Fired Grill in Millcreek Mall.
"Good steak," McKellar says. "The year before, we had Connor McDavid, Dylan Strome and Travis Dermott for dinner there."
Funny how things work. Strome is now a Blackhawk. There was no chance they'd be able to select him in the 2015 draft, having just won the Stanley Cup.
"Those years are the last time you can meet with anyone. You never know what's going to happen, so it's always worth it."
[snippet ID=3322139]
23. Two years ago, Detroit's Riley Sheahan entered the final game of the season (and final game at Joe Louis Arena) in danger of becoming the first forward in NHL history to have 100 shots in a season and not score. He got two in a 4–1 victory over New Jersey, and the Red Wings really celebrated for him.
There are a couple of other players who need similar fortune. Edmonton's Tobias Rieder now has 87 shots without a goal, surpassing Pittsburgh's Craig Adams (84 in 2009-10) for the most ever among forwards. Dallas's Valeri Nichushkin has 65 shots and no goals. He's also got zero penalty minutes in 57 games. No one has ever done this. Only one other player has reached half a season with this combination: Pittsburgh's Kevin Porter, who played 41 games in 2015-16. Chicago's Dylan Sikura, in his first professional season, is on the same pace in 33 games.
Hopefully, Rieder and Nichushkin break those zeroes. No one needs that. 
For those interested: Most shots in one season without a goal is 154. That was Gilles Marotte, with Chicago in 1967-68. He had 21 assists in 73 games. He was a good player who appeared in 881 NHL and WHA games from 1965-78.
24. Speaking of the World Hockey Association, last Saturday was the 40th anniversary of the merger with the NHL, a move that brought the Oilers, Hartford Whalers, Quebec Nordiques and original Winnipeg Jets into the older league. It was fun to reminisce by phone with Howard Baldwin, who founded the Whalers as a charter member of the WHA, and the team's managing partner until 1988. What did he remember most about that process?
"What I remember," Baldwin laughed, "was meeting in Montreal in the middle of the night with (Chicago owner) Bill Wirtz. I was younger than he was. At midnight I'm ready for bed. Bill was ready to go. At 4:00 a.m., he's got ice in one glass, his drink in another."
Baldwin would have been 37 at time. Wirtz was approaching 50.  
25. Baldwin's stories were fantastic. He felt the WHA was making progress towards a merger before the 1977-78 season, only to have NHL owners vote down a six-team move in June 1977. (That would have involved the four teams that did merge, plus the Cincinnati Stingers and Houston Aeros.)
"(NHL President) John Ziegler called me and asked us to keep our powder dry," Baldwin said. "He told me he would work on it. (Toronto owner) Harold Ballard came out and said, 'That young macrosnapper from Providence will never get into the league!' I had to ask what that meant."
Baldwin paused and laughed.
"At least none of our guys had been in jail."
Certain owners became impatient with the NHL's lolly-gagging and went back to an old method.
"We decided to hit them hard again for certain players. We offered $175,000 for Rod Gilbert, praying he would say no. Then (in 1978-79, Birmingham owner) John Bassett made up his mind to create the 'Baby Bulls' — go after the underage juniors."
That team included Keith Crowder, Gaston Gingras, Michel Goulet, Craig Hartsburg, Rob Ramage, Pat Riggin, Louis Sleigher and Rick Vaive, all under 20. Bassett tried to get Wayne Gretzky, who went to Indianapolis before Edmonton.
"Gretzky got the NHL back to the table," Baldwin said. "They had to have him. For the vote, I had the Aetna private jet, ready to fly down to announce the deal. At 7:00 a.m., Ziegler called to tell me he didn't get the votes. I said, 'You've got to be kidding.' But Montreal and Vancouver said no. We were deeply disappointed. We were playing bullshit poker. We were dying."
26. What helped the WHA was massive pushback against Molson's, which owned the Canadiens. Morgan McCammon, then the company's president, reached out when the masses could not be calmed.
"We knew then we were going to get it done," Baldwin said.
What makes you proudest of those days?
"The way we stuck with it," he answered.
His Whalers played at the Hartford Civic Centre. In 1978, the roof collapsed.
"I was at the All-Star Game in Quebec City. I got a call at 5:00 a.m., thought it was a joke. There were worries maybe we would fold. If that happened, the league was done. As I flew back over Hartford, the pilot asked if I wanted to fly over the arena. Holy Christ, it was grim. Thank God nobody was hurt. But I was proudest of our organization. By the time I landed, we had dates to play in Springfield. I wasn't as crushed as that roof, but close to it…. We persevered, wouldn't give in. They told us to fold our tent and apply to the NHL. You know how that would have worked. That was the wild west compared to the way it is today. We were romantics, adventurers. Everybody came out for the better. Good new markets… advancing the American and European player into hockey. I still watch games on YouTube."
Did you ever say anything to Ballard?
"Later, I saw him at one of our meetings and introduced him to my wife. He said, 'Nice to meet you, honey; you're a lot better looking than the broad he had here last year.'"
Baldwin turns serious for a minute.
"When John Bassett was dying, Harold was great to him. That meant a lot to me." 
27. Baldwin, a successful movie producer (probably best known for Ray, the Ray Charles biopic nominated for best picture in 2005), is completing an adaptation of the book Odd Man Rush. The author, Bill Keenan, played at Harvard and professionally in the Netherlands, Germany, Finland and Sweden.
Baldwin hopes to submit it for the Toronto International Film Festival in September. Co-producers include Grant and Todd Slater, whose father, Terry, was the first coach hired in WHA history, by the Los Angeles Sharks. Among the cast: Trevor Gretzky (son of Wayne and Janet); Alexa Lemieux (daughter of Mario and Nathalie); and Dylan Playfair (son of Jim and Roxane). It is possible that Jessarae Robitaille (son of Luc and Stacia) contributes some music. 
"We're not stupid," Baldwin said. "We know their names have value. But we made sure they earned their roles on their own."
28. Finally on this topic, get a load of this handshake line from Montreal's 1980 playoff elimination of the Whalers. How many Hall of Famers do you count, even with Gordie Howe and Guy Lafleur not shown?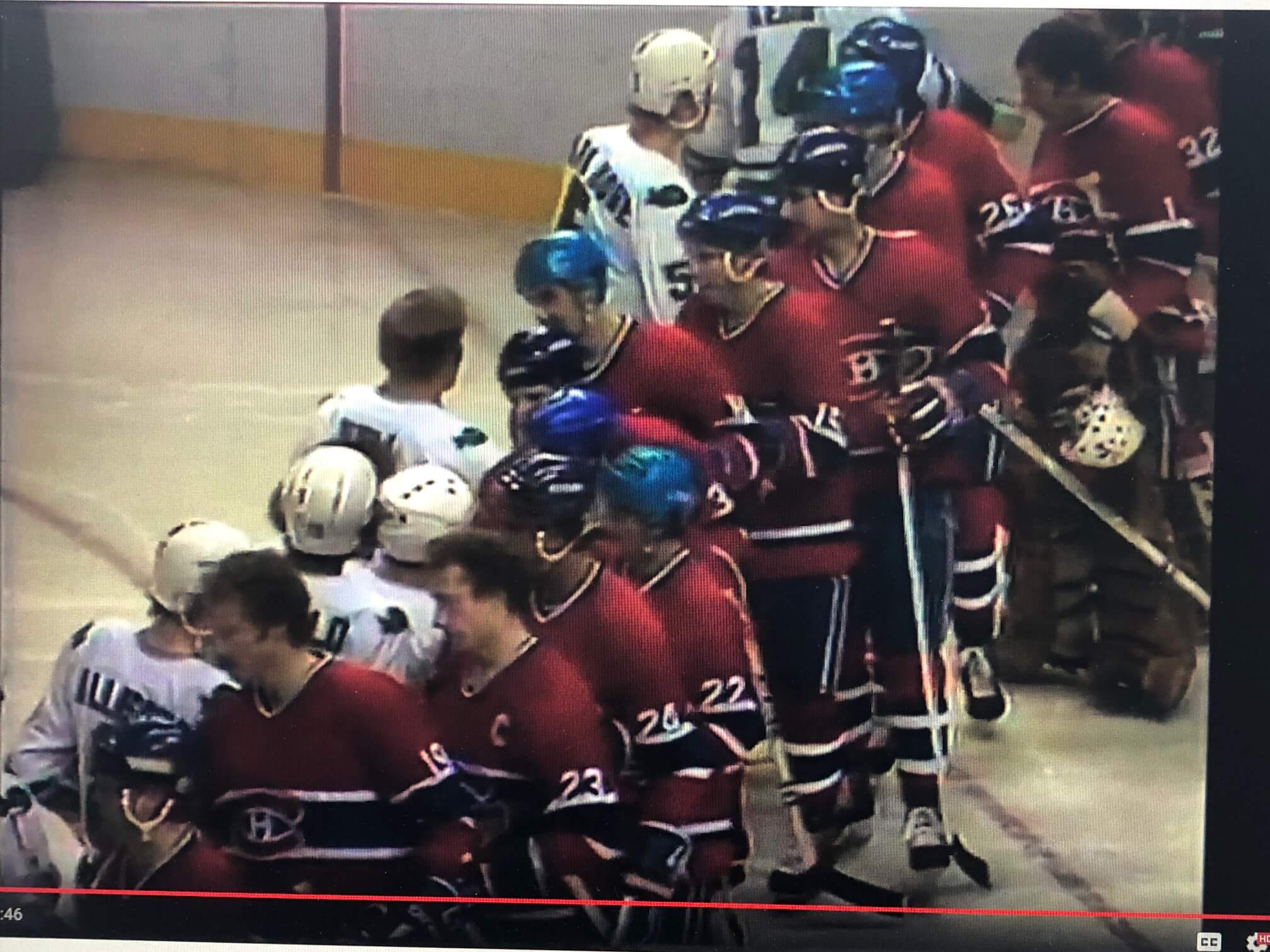 29. One of my all-time favourite Rogers Hometown Hockey stories is Jermaine Loewen's, as produced by Chad Walker:
Loewen's junior career came to an end on Monday night, as WHL Kamloops was eliminated by Victoria. He's a Dallas prospect, and in his post-game scrum (which can be found in this story), he's very blunt about his performance. He's come a long way, and I look forward to watching the next step of his journey.
30. A couple of times, I've mentioned how St. Louis — last in the NHL on Jan. 3 — made the longest climb to clinch a playoff berth since the 1996-97 Ottawa Senators. Wayne Chow, a big hockey fan who always finds good stuff, pointed out on Twitter that the latest to do it was Toronto in 1987–88.
The Maple Leafs were abetted by the weak Norris Division, which consistently put awful teams into the playoffs. Toronto woke up on April 2, the second-last day of the season, with 50 points, dead last in the 21-team league. They fell behind 93-point Detroit 3–0 just 9:35 into their last game. But Allan Bester came off the bench to stop all 27 shots he faced, and they rallied to a 5–3 win.
Meanwhile, Minnesota coughed up a hairball, ending the year on an 0-4-1 streak (remember ties?), losing 4–1 in Calgary on the last night of the season. Because the top four teams in each division advanced, the Maple Leafs, with 51 points, got in instead of the Rangers (82 points) and Pittsburgh (81). And you think the current setup is bad. 
31. Saturday Night: Final day of the regular season, with Toronto/Montreal, Columbus/Ottawa, Winnipeg/Arizona and Colorado/San Jose remaining as critical games. Final broadcast for Bob Cole. One-year anniversary of the Humboldt bus crash. It's going to be an emotional evening.