One of my first jobs after leaving university was with a start-up, so to speak. An ad agency in Toronto wanted to create a monthly sports newspaper in Toronto. Called The Sports Pages, it lasted two issues in 1993. (I was the editor. Let's just say it was an outstanding learning experience.)
For the first issue, the bosses wanted a cover story on Dave Keon. They loved Dave Keon. They wanted to hear about Dave Keon.
So I wrote a decent story about Keon. Of course, he didn't talk to me, as he wasn't talking to anyone then. His silence lasted four decades after his parting, engineered by former owner Harold Ballard.
Eventually, there was a thaw. Keon began to show up for team ceremonies and/or celebrations, although he wouldn't do interviews. He made one exception for Scott Morrison on Hockey Night in Canada, but such opportunities were rare.
Now, that thaw is into full-blown global warming. Keon was all over the place in the NHL's 100th season. Named to the all-time team, he's done interviews, had his number officially retired (a major bone of contention in years past), had a statue unveiled on Toronto's Legends Row.
And he delivered one of several beautiful eulogies at Johnny Bower's memorial service.
As Keon spoke, quietly but firmly, I wondered if, finally, we are seeing his true step into the spotlight. I was born in 1970, too late to see him at his best, winning the Conn Smythe Trophy as playoff MVP.
But I was born in Toronto and have lived 43 of my 47 years here. His shunning of the spotlight only added to his reputation. Bower was beloved because he allowed himself to be. Gregarious and friendly, outgoing and available, Bower became Toronto's Grandfather.
[snippet id=3803149]
Those same fans loved Keon. They voted him the greatest player in franchise history, and no one complained. But their admiration was kept at arm's length. Everyone understood, Keon wasn't the only one to be banished by Ballard, but they hoped for a day it would be different.
You can't force someone to be who they are not. Keon is not Bower. He's quieter and more reserved. No one will be like Bower and no one should try.
But, Keon is revered by those same fans. They embrace those who worked hard for the blue and white, whether they won a Stanley Cup or not. But, we all know there's a little bit extra for the pre-expansion stars.
You go around the league, and you see the love every market has for their retired cornerstones. Not all of the marriages end well in the moment. But, time doesn't ruin the memories.
You just have to allow yourself to be embraced. Keon has opened the door. His legion of fans want him to step inside and stay there.
31 THOUGHTS
1. With Seattle now very much in the picture, I'm curious to see how negotiations go between teams and players on no-move clauses. Some of Vegas's strength came from other clubs who had too many and needed to escape. Will GMs resist them, or simply ask that protection not include a future expansion draft? Will players with leverage be willing to agree? Something to watch.
2. As we try to piece together next year's European schedule, add the possibility of Carolina versus Winnipeg in Finland. Sebastian Aho, Patrik Laine, Teuvo Teravainen. Makes sense. But no guarantees at this time.
3. The Pacioretty family bought a house in Montreal last year, with the goal of staying a Canadien for the remainder of his contract. That's in doubt now, and I think he understands that his tenure is coming to end. The big question is if it happens at the trade deadline or the draft. GM Marc Bergevin is well aware he'd be selling low at this time, and getting Pacioretty with better centres and/or right-hand shots is going to benefit him big time. One thing that does happen when a name like his goes public? You get calls, then find out who's nibbling and who's serious. We'll see if anyone causes Bergevin to jump, because I think he's comfortable waiting.
4. Ron MacLean wondered if Pacioretty's comments about a struggling offence were a shot at coach Claude Julien. I'd actually asked a couple of other GMs if they were worried about that. They weren't.
"I simply see it as a captain with no answers for what's happening trying to provide them," one said. "You can't hide."
5. The market's cracking open, though. There was a shortage of scoring touch with Vegas's success, but now there's Pacioretty, there's Evander Kane, there's Mike Hoffman. What's most interesting is that all three have different term remaining on their contracts. Kane's unrestricted, Pacioretty's got one year and Hoffman two. Curious to see how that affects each player's value.
6. Mentioned St. Louis as one potential team for Hoffman. There is some interest and the Blues are loaded with prospects, especially at forward — Klim Kostin, Jordan Kyrou, Rob Thomas, Tage Thompson. I wouldn't be surprised if there was some interest in Robby Fabbri, too, even though he's out for the year. The one thing to watch with St. Louis is Jay Bouwmeester's health. If he can't stay in the lineup, I'm not as sure of the Blues' plans.
7. Ottawa's situation is made even more complex by the conditions on the first-rounder sent to Colorado in the Duchene deal. The Senators can protect it if it's in the top 10, but then must give up their first in 2019 no matter what. No chance the organization ever thought this would be an issue.
8. Quote of the Week, from an anonymous GM: "God, I hope no one helps Pittsburgh get better." I think he's tired of seeing them win.
9. While many executives are in Buffalo at the world juniors, Minnesota GM Chuck Fletcher has apparently gone to Russia. One of their top prospects, Kirill Kaprizov, made some comments that he didn't know the organization too well, and Fletcher's made a point to go see him. The thing I'd say in Fletcher's defence is that when the KHL wants to keep a player — and Kaprizov just signed a three-year contract — it can make life very difficult on NHL clubs who simply want to make contact. But he's a really talented guy, and, some day, the Wild would love to have him in uniform. Never hurts to say hello.
10. As of Jan. 1, teams can sign players on one-year deals to new contracts. The guy who jumped out at me was Winnipeg's Connor Hellebuyck, but doesn't sound like there's been much conversation yet. He's been terrific.
11. Loved watching Minnesota and Nashville play a home-and-home back-to-back last Friday and Saturday. More please.
[snippet id=3816507]
12. The Team Canada Olympic brass is in Buffalo, watching the medal round at the world juniors. GM Sean Burke said Tuesday that they've settled on about 20 of the 25 players that will go to South Korea. The full roster will be named Jan. 11 in Calgary.
Victory at the Spengler Cup has Burke excited about the Olympics. "We will be competitive," he said. "They played very hard."
The clincher was a 3-0 win over Switzerland, Canada's opening opponent in Pyeongchang. Kevin Poulin, who played 50 NHL games for the Islanders, got the shutout and appears to be the starting goaltender. There was an influx of veteran help in Davos from Jay McClement (906 NHL games), Chris Kelly (833), Maxim Lapierre (614) and Zach Boychuk (127). Boychuk played well with Andrew Ebbett (224 games), who locked down a spot before the Spengler. Those are some of the names you will know best. Burke said no other veterans are going to be parachuted in at the last minute.
13. That brings us to the juniors. Team USA has four NCAA players on the roster: Will Borgen (St. Cloud State), Ryan Donato (Harvard), Jordan Greenway (Boston University) and Troy Terry (Denver). It's not going to be a good look if Canada doesn't get similar help. To be fair, one junior executive said they want to make sure any player who goes has a role, and it's not time wasted. That's not unreasonable, especially since they will be competing against men on an international ice surface.
So, the question becomes: who can do it? I put the question to three NHL amateur scouts/executives who are at the event. One picked Cale Makar as a power-play specialist, although he added that Makar is still very young and hasn't faced a ton of elite competition. The second took Jordan Kyrou, with the possibility of Dillon Dube in a smaller, energy role. The third chose Victor Mete, although you wonder if Mete's injury clouds all this.
14. Another source suggested Sam Steel as a compromise candidate. He pointed out that Steel's WHL team, Regina, will host the Mastercard Memorial Cup, so its spot is guaranteed. That might help, and he's a scorer, which is what Canada is looking for.
15. I didn't hate the Canada-USA outdoor game as much as everyone else seemed to. Sometimes you've got to take chances and outdoor games are for the people in attendance, not so much the people watching on television. What I can't understand is why host Team USA allowed their schedule to be manipulated in that way. An 8 p.m. ET game followed by an outdoor game 19 hours later? Yikes. You're going for a double gold medal on home soil, give yourself a better draw than that.
16. Ask some of the Lightning who is a better MVP pick, Nikita Kucherov or Steven Stamkos, and you know what answer you get? Andrei Vasilevskiy. And that was before his league-leading sixth shutout, 2-0 over Toronto.
There's a lot of, "I didn't realize how good he was," even among teammates. Tampa knew it had to make a change from Ben Bishop for cap reasons, but now the organization believes Vasilevskiy may actually be a better goalie.
17. Drew Doughty scored the winning goal last Saturday in Vancouver after being undressed by Nikolay Goldobin earlier in the game.
"We had a meal in the hotel after the game," Kings head coach John Stevens said Sunday. "I was talking to Drew. He wasn't thinking about the goal he scored, or anything else…he just couldn't believe he got beat one-on-one. It reminded me of Game 1 of the 2014 Stanley Cup Final. Benoit Pouliot picked his pocket to score, and later Drew scored a fantastic goal to tie the game. The biggest improvement he's made to his leadership is he understands the effect he has on this group. A bad play does not mean you have to have a bad period or bad game. The refs don't make a call you want, it's okay. When you're frustrated, you take away the energy. When determined, you raise the energy. I love his passion. On game day morning skates, the two-on-one drill? He does everything not to allow a goal. Guys want to go against him on that. They want the challenge. If he's not the best player in the world at his position, I don't know what I'm talking about."
18. Stevens and the Kings are three points behind Vegas for first in the Pacific, re-energized after three difficult post-Stanley Cup seasons.
"We were tired of not performing well." Do you buy the theory the team was exhausted? "I do think that in 2014, those players pushed themselves incredibly hard. Drew could barely lift the Cup. They reached levels…that I don't think humans realized they could get to."
It is clear, when Stevens talks about it, he has great admiration for what they accomplished. But he has another theory, which is epitomized by a new slogan in the dressing room: Enjoy the Grind.
"We used to do that," Stevens said. "Now we have to enjoy it again. We had it translated into Chinese when we went there before the season." Stevens added that during exhibition games, he saw goals followed by no celebration. So he showed it to the team. "What is this?" he told them. "The last time I checked, when someone scores you put your arms in the air. There are people who believe if you have fun, you're not working. Or, if you're working, you can't have fun. I believe you can do both. You are humans, not machines."
That leads to questions about Darryl Sutter, but Stevens deflects them. "Darryl (and Dean Lombardi) are two terrific people. Everything (Darryl) did in his power was to make the team better. I'm not different, I'm just me. With three new assistants, there are fresh ideas and new personalities. That changes the mood."
19. Final question for Stevens: How good is his team? Are we talking Stanley Cup level, for the third time in a decade?
"Nobody in the west is running away from everybody like Tampa Bay. We can play with anybody, but you always think you can get better. We need Jeff Carter to continue to improve and get healthy."
20. Speaking of Vegas, one executive compared them to Leicester City — which stunningly won the English Premier League out of nowhere in 2016. Thought that was pretty good.
21. All good things have to come to an end, and it did for Patrice Bergeron, Brad Marchand and David Pastrnak against the Islanders. New York's lone goal in a 5-1 loss to the Bruins was with them on the ice, the first time all season someone scored five-on-five against that trio.
Boston outscores opponents 12-1 with them in that situation. Some comparables: Viktor Arvidsson/Filip Forsberg/Ryan Johansen are 14-6; Josh Bailey/Anders Lee/John Tavares are 22-19; Sean Couturier/Claude Giroux/Jakub Voracek are 23-11; Brayden Schenn/Jaden Schwartz/Vladimir Tarasenko are 17-4; Kyle Connor/Mark Scheifele/Blake Wheeler are 16-15; Nikita Kucherov/Vladislav Namestnikov/Steven Stamkos are 25-14. (I verified the numbers at naturalstattrick.com.)
Ryan Spooner had a great quote last Friday about his teammates: "I'm not surprised by that stat because that's who I practise against, and I can't get a shot."
22. Boston beat Tampa 3-2 on Nov. 29. The two big lines went head-to-head that night. We went back to that game and timed how long each trio had the puck in the other team's zone, and Bergeron/Marchand/Pastrnak led by almost two minutes. That's a really big difference. You don't see it too often.
Spooner said he sat on the bench that night, blown away by what his teammates were doing. "Watch Marchand," he said. "He never loses the puck in the offensive zone, unless he wants to. Then, he'll go and get it again."
23. Spoke to Spooner last Friday, the day before he scored twice in his hometown of Ottawa. Since returning to the lineup on Nov. 22, he has 10 points in 13 games. He played centre when David Krejci was out, before moving back to the wing. He's a talented guy, searching for a permanent place in the lineup.
What does he remember about last year's exit meeting with Bruce Cassidy? "He told me he was happy with my first month-and-a-half, that I was using my speed. But in the last 10 games of the regular season and playoffs, I lost that. It was true, I was not using my speed as much as I could. He told me to make sure he can trust me."
He credited his parents (Brad and Sue) and skills coach (Pat Malloy) for helping put him back on the right path, "But you have to look in the mirror. It's on me. I have to show them they can trust me. If you don't play well, it's hard to believe in yourself."
Bruins fans are well aware of Spooner's faceoff issues and so was he. "I was sick and tired of hearing I can't win faceoffs." He finished at 39 per cent last season, but is up to 50 in 2017-18.
And if I learned one thing about him in our conversation, it's that he's well aware of that number every single day. "There was one game last year where I was, like, two-for-18 against Nazem Kadri. You need six or seven games to make up for that. The rule change has helped. Relying more on hand-eye to win them is good for me. I usually keep track of the results in my mind during a game." What if the score sheet is different than what you remembered? He laughed and paused. "It equals out over the year."
24. Other reason Spooner had a big game in Canada's capital? He got to see his Chocolate Lab (Carl) and his Newfoundland Lab (Kenzie). "My building (in Boston) has a 50-pound limit. They are 130 and 85, so they've got to stay with my parents."
25. One more for the Charlie McAvoy Calder hype train: He leads Boston in five-on-five ice time, at exactly 20 minutes per game. Last rookie defenceman to be close? Duncan Keith, 17:09 in 2005-06.
26. Florida's Bob Boughner didn't like Tuesday's blowout in Minnesota, but, generally, the Panthers are improving, with a five-game win streak beforehand. There was a mini-breakthrough last Thursday as Aleksander Barkov and Jonathan Huberdeau combined for 12 shots in a 3-2 win over Philadelphia. Boughner's been on them to fire it.
"Oh my God, every day. They are both high-end players, but their identity is pass-first, shoot second. We want to change their mentality." Which one is worse? "Barkov," Boughner laughed. "He does everything so well, but we need him to be more selfish. There was a recent game where he had an empty net and was looking around. Drives me crazy."
[relatedlinks]
27. Boughner had an interesting answer when I asked him about the biggest adjustments a first-time head coach deals with.
"You don't want to micromanage," he said. "You need to have your finger on everything and meet with everyone. But you also want to give your coaches their responsibilities and let them do their jobs. There's more media requirements. You've got to have the pulse in room from your leadership group. Then there's the stuff you forget about like beating rush-hour traffic on the road, finding ice in different cities, scheduling. From my days as a player, it's real important to take the excuse out of players. You're thinking about all that, so you need people around you who can do what else is needed."
Obviously, having a former head coach like Jack Capuano aids with that. I've heard from players that Boughner is mostly positive. "I do believe in positive reinforcement. But we've had two meetings early on that were harder." One came the day after their most recent loss prior to Minnesota. That was in Vegas. "We weren't prepared for that game. But it's not me kicking things over and screaming. It's just honest. And they responded."
One area where Boughner thinks the Panthers are improving is defending the blue line. "We are standing up harder. We want to squeeze opponents, make it hard to enter our zone. We're getting there."
28. Finally for Boughner: Is Nick Bjugstad a centre or a winger? "I think he's a winger. We've had discussions about it since I've been here, but being on the outside going north and south frees his mind."
29. One of the Maple Leaf games I remember going to as a kid had defenceman Dave Farrish destroying a couple of opponents with big checks. Farrish was acquired in one of Punch Imlach's best trades during a less-than-triumphant return to Toronto from 1979-81, and I always kept an eye out for him simply because of that memory.
After playing 430 NHL games with the Rangers, Quebec Nordiques and Leafs, Farrish began a 27-year coaching career that took him through Moncton, New Jersey, Salt Lake City, Fort Wayne, Springfield, Louisiana, Pensacola (owned by ex-NHLer Tim Kerr), Anaheim, Toronto and Colorado. Chris Johnston saw him last week in Arizona, where Farrish was a guest of Cliff Fletcher. His coaching days are over, but he hopes his hockey days are not.
"The highlight of my career was winning the Stanley Cup in Anaheim," he said Tuesday. "I still want to be part of a team, but my wife (Roxanne) and I are tired of moving. We'd like to put down roots and get settled. I'd like to do some scouting. Being part of a team, winning together…that's what I'd love to do."
Farrish had a hip replacement last summer and lives in Scottsdale. He'd actually finished golfing for the first time since the surgery when I called. "I loved coaching. So many great players and good kids. The best was getting them to the next level. But it is a strange life. There's almost no control…so many intangibles that affect your future." Farrish switched jobs twice because of franchise moves and a couple of times because new bosses wanted their own people. Favourite spot? Probably the ECHL's Louisiana IceGators. "My wife would go back there in a second. But it was a great time, everywhere I've been. Winning as a coach or a player or hopefully a scout? It's a great thing to be part of."
30. From 1989-2017, how much has coaching changed?
"When I started (at AHL Moncton) in 1989, a head coach might have one player-assistant. You did everything yourself, putting together VHS tapes, everything. Now it's crazy. AHL teams have goalie coaches, two assistants, statistics and Corsi, it's incredible how much its changed." How about the players? "It's no different than families going from generation to generation in life. They've got agents at a younger age, the parents push hard, everyone wants their kid in the NHL. It's not easy to get there, and it's even harder to stay. Expectations are high, they are pushed into situations they are not ready for, we'd be better off to let kids develop at a better pace before burnout, better prepared for what it takes makes. And it's not always the kids' fault. We rush them."
31. Several Tampa Bay staffers were wearing this pin.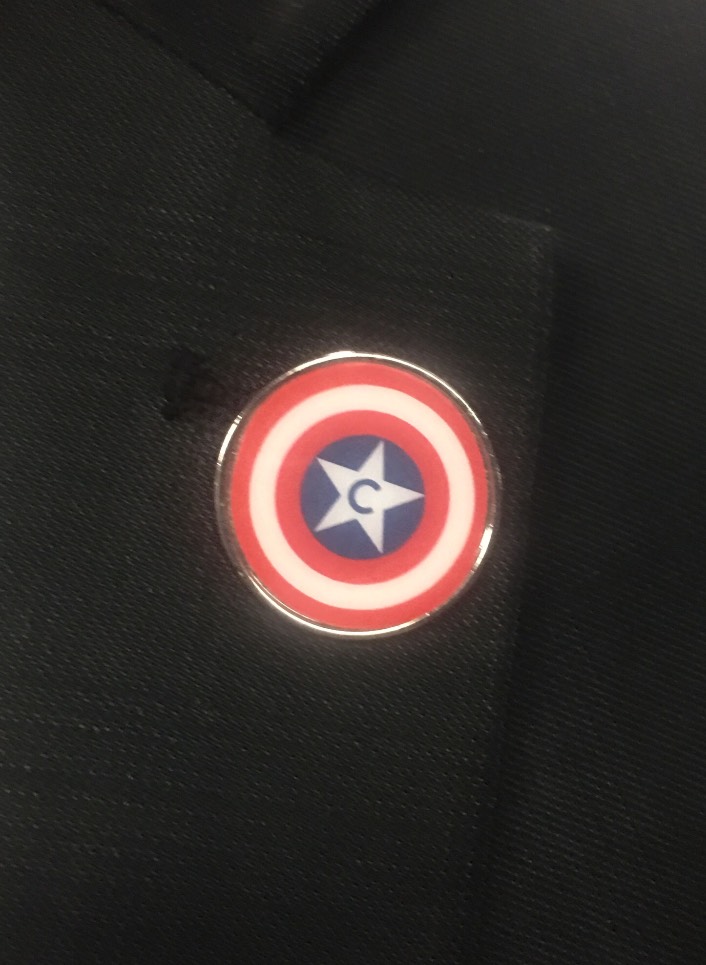 It looks terrific, but tells a tough story. It is worn in support of Carson Belec, the six-year-old son of senior director of team services Ryan Belec. Carson is battling cancer and just went through his fourth round of chemotherapy. The positive news is that the prognosis is good. All the best to Carson and his family. The pin is a very nice tribute.