Here are the facts: At some point in the past few months, Canada's Olympic Hockey Team asked the Canadian Hockey League about taking junior-aged players to the 2018 Olympic Games in South Korea.
As of now, they are still negotiating.
What's in dispute is the difficulty of these conversations. Last Saturday, during Hockey Night in Canada's Headlines, the on-screen graphic said, "Hockey Canada battling with CHL." That sentiment was backed by a few people around the process, with the caveat that there was hope "common sense would prevail."
But one critical voice strongly disagreed with that characterization, and reached out to say so.
"I can tell you, at my level, there is no battle with the CHL," Hockey Canada CEO Tom Renney said. His level is kind of important, since it is at the top.
"We have been very open and honest with the CHL on the potential of eligible junior players participating in the Olympics. It is a long shot. We will never blind-side the CHL and we are looking at players everywhere. Framing this as a battle is truly inaccurate."
When I followed up by saying other sources had framed it as such, Renney again disagreed.
"There is no battle. Trust me, regardless of who you have spoken to, there is no battle."
Well, I've got no reason to distrust Renney. So I take him at his word. Language is important.
[relatedlinks]
With 48 more hours to look at this, all I would argue is that while "battle" may be harsh, it's been an uneasy path. Renney, trying to navigate differing needs, isn't thrilled this is public knowledge. And the more I learn, the more I realize there are a lot of levels to it.
My belief is Team Canada GM Sean Burke and coach Willie Desjardins asked for two or three forwards. I think one is OHL Sarnia's Jordan Kyrou. Taken 35th overall in the 2016 NHL Draft, he had a strong camp for St. Louis. Martin Brodeur, who works for the Blues, is also part of Team Canada's management group, so there's a connection.
I also believe Team Canada asked about the possibility of taking a junior to one of the International pre-Olympic tournaments to see if someone that age could handle it. The team did not want to use the Olympics as the first test, for obvious reasons.
The opposition is simple and understandable: How much time should a CHL team be without its best player(s)? Anyone good enough to play in the Olympics would be a slam-dunk world junior competitor, too.
According to a couple sources, the Olympic team was asked about taking a player who didn't make/go to the world juniors. Not sure where that stands, but it could mean someone (or one of the teams) being forced to choose. It might be the best solution. USA Hockey is having a similar discussion with the NCAA. Those schools don't want to lose their best players for a long time either.
If I was junior-age and good enough to go to South Korea, I'd be as disappointed as the NHLers are if my route was blocked. There are people within the CHL who recognize the need for common ground. Import players must be released to the Olympics if requested, as per international agreements. It's bad if they can go, and Canadians can't.
Renney is trying to make a deal. Hopefully, common sense does prevail. There's a middle ground to satisfy everyone.
31 THOUGHTS
1. As rookies approach their nine-game marks, recognize that most teams worry more about the next threshold much more than this one. Although a 10th appearance erodes one season on the contract, players do not gain credit towards free agency or salary arbitration until they are past the 40-game threshold. (They do not have to play, just have to be on the roster.) In fact, there are teams/agents who think keeping a rookie past nine (but not 40) benefits the club when it comes to a second contract, because stats are lower.
2. One of the more interesting decisions regarding a current NHL rookie involves Tampa Bay's Mikhail Sergachev, because there is an extra wrinkle. If he does not play 40 NHL games, Montreal must send the Lightning a second-round draft pick. Coach Jon Cooper confirmed he is staying for now, and it's 100 per cent deserved. It will be interesting for a team that is a legit Stanley Cup contender: What will be more valuable for 2017-18? Sergachev or that draft pick, which can be used to add something? As it's going right now, you'd have to say Sergachev is the answer.
3. As the four-alarm blaze continues in Montreal, the Canadiens are doing whatever they can not to pour gasoline on it. Regular readers know there's a line I use a lot: When you're drowning, other GMs throw you anvils, not lifelines.
GM Marc Bergevin is determined not to make a panic move. Not a day goes by without an Alex Galchenyuk rumour, but, if he is dealt now, it is the ultimate in selling low — pennies on the dollar. Unless the organization simply wants to cut ties, that's not ideal. I do think they would move Andrew Shaw, potentially keeping some part of his salary. Shaw does have four more years at $3.9 million. Trading with term is not easy.
4. As for Bergevin himself, he is under contract until June 2022. In a league where in-season GM changes are rare, four of Montreal's last five managerial switches happened that way.
I can always be wrong, but I don't get the sense that's what owner Geoff Molson wishes to do. Things can change if fans stop going or Molson doesn't believe in Bergevin's ability to make moves, but, again, I don't see it now.
Quebec media speculation is all over Tampa Bay assistant GM Julien BriseBois as a potential replacement. It is believed his current contract doesn't allow him to talk to anyone right now. That does change at some point, however.
[snippet id=3638287]
5. At one point (maybe the 2016 draft), Bergevin inquired about Calgary's Sam Bennett. One of my NHL exec friends has a standard line: "You can solve your problem, or you can trade your problem. It's always better to try and solve it."
I think that's what the Flames will do with Bennett, who is moving to wing for Tuesday's game in Nashville. They want to get him going. Calgary needs bottom-six production, and will try to kickstart it with Mark Jankowski, excellent at AHL Stockton.
6. A lot of talk about penalties in Calgary, but don't expect the Flames to ask Matthew Tkachuk to change much. He's taken six, two back of Sidney Crosby for the NHL lead, but has drawn nine, which is best. The Flames didn't like a roughing penalty Tkachuk took at the 20-minute mark of the second period last Thursday against Carolina, since it was 200 feet from their net. They'd like him to drop that foul, but don't want to tamper too much with his style.
Speaking of Crosby, something got into his cornflakes. He's already got more penalty minutes in 2017-18 (28) than he had all of last season (24). He is on-pace for a whopping 255, although I'm sure that pace will ebb. Crosby's career-high is 110, from his rookie year.
7. A couple of Edmonton's pre-season opponents warned that, aside from Connor McDavid, the Oilers were not a fast team. We'll see what happens when Leon Draisaitl returns, but, at some point, they will be on the lookout for speed.
8. As Nick Kypreos mentioned during the Minnesota/Calgary portion of last week's show, teams are starting to monitor Oliver Ekman-Larsson's future. He is an unrestricted free agent in July 2019. Before Coyotes fans pull a total freakout, it's similar to people wondering about Erik Karlsson or John Tavares. As a star inches closer to free agency, interested clubs do their due diligence. As GM John Chayka said when I inquired, "He's not available."
9. Don't think we will see Minnesota look to add as Zach Parise spends eight to 10 weeks recovering from back surgery. For one thing, they are scoring, fourth in the NHL with 3.67 goals per game, thanks to red-hot Chris Stewart. For another, they have played only six games, tied with Carolina for fewest in the league. For a third, all their injured players — Parise, Charlie Coyle, Nino Niederreiter — will return.
So, even using long-term loopholes is dangerous, because you have to find room when they come back. This is opportunity time for Joel Eriksson Ek, Landon Ferraro and Luke Kunin.
10. Before the season, a couple opponents wondered how much the Wild trusted Mathew Dumba. Last year, he was third on the team in even-strength ice time, behind only Ryan Suter and Jared Spurgeon. After a rough Friday night in Winnipeg, coach Bruce Boudreau dropped him to the third pairing on Saturday — moving Dumba with Kyle Quincey and Gustav Olofsson alongside Jonas Brodin. Something to watch.
[snippet id=3360195]
11. Speaking of red-hot starts, Detroit's Mike Green is tied with Shayne Gostisbehere and Alex Pietrangelo in defenceman scoring, with 11 points. The Red Wings held on to Green during the summer and GM Ken Holland said last season it was not out of the realm of possibility the team keeps him longer. He's unrestricted next summer. To this date, it sounds like no serious talks have taken place, but there's plenty of time between now and the deadline. If they decide to sell, the lineup will be a long one.
12. The Athletic's Justin Bourne did a terrific breakdown of Dylan Larkin's attack changes this season. At last week's morning skate in Toronto, Larkin said he was asked by coach Jeff Blashill in the 2017 exit meetings to be "less predictable" once he gains the opponent's blue line.
"Don't try and beat everybody wide all the time," Larkin said. "They told me I could still do it, but change things up a bit."
Hours later, he set up a goal against the Maple Leafs by gaining the line and pulling up. Good pupil.
13. It was reported a couple of weeks ago that Laurene Powell Jobs (widow of Steve Jobs) bought a 20–22 per cent chunk in Monumental Sports and Entertainment, owner of the Washington Capitals. Word is the NHL team was valuated at around $900 million (USD) in this sale. That organization's come a long way.
14. As the Seattle Thunderbirds stormed towards the WHL championship and a berth in the 2017 Memorial Cup, several scouts watching them said, "Keep an eye on Mathew Barzal. He is really coming on."
Barzal went pointless in his first five games with the Islanders this season, but you could see his confidence growing. Now he's got three points in his last three games, and his comfort was apparent in overtime versus the Rangers last week.
Monday, Barzal said a lot has changed for him since being taken 16th overall in the 2015 draft.
"I remember, as an 18-year-old, playing in the pre-season against Washington, stretching and watching [Alexander] Ovechkin in the warmup with his helmet off, taking the hardest shots I've ever seen. I was like, 'This is the real deal right now.'"
Last season he got a two-game trial before going back to junior. Now he looks like an NHLer, and thinks a play during the first week in Anaheim got him going.
"[Kevin] Bieksa killed me. I was terrible at the time, and after that hit, I thought my game picked up. It woke me up. I proved to myself that I could take that kind of a hard hit. I felt, 'OK, now let's play.' I'm like I was in junior. Before, I was too timid the way I handled the puck. Unless you are Connor McDavid or Auston Matthews, every young player goes through an adjustment. I'm feeling more like a part of it. [The Islanders] are giving me an opportunity."
15. Barzal is a confident lad. There is a story about him that made me want to talk to him. It goes like this: During one of his draft interviews, a team asked him, "Why should we pick you?" Word is he answered something along the lines of, "Don't, and we'll see how it works out."
I think he was surprised that I knew it, because he laughed but didn't say anything. He didn't want to cause a problem.
"I don't know if I said it like that," he replied after a pause. "But I didn't want to give generic answers. If I was a scout or a GM I'd want to hear a kid say [it the way I said it]."
16. I really enjoyed the conversation with him. Barzal's father, Mike, played in the BCJHL during the 1980s with the Penticton Knights.
"He says he had more grit than me, but I'm blessed with more skill than him," Mathew laughed.
He credits Mike with instilling a great attitude in him during the summer.
"I'd say, 'If I make the Islanders…,' and he forced me to think that's where I was going to be. Don't think about being in the AHL. Until they say you are going to Bridgeport, you are an Islander."
He's also seen the work ethic around him.
"You look at Anders Lee. He's 27 years old. He scored 34 goals last year. He's skating his [blank] off every day in practice."
Barzal rhymed off several older teammates who, without even saying anything, made him notice how they carried themselves. I closed the conversation by asking what goals he set for himself. He said he wasn't sure, because despite his father's advice he wasn't certain where he'd be.
"When I went back (to the WHL last year) I wanted to average two points a game and win the title."
Both accomplished.
"Now that I'm here, I think you should want to win the Calder. More importantly, I want to make a positive impact every night. Every night. That's what I want to do."
17. Entering Tuesday's games, Jaden Schwartz is third in the NHL in scoring with 13 points in nine games. (His Blues will host Wednesday Night Hockey against Calgary.) His 1.44 points per game would smash his previous high, 0.84 in 2014–15. Can he maintain this pace?
"There's no reason he can't continue it," head coach Mike Yeo said Monday. "Some scorers get one or two points on two or three chances. He's involved with five to seven scoring chances a game right now. And it's not like he's opportunistic, where the puck finds his stick. He finds ways to break you down. He can create off the forecheck or off your gap… is smart enough to take advantage of what you give him. He's relentless, skilled, has a great work ethic and hockey sense."
Yeo paused.
"If you like that kind of thing."
That was pretty funny.
[snippet id=3637277]
18. People who analyze pre-draft statistics will have fun with this one. I understand one of the reasons the Blues liked Schwartz heading into the 2010 event was his USHL season with the Tri-City Storm. Schwartz had 83 points in 45 games. His closest teammate, Brett Mohler, was 38 points behind. Apparently, St. Louis's research indicated it was extremely rare for one player in the USHL to score so well without another teammate owning a similar total.
The story goes that the Blues debated Schwartz or Vladimir Tarasenko to the point where someone (believed to be scout Dan Ginnell) said, "Why not both?" Eventually, they added a second pick to take Tarasenko.
19. Yeo has some pretty distinctive deployment trends. Five of his forwards — Alexander Steen (81 per cent), Tarasenko (73), Paul Stastny (65), Schwartz (57) and Brayden Schenn (56) — get the lions' share of offensive-zone starts. (Credit: Natural Stat Trick.)
"It's an analytics thing," he said. "Something that changed for me as I studied it. There will be games or teams we play that I will hard-match lines. Or, depending on the score of the game, I'm going to throw that out of the window a bit more. But, typically, I will trust my third and fourth lines to do the job. We used our fourth line against Vegas's top line, and I wasn't afraid of it. My thinking is, 'If they can tie their shifts against [top lines], we can win somewhere else.'"
Now that Steen is back, there should be more scoring depth. That was lacking early. Yeo had high hopes for Zach Sanford, out until February with a shoulder injury.
"I like that kid a lot."
How did he handle all those early injuries?
"The team watches to see how I respond. If I act that it's business as usual, the team acts that way, too. Next-man-up attitude."
20. Similar situation on defence. In their first full season without Kevin Shattenkirk, I assumed Colton Parayko would get a lot of those available offensive-zone starts. Parayko's percentage was just under 50 per cent last season, with Pietrangelo at 43. Instead, it's the reverse. Pietrangelo is at 50, with Parayko down to 38.
"I wanted to get [Alex] some opportunities there," Yeo said. "We want our offensive guys to get chances. He's better in the offensive zone than he gets credit for."
Early results indicate that's true. He's also playing 1:25 more a night than last season.
[snippet ID=3322139]
21. I was intrigued during the summer when the Kings hired Pierre Turgeon as a kind of "offensive co-ordinator." Head coach John Stevens said this week "people got the idea of someone upstairs calling plays, but it's more like (assistant coach) Don Nachbaur creating the structure and Pierre working within that" to find ways to give them better opportunities.
Stevens uses the phrase "Freedom of Discipline" to describe it. It's the discipline of having a system, but the freedom to manoeuvre within it. One thing Turgeon believes in is attacking from below the goal-line, which we are seeing more and more of around the NHL. Teams who have played them say the Kings look very different, especially in terms of how much more active the defencemen are up-ice without the puck.
22. Turgeon told an interesting story about joining the St. Louis Blues at age 27. He used a 120-flex stick then, and Brett Hull told him it "was the worst stick in the league. When he tells you that, you listen."
By the end of his career he was using an 80-flex. It's instructive, because it shows how you are never too old to learn. He has willing students in Los Angeles. Tanner Pearson revealed that Turgeon changed his one-timer, explaining Hull's philosophy of holding your arms out like with a golf club. When asked, Turgeon showed how when your arms are too close to your body, they can rest or hit against your hips, which affects your ability to move, rotate and/or extend. Alex Iafallo said Turgeon worked on his release, particularly how to change up targets on particular goalies. Adrian Kempe, who scored his fourth of the year against Toronto, "looks like he's on the verge of a major breakthrough," according to one executive.
23. Finally on Turgeon, he is very proud of his son, Dominic, who won a Calder Cup in his rookie pro season with AHL Grand Rapids. Pierre waxed poetic about Dominic's role as a two-line centre and the forward on a three-on-five penalty kill.
"Just like me," he laughed.
24. Mentioned Iafallo a week ago about how the Kings appeared to have found a good one as an NCAA free agent. He said his other two finalists were Buffalo and Minnesota.
25. Good story about Oscar Fantenberg, the free-agent defender Los Angeles brought over from Sweden. When he visited the Kings last season, they wanted to hide him so no other teams would know. Unfortunately, they sat him near play-by-play voice Bob Miller, who was shown on-camera. Suffice it to say, the secret was out. As other NHL clubs vultured in, the Kings were able to hold on and sign him.
26. One scout on Philadelphia's Scott Laughton–Taylor Leier–Michael Raffl trio: "Could be the best fourth line in the league."
27. Boston is not always known for its patience, but one scout who recently watched AHL Providence said he was really impressed with the youth collected by the Bruins.
"Those guys aren't far away, either."
28. I screwed one up last week. It's not correct to say no team has won 50 games with a goals-against average above three. Edmonton, for example, did it several times in the 1980s. I entered the wrong parameters into what I was looking at. Here is the correct info. Since the NHL went to 82 games in 1995–96, only one team has done it. That was the 2005–06 Carolina Hurricanes: 52 wins, 3.15 GAA.
29. Scott Oake and Louie DeBrusk had a tremendous After Hours last weekend with Jaromir Jagr. What stood out was Jagr talking about his father, who still works on their farm in the Czech Republic.
"It was funny…. He's very rich, so I tell him, 'Why do you do that, Why you still have to be on the farm?' He's 76 years old, he's still riding the tractor and everything. And he said… 'When I didn't have much money, that was the thing that gave me a lot of money. I appreciate it and I respect it… I'm not going to stop doing it because I don't have to.'"
Jagr said he equates that attitude to how he feels about hockey. I really liked that.
30. If you don't know what this is, you're in the vast majority: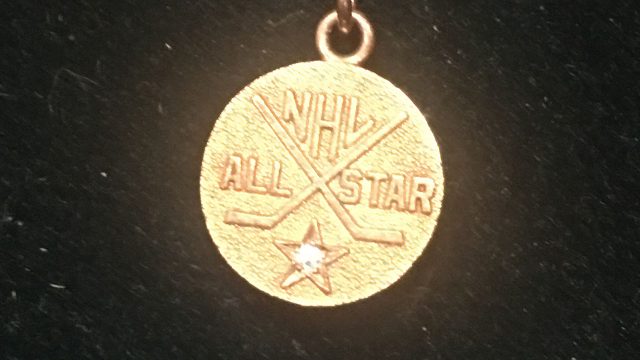 This circulated at the excellent NHL Alumni Awards event Monday night at Scotiabank Centre in downtown Toronto. The gold pendant, complete with diamond, was given to the players who participated in what is recognized as the NHL's first-ever All-Star Game, the Ace Bailey Benefit. Played on Valentine's Day, 1934, it raised money for Bailey, whose Hall of Fame career ended via a head injury caused by Eddie Shore. This one belonged to Detroit's Larry Aurie. His family keeps good care of it, and allowed it be brought to the event. Very cool to see. Beautiful piece, surprisingly heavy. Didn't allow me to put it in my pocket.
31. At the ceremony, Mario Lemieux received the Keith Magnuson Man of the Year Award, Craig Cunningham the Ace Bailey Award of Courage. In a decision that was made before Gord Downie's passing, The Tragically Hip earned the Honorary Alumni Award — which gives an individual or group who's never played in the NHL a one-day membership in the NHLAA.
You know all of their fantastic stories, so I wanted to focus on the fourth honouree, Wendy McCreary. Wendy's father, Keith, played 532 NHL games for Montreal, Pittsburgh and Atlanta. He strongly believed in helping players after retirement, was instrumental in the forming of this association in 2000 and worked as its chairman until his death in 2003. Wendy joined him at the start, and continues pursuing her father's dream to this day.
Mark Napier, who led the organization before being replaced by Glenn Healy, says of Wendy McCreary, "The best stories about her… I can't share them with you."
Normally, that's code for wildness you can't tell in public. But, as Napier adds, "This isn't about that. It's because what she does is private. I can't tell you how many times we've had meetings and she's late because she's listening to someone who needs help. Sometimes guys are too embarrassed to talk to each other. But they will talk to her, and she listens."
Fittingly, she received the Keith McCreary 7th Man Award, given to a person who "contributed behind the scenes for a significant period of time."
Wendy McCreary absolutely qualifies.