Michael Lewis of Moneyball fame has a new podcast, Against the Rules. The first episode features an interview with Joe Borgia, the NBA's Senior Vice President of Replay & Referee Operations. Borgia told Lewis that his league learned American military command centres devised a new method of communicating with their field forces.
It was through a chip in the mouth.
"We actually used a chip over the molar that worked off the vibration of the bone," Borgia said. "Believe it or not, we (tried it). We got a handful of G League referees molded, and we tested that." (The G League is the NBA's AHL).
"To wear a chip over their molar?" Lewis replies.
"But it wasn't good enough, because they didn't know where the voice was coming from," Borgia answered.
"It was just a voice in the heads?" Lewis says, laughing.
Borgia's voice trails off, while adding, "They didn't know what it was, (wondering), 'Was that a coach talking to me?'"
Lewis called this "insane," and it is funny, but is it really a surprise? Would anyone be stunned to know that — with the technology available to us, and all the social media outcry whenever something goes wrong — leagues are going all out to get things correct as quickly as possible?
The interview is particularly timely considering that it is playoff time, so the pressures are intense. If you think criticism of the hockey officials is harsh or unfair, click over to basketball. They are under siege, with Dallas Mavericks owner Mark Cuban going on a multi-Tweet rant and detailed reports of in-game habits being leaked to the media.
In the aftermath of Cody Eakin's Game 7 cross-checking major, Vegas owner Bill Foley said he will lobby the Board of Governors to review those calls. An informal poll I conducted revealed there is zero support — absolutely none — for more review. Totally agree with that, no one needs more slowdowns.
But, if the NHL does want to change something, would it make sense to kill the offside review? Eliminate it completely. When replay first came in, Colin Campbell warned, "There will be unintended consequences." He was right about that, because this has gone way past the spirit it was intended. How many situations like Eakin's are there? I'd bet less than the number of offsides. That would speed up the game in and of itself.
For some time now, teams have suspected the situation room in Toronto — through the penalty-box stewards — gently "suggest" the outcomes of the four-man on-ice conversations while deciding puck-over-glass or high-sticking calls. Watching the deliberation before Colton Parayko's delay-of-game penalty late in Monday's St. Louis/Dallas playoff game, well, I'm all for any "nudging" to get it right.
[relatedlinks]
1. Pittsburgh will never rebuild as long as Sidney Crosby is around. But defeat does not sit well in that corner of Pennsylvania and there is need for renovations. You can understand the eye-rolling that comes with Evgeni Malkin trade rumours, but several other clubs believe there is something to this — that, at the very least, the Penguins are determining the feasibility of the idea.
GM Jim Rutherford declined comment, but hinted at it in a couple of local interviews last week. Malkin has a no-move clause, yet the buzz is that he's taking some time to decompress and think about a.) if he'd agree and b.) where he'd agree to go to. That would be a short list, maybe the Rangers and Florida? The bigger hurdle might be Mario Lemieux, with The Athletic's Josh Yohe reporting sources have told him Lemieux is against the idea. For the Penguins to consider this, the return must be good enough to keep them in contention now.
2. Independent of Malkin, the Penguins are willing to consider a lot of things. Phil Kessel for sure and they will be asked about Kris Letang. On the latter: Rutherford takes pains to point out how much he likes Letang and has said to people who have asked that the amount of blame the defenceman is taking for the first-round defeat to the Islanders is unfair. The Penguins also have to extend head coach Mike Sullivan.
3. We know Mark Hunter's had two interviews with Edmonton. Now that the Under-18s are over, we're going to find out if Ken Holland and Kelly McCrimmon are legitimate possibilities for the Oilers. The Red Wings took care of Holland, putting him in a position where he doesn't need to chase. He has to decide if he wants to pursue this. As I write this, Vegas has not yet granted official permission for Edmonton to meet with McCrimmon, although an answer is expected at some point this week. He is, however, expected to ask for autonomy, and it will be interesting to see how the Oilers respond to that.
[snippet id=3816507]
4. The list of those interviewed for the Oilers job is believed to include Sean Burke, John Ferguson, Mike Futa, Ross Mahoney, Scott Mellanby and Pat Verbeek. Mike Gillis had a phone interview, but nothing in-person. If Holland and/or McCrimmon do not interview, will someone from this group re-enter the picture? It sure sounds like the organization wants someone in place in the next week-to-10 days. They are delaying scouting meetings until the new leader is hired, which makes sense.
5. Prior to Steve Yzerman's hiring in Detroit, Holland discussed a return for Pavel Datsyuk. Not sure if the odds would be very high, but Datsyuk was — at least — considering it. He is scheduled to return to Michigan in May, so we'll see if this goes anywhere.
6. Canucks owner Francesco Aquilini has — for the second time — denied contacting a potential front-office hire. First, it was Dean Lombardi. Now it is Mike Gillis. What I do think happened is both Aquilini and Gillis have many mutual friends; and the owner asked those people if they think the ex-GM would consider working with him again. I also believe the story about Aquilini sending a text message to Gillis opening a conversation. Job offer? Premature. But I could certainly see the path towards… something. We just have to wait and see if Aquilini's tweet changes anything:
7. Buffalo interviewed Dave Tippett for its coaching vacancy, and word is that went very well. Jacques Martin was in there, too, and Swedish National Coach Rikard Gronborg is expected to be in the mix. After a great regular season their AHL affiliate, Rochester, was swept by Toronto in the first round of the Calder Cup playoffs. Word is they were very impressed with the job Sheldon Keefe did, and it wouldn't be a stunner if they asked to talk to him. There is a belief they don't want a first-time hire, but Keefe could test that.
8. Zach Bogosian's hip surgery could change the Sabres' plans for Rasmus Ristolainen. We've mentioned on the 31 Thoughts podcast rumblings that Buffalo and Tampa Bay seriously considered a Ristolainen deal and planned on revisiting it. But another team that poked around him thinks GM Jason Botterill is asking candidates how they can work with Ristolainen and improve his game. I'm a big believer in that. Always easier to solve your issues instead of trading them — if you can.
9. Ottawa has permission to talk to Toronto assistant DJ Smith for its vacancy. Others on the list include incumbent Marc Crawford, AHL Belleville boss Troy Mann and Jacques Martin. I've heard Columbus assistant Brad Shaw's name, but no confirmation. And there have also been reports of NCAA Providence's Nate Leaman. Curious to see if Mann ends up as an assistant, since some of their young players really improved under his watch.
10. We all assume Craig Berube is a slam dunk in St. Louis. But there are teams considering keeping their coaching vacancies open to make sure.
11. OK, Toronto. The No. 1 thing the Maple Leafs are going to work on: eliminate the drama. In that market, it is unavoidable, but you can't pour gasoline on the fire. Much of that will be eased by the necessary roster decisions, since contracts are at the heart of so many public and private debates.
The coach and GM have to figure out if their differing philosophies allow them to continue together. If Buffalo (or anyone else) comes calling for Keefe, does that force Toronto to make a decision? There's speculation the Maple Leafs would add Keefe as an assistant if they lost Smith or Jim Hiller, but that's like playing with nitroglycerine and hoping it doesn't explode. (Hiller has another year under contract, but there are a few teams interested). My personal belief was that Mike Babcock returns for next season, but now I'm not sure. Let's just say, for argument's sake, that Buffalo asks to speak to him. What happens then?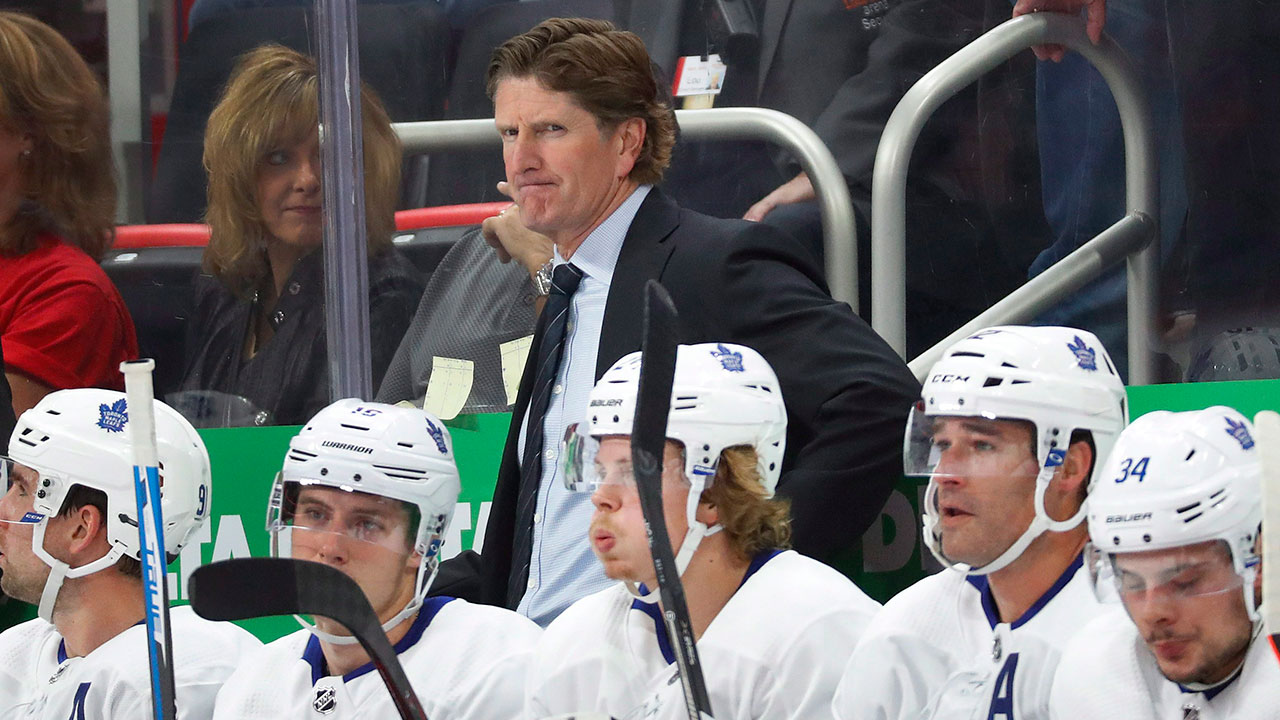 12. GM Kyle Dubas said Mitch Marner was priority number one, and that makes sense because all other decisions are affected by his next contract. It is believed he's targeting the Auston Matthews deal. It is also believed that the Maple Leafs do not see him passing Patrick Kane ($10.5 million) as the highest-paid winger in the NHL. They probably want him around the Nikita Kucherov/Mark Stone $9.5-million range, although those are no-tax states.
You can debate all you want about whether or not he gets an offer sheet, but Toronto clearly believes it's a real possibility and won't let anyone else determine his salary. Marner's a cornerstone player, he's a local kid, he's at Raptors games, he's in more commercials than the Geico Gecko and it is crazy we're getting to this point. But I've done negotiations before that go off the rails and that's where we are. They've got two months to figure it out.
13. Some of my Russian sources aren't buying that winger Ilya Mikheyev is picking between Toronto and Vegas. They think it is the Maple Leafs, and has been that way for a while.
14. Calgary will sign blueliner Alexander Yelesin from KHL Lokomotiv, and, as one GM said, "They've got a lot of defencemen." If they want to add, it is going to come from there. The Flames will also weigh bringing back Mike Smith on a short-term deal, although his age (37), might make them wary about anything longer than one year. They don't seem interested in trading a high pick to move James Neal's contract, and, as of now, have indicated they think the best solution might be to see if he's determined to prove them wrong after benching him in the playoffs. There was plenty of interest in Yelesin — Arizona, Montreal and Ottawa among other pursuers.
15. I think Winnipeg is going to try and find a way to keep Brandon Tanev. It won't be easy. He's an unrestricted free agent who has worked hard to become an important player for them. They will also try to keep Ben Chiarot, another UFA. Then it gets tricky. It sure sounds like a bridge deal is coming for Patrik Laine. They want term for Kyle Connor — and the sense is he prefers that, too, but restricted free agent negotiations are a grind, now.
They've dangled Mathieu Perreault to ease their cap issues and are expected to do so again. The question is going to be, do they move someone else with a bigger salary? They really like Nik Ehlers, but he's never scored in 21 playoff games. They'll take time and think, because they do like his skill-set. But that could be a conversation. Jack Roslovic wants more of an opportunity, whether there or elsewhere. This may have changed, but up until late in the season, there were no talks with Tyler Myers.
16. Most people I ask think Jacob Trouba will be traded. One did raise an interesting point: Would Winnipeg do what Columbus did and keep him as your own rental? If you think he can help you win next year, do you shoot your shot and take your chances?
17. The Rangers landed Harvard defenceman Adam Fox to their prospect base on Tuesday. If Dallas comes back to defeat St. Louis, one of the seconds for Mats Zuccarello becomes a first. (New York staffers are probably wearing green to the office.) This is Step 1 of what is expected to be an aggressive off-season. "Watch out for them," a couple different GMs said. GM Jeff Gorton, armed with picks and cap room, has made it known he is going to be active. Teams up against the ceiling will need them as a potential partner, and the Rangers will want good players to ease your pain. And, they are sending signals they won't be afraid to use an offer sheet.
18. New York made the Fox deal after the Under-18s. They must have compared him to what they saw overseas, and felt he was better.
19. Courtesy @PTHEK78 (via direct message on Twitter), check out the time of day as commissioner Gary Bettman reads the numbers giving the Rangers the second-overall draft position (19:40).
20. Another team that will not rebuild with its franchise player still around: Washington. The NHL is moving to a place where young players are getting big cash, but the Capitals have estate-planning to do. Nicklas Backstrom and Braden Holtby will be approaching 33 and 31 when their contracts are up next summer. Alexander Ovechkin will be months shy of 36 when he's up in two years. The closest comparison is probably San Jose. Brent Burns was 32 when he received an eight-year extension, Marc-Edouard Vlasic 30 and Logan Couture 29.
They gave Joe Pavelski a five-year contract when he was 30, and we haven't even mentioned Patrick Marleau or Joe Thornton. Everything Capitals GM Brian MacLellan is considering revolves around Ovechkin, the greatest player in franchise history. (Backstrom and Holtby are pretty high on that list, too.)
21. Washington would love to get Jakub Vrana done long-term and keep Brett Connolly, but you know they're also going to see what Backstrom/Holtby are thinking. Then, there's The Great Eight. There was a time they thought he'd finish this contract and consider playing in Russia. Now? He had another incredible season and competed as hard as anyone in the playoffs. The Gretzky all-time goals chase is on, and what a story that pursuit would be. At the trade deadline, I think the Capitals "softly" checked the market on Matt Niskanen, but, even though he didn't have a great year, he's a good player. One exec said Washington made it clear "it would hurt" to move him. (They did put winger Maximilian Kammerer on unconditional waivers on Tuesday.)
22. Nashville doesn't have to do anything for cap reasons this summer. Next summer is a different story because of Roman Josi, but his new deal won't take effect until then. In their end-of-season breakdown, head coach Peter Laviolette gave an outstanding five-minute dissertation on the power-play troubles and all the things his staff tried to fix it. According to NHL.com, their 12.2 percentage (regular-season and playoffs) was 20th-lowest in history. (Worst-ever: the 1997-98 Lightning, at 9.3. Winnipeg had the worst single-season playoff run, 0-28 in 1996.) However they decide to tackle it in the off-season, could lead to some tough choices.
23. The Predators' biggest strength is the defence. They are one of the few teams who still used a three-forward, two-defence first power-play unit. They loved the slapshot in a league moving away from that, too. Add this: According to one opponent, the Predators' controlled-entry success rate with the man advantage was among the lowest in the NHL. So, will they choose to make philosophical changes, or do they need to go out and get fresh personnel who can do it differently? They clearly love Dante Fabbro, but do they feel he's ready for an expanded role in his first full season? If they need to add or change, defence is the obvious place from where to do it.
24. What a weird stretch for the excellent Mattias Ekholm. Twenty minor penalties in 80 regular season games. Six in six playoff games.
25. If P.K. Subban is available, remember that he's probably a Canuck at the 2016 draft if the Canadiens find a way to draft Pierre-Luc Dubois.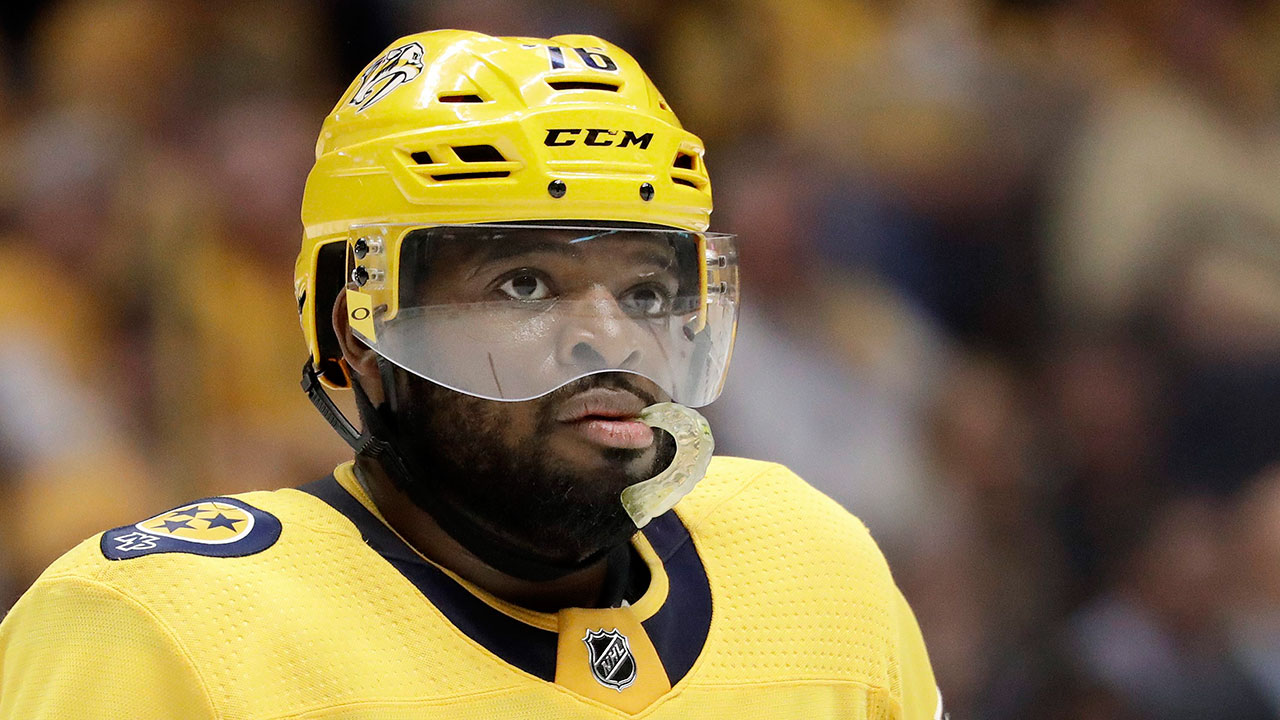 26. One Western conference forward on Nathan MacKinnon: "I'd take whatever penalty necessary to prevent him from carrying the puck in the neutral zone."
27. Great line from one executive on Pat Maroon: "He's a dinosaur, but there's no one left who knows how to play against a dinosaur." Anyone could have had him in both free agency and when the Blues made him available. No one bit, and now he's unstoppable down low.
28. The Bruins are developing some pretty good defencemen. Torey Krug is established while Brandon Carlo, Matt Grzelcyk and Charlie McAvoy have played some great minutes. But Zdeno Chara is still the guy, and, at the morning skate before Game 4 of the Toronto/Boston series, Chara held a lengthy media scrum in the Bruins' room. (It always makes me laugh that the massive defender gets a goalie stall whenever they come to Toronto, while backup Jaroslav Halak is squeezed into a regular one.) The highlight of the conversation was a fantastic soliloquy about what drives him.
"I really enjoy the game. I'm really passionate about the game. I love competing. I love winning. I love creating the camaraderie. It's something that's in me," he explained. "I'm a proud guy, and I love doing all the preparation for the games, for the season in the summer. I love working out. I love being fit. Live healthy. I'm enjoying it. I'm glad I'm still able to play and be in the league and be part of this great game and playing with and against the best players in the world."
Chara also discussed the benefits of sleep, but, when asked what time he went to bed the previous night, laughed and replied, "I'm not telling you that."
29. It was lost in the craziness of Game 7, but Vegas used six forwards on Jonathan Marchessault's goal that sent it into overtime. With Marc-Andre Fleury pulled, the Golden Knights deployed Marchessault, William Karlsson, Max Pacioretty, Reilly Smith, Paul Stastny and Mark Stone. Hope that wasn't the last time we see it.
30. For the last three years, I've emceed the opening ceremonies for the Hockey Hall of Fame Future Legends minor hockey tournament in Toronto. Martin St. Louis, Ryan Smyth and Brad Stuart all had children playing in this year's event (2008-born boys and girls), which will make everyone feel old. I met Nathaniel Brooks, who is an assistant coach at Ryerson University. He told me they base their entire system on the way San Jose plays. Can't blame them for that choice.
31. There were two kids who asked to wear No. 99. I couldn't believe it. Bold choice — for years, no one would have dared to do it.