• Babcock wants Leafs to play with more pace
• NHL testing new all-star skills-comp ideas
• Rogers had big plans for deadline day
The date: Dec. 1, 2017.
Corey Crawford was going on injured reserve, and the Chicago Blackhawks called for Jean-Francois Berube. Down at AHL Rockford, Berube's goaltending partner, Jeff Glass, reached out to Pete Fry.
"Jeff was disappointed, and I said, 'Okay, well, what action can we take?'" Fry said Monday night. "We put together a 30-day plan. How can we be a Blackhawk by Jan. 3?"
Here's a photo of the piece of paper with the plan (Glass said some of the peripheral notes are private, and understandably didn't want them published):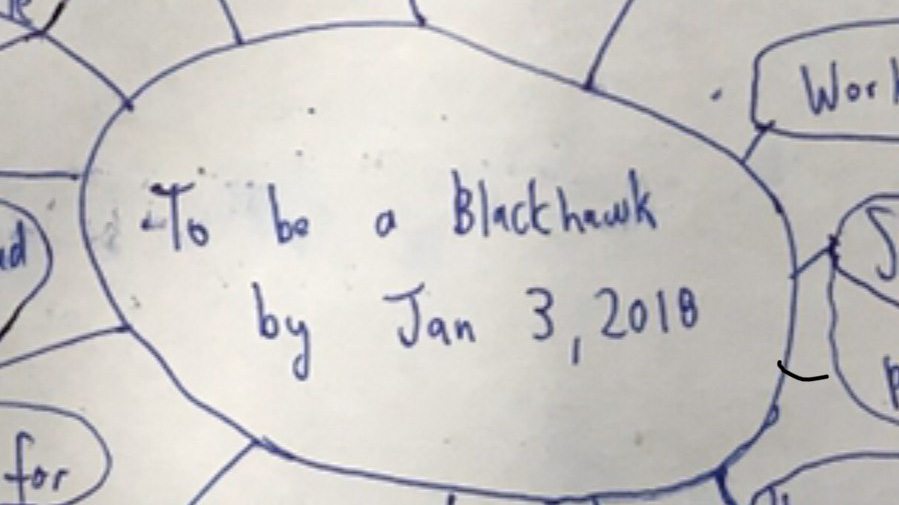 With Crawford injured a second time, Glass would be called up on Dec. 27, and, at age 32, made his NHL debut two days later in Edmonton.
On the surface, Fry and Glass don't have a lot in common. The latter, taken 89th by Ottawa in the 2004 NHL Draft, was the goaltender on Canada's greatest World Junior team, the undefeated 2005 edition that has seen all but two of its players reach the NHL. Fry, 50, played for three WHL teams from 1983–88 and was drafted 191st overall in 1987 by New Jersey.
While Glass plugged away, refusing to give up his NHL dream, Fry admits he himself lacked the mental fortitude to make it.
"When I was drafted, New Jersey had Alain Chevrier as their No. 1 and Bob Sauve as their No. 2. They also had Craig Billington, Sean Burke, Kirk McLean and Chris Terreri. I didn't think I had a chance, and I had been a WHL All-Star. I showed up in terrible shape. The Devils' coach was Doug Carpenter. He said to me, 'Do you know who scored the worst in our fitness testing?' I said, 'I guess it was me.' That was the only time I ever spoke to him, and I made a terrible impression."
"They traded McLean to Vancouver. Burke and Terreri were loaned to their Olympic teams. So there was an opportunity for me, but I didn't give myself a chance. I totally played myself out of a spot."
Fry played at the University of Calgary for Willie Desjardins, then bounced around the minors and briefly went to Sweden. He started teaching the position, but discovered a serious passion: understanding the mind.
"Mental development, personal development. I started reading about the power of positive thinking. Tony Robbins. I realized this stuff works. I could help others where I couldn't help myself."
[relatedlinks]
Fry became known as "The Goalie Mindset Guy" and focused on that. One of his first students was Eli Wilson, who developed into a good coach, spending three years on Ottawa's staff. (In August, he published Hockey Goaltending, with excellent insights into the position.) Wilson was in the crowd for Glass's NHL debut, proudly watching one of his longtime pupils.
He hooked up Fry and Glass in the summer of 2016.
"I asked Jeff, 'What are some of the mental blocks or challenges that you have?'" Fry said. "He saw himself as an almost-NHL goaltender. One of the things I believe is that you must have a crystal-clear picture of where you want to be. I compare it to going on a plane. You are buying a ticket to go to Hawaii, not buying a ticket to go to almost-Hawaii.
"Patrick Roy never thought he was battling for a backup job. That's the way you have to think."
He asked Glass to write out a clear picture of playing in the NHL. Glass, who is from Calgary, imagined leading the Flames out on the ice at the Saddledome. Fry tells a funny story that a couple of days after doing it, Glass was pumping gas into his car next to Flames GM Brad Treliving. He introduced himself.
"Did you tell him?" Fry asked Glass. "No," was the reply. "I was disappointed," Fry laughed. "Sometimes you have to step out of your comfort zone."
After eight years in the KHL, Glass joined AHL Toronto, then Rockford. Along the way, he and Fry continually reset their plan. They talk for a couple minutes almost every day about visualization. Once a week, Glass and two other clients (Vegas's Dylan Ferguson and Edmonton prospect Stuart Skinner) join Fry for a conference call where they discuss upcoming goals and review the previous week.
On Dec. 29, Fry was in Edmonton, speaking to a group of goalies ranging from ages eight to 16, telling them Glass's story. "That's when I got a text from him: 'I'm starting tonight against the Oilers.'" Some of those kids lucked out. They got to meet Glass post-game.
Glass deserves the most credit, of course. He did the work. But it's a call every good teacher wants, because every good teacher knows a student's success is their success, too. What a great story for both of them.
31 THOUGHTS
1. A couple more from Fry I didn't want to waste: First, he shows the "Two Lucky Guys" scene from Dumb and Dumber to the goalies he teaches:
Quite simply, he wants them to recognize their opportunities, and that's a hilarious illustration.
Second, when Fry went back to WHL Victoria after his New Jersey training camp, he said there were a couple of teammates who got NHL contracts. As bad as it went for him, he thought he deserved one, too. So, he called now-retired Marshall Johnston, then with the Devils. "He said, 'I will ask and see what [the organization] thinks and call you back," Fry recalled with a laugh. "I'm still waiting for that call."
[snippet id=3816507]
2. The NHL tested its new skills-competition ideas Monday in Tampa, but is not yet ready to reveal them. Some details have slipped out. For example, the accuracy competition will add a fifth target (five-hole) and instead of players choosing one to shoot at, a light on the target will force the shooter to go for that one. They are looking at individual skills more than a team event, and are privately excited with some of things they've come up with. But it might take a few days before we receive full details.
3. These things take a little bit of time (remember Vadim Shipachyov) so it might take a few days to get clarity, but Jaromir Jagr's NHL time is coming to an end. On one hand, it's sad to see, but I think Jagr's earned the right to be seen in a more positive light. You can look and say, "Ugh, this is tough to watch." I prefer to look at it as, "What an incredible accomplishment that he got an NHL contract at age 45 — even if it didn't work."
Agent Petr Svoboda has permission to talk to other teams, but I'm not hearing much interest. The knee injury is problematic; teams either in or fighting for the playoffs will need the roster spot and cap room. Anyone out isn't going to want to pay potential bonuses. Chris Johnston reported the Olympics don't appear to be an option, so it's going to come down to whether or not he wants to go back overseas. There is word of interest in Germany. I wouldn't put it past him to rest the remainder of the season and try again somewhere in 2018-19.
[snippet id=3803149]
4. The chairs are red hot in Edmonton, but everyone is trying to keep their cool — as best as possible. There are a couple of factors. First, the Oilers know they were too unstable for too many years, change after change behind the bench. They wanted stability and thought they had it. Second, I think they are astonished to be where they are, and that kind of position mandates hitting the brakes and really thinking through your decisions. I think that's going to be Edmonton's path for now — although the upcoming five-day break gives them a lot of time to ponder.
The rumours of firing assistant coaches seemed… weak. I'm not a believer in ritual sacrifice, and what's that going to change, really? But everyone in the organization knows no one is safe after a season like this one. Unless your last name is McDavid.
5. After Tuesday's game in Nashville, the Oilers have a pre-planned golf day with owner Daryl Katz. Back when it was scheduled, I'd bet everyone was looking forward to it. Now?
6. A name starting to creep out there: Brock Nelson. With Johnny Boychuk and Calvin de Haan out, the Islanders need help on the blue line. There will be interest. He's a good player, slotted behind John Tavares and Mathew Barzal. I'm not even sure he'd be available if the Islanders weren't in a "missing the playoffs is not an option" stage, although he is one year from unrestricted free agency. I'm told Nelson is very hard on himself, which can affect anyone, but I'll always take that over someone who doesn't care enough.
7. I wonder if the Islanders take a look at Robin Lehner.
[snippet ID=3322139]
8. Toronto is giving talented Travis Dermott a shot on defence. He played his weak side at OHL Erie and the Maple Leafs will try that, too, although Mike Babcock generally isn't a fan of the idea. But I think they are looking at right-handed options, or veterans who have more experience with playing on the opposite side.
9. One Maple Leaf on Tampa Bay: "They get to your blue line and attack the holes. And they are confident in each other, knowing a play is going to get made."
After games against Vegas and Tampa Bay, players said Babcock was concerned about their pace. Didn't think this group of Maple Leafs would have to worry about that.
10. Don't have any problem with Dustin Byfuglien telling Winnipeg reporters, "I think I should be out there. I would rather play big minutes than sit there" 24 hours after the Jets beat Buffalo last Friday. For one thing, all great players should want to play. For another, he didn't do it after the win, but waited until the next day. (I still have my 1979 copy of Sittler at Centre, where he rips players who complain after a victory.)
But this is a story to watch. Byfuglien played 17:53 that night and 18:48 Sunday against San Jose. His 2017–18 average is 23:23. In those games, Tyler Myers went 23:43 and 20:32, Jacob Trouba 21:18 and 22:01. Until the Jets know Trouba's future, I can't see them moving Byfuglien, but this road has a lot of potential paths.
[snippet id=3638287]
11. Vancouver skated at Toronto's practice facility on Friday, and there were a bunch of kids waiting to play afterwards. As Ben Hutton chatted and shook hands for a few seconds, one Canuck said, "He's handling this better than most of us would." Not sure it's easy on Erik Gudbranson, either, because you're wondering if the next call or text is the end to this saga.
There is no shortage of people who believe Gudbranson will be better on a better, more structured team, but you've got to make a deal and the Canucks are trying to drive up the price. The end is difficult to pinpoint, because it is one of those trades that could end with a 10-minute phone call, or become a big poker game that goes for awhile.
12. Heading into Saturday's game, Brock Boeser's 21 goals were on his stick for a combined 22 seconds. That's incredible, a terrific illustration of his release and accuracy. Ottawa's Mike Hoffman is very similar, and there aren't many in the NHL who can do what they do.
Looking back at the 2015 draft, most teams concede the Canucks rated Boeser higher than anyone else. Regional scout Ted Hampson and current director of player development Ryan Johnson pushed hardest. Hampson handles Minnesota — where Boeser is from — and Johnson went to NCAA North Dakota, Boeser's college choice. I'm not sure Vancouver was worried anyone would take him earlier than 23rd, but the Wild made them a bit nervous because it was his home state. This has turned out to be a huge steal for them.
13. This thing with Alexander Edler "refusing" to pass to Boeser on the power play was brought to Canucks coach Travis Green, who laughed it off. One coach saw it on his pre-scout and has a theory: that if anything goes wrong, because of the way he has to turn, Edler is more comfortable defending a rush from Henrik Sedin's side than Boeser's.
14. Saw Sam Gagner stay on late to work on knocking down pucks with his backhand behind the net. I've been fascinated with this ability since Garry Galley said Ray Bourque was the best ever at doing it. Gagner said he saw Peter Forsberg practising this once, and figured if it was good enough for Forsberg, it better be good for him, too.
15. Speaking of Mike Hoffman, did you see his ridiculous goal against San Jose last Friday? It did not go unnoticed.
16. I'm very interested in the smallest adjustments, the ones you miss if you're not paying close attention. Nick Kypreos caught this one. Look where Erik Karlsson is standing when the puck drops for the Ottawa/Detroit overtime:
Then look where he is for San Jose/Ottawa:
Great players realize tiny fixes pay huge dividends.
17. Ryan Kesler missed the second period of Saturday's game in Calgary, then came back for the third. It's probably not the last time this will happen. He is gutting it out.
18. One thing is very clear about San Jose: The players believe Joe Thornton does not get enough credit for not missing a game after his serious knee injury from last season.
"I look for any sense that it's bothering him," Logan Couture said last week. "Sometimes I see something that makes me wonder, but he says it's not a problem. It's incredible what he's done."
The Masterton vote — Brian Boyle, Steven Stamkos, Thornton, anyone else you want — is going to be very hard.
[snippet id=3317857]
19. Greatest quote about the Nazem Kadri/Joe Thornton beard pull: "Lou Lamoriello wants to get Thornton next year, and because Thornton won't shave it off, he instructed his players to pull it off."
20. Timo Meier's improvement has helped the Sharks, who, as Couture admitted, "found it really hard to score" early as they adjusted to life without Patrick Marleau. San Jose moved from a three-forward, two-defence power play to four and one, but head coach Peter DeBoer said that wasn't getting Brent Burns going.
"We were not worried about him," the coach said. "The metrics were all good and we knew the scoring would come. It was more about personnel."
Meier got the spot. I could see GM Doug Wilson eying someone like Evander Kane. It makes sense. Couture's also been very, very good. Marc-Edouard Vlasic, who is an outstanding quote, said the centre will have to "grow a ridiculous beard or carry around a dog" if he wants to get the attention he deserves, however.
[snippet id=3637277]
21. Great conversation with Brenden Dillon about playing with Burns. He did it when initially acquired from Dallas, but said it was a huge adjustment for him. "I played there with Stephane Robidas and Trevor Daley," he said. "They were both very structured. It is very different playing with Brent."
This time, when he knew Paul Martin's injury would force the change, he watched video of two specific pairs: Burns/Martin and Erik Karlsson/Marc Methot.
"How Paul and Methot read the plays, where they went. I'm much better prepared this time. It's really improved my footwork and vision, because you are constantly looking around making sure (Burns' decisions) don't leave you unprotected."
Have you ever looked up and said, "What is he doing there?"
Dillon laughed. "All the time."
22. Dillon's comments about getting used to Burns make me wonder about T.J. Brodie/Travis Hamonic's early struggles in Calgary. Hamonic is structure, Brodie is a jazz virtuoso. It takes time.
23. Dillon said he had a summer goal of 100 shots in a season for the first time in his NHL career, but feeding his partner forced him to re-consider that one. He might actually do it, though, with 52 in the team's first 40 games.
24. Watching Dallas put Alexander Radulov with Jamie Benn and Tyler Seguin against Edmonton was absolutely mesmerizing. They scored a couple of beautiful goals and dominated play.
Don't know if Ken Hitchcock is going to stick with that, but it shows how the Stars can be a matchup nightmare, with different guys moving throughout the lineup. They are coming on. The shots for and against aren't much different, but opponents say Dallas plays a "little slower" than 2016-17 and it's helped. (They allowed 29.74 shots per game then and 29.98 now. But their overall ranking has improved from 12th-best to third-best, with only Boston and Carolina giving up fewer.)
"We are playing smarter without the puck," GM Jim Nill said Monday. "We are in the right position, making sure we have people above the puck. Our message to them was that if we play this way, we will have the same chances, but we will give up less. We like our team, but this is a tough road. A real grind."
25. When asked what he'd want to add if given a chance, Nill said he wished for "health" as much as anything. They hoped Marc Methot would get one game before the break, but feel he will be fine. Then there's Martin Hanzal.
"He changes our team. He's not the fastest, maybe not the most skilled, but better than you think. I talked to Shane Doan about it, how he plays the game. You can tell he was well-coached when he was a younger man," Nill continued. "I like our depth. Ben Bishop has started to play very well. I like our back end, it's underrated as a group. It's coming, I can see it coming. Early in the season, the stats backed up that we were playing well, but if you're not in a playoff position 40–50 games into the season, you know you're missing something."
Nill said two road trips gave him hope: 3–0 and 4–3 wins over Vegas and Chicago in November, and five out of eight points through New York, New Jersey and Philadelphia in December.
Have other GMs called and asked how you won in Vegas? Nill just laughed.
26. The Stars enter their break with John Klingberg leading all NHL defencemen in scoring.
"[Coach] Rick Wilson deserves a lot of credit for helping John play a more controlled game," Nill said. "Pick your spot — you're not going to win the game every shift. Wait for the right time to make that one move you're going to make. He's better than he gets credit for. If he played for a Canadian team or a northern U.S. team, more people would know him. He's a well-rounded player, still scratching the surface. He's playing, what, 23 minutes now? There's the potential for more."
What's the biggest difference you've seen?
"Less is more. He makes the good five-foot pass instead of trying a 30-footer between three legs."
[snippet id=3700369]
27. There are rumblings Dallas will look to sign Kari Lehtonen to a newer, lesser deal and UFA-to-be Dan Hamhuis has become a big part of what they do, but Nill said results will determine decisions. (Tyler Seguin's next contract looms large, too.) If Dallas wanted to add, there'd be a lot of interest in Jason Dickinson, but forget that.
"He's in our plans long-term. He had hip surgery (after the 2015-16 season) that kept him out until the next December. I want him playing every night, and I want him playing lots. If he's not going to play in an offensive role here, I'd rather have him (in the AHL)."
And the Stars "plan" on Valeri Nichushkin returning from the KHL next season. "We never looked at what happened as Dallas versus him. He was a young player, growing up and we told him going back might be the best thing for you. He's played a lot, and might be on their Olympic team. We've had conversation and it appears we are heading to a return. He wants to come back."
28. Finally with Nill: He's a pretty calm guy — at least when talking on the phone. But I wondered what last season taught him, especially since it was one of the hardest for him since becoming an executive.
"I learned a lot about myself. All in a good way. I've been very lucky, almost always with good teams. It's tough going through for the first time, but you have to be careful identifying what's the reason. You have to be careful not to overreact. Have patience. I'd had opportunities for jobs earlier, but if I had taken them, I know now I'd have had a tougher time handling it."
Are we talking about making rash moves that you regretted later?
"Yes. Reacting the wrong way or saying something at the wrong time. I may not have succeeded. The biggest change for me, is that when you become GM, there's less hockey and more managing. I was lucky to be in Detroit with good people. Ken Holland. Scotty Bowman. The Ilitches, you see that part. I would have failed. I wouldn't have managed the business the right way. I was used to scouting, finding good players. Now you're not in that position. You hire people to scout, to figure out your cap. Your success is dependent on people you hire, putting them in right situations to be successful. If that makes sense." Yes it does.
[snippet id=3653171]
29. From our 31 Thoughts podcast with Jeff Marek: When Rogers got the broadcast rights, it did discuss the possibility making the trade deadline into a prime-time event. All deals announced at night, on a dark evening for the NHL. It didn't happen, of course, but I can imagine how much the GMs would have HATED it.
30. One of the NCAA players Canada tried for the Karjala Cup was Bemidji State defenceman Zach Whitecloud. He's a free agent, and there is a belief Los Angeles has the inside track. One of their scouts, Ted Belisle, recruited Whitecloud before leaving to join the Kings.
31. In Kevin Shea's book, Toronto Maple Leafs: Diary of a Dynasty 1957-1967, the late Johnny Bower told a great story in the introduction. When the Maple Leafs won their last Stanley Cup in 1967, Bower grabbed two bottles of champagne and took them home, saving them for the next victory. He admitted to drinking one on November 3, 1998, his 50th wedding anniversary to the beautiful Nancy. There was no clarity about the second until the service, when grandson Johnny Bower III told Christine Simpson the bottle is still unopened, awaiting its intended use.