• Blues complete unexpected playoff run
• Trade talks are getting louder
• Decision on Roberto Luongo's future expected soon
An hour after becoming a 10-time Stanley Cup champion, Larry Robinson peeked into the Blues' champagne-soaked dressing room. Someone was drinking from the Cup, surrounded by players roaring the opening beats from "Seven Nation Army."
"Never gets old," the Hall-of-Famer said.
Imagine what it was like for those players. That organization. Their fans. More than 50 years of frustration evaporated in the most unexpected of seasons. Just 160 days before St. Louis won the Stanley Cup, they were dead last in the NHL.
Last Saturday night, 24 hours before the Blues had a chance to win the Cup on home ice, we went for dinner at a local steakhouse. After the meal, we were served, "The Gloria," a shot comprised of Bacardi and Malibu rums, Blue Curacao and pineapple juice. The Cardinals are the kings of local sport, but, clearly, what the Blues had the opportunity to do was very, very meaningful to the community.
"You have to understand," one St. Louisan said. "With the Cardinals, it's expected. We're used to them winning. This, we've never experienced. We've never been close. It's going to be bigger."
That doesn't mean they were confident. At pre-game concerts outside Enterprise Center, fans made it clear they did not want to hear "Gloria." That song was only to be heard after wins.
There was no Laura Branigan after Game 6. A bad-bounce goal propelled Boston to a 5-1 win, and a Game 7 showdown on home ice. A couple of Blues employees joked, "We never do anything the easy way," unafraid of the challenge, since they were better on the road.
But if there was one thing that stood out in the aftermath of that game, it was the families. There are times you see players walking out of Game 6 defeats, and you can see the concern. That "We blew it!" look.
Down the corridor came Alex Pietrangelo, with his young family. Ryan O'Reilly, with his young family. Tyler Bozak, with his young family. David Perron, with his young family. They were calm, they were relaxed. As the parent of a seven-year-old, I got it. No matter how mad you are at what happened, there's something about seeing your children at that age. It just…erases everything. (One of them was upset, with the father laughing later that the boy didn't realize he would only get to go on the ice if the Blues won.)
At the morning skate for Game 7, Jordan Binnington talked about Marc-Andre Fleury's Stanley Cup-saving stop of Nicklas Lidstrom in 2009: "I liked how he loses his technical stuff and just goes for it."
Hours later, Binnington's sprawling save of Joakim Nordstrom kept it 2-0 St. Louis midway through the third. That reminded you more of effort than technique, too.
Two weeks before Binnington's first appearance of the season, the Blues lost 6-1 in Arizona. A friend of mine was there that weekend with his son, and bought tickets near their bench. He called the next day, saying he'd never seen anything like it. "Those guys couldn't stand each other, and (head coach) Craig Berube looked like he wanted to kill them all."
I told that story to one player, who asked to remain nameless. He said, "(Berube) almost did."
Some people talk tough, Berube is tough. Seventh on the NHL's all-time penalty list, he commanded respect and worked to repair a fractured room. Five weeks later, Binnington started winning games.
"That finally gave us confidence," O'Reilly said. "You need results."
GM Doug Armstrong, who didn't like what he saw in 2017-18 and pulled the chute with his team one point out of the playoffs, read things differently this time. A GM has to know his group. Armstrong absolutely did. But, there were moments he wavered, particularly as he considered a pre-Christmas sale.
At Media Day, approximately 30 hours before Game 1, Brayden Schenn was asked if he'd heard he was close to becoming a Boston Bruin during the year.
"Yes," he smiled. "My agents (Newport) called me before U.S. Thanksgiving. They'd heard something was up. When they call you…" he stopped for a second. "But I never heard anything more."
In Game 7, Schenn scored the 3-0 goal.
Minutes later, right below the Hockey Night in Canada set, a group of Bruins fans turned and looked at three jubilant Blues fans. Uh-oh, we thought. Instead, they extended their hands, wished them congratulations on ending a long wait, and exited. Later, the scene repeated itself on a sidewalk outside TD Garden.
For more than 50 years, the Blues and their base clamoured for those congratulations. Robinson is right. Watching anyone in that moment never gets old.
[relatedlinks]
31 THOUGHTS
1. A few more things about the Stanley Cup Final. You always ask, "What are other teams going to try and copy from the champ?" The Blues are a throwback. Make your defence turn, go after them hard.
Berube hates pointlessly throwing the puck at the net. But, if anything really stood out, it was the size and reach of their defence. Several coaches, players and executives watching were struck by how hard it was to manoeuvre through their defensive zone — particularly the Jay Bouwmeester/Colton Parayko combo. When it came to the Patrice Bergeron/Brad Marchand/David Pastrnak line, one Blue said they were determined "not to be fooled by their deception." Those three are excellent at creating havoc through the neutral zone via the different routes they take. The Blues focussed on where they wanted to get to (especially Marchand's and Pastrnak's preferred one-timer locations) instead of how they got there.
Vince Dunn, an excellent puck-mover, was the only St. Louis defender under six-foot-two, and Boston couldn't get it through them.
2. If anyone got shafted in the Conn Smythe voting, it was Parayko. My ballot went Binnington/O'Reilly/Tuukka Rask, but it hurt to leave big 55 off the list. The Blues outscored the Bruins 2-0 at five-on-five while Parayko was on the ice against the top line. "He had to understand how good he is," more than one teammate said. Freed from that assignment, Pietrangelo was borderline unstoppable. The score was 12-5 with him on the ice at five-on-five.
You'll remember that O'Reilly scored the winner in Game 4 on the rebound of a Pietrangelo bomb. Two nights earlier, he shot low to Rask's right side on a similar attempt, only to see the goalie harmlessly deflect it to the corner. "I couldn't make it that easy on him again," the captain said. This time, he sent a screamer high blocker, much more difficult for Rask to handle.
Bouwmeester, who worked his tail off to save his season, was asked the morning of Game 7 if he'd say anything special to his teammates that night. "I might," he smiled. Asked afterwards if he did, he replied, "Everyone did." Remind me never to play poker against this guy.
3. Binnington backed up Scott Stajcer during his first season at OHL Owen Sound. One night, he was thrown in during a rough game for the team. According to legend, Skittles fell from his pads not long after. I asked him if this was true. He replied, "I don't remember that," but with a huge smile on his face.
4. There was a lot of debate after the series about the Bruins' "window" and whether or not this was their last, best chance. I would be wary of underestimating them. Rask is at the top of his game. The blue line is in excellent hands. Charlie McAvoy is so good that, if he played in Toronto, we'd be making you sick of offer-sheet stories about him. Torey Krug would be coveted as a free agent next summer, but it is obvious when you talk to him that he loves being a Bruin.
The key will be development of forwards to take the load off the big line. What will also be interesting is how the dressing room changes if Bergeron or Zdeno Chara ever retire. The captain once again blew away his teammates with his commitment following the facial injuries. It wasn't just playing, it was sitting on the bench in Game 4 to try and will them to win, Professor X-style. Bergeron's speech before Game 6 got the headlines, but he finds smaller, less obvious ways to get his point across.
Krug told a great story about how Bergeron will come into the room after a bad period and say, "I'm playing frustrated, I have to calm down." It's not yelled to the group, more of an aside that's audible enough to get the message across. "Young players will hear that," Krug added, "and they will understand it is okay to get frustrated, as long they get a handle on it."
Small thing, but a big thing. The identity change — whenever it comes — will be a challenge for them. One note about Marchand: there was a neat moment as he waited to go to the podium after Game 6. A young boy in an O'Reilly jersey came out of the Blues' family room. He did a double-take when he saw Marchand and asked him to autograph his jersey. They both realized that wouldn't work, however, and settled for one on the guest pass stuck to it.
5. Finally, there were several occasions throughout the playoffs where Bruins coach Bruce Cassidy referenced "looking at the numbers" to check if what he saw was backed by the data. Asked what he looks at, he named four things: how they defend the neutral zone, how they defend their blue line, slot chances for and against, and rebound goals. (He credited that one to assistant Jay Pandolfo, saying Pandolfo wants to know if the forwards are getting to the puck.)
6. Alright, let's get to some news: We are getting close to clarity on Erik Karlsson and San Jose. The Sharks have worked this hard. It is believed they've made him an offer that will challenge, if not surpass, Drew Doughty's extension from last summer. Three weeks ago, I thought Karlsson was going back east for family reasons and a travel schedule that's easier on the body. San Jose needs a decision, conversations have intensified, and I think they've got a shot.
7. The biggest impact of Jeff Skinner's eight-year, $72M extension was the structure — $60M in the first six seasons and $15M of lockout protection (although I remain optimistic). Those numbers did not go unnoticed.
8. There will be more conversation about the 2019-20 salary cap next week in Las Vegas, where the Board of Governors meet the day before the NHL Awards. After the combine, several teams indicated they thought the cap might be closer to $82M than the previously projected $83M. The players have the option to raise the ceiling up to five per cent, but, with concerns about escrow, lifted it 1.25 per cent for last season, and a similar number is expected this time around.
Another interesting tidbit involves the U.S. TV deal, which is up in two seasons. The Sports Business Journal reported the possibility of a split deal, with NBC keeping the majority and a new partner (ESPN? FOX?) getting a smaller package. Teams are hopeful about what that could do to the cap, especially with Seattle entering the NHL.
9. There's a ton of trade talk. Among the most aggressive teams: Buffalo, Calgary, Chicago, Minnesota, Nashville, Philadelphia, Pittsburgh, Toronto, Vancouver, Vegas, Washington and Winnipeg. Depending on how the draft goes, we could see some frenetic attempts to move up and down.
The Sabres have talked to the Rangers about Jimmy Vesey. The Flames tested the market on James Neal. The Blackhawks are looking for a defenceman. Toronto's asking price for Nikita Zaitsev is either another defenceman, or something they can use to get one. They will have no shortage of options if they do decide to move Nazem Kadri (Winnipeg is on his no-trade list, so he'd have to be approached about it.) Loui Eriksson's agent, JP Barry, confirmed on Sportsnet 650 in Vancouver on Friday that it is time for the winger to move on. Other teams believe the Capitals are in total "go for it" mode.
10. Eriksson's been linked to Milan Lucic for what, 18 months now? There is a belief Jesse Puljujarvi was added to that conversation at some point, but I don't know where it stands. I think the Flames at, the very least, threw around the idea of Lucic for Neal, but decided against it. Word is the Oilers were willing, thinking Neal could work with one of their top centres. Another team pointed out an additional problem with Lucic's situation — he has to be protected for the expansion draft.
11. Puljujarvi, by the way, still prefers a fresh start.
12. Are the Flyers willing to go into the $6.5M-$7M range on Kevin Hayes?
13. The Jets are trying to sort out Jacob Trouba's future. For one thing, I think they'd like to re-engage with Tyler Myers, but it's not easy without a clearer picture of their roster/salary structure. He will be 30 in February, and Winnipeg doesn't like giving more than five years at that age. Pittsburgh is interested in Trouba, but it is hard to see a match. The ask is high. Philadelphia was there, and, I wondered if a Trouba/Shayne Gostisbehere-type deal made any sense. (But that's just me talking, and the latter is not a righty.)
Panthers broadcaster Steve Goldstein pointed out that Trouba — who has a home in the Sunshine State — finished seventh in his annual Goldie's Gang golf tournament last summer, but I'm not sure Florida wants to pay the price.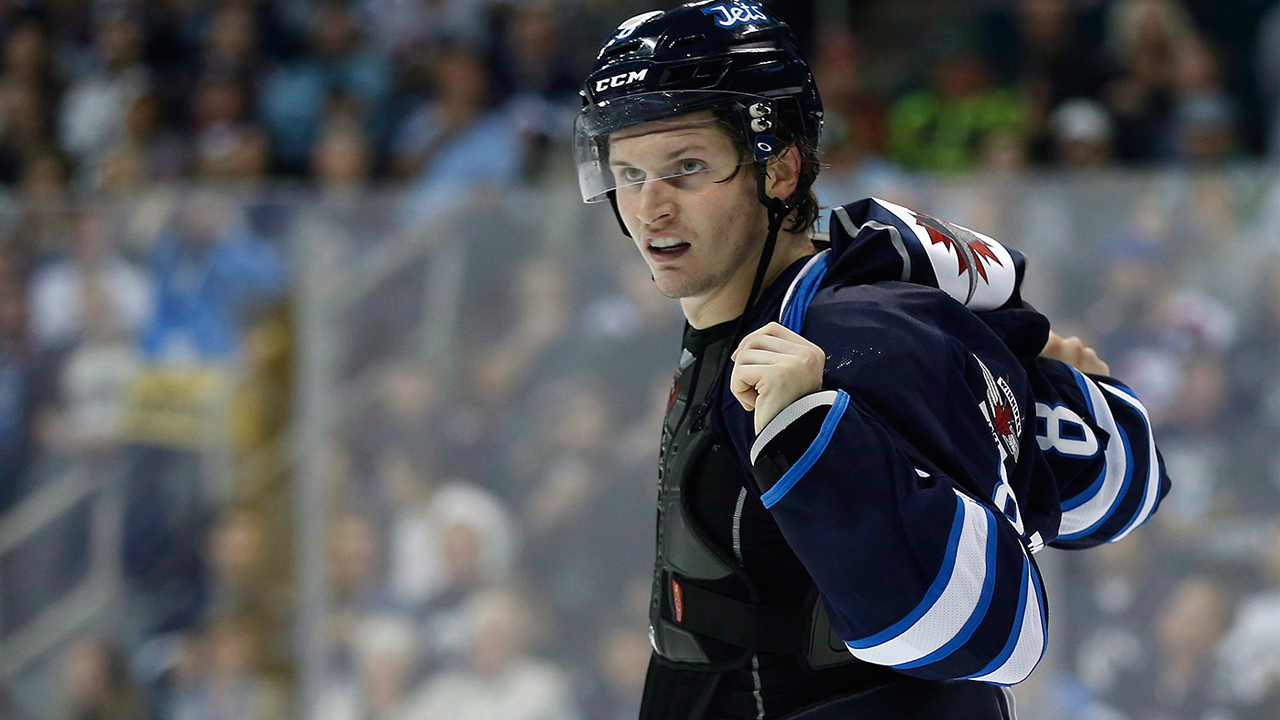 14. Panthers GM Dale Tallon wouldn't specifically discuss Trouba, but did say, "I'm excited about the next two weeks," when we talked on Friday. "We have room to be active, we need to do it. Whether we are successful is another story, but it won't be for lack of effort."
Where?
"Goals against are a problem, we need to remedy that. You do it through really good goaltending, defensive structure, good puck control, smart players. We're looking at all of that."
Will you acquire anyone's rights?
"No, we're not doing that." (Wonder who I could be talking about.) "There are three ways to improve. Through the draft, with deals or in free agency. We're going to look at all of that."
15. Tallon added he spoke to Roberto Luongo hours before we chatted. A decision on the goalie's future is expected before the draft.
16. Minnesota was believed to be eying Brock Nelson, who re-signed with the Islanders. It would not be a surprise if the Wild pursued Anders Lee or Joe Pavelski, assuming either hits the market.
17. I think Dallas continues to grind away with Mats Zuccarello. Mutual desire to extend the relationship, but you have to go through the process.
18. That draft pick owed Ottawa if Matt Duchene re-signs in Columbus is a tricky little hurdle. We haven't seen a sign-and-trade yet, and this makes it more difficult for Duchene to get the eighth year, because the Blue Jackets have to sign him (either to keep or to trade) to get it.
19. The buyout window opens Saturday. Names to watch: Scott Darling (Carolina), Andrew MacDonald (Philadelphia), Corey Perry (Anaheim) and Dion Phaneuf (Los Angeles). Dallas's Valeri Nichushkin is under 26, so he can be bought out at one-third, (not two-thirds of) the money, which makes him very vulnerable. You always have to keep an eye on who might be injured, therefore ineligible for one.
[snippet id=3816507]
20. The Anaheim coaching search has taken longer than many of us expected. We know Lane Lambert and Todd Nelson are out. (I thought Lambert was Dallas Eakins' biggest competitor.) The Ducks had permission to speak to Stars assistant Rick Bowness, but he didn't have a formal interview. There's always the possibility of a mystery candidate, but I'm told it is unlikely. That leaves Eakins and NCAA Minnesota-Duluth's Scott Sandelin, who just received an extension, but that doesn't preclude him from taking the job.
As I've said many times, I believe it is Eakins until told otherwise, but they've made it dramatic. GM Bob Murray interviewed some of AHL San Diego's veterans to gain added intel on Eakins.
21. Chris Wideman, born in St. Louis, went to Game 3 of the Cup Final with a bunch of friends from high school. They sat in the middle of the upper bowl, just as excited as everyone else from the area. Twelve hours later, we met for breakfast about 15 minutes from Enterprise Center and looked back at his 2018-19 season.
"I think the No. 1 thing I learned — that I didn't realize at the time — was how good I had it in Ottawa," he said in an emotional 90-minute conversation. "When you've been in an organization for 10 years, you know them and they know you. You show up for the start of the season, the equipment guys take your gear and you know it is in good hands. You go sit in the same stall. You take it for granted. You don't know how important that is until it's gone."
22. When the Uber video came out, another GM told me Wideman had the most to lose. On a one-year contract, he got off to a rough start even before the controversy. Then came the Nov. 4 home game against Tampa Bay. "Twenty-five minutes before warm-up, I was showed the video," he said. It wouldn't surface for another day, but Wideman recognized the damage. "There were a lot of things to apologize for. There was enough controversy in Ottawa, now we added a new element. It was unfair to the players who were not part of it."
They had to beg forgiveness from assistant coach Martin Raymond. "We were very fortunate he is a quality person; that he was as forgiving as he was. It wasn't fair to him, and he handled it with a much grace as anyone probably could." Then, there was his family. "My parents (Gary and Julie), they were disappointed. They've been proud of my career and supportive, but that was not how they raised me. I was emotional about that; it was hard to see them go through it."
The hardest, though, was facing his fiancée, Caroline, who had moved to Ottawa to be with him. Her mother was in town when he found out about the video, and he took both to a restaurant to break the news. "I can still remember their mouths dropping when I explained what was happening. You think, 'I'm going to be her provider.' But I didn't realize how crazy it would become, and you see that look of helplessness on her face."
23. Wideman knew this was going to be the end in the Canadian capital. "I could sense it right away. But I don't blame them. I was fragile and I did not play well." On Nov. 22, he was traded to Edmonton. He lasted five weeks and five games in northern Alberta. On Dec. 29, he was sent to Florida, where he played one game before being sent to AHL Springfield. The demotion came on his 29th birthday. Caroline was still figuring out what to do with all of his stuff, still in transition from Canada to the United States. The final transaction was deadline day, a move to Wilkes-Barre. Some confidence came back in the AHL, where he had 15 points in 19 games.
"It's a tough league. When you come down from the NHL, you've got a bullseye on your back. Everyone is coming after you." He thanked the likes of Derick Brassard and Phanuef, who supported him during their own difficult seasons, and a close friend, Bill McKeague. "He would call me and tell me, 'Get up and do something today. Just do something that makes you feel good about yourself.'" Wideman pauses. "I had a few lawyers reach out and tell me I could sue Uber. I'm not interested in that. I just want to play. I'm going to work hard this off-season and prove to someone that I can."
24. During my time in St. Louis, I sat down for a while in our hotel with Adam Micheletti. Adam — the son of Rangers broadcaster Joe Micheletti — works for a company called Vizual Edge. He set up a laptop and gave me six different eye-related tests — everything from depth perception to tracking.
Here I am taking what is called the "recognition test," where I'm supposed to re-type the three arrows as they appeared, as quickly as possible. (You can't start until they've disappeared.) I thought I did well here, scoring above 80 per cent with a reaction time barely over one second. Then, Adam told me there is a current NFL quarterback who got a perfect score with an average reaction time of 0.77 seconds. Don't ask, he wouldn't say who.
25. This is something I'm going to do more with in the future, but is another example of rapidly growing sports science. Micheletti's company keeps its clients confidential, but does work with several NHL teams and I'd heard agents were looking at hiring it to work with their prospects. The goal is to determine visual strengths and weaknesses, then provide a training plan to address those weaknesses. Twenty years ago, I did a feature on laser-eye surgery becoming a big thing among golfers. I'm fascinated by this stuff.
26. I'm also hoping for more information about the potential changes to video review. From what I understand, the members of the Competition Committee asked that reviews be limited to clearly "black-and-white" calls — who high-sticked who; puck into netting; puck over glass; hand-pass, etc. The trip by Tyler Bozek on Noel Acciari that led to St. Louis's winning goal in Game 5? There's zero appetite to have that become reviewable. I do think on-ice officials will remain part of the decision-making process, too.
27. I had a few different people reach out and say Kelly Sutherland, who chose not to call that penalty, is a really good referee who had a really tough moment. Don't usually get that kind of feedback.
28. Montreal last hosted the draft in 2009. Sounds like the Canadiens are on the radar once again.
The Season In Sound, 2019
June 14 2019
29. Underrated change at the Stanley Cup Final: both teams' starters introduced before each game, all skaters at the blue line. Liked it a lot.
30. In October, I ran into ECHL Newfoundland's Michael Garteig in downtown Toronto. The Growlers had just won at Brampton and were headed to Adirondack. He bet me a shout out that he'd beat the Thunder. I like to wager, so no problem. The Growlers lost 5-1. But they just won the Kelly Cup, becoming the first Canadian champions in league history. Garteig's a winner, adding that title to the 2012 RBC Cup with the Penticton Vees and a runner-up finish at the 2016 NCAA hockey championship (Quinnipiac).
31. During the lost season (2004-05), I was invited to a Raptors game against Chicago. The Bulls had a veteran forward named Othella Harrington, then in the ninth of his 12 NBA seasons. My host had great seats, and I learned very quickly he loved to heckle opposing players — at one point, yelling, "Hey Othella, how many teams have you played for?" Harrington looked at him, pointed at the Raptors' logo and replied, "Thank God not this one."
In the moment, I nearly died of laughter, but the organization always battled that. (Still don't know what to think about ex-Raptors who bailed on the team jumping into this spotlight.) It's a great triumph for the employees and fans who stuck with them. Now: time for a Canadian Stanley Cup victory.