• Lamoriello putting full-court press on Tavares
• Vancouver a stealth Hanifin destination
• Jets eyeing long-term deal for Hellebuyck
It was early 1978, and two 19-year-olds from Guelph were on a recruiting trip to NCAA Bowling Green.
"We were finished a pickup game, and brought a few beers into the room," John Markell said Friday. "Not too many — I think six. They sat on the other side and watched. We told them, 'Come over here and have one.'"
That was the last time Brian MacLellan and George McPhee needed permission to impose their will during four years at the school.
"They were tough, demanding leaders," Garry Galley added. "They were gone when we finally won the national championship [in 1984], but that doesn't mean they weren't important. They helped build that team."
Markell, who played 55 NHL games with Winnipeg, St. Louis and Minnesota, was a senior when they arrived in 1978. During their one season together, he and McPhee were linemates — the veteran on the right side, the freshman on the left. Galley, who played 1,149 NHL games, was a freshman when they were seniors.
"We had a great power play," Markell said. "Brian in front of the net. George and I on opposite sides, on our off-wings. We were clicking at 33 to 35 percent. George got hurt at the end of the year, could barely practise. It cost us a chance at the national championship."
Did you ever see either one as an NHL executive?
Markell, who coached at Ohio State from 1994 to 2010, laughed. "No way," he replied.
"People forget that when I got there, Brian was playing defence," Galley said. "He was like Brent Burns is today. He could play forward or defence and he could have played both in the NHL. Brian was a heavyweight of the biggest kind. Mean. George was the dynamite small package. You underestimate him, that was your biggest mistake."
By then, McPhee was the Hobey Baker winner as NCAA Player of the Year and MacLellan was an All-American. They were nasty, unafraid to stand up to challenges. An old friend of mine from Vancouver kept a VHS tape of some wild McPhee fights. It's really something.
[relatedlinks]
Most of all, there is amazement that, 40 years later, they will compete head to head for the Stanley Cup. "What a great story," several former teammates echoed.
To a man, whether it be Galley, Markell or others I reached out to, they did not want to discuss the current relationship between MacLellan and McPhee. Speaking to reporters on Friday, the Capitals' GM said, "It's kind of a weird experience. We've been texting back and forth about how strange this is. It is kind of awkward."
That the two are texting back and forth is a good sign. There were hurt feelings when MacLellan succeeded McPhee as Washington's hockey-operations leader, and both have declined opportunities to comment in stories about each other.
"You've heard the stories about how tough they were as players," said one friend who asked his name not be used. "Well, they are also tough people. They don't easily forget when they feel you've crossed them."
"I'm probably a little closer to George than Brian, because I still meet George for lunch when he comes through Columbus," Markell said. "But how can you not be thrilled for both of them?"
Who are you rooting for?
"I usually root for the underdog, but who really is the underdog here?" Markell paused. "I'm tighter with George so I'd probably go with him."
"The good news is one is going to win a Cup, and his organization is going to win it for the first time," Galley said. "One of those guys is forever going to be linked with that, which is fantastic. The unfortunate thing is one of those guys is going to lose. And that's a tough, tough thing to go through."
31 THOUGHTS
1. So, which Washington landmark gets obliterated in pre-game Monday? The Vegas/Winnipeg morning-skate gamesmanship was off-the-charts in the Western Final, culminating with Jets GM Kevin Cheveldayoff shining his smartphone light on the darkened ice the morning of Game 4. We'll see what the Capitals and Golden Knights come up with over the next couple of weeks. In the 2012 Eastern Conference Final, the Rangers always hit the ice before the Devils for pre-game warmup. When the games were in New Jersey, the home team wouldn't turn on the extra lighting until Martin Brodeur stepped on. That meant the Rangers got about 30 seconds of darkness. Haven't seen that since.
2. There are going to be lots of thinkpieces about what we can learn from Vegas and Washington. I'm paraphrasing, but Maple Leafs president Brendan Shanahan said something along the lines of, "It shows what happens when you have a total buy-in from everyone in an organization," when asked about the Golden Knights by Bob McCown and Stephen Brunt on Prime Time Sports last week.
As for Washington, one former Capital said recently, "If you could write a book about what happened internally from the minute they lost to Pittsburgh last year until now, you'd have a best-seller."
It really is one of the most impressive runs in recent memory, because their own expectations weren't as high as in previous years and they exorcized almost every demon in franchise history to get here.
3. Stanley Cup prop bet: How soon until Ryan Reaves and Tom Wilson have a friendly hello? And, does either coach tell one to ignore the other?
4. We probably won't know the truth until training camp, but there is a chance Ryan Kesler does not play in 2018–19. Anaheim's centre gutted through 48 regular-season and playoff games, his discomfort and pain obvious to teammates and opponents alike. From what I understand, he will not be having surgery (that's been done). Instead, he's undergoing some aggressive rehab and treatment in an effort to improve the hip area. The team and agent are not commenting, but word is he is not interested in retiring, wants to play and is doing everything he can to get there. But it might be a situation where he sits out and tries to come back in September 2019.
5. Stealth team for Noah Hanifin: Vancouver.
[snippet id=3816507]
6. The New York Islanders have begun their full-court press of John Tavares. As we now know, Lou Lamoriello met with Tavares last Wednesday in New York City. It says to me that the Islanders were worried Tavares was going to leave and needed a new approach to get back in the game. No guarantees, but he is definitely listening. Getting anything out of Lamoriello is like trying to rob an impenetrable safe, but word is that the team will take a run at Ilya Kovalchuk and has let it be known it will upgrade in goal.
7. It will be interesting to see what other changes come with Lamoriello's arrival. For example, the Islanders believe in a "mental makeup" or psychological test for draft picks, one that has had major influence in their decision-making over the last little while. Among the players who scored highly: Kyle Okposo and Michael Dal Colle. Both New Jersey and Toronto were known for having high scouting budgets, and a few execs said if Lamoriello can convince the Islanders to spend more there, it could really make a difference.
Apparently, New York has guys who work very hard, but "are underfunded." I've seen speculation this will mean Josh Ho-Sang gets moved, but I'm not so sure. Lamoriello was great for Scott Gomez and Nazem Kadri, two players who went different ways without his vision. And, because the Islanders had issues with defensive play in 2016–17, you wonder if Scott Stevens is on the radar.
8. The Jets will take a serious run at signing Connor Hellebuyck long-term. A couple things about Hellebuyck: He played 3,332 minutes in 2014–15, 3,158 in 2015–16, 3,047 in 2016–17 and 4,981 this season. It was another level and he ran out of steam. What was most interesting was before Game 5 against Vegas, he changed his routine. Usually, when the camera enters the room right before pre-game skate, he stares directly at it. This time, he looked away. That's someone still figuring out the process, which is no big deal.
I know there were some raised eyebrows at his comments comparing his goaltending to Marc-Andre Fleury's, but I have a theory on that: He's Mike Weir. Weir was well known for blaming spike marks or something on the green for missed putts, etc. When I asked someone who knew him about it, he said it was a defence mechanism, that Weir was so hard on himself for misses that a sports psychologist moved the goalposts to ease the pressure. Hellebuyck didn't need the media to tell him how good Fleury was — he knows. But that's the way some guys handle it, and I have a greater understanding of it than I did years ago. The guy's a stud; he will only get better and the Jets know this price isn't going down.
9. With the exception of Kovalchuk, most of the European players NHL teams are looking at are signed. One more to keep an eye on for this year is 28-year-old left-hand-shot defenceman Bogdan Kiselevich. It sounds like one of the reasons he is still available is Winnipeg is among the interested parties, and the Jets had more important things to worry about lately. But a couple of teams are privately beginning to peek at next spring.
Nikita Gusev's KHL contract ends, and he's Vegas property. The tricky thing is Gusev will be one week shy of his 27th birthday on July 1, 2019. So, if he waits an extra year, he can pick his own spot as an unrestricted free agent. There is a line forming for another forward, 23-year-old winger Alexander Barabanov. And there are rumblings Mikhail Grigorenko might want another shot at the NHL.
10. Many of us were surprised by Evander Kane's seven-year, $49-million extension, but maybe Doug Wilson's history should have erased that. Most of the GM's major extensions since taking over hockey operations in 2003 went to players with organizational tenure: four times with Patrick Marleau and Joe Thornton; Marc-Edouard Vlasic in 2012 and 2017; Evgeni Nabokov in 2006, Milan Michalek in 2008, Ryane Clowe in 2009, Logan Couture and Joe Pavelski in 2013, Justin Braun in 2014, Brent Burns in 2016 and Martin Jones in 2017.
However, it is not unusual for Wilson to drop big deals on those who've recently arrived. Kane's 26 games are the second-fewest I found. Only Burns, who was acquired in June 2011 and signed for the first time weeks later, was lower. Craig Rivet, Antti Niemi and Brenden Dillon were extended after 28, 42 and 60 games, respectively. What has changed is Wilson didn't initially like July 1, but in recent years has given out his biggest contracts ever at that time: Paul Martin (four years, $19.4 million in 2015), Mikkel Boedker (four years, $16 million in 2016) and Joel Ward (three years, $9.825 million in 2015). And he'll try to smash those totals if he gets a seat at the Tavares table.
11. So, if we're looking at San Jose's typical behaviour: Burns and Vlasic got eight-year extensions one year before unrestricted free agency. Does Couture follow in a month? And, by my count, the Sharks have six players with a three-team trade list. That is their clause of choice.
12. In a league that craves centres, I wonder if all of this may price Chris Tierney out of Silicon Valley. Tierney is arbitration-eligible, and there would be interest.
13. As teams look to fill out their coaching staffs over the next few weeks, here are some names to watch:
• Rikard Gronborg, who led Sweden to gold at the World Championships, will have interest. He's expressed a desire to move back to North America, where he played at NCAA St. Cloud State. Buffalo, Dallas and the Rangers all make sense as a possibility for him.
• The Athletic's Craig Custance has reported Dallas, Detroit and St. Louis have interest in Todd Nelson from AHL Grand Rapids. Nelson has power-play expertise, and all three teams need help. The Stars were 19th, the Red Wings 24th and the Blues 30th this year.
•  I could see Calgary promoting AHL Stockton's Ryan Huska.
• And there's interest in two at least two other AHL guys as NHL assistants: Chicago's Rocky Thompson and Tucson's Mike Van Ryn.
[snippet id=3918715]
14. With Brandon Pridham promoted and Laurence Gilman hired, the Maple Leafs are now looking to replace Mark Hunter's spot in the organization. There's a ton of interest. As Jeff Marek pointed out, a lot of the educated guessing surrounds Wes Clark, and we're not talking about the retired U.S. Army General. Clark, 35, was Dubas's first hire at OHL Sault Ste. Marie and later came to Toronto. He left for the Florida Panthers in 2016, where he is an amateur scout. (Cue the conspiracy music — he's also tight with John Tavares.)
One NHL exec — who isn't interested in the position — said that if the Maple Leafs wanted, they could simply draw up a list of people with local connections who would probably love to come back. Off the top of his head, he threw out Sean Burke (played for the old OHL Marlies, now with Montreal), Mike Futa (Toronto-born, Los Angeles), Scott Howson (Toronto-born, Edmonton) and two from the St. Louis front office, Bill Armstrong and Rob DiMaio, both of whom live in the city. Another GM wondered if Dubas will keep two of Hunter's lieutenants, Lindsay Hofford and Jim Paliafito.
"They do a lot of the legwork," he said.
Then there's the question of whether or not they will put someone in Lou Lamoriello's advisory role. I'm not convinced it will happen, especially since it is believed Ron Francis wishes to sit out a year. If I were in Dubas's shoes, the thing that would tempt me is information. Knowledge is power in this business and someone like Chuck Fletcher, who was just in a GM chair, could bring a ton of intel.
15. I wondered about the connection between Gilman and Dubas. Someone pointed out that Toronto and Utica sit next to each other at AHL meetings. For all the blather about analytics, an area Dubas strongly believes in is sports science, and the Maple Leafs are heavily invested. So was Vancouver when Gilman was there.
16. I'm always interested in what people read. Dubas told Ron MacLean two of the books that had great influence on him were Thinking, Fast and Slow and The Score Takes Care of Itself. The former, by Daniel Kahneman, who won the Nobel Prize for Economics in 2002, is a deep dive into errors we make in judgement. The latter, by three-time Super Bowl winning coach Bill Walsh, is also a favourite of former Blue Jays GM Alex Anthopoulos.
17. Paul Fenton has a five-year deal to be GM of the Minnesota Wild. It's fitting then, that one of the best pieces of advice he goes by is, "Try not to do everything in one day." He was driving with his wife, Nona, when Craig Leipold offered the job.
"That was really nice, with all of the things we've been through," he said.
Fenton met Wednesday for almost four hours with head coach Bruce Boudreau, and there will be more where that came from.
"You have to make time to say hello to everyone. Some might rush, but I've got to get to know people. I don't know the staff, except in passing. I want to give everyone a fair shot — what happened was not their fault — and I'm determined to have an open mind. What really worked in Nashville was we had as much of a family atmosphere as a working atmosphere. There was a closeness, a care. You were not only co-workers, but friends…. You worried about each other's families, what was going on in their lives. That made you work harder for each other. So important. I'm not in a hurry to replace anyone."
Nashville protected its staff with some promotions, so it will be harder to poach.
18. Fenton said he's spoken with the three captains (Mikko Koivu, Zach Parise, Ryan Suter) along with Luke Kunin and Eric Staal, because they were working out there in the days after his introduction. He's got some key contracts to sort out: restricted free agents Matt Dumba and Jason Zucker; while Staal, coming off a terrific season, is one year from unrestricted free agency. The new GM said it is too soon to say much.
"I just met with [assistant GM Shep Harder] to get an overview of what was coming up in the summer. You always have an idea from the outside, but I want to talk to people here and get their opinions first."
19. This was not something I discussed with Fenton, but the sense from other teams was the Wild expected more from Jonas Brodin, Charlie Coyle and Nino Niederreiter. We'll see if the new regime feels differently.
20. I think Tom Fitzgerald's time is coming.
21. You'll forgive Scott Hartnell for napping during the day on Thursday. Three nights earlier, he and his wife, Katie, celebrated the birth of their first child, Wesley Douglas Hartnell.
"Wesley is my grandpa's name and my middle name," he said. "Douglas is my wife's father. We named him after great people in our lives."
Will you be the good cop or the bad cop?
"I'll probably be a softie early on," he laughed. "But I was raised to believe discipline is an act of kindness."
22. After their Game 7 defeat to Winnipeg, the Predators announced that Hartnell would not be offered a contract for next season. After 17 years and 1,348 regular-season/playoff games, it would be understandable to look at his beautiful boy and decide to walk away. That's not necessarily going to happen.
"Watching these games, I still have a fire inside me to play again. My first priority, over the next couple of months, is to get ready [to return]. It wasn't the way I wanted to end it. I was scratched, came back and had some good games. If there's the right fit, I believe I can still be a presence, still be effective. If I didn't believe that, I would step away."
Hartnell lives north of Columbus, but returns to Kelowna in the summers and will do so once his son has a passport. He's begun playing tennis to get the blood flowing again. He is open-minded about potential opportunities.
"Me and my wife have talked about it, our son isn't in school. If there's a team that's the right fit for all of us, we are 100 per cent going."
Hartnell was 18 when Nashville drafted him out of WHL Prince Albert. He's now 36.
"It's crazy. Half my life. I know I'm at the twilight…. I don't know if I took it for granted, but after we lost Game 7, I told the other guys, 'You don't know how many more chances you have. Don't let them fly by.' When you're in your mid-30s, you're 65 in the real world and out of the league. All of them are 21 to 28. In their primes. Don't take anything for granted. All have to elevate their games. It sucks we lost. It was so much fun. Those are great guys and great players."
He singled out Filip Forsberg.
"He's my favourite player I ever played with. On the ice, in practice, he did things I wouldn't even dream of doing — protecting the puck, skating, playing the puck. It made me a better player. I enjoyed watching those guys every day."
23. I closed by asking Hartnell if he feared for his life antagonizing Dustin Byfuglien. He laughed.
"I don't know him off the ice at all, but when he gets angry it's a scary thing. It put a smile on my face feeling very useful those games. We had a couple of chuckles at each other."
[snippet ID=3322139]
24. Almost 30 years ago, David Quinn's playing career came to a sudden end due to a blood disorder called Christmas Disease. A former first-round draft pick, he admitted he was "a lost soul." Some former players know they will be coaches. Did he?
"Not a chance," was the response. "What was next was not in the plan. My career was taken away."
Ben Smith, an assistant coach when Quinn played at Boston University, was now the head man at Northeastern, and offered him a spot on the staff.
"I fell in love with coaching. There is no agenda for me with it. Everything I've done is about a greater challenge that makes me a better coach."
How hard did the Rangers go after him?
"Hard enough that I took the job," Quinn replied, newly signed to a five-year, $12-million contract.
He downplayed the financials, and instead talked about the opportunity.
"I'm 52 years old, and I knew the window would close eventually. Maybe it might be in three years, but it goes by fast and people stop calling. I have a comfort level with the organization. I wasn't looking [to] leave Boston University and I told Chris Drury that. During the season, I talk to him two to three times per week. The more we talked about this (recently), the more we aligned with the process and how we envisioned a team being coached. It's the Original Six, New York City and the Rangers. What else do you need?"
Did they ever put a deadline to you?
"No, I put the deadline on myself."
25. There are two ways to go in the NCAA: 1) Load your team with 22- to 23-year-olds (or older), or 2) Go younger, with teenagers and players in their early 20s. Quinn's best teams were the latter. He went younger, which is what the Rangers are trying to do now. He has a good reputation for connecting to young players, which isn't always easy for someone 30 to 35 years older.
"Maybe I'm just incredibly immature," he joked. "You try to make players feel like you care for them, create a trust factor. I'm fortunate; it comes more naturally for me. We've had several players leave [Boston University] right to the NHL. We saw ourselves as an AHL-style team, creating that path for our players."
He said he knows seven or eight Rangers and plans to meet with as many as possible. Three of his most important projects are a Swede (Lias Andersson), a Russian (Pavel Buchnevich) and a Czech (Filip Chytil). Will he go see them this summer?
"If I have to go to Guam, I will go to Guam."
26. Has anyone told Quinn he sounds almost exactly like Mike Sullivan?
"He and I laugh about it all the time," Quinn said Thursday. "He's a couple of years younger than me, and used my ID in college… so he had more fun than I did."
27. In an effort to protect pitchers' arms, Major League Baseball is a slave to the pitch count and has become much more sophisticated at optimizing rest. I wonder if we are getting to the point NHL teams look for deeper ideas than simply not playing your top goalie 65 times. Washington's Braden Holtby was 18th in minutes played during the regular season. Vegas's Marc-Andre Fleury was 25th.
Stanley Cup starters being farther from the top of the list is a growing trend. This decade, the only goalies to reach the Stanley Cup Final while in the top 10 are Pekka Rinne (10th, 2017), Martin Jones (5th, 2016), Henrik Lundqvist (4th, 2014) and Jonathan Quick (4th, 2012).
As a couple of goalie coaches pointed out, you're not yanking your starter after two periods for Mariano Rivera. And the league is so tight with so much pressure to win that it's not easy to play your backup more than 25 or 30 times. What a couple of sources indicated is we might see teams look at how goalies practise.
"Are practises and morning skates really that beneficial for your number-one goalie?" one said. "How many could they skip? Or, could they go on early, do their intense technical work with a small group, and then leave before the big group comes out there? I'm not sure you need your number-one for the big group too often."
28. The Competition Committee met Thursday in New York City, and out of that came news that goalies will be expected to wear the updated chest protectors in 2018–19. The tighter pants became mandatory in February 2017, and the chest pieces were supposed to follow last year. That didn't happen because the manufacturers couldn't get it done. Now, at last, we are there. I don't have the specific measurements, but the new designs are sloped at the shoulders, less "boxy" overall and more contoured along the body, and have thinner elbows/forearms.
29. Favourite Lou Lamoriello story from Toronto: One employee told me he went into a meeting where a co-worker was bothered by an email sent to her. She was distracted, and Lamoriello asked what was up. Hearing the issue, he said, "Can I see your phone?" Then he deleted the email and said, "That won't bother you anymore."
30. David Quinn's story of a hockey career ending prematurely, finding a new path and becoming a head coach likely will be equalled by David Carle. Carle is expected to be named the coach at Denver, replacing Jim Montgomery. He retired from hockey after discovering a heart ailment, and, as you can imagine, found it difficult to make the forced switch. The old saying goes, "You plan, God laughs." It's not easy, but you can adapt.
31. Here is Hall of Famer Bob Clarke with Kaleb Dahlgren, one of the survivors of the Humboldt bus crash: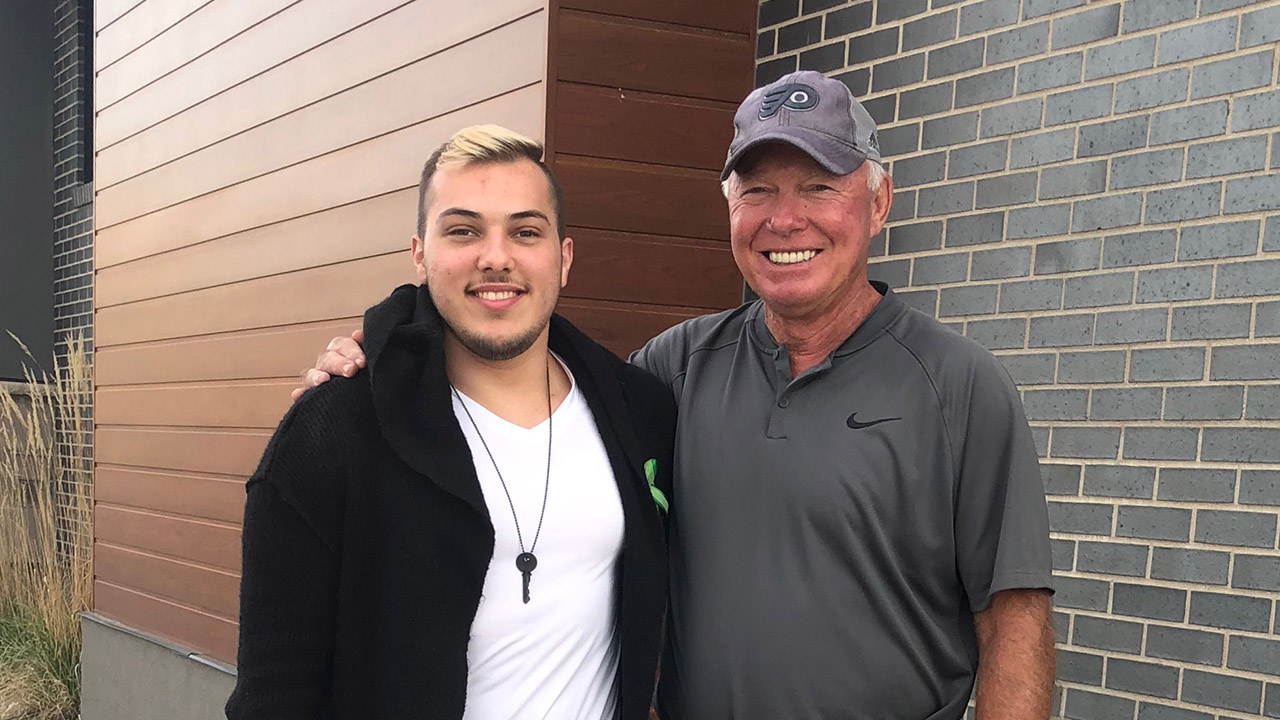 Both have Type 1 diabetes, and Kaleb started a charity initiative called "Dahlgren's Diabeauties" a couple of years ago. That allowed a child with the disease to come and be featured at Broncos' home games. It's a great idea, and good on Clarke for going to visit.