• Duchene, Stone, Panarin decisions in spotlight
• Leafs still looking at right-shot D-men
• NHL All-Star skills comp needs new life
There's always hope one big trade creates aftershocks — that other teams look at Toronto acquiring Jake Muzzin and say, "Time for the counter-move!"
There are some teams who appear ready to manoeuvre. Pittsburgh is one, with Jim Rutherford creating more cap room by trading Jamie Oleksiak back to Dallas for a draft pick. Tampa Bay, looking at right-shot defenders, could add one at any time if it chooses to do so.
But three key decisions must be made before things really shake loose. Two are in Ottawa. The other is in Columbus, where Artemi Panarin is thrust into the spotlight.
While we await the choices from Matt Duchene and Mark Stone, we know through agent Dan Milstein that Panarin is only willing to discuss his Ohio future after the season.
It's like repeatedly asking someone on a date. If they keep saying no, they're not interested. (This, of course, has never happened to me.) Panarin's been up front for months. It doesn't matter if he won't say it himself, leaving his agent's statement as the current word on the matter. You can hope someone will change their mind, but the odds are against you.
You can sense the frustration in Columbus. It grew Tuesday night after the Blue Jackets came back from 3–1 and 4–2 deficits, only to lose 5–4 at home to Buffalo. It's understandable to be emotional, but letting those feelings influence any decision is the worst thing the organization can do at this time. The worst.
Other contenders are in vulture mode, hoping to take advantage of a franchise that can't think straight. How much would they love to strengthen themselves and weaken Columbus — a good team — through trade?
I don't know if GM Jarmo Kekalainen is a Scotch drinker, but if I were him, I'd pour myself a glass, put my feet up on the desk and tell everyone, "48-hour timeout. We're not considering anything for two days." That buys you clarity. Who knows, it might also make someone present a ridiculous offer.
From the moment Sergei Bobrovsky and Panarin declined to commit to Columbus beyond June, my position was the Blue Jackets should go for it. Their playoff history is limited and the post-season is unpredictable, but when were the Blue Jackets ever going to look better? Sometimes, you just have to push all your chips into the middle and say, "If I lose, I'm losing to a great hand."
I concede that Bobrovsky's mystifying season makes it a bigger gamble. I don't know what Kekalainen truly thinks of his team. And I don't know what offers are out there. Maybe there's something bigger than your average rental move.
But one thing I would not do is trade Panarin because "conventional wisdom" says you can't lose someone for nothing. Conventional wisdom is generally terrible. And Kekalainen's history is not that. He held Matt Calvert and Jack Johnson last season — in the latter's case because he wanted a first-round pick in return.
Plus, the Blue Jackets will gain something: serious cap flexibility. It is one of the most important commodities in hockey.
If the GM believes the Blue Jackets cannot make an earnest run for the Stanley Cup, then wave the white flag and cut your best deal. But if he thinks they can, why not go for it?
I'd rather know how the movie ends than wonder if I gave up on the best ending since The Sopranos.
[relatedlinks]
31 THOUGHTS
1. One out-of-the box team that could try to snare both Bobrovsky and Panarin this summer: Florida.
2. I think the full market for Wayne Simmonds will be known once some of the Duchene/Panarin/Stone decisions are revealed. There are teams like Boston who are probably in for him no matter what, but others who will wait to see the entire picture.
3. Carolina is skittish about the minor injury that prematurely ended Micheal Ferland's West Coast trip. They don't want that happening again, and are trying to hurry the timetable. The Penguins are among those who continue to pursue.
4. Toronto will continue to survey right-handed defensive options, but are likely looking at a dollar-in, dollar-out scenario. While they do have room below the ceiling, they want to protect against potential Mitch Marner and Auston Matthews bonus money leaking into next year's cap figure. (They need to save approximately $3.75 million.) Muzzin was attractive because a) he's having a great season, and b) he didn't cost anything from the NHL roster. That was not going to be the case for Brett Pesce or Alex Pietrangelo. It is believed St. Louis's ask included William Nylander, which was rejected. GM Kyle Dubas wants to give this group a run.
5. Los Angeles and Toronto sparred over 2019 first-rounder Rasmus Sandin. The Maple Leafs told anyone who asked they did not want to include him, and held firm. They did, however, remain Muzzin's most consistent and aggressive pursuer. Montreal and Tampa Bay were in the picture at times, with the Canadiens trying to get him in the aborted Max Pacioretty deal. I was initially surprised that Timothy Liljegren wasn't included. But, after looking deeper, teams are down on him right now. He's not yet 20 — way too soon to give up — but several scouts were not surprised the Kings chose OHL Guelph's Sean Durzi over Liljegren.
[snippet id=3816507]
6. During All-Star Weekend, NHL Deputy Commissioner Bill Daly told the Pittsburgh Post-Gazette's Jason Mackey the Penguins are on a list of clubs being considered to play overseas. My Spidey Sense screams Russia. Just don't know how possible that is.
7. Andrej Sekera is getting close to a conditioning stint. Edmonton is going to have to clear some cap room.
8. Meanwhile, CEO Bob Nicholson is making it very clear he will take his time on a GM search. Four years ago, he hired Peter Chiarelli nine days after Chiarelli'd been fired in Boston. At the time, it was a sensible play, but what eventually occurred changes things in 2019. Plus, it is unlikely Vegas would give assistant GM Kelly McCrimmon permission to leave at this point of the season, and he's high on the list of candidates to be interviewed.
9. What a time to be a solid backup goalie with an excellent, team-first attitude. Pittsburgh's Casey DeSmith and Minnesota's Alex Stalock got three-year extensions so their current clubs would be protected for the Seattle expansion draft. DeSmith had an interesting decision to make because he was unrestricted and there would have been interest. (A couple of analytically inclined teams indicated his underlying numbers are good.) But Pittsburgh is a great place to play and you don't fool around with happy.
10. Hallelujah at the AHL's decision to make available ice-time data for its players. One consideration for Seattle's affiliate? Palm Springs, Calif. There is no building now, so it will take some work. But it fits the AHL geographically.
11. I'm usually all over the NCAA free agents, but there are three 23-year-olds from Canadian universities to watch this winter. Primary among them is Luke Philp, a 23-year-old centre for the Alberta Golden Bears. Philp played five WHL seasons for Kootenay and Red Deer. Both Calgary and Edmonton have taken a look. Only negative: He attends Bob Stauffer's favourite school.
Two others who might get an AHL shot are Jason Fram and Mark Simpson. Fram, a defenceman who plays with Philp, has brief minor-pro experience — eight games with AHL San Jose and ECHL Allen. He played five years with WHL Spokane. Simpson, a centre, is in his second season at the University of New Brunswick. He spent four years in the QMJHL with Moncton and Acadie-Bathurst.
[snippet id=4269767]
12. Funniest All-Star moment: Steven Stamkos and John Tavares walked into Sportsnet's interview room as Brent Burns/Erik Karlsson finished. Stamkos was the only one wearing short sleeves (golf shirt), and Burns immediately yelled, "Look at those pipes!" Burns got on Stamkos for showing them off, then decided he'd wear short sleeves if his arms were that big, too.
13. Second-funniest: Connor McDavid revealing he had to go back to the stylist for a second haircut last week because he wasn't happy with the first one.
"It was cut to a really awkward length," he laughed.
14. I like McDavid's approach. Leadership by example. Show up with your best every day. Do your job. He made it very clear last week that if you're not willing to be part of the solution in Edmonton, you should leave. But that kind of commentary will be rare for him.
"I've never tried to fake being this big personality. I've never tried to be the leader that is the loudmouth, the guy that's calling everyone out…. I've always said, 'I'm the guy that tries to lead by example, doing things right each and every day and being a true pro.'"
15. When you are interviewing Brent Burns, make sure you know how many games the Sharks have played. I said they were coming up on 50, and he replied, "Fifty? No, we are at 52." When I tried to re-start, Burns interjected, "No, we've got to keep that (bleep) in there. Let it roll." He won that argument, too.
16. Burns and Karlsson were very good about learning to play together.
"I think we just overthought it a little bit in the beginning," Karlsson said.
"We were both passing to each other, trying to do that a lot," Burns added, to which Karlsson replied, "Yeah, I'm not going to pass to you anymore. It's over."
He continued: "I think we're both perfectionists in a way, which I like about Burnsie. We want everything to be as good as it possibly can be. Even though it is already good, it can always be better. That is one of the qualities in him that I appreciate a lot. Not everybody is like that."
You can see his comfort level growing. Serious extension conversations are about to get under way.
17. Asked if they were surprised to discover anything they had in common, they settled on red wine. Never a bad choice.
18. Hours before the All-Star Game itself, I went to Palo Alto (about 30 minutes from San Jose) to visit the home of Scott McNealy, a member of the Sharks' advisory board. McNealy moved into his guest home for the weekend, allowing the NHL to take over the main property. The result was "The House of Chel" — the league's first-ever gaming-house activation.
"'Chel' is short for NHL," NHL director of communications Julie Young explained. "That's what the gamers call the league."
Apparently, they refer to the Stanley Cup as the "Chel Cup." This is totally foreign to me, but I'm very curious about it.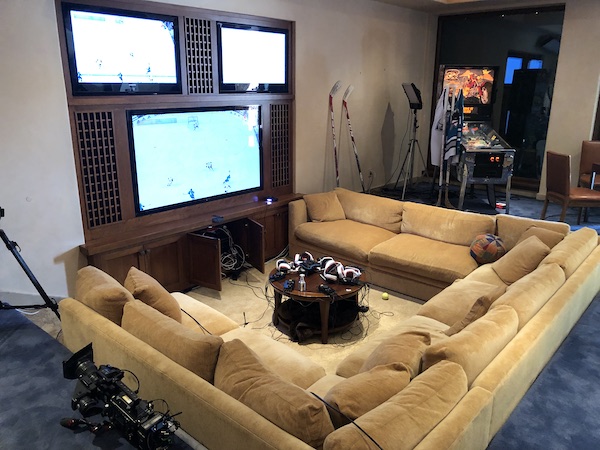 19. Registration begins soon for this year's NHL Gaming World Championship, following last year's debut. There will be three regionals: at Sportsnet's studios, at NBC's studios and in Sweden. In 2018, Sportsnet taped the final. This year will be live.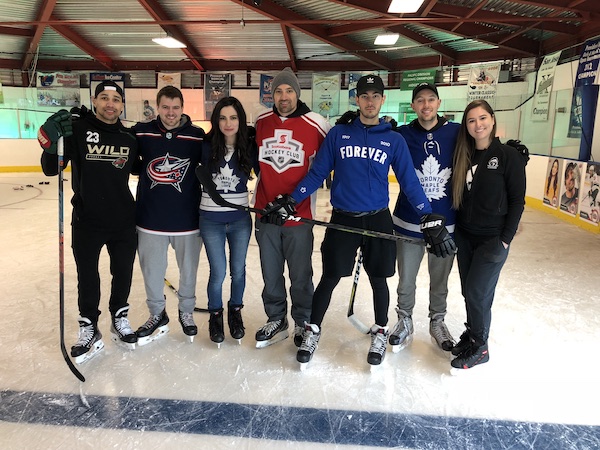 19. McNealy has an ice rink on the property, and the players used it to film special content for the event and their YouTube channel. (They also used a T-shirt gun to play cornhole from the roof of the house to a target on the lawn.)
At the far left of the above picture is Minnesota's JT Brown, an avid gamer who was invited to participate.
"[The NHL] is really trying with this," he said. "A lot of people on my stream became fans by building relationships with myself or other players. You bring together a bunch of different people with different backgrounds. I met a guy at a signing in Tampa Bay. He introduced himself with his real name, then told me his screen name. I told him, 'You should have just led with that. I know you. You're in my chat every single day.'"
Brown smiled and added fans tweet photos of him in the penalty box during online play to his Twitter account.
20. McNealy's rink has a Zamboni with a fin on it, an homage to his favourite team: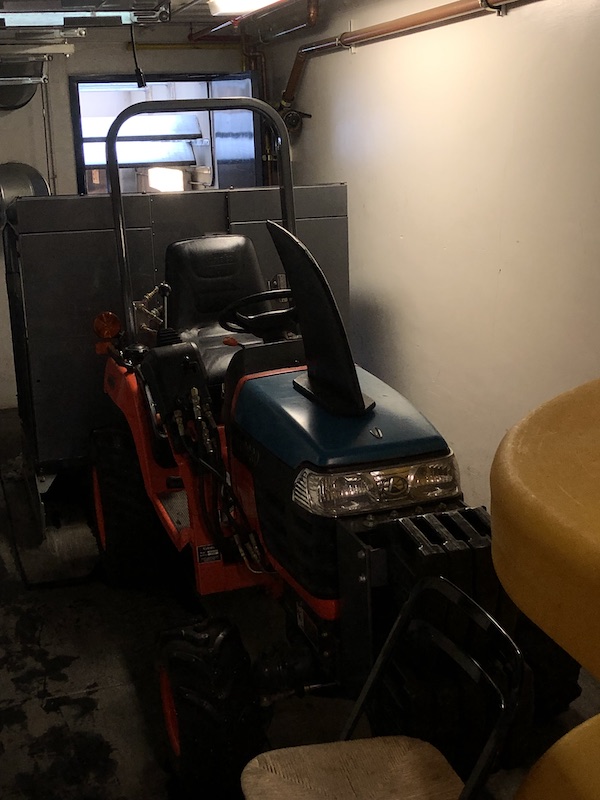 When I was there, the gamer known as GlitterXplosion had lost a challenge, so she was forced to dress in goalie gear for the first time ever and try to make saves. Having a female player was very important to the league.
"This is something we have to embrace," said Chris Golier, the NHL's Vice President of Mobile Marketing & Strategy. "It is about understanding the rules and the game through your thumbs. We want to create a connection for a new generation of fans. You can be the player and see the player."
21. Brown, asked if there is a player who thinks he's good at video games but really isn't, thought for a bit and said Carolina's Justin Faulk.
"I know he can handle me saying that," Brown laughed.
[snippet ID=3322139]
22. Watching the Islanders, I remember one of Lou Lamoriello's tenets: "You only add at the deadline when you think you can win," he said when he added Marek Zidlicky for the Devils in 2012. New Jersey went to the Cup Final. Now the question is: How good does he think the Islanders are?
23. Bill Peters, who is as intense as it gets, looked as relaxed as I've ever seen him at All-Star. You could see the appreciation from Johnny Gaudreau that his coach asked the league for permission to put father, Guy, on the Pacific bench for the competition. NHL clubs looking for a head coach should check out the record of teams Flames assistant Geoff Ward has worked with.
24. Tip that checked out: Arizona's Clayton Keller took a lot from reading Kobe Bryant's Mamba Mentality book. The Coyotes forward said two particular stories stood out. The first involved a player newly traded to Los Angeles. When he got to the hotel at 3:00 a.m., Bryant was waiting for him. The second was Bryant going to a high school gym "for 24 hours, or something crazy like that," after missing a chance to win a game.
"He worked on that same exact shot over and over again," Keller said. "That mindset you can translate to anything in life."
25. One of the players NHL execs watched at the CJHL All-Star game: Harrison Blaisdell from the BCHL Chilliwack Chiefs. His father, Mike, played 341 NHL games for Detroit, the Rangers, Pittsburgh and Toronto before embarking on a lengthy European tour. Mike continued to coach the Sheffield Steelers in Britain after Harrison was born in 2001.
26. Vancouver fans cannot get enough Elias Pettersson footage. His highlights are consumed more than the rest of his teammates' combined. Even his media scrums outdraw other Canucks' great plays. What an impact.
27. Henrik Lundqvist's Godfather jacket lining was a huge hit in San Jose:
But Rick Tocchet's from the day he recorded the 31 Thoughts podcast was pretty good, too: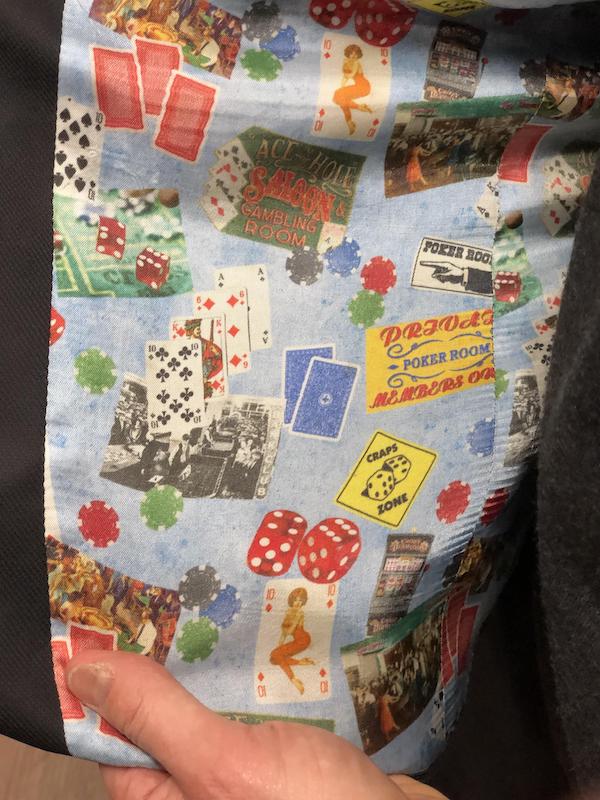 28. I'm not one to complain about All-Star Games, but, aside from Kendall Coyne-Schofield and Brianna Decker, the skills competition was flat. Kevin Bieksa had a good suggestion for the passing accuracy competition that has now tortured Drew Doughty and Erik Karlsson: Give them a set number of pucks, and if they can't hit those small nets in the neutral zone, add a timed penalty instead of having the misses go on forever.
With the possibility that next year is the last conventional All-Star Game until 2023, I'd love to see them continue to add more motivated competitors. You have to think female players will be official entrants in 2020. I'd like to see alumni such as Al Iafrate (hardest shot) and Adam Oates (passing). Since St. Louis is the host, Al MacInnis is a must if he feels up to it. What has been discussed — but not yet accepted — is active specialists. Bring out the fastest skaters, even if not All-Stars. Give Zdeno Chara and Shea Weber one last rodeo. This event needs new life.
29. As part of the international calendar being discussed in CBA negotiations, the NHLPA has suggested a World Cup instead of All-Star in 2021. The NHL isn't thrilled with the idea. But both sides have considered a Ryder Cup format in the past — North America vs. the World. London was one suggested city. I could see the potential for something like that.
30. Being on Twitter means laughing off the craziness. But I wanted to address the aftermath of the Brianna Decker situation, because it led to the most unhinged responses I've ever received. Checking her time with the NHL was not an attempt to discredit her performance. Like the other reporters who saw the #paydecker hashtag, I asked because, if she won, she should be paid. And, the NHL agreed. There was so much good that came from Coyne-Schofield, it made zero sense to insult Decker. They went back to the video and timed her at 1:12. Independently, the producers in our truck looked at our video, and timed her at 1:13. It is nothing but an outstanding performance.
31. As Ron MacLean mentioned last Saturday, the All-Star Game coincided with Wayne Gretzky's 58th birthday. Remember when he scored 50 goals in 39 games in the 1981–82 season? Check how many of those nights he actually went goalless. The answer is 11. He had 31 goals in 26 games heading into December 1981, then got nothing the first four matches of that month. He was up to 35 goals in 34 games after getting one at Calgary on the 17th. To smash the 50-in-50 mark, he scored 15 times over 11 days, culminating with four against Los Angeles and five versus Philadelphia to finish the job. Those 50 goals were actually scored in 28 games. Unreal.