As the NHL's All-Star Weekend comes to a close, intrepid Sportsnet editor Rory Boylen tasked me with finding some players who could be moved at the NHL's trade deadline under a month from now who aren't necessarily the big or expensive names, but based on some of the underlying numbers, could provide teams with a lot of value for a bargain.
Putting together lists like that is always a bit of a challenge, because you want to first start out with the logic that most of the players traded on deadline day will be on expiring deals, then you have to thin things out even further and look mostly at teams who are outside of the playoff picture.
So the players we're looking for should ideally be:
1. on expiring contracts
2. on non-playoff teams
3. good players
4. not obvious names.
That's a lot of filters to apply, so the list gets whittled down quickly. What I decided would make the most sense would be to look at specific needs teams may want to address, and attempt to find players who are adept in at least one specific area.
So while the players may not be world-beaters, they are bargains for teams looking to address specific needs to make their roster more versatile.
SHOOTERS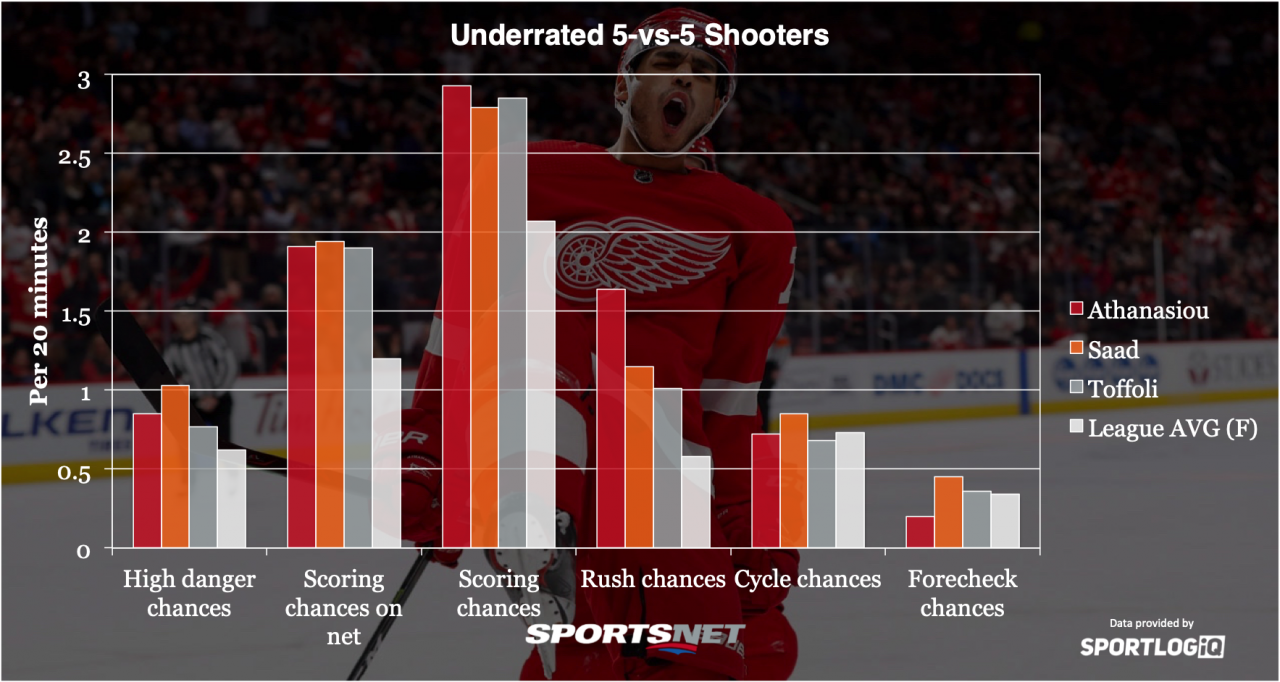 I'm breaking my rules a little bit already for shooters, but there's a good reason why. Tyler Toffoli is currently at the lowest perceived value of his career, and with just one year after this season left on his deal at a very digestible $4.6M average-annual value (AAV), he seems like the kind of player who would thrive when given a change of scenery.
The same thing that's happening to Toffoli now happened to Brandon Saad last season, and while he's rebounded nicely this year, it seems like the lopsided trade for Artemi Panarin and subsequent bad season really tanked his perceived value around the league. Saad, like Toffoli, is just 26-years old, and with the Blackhawks' failure to squeeze more out of this current roster, it wouldn't be surprising if they wanted to shed a contract like Saad's even if they need to retain a bit of salary.
Saad has two years left after this one on the books at a whopping $6M AAV, but he's been one of the league's premier scoring chance producers for years, and boasts a strong two-way game. If the Blackhawks are willing to eat any of that cap hit, getting the last two years and a bit of this contract is a good bet.
Finally, Andreas Athanasiou is rumoured to be on the block, which makes sense since the Red Wings have never really shown as much interest or trust in him as you would expect for such an exciting player, and his contract is a steal at $3M AAV for another year after this one.
Athanasiou leads the entire NHL in scoring chances off the rush per minute played, and he attacks with speed more often than Nathan MacKinnon or Connor McDavid. Surely that's tantalizing enough to ignore any defensive issues.
PLAYMAKERS
Among playmakers on expiring deals, Kevin Hayes is clearly the cream of the crop. He came into the NHL expected to score more goals than he has, which sometimes leads Rangers fans to get annoyed with him, but he's among the NHL's leaders in passes to the slot and passes off the rush, making him a premier playmaker both on the cycle and off entries.
Hayes can put the puck in the net too, and overall is a top-six forward in the amount of offence he generates at 5-vs-5, and I don't think his perceived value around the league is as high as it should be.
Evgenii Dadonov is a name I was hesitant to put on here, because I think the Panthers are really happy with him and not looking to move him at all. But I looked at this in multiple ways, and considering that Dadonov is 29-years old already, signed for just one more season after this one, and his offence is inflated by Aleksander Barkov, the Panthers might be wise to get assets for him before he's too expensive to bring back.
I don't think it's likely that Dadanov gets traded, but if he does, he'll be one of the best playmakers to move at the deadline.
Lastly, it's old faithful over there. Thomas Vanek is no longer a great player, he can sink a line that faces top competition, and he's a major defensive liability, but he hasn't lost his hands.
If a team has the depth to hide him on a third line with some powerplay time to kick in, he remains a fantastic playmaker who can punish teams on the cycle. He doesn't get as many quality-shooting looks as he used to, bur his shot is still great and can freeze goalies,
Vanek may not be much of a scorer anymore, but his playmaking can drastically improve the performance of depth scorers and powerplay units.