John Scott's time in the limelight over all-star weekend may be the most obvious last gasp of the professional enforcer in the NHL. Over the past number of years we have been witnessing the rapid extinction of a role hockey "purists" have historically deemed essential to the sport. This is one of the more obvious shifts that analytics has pointed to, as more and more teams realize the players playing the "tough guy" role have provided limited impact and hampered on-ice performance.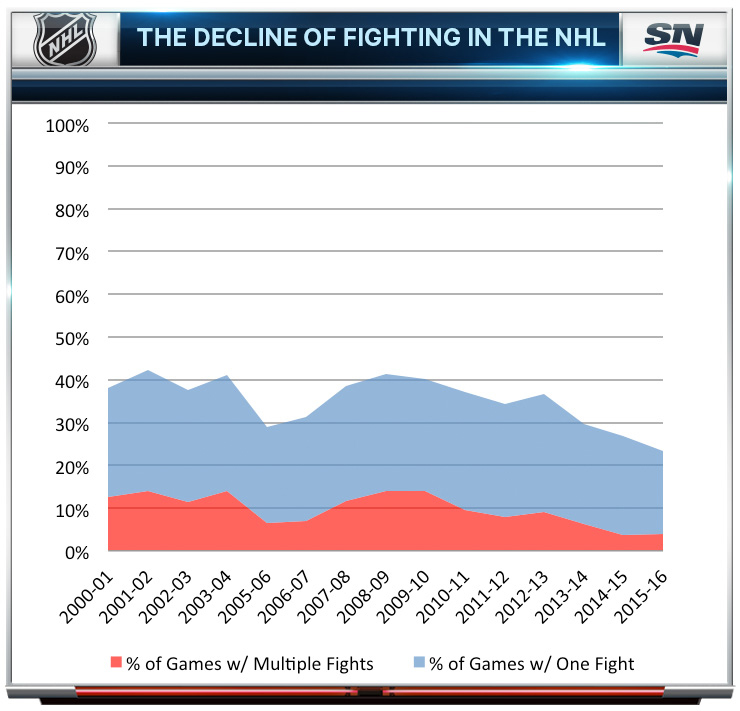 It isn't that fighting on its own is dying out – though there has been a massive 45 per cent decline in fighting majors over the past decade. Players who play a rough and tumble style of play and get into physical altercations aren't being forced out of the game. There just isn't any room left in the league for a skater whose sole role is to intimidate opponents physically from the bench while he skates for maybe five or 10 minutes in the entire game, providing minimal value to the on-ice performance of his team.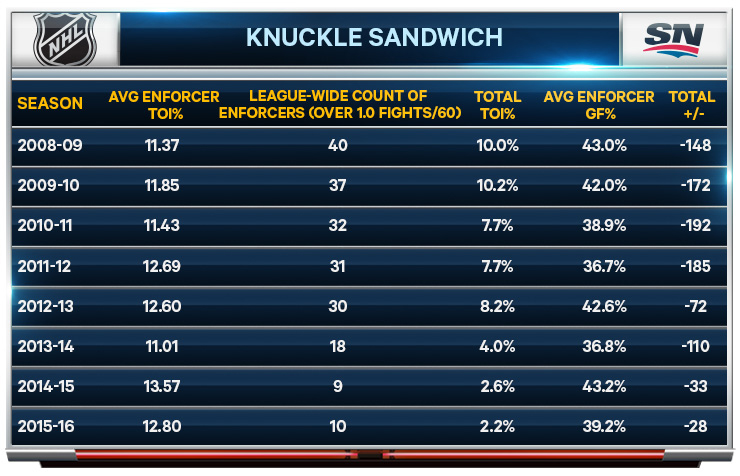 In the very recent past, virtually every NHL club carried a tough guy on their roster who fought more than once for every 60 minutes he played. As recently as eight seasons ago, there were 40 skaters in the league who fit this description and they were playing 1/10th of the ice time league wide. Now there are less than 10 regular skaters in the league that match this description, and despite playing a similar role, their total ice time amounts to slightly over 1/50th of what's available league wide.
Much of this is also likely due to teams realizing the imbalance carrying such a player on the game day roster entails. If you play that player 5-10 minutes less than average, it means you're playing your stars more. This may sound beneficial, but a team with a more balanced lineup should have fresher stars later in games and during the playoffs.
If you carry a one-dimensional enforcer, you're also carrying a skater who is amazingly unlikely to produce any offence for himself or his teammates, even if he is defensively adequate. Believe it or not, NHL enforcers on average are actually fairly typical of NHL skaters in terms of defensive ability (perhaps yet another indictment of the ability of NHL teams to filter defensive performance).
In the past two years we have seen many of the leading enforcers from the past decade wind up on waivers before heading down to the AHL. This season for example, in addition to the John Scott story, we've seen Brandon Prust waived by Vancouver and Brian McGrattan spend most of his season in the AHL after signing in the off-season with Anaheim. Only three skaters in the entire NHL with more than 1.0 fights per 60 minutes on the year have played 300 or more minutes. The way the game is trending there may be none in that group a year from now.
Based on the number of transactions on the waiver wire this season, it appears NHL teams are in a bit of a holding pattern for the time being. They will likely continue to carry skaters with the ability to fight at a moment's notice so they can insert them into the lineup for games where they think it is necessary. This would most likely be against teams who boast physical skaters that have a wider role in the game than just dropping the gloves, but will quickly do so if called upon.
THE LESSON
Now that fighters and the fights they exist for have become a rarity with less than one bout every three games played in the NHL this season, the necessity of carrying fighters on an NHL roster is limited. Theoretically, this should open up roster spots for useful players with other specialized skill sets, such as power play specialists – something the NHL could use more of in its current era of excruciatingly limited scoring.