For Americans, college hockey means a great deal.
For American families, finishing college goes hand in hand with playing hockey.
Detroit Red Wings forward Justin Abdelkader penned an article for The Players' Tribune Tuesday and in it he talked about playing in the NCAA championship game and finally finishing his degree after six years.
The term paper he filed near the end of his school career was the real eye-opener as it pertained directly to his career on the ice.
"It has taken me six years, but I completed my bachelor's degree in Business Management this summer," he wrote. "I won't lie to you, it was pretty difficult to stay motivated — especially writing those term papers. But I found a way to make it relevant to my current career. My last assignment was a 22-page research paper on the emergence of advanced analytics in hockey, which was really interesting, because I was able to use statistics to prove some of my gut reactions about the players I go up against in real life.
"I used metrics like High Danger Zone Scoring Chance and CORSI Differential to get a deeper look at some of my NHL colleagues."
Now that's unique. The questions I now have for Abdelkader are flooding into my head.
The 28-year-old was drafted by the Wings out of college in 2005 but Abdelkader had a promise to keep despite his ascension to the show.
"The next spring, near the end of my junior year, it was time to make a decision," he wrote. "The Detroit Red Wings wanted me to sign a contract. I could play in my first NHL game that Thursday. As a kid from Michigan, I grew up rooting for the Wings. They had just finished the regular season with the best record in the NHL and were about to make a run at the Cup. Now I had a chance to put on the Red Wings sweater and be a part of it.
"There was only one problem. I had 14 credits left to finish at Michigan State. I'd have to give up my final year of eligibility. This is the biggest testament I can give to college hockey: I was being offered the chance to play in the NHL with some of the players I grew up idolizing, and a small part of me was thinking, Wait, is this it? I'm leaving Michigan State? All my best friends? The hockey house?
"Of course, I couldn't turn down the chance to play for a Stanley Cup. But when I called my mom to talk about my decision, she had one condition: 'Promise me that you will finish your degree,' she said."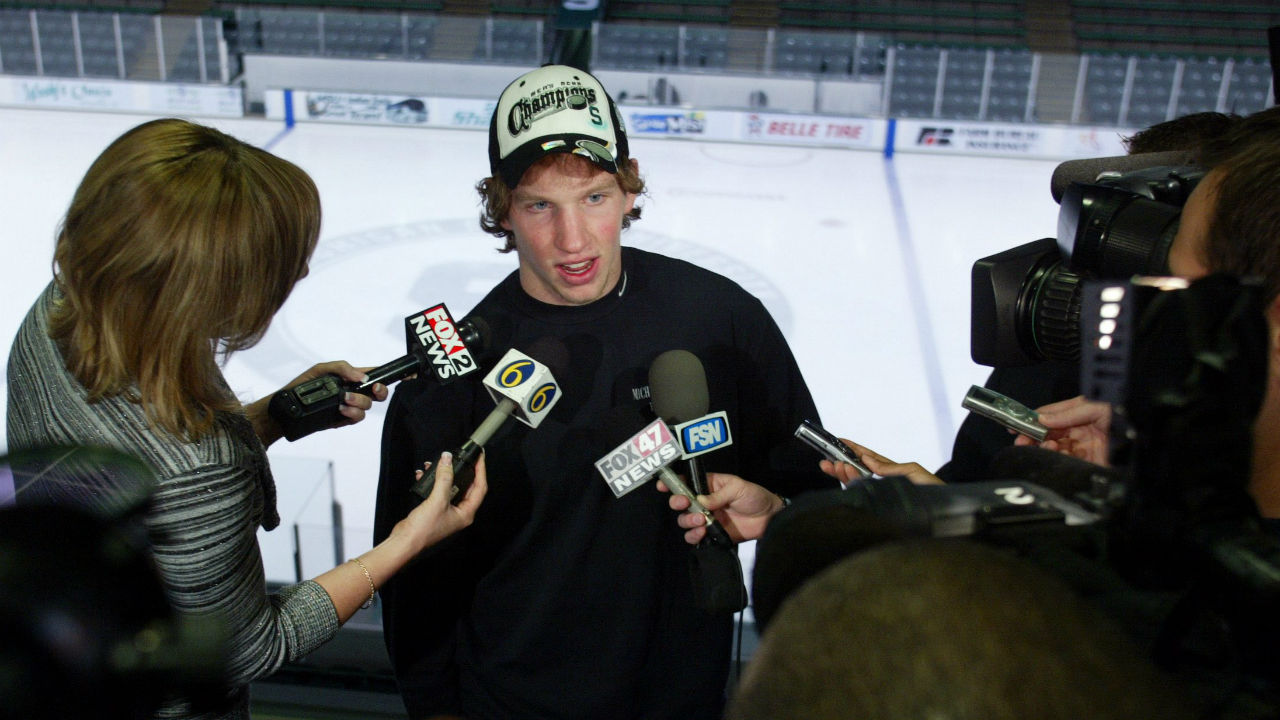 In 2007, his Michigan State team played Boston College in the NCAA championship game. He hit a post in the dying moments but that wasn't the end of the story.
"I blew it. As soon as I heard the ping off the crossbar, I just thought: That's it. You just saw your dream go out the window," he wrote. "I had just come down the ice on a 3-on-1 rush in the 2007 NCAA Championship. Tie game. Thirty seconds left. Puck on my stick. The exact moment every kid daydreams about. Just me and the goalie. I fired it high glove. Ping.
"At this point, I was at the lowest of lows. I had my chance, and I blew it. There's 30 seconds left. I circle up toward the boards. Boston College tries to clear it, but our defenseman pinches and keeps the puck in. I cover for him at the point … I make a move toward the front of the net. He looks up. Out of nowhere, the puck is once again on my stick … I stab at the puck.
"Next thing I know, the goalie is looking behind him."
"It's a great feeling knowing that I didn't just go to college — I graduated," he wrote. "I'm a Spartan for life. Now I just have to get that degree framed."