After breaking down the top forward lines at the quarter mark of the NHL season, it's time to move on to the best defence pairings we've seen so far this year. Like with the forward lines, we have to set some parameters in order to avoid naming a sheltered third pairing that's crushing it analytically.
So what we're looking for are top pairings that play the most minutes, and they have to have spent 150-plus minutes together at 5-on-5 because pairings are a bit more consistent than lines are. We'll stick to 5-on-5 hockey again, and use the same measures of performance from Corsica.Hockey to pick out our top five.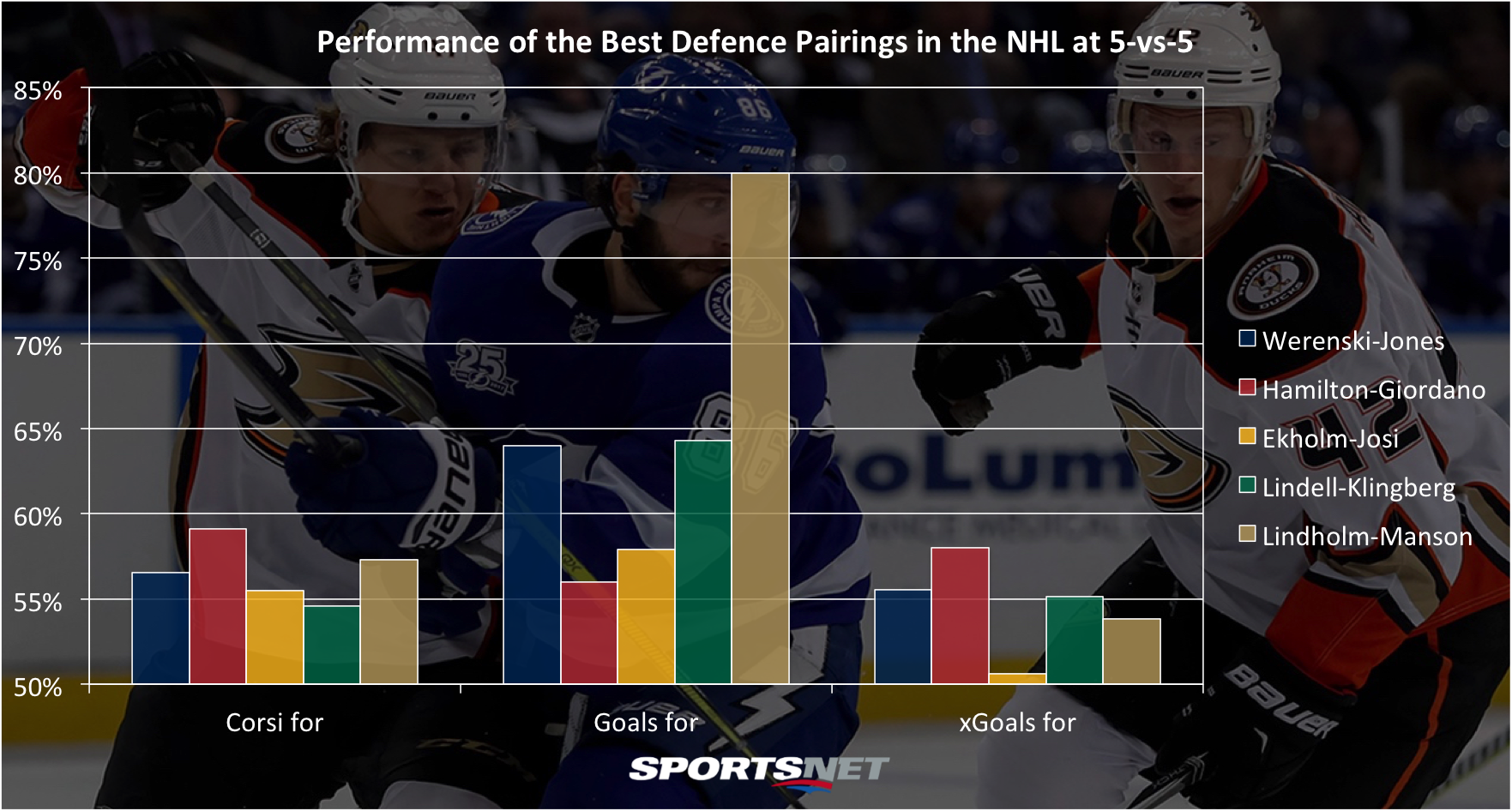 Amid the injury-riddled start to the season the Anaheim Ducks have had, Hampus Lindholm and Josh Manson have been a tower of strength, with the Ducks scoring four goals for every one they allow with those two on the ice. The expectations for the pairing going forward are significantly lower, but it's among the strongest pairs in the league in shot-attempt differentials.
The Calgary Flames' top pairing of Mark Giordano and Dougie Hamilton has the strongest underlying numbers in the league, but even though its goals-for percentage is strong, it's less than it has earned so far. Unlike most lines and pairings on these lists, it's not overachieving right now, which is downright scary for teams that face the Flames over the next couple months.
After some inconsistency last season, the Dallas Stars seem to have found a top pairing that works amazingly well in John Klingberg and Esa Lindell, something they've needed for a while.
The Nashville Predators are the only team to boast both a top line and a top pairing that makes the top five, but at a glance both of them are the most questionable inclusions. Roman Josi has had an absurdly excellent start to the season alongside Mattias Ekholm, but the two have played easier minutes than they're used to both in terms of quality of competition and teammates.
And finally, the Blue Jackets have seen tons of success from their top pairing of Zachary Werenski and Seth Jones, two great all-around defencemen who are also super young.
Let's get into the details though, how are these pairings impacting their teams' transition and offensive games?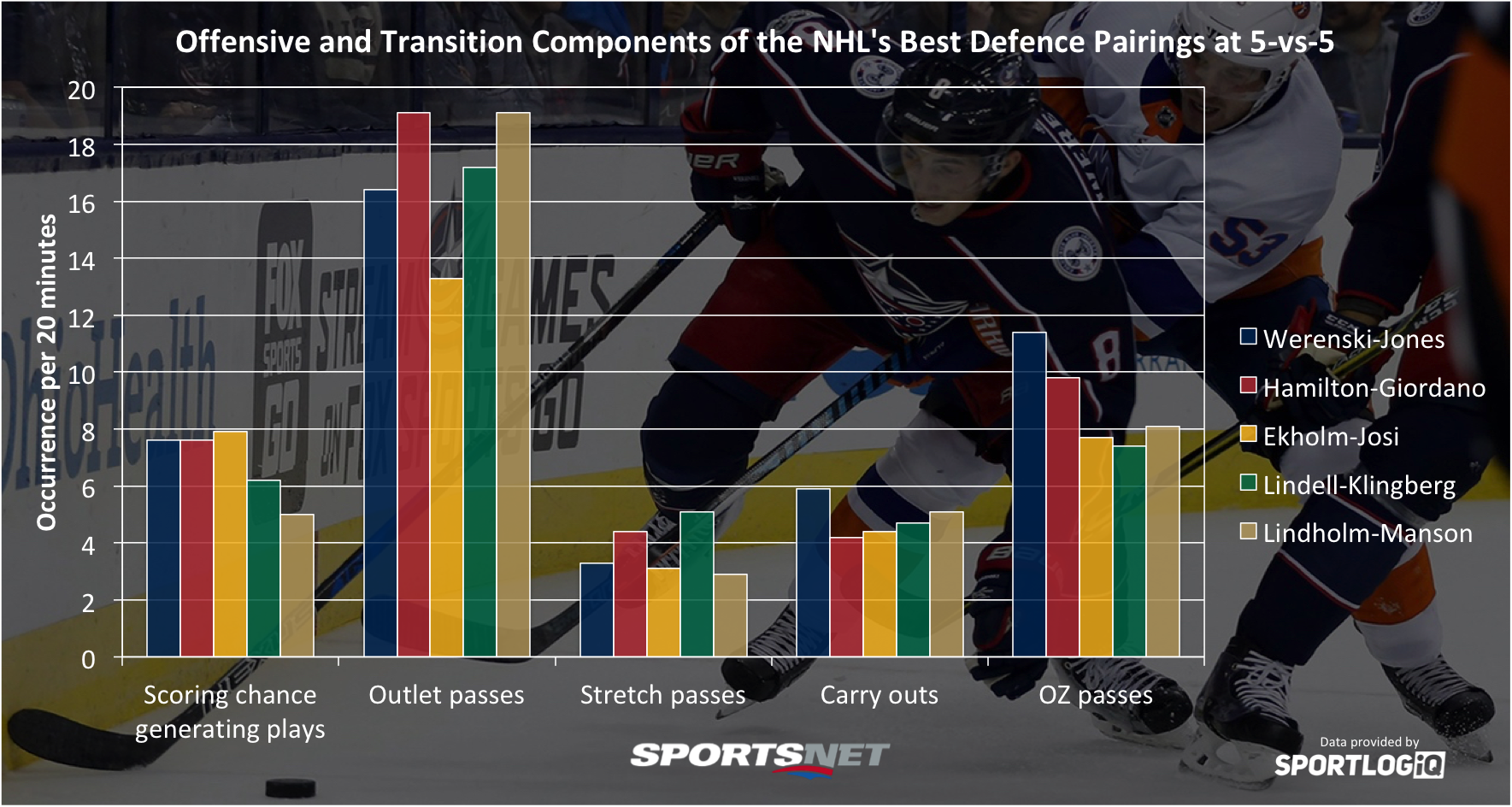 No pairing is more involved in creating scoring chances for their teammates than Nashville's, and while Ekholm is above league average, that's mostly due to Josi's unique style and willingness to pinch. Josi shoots from closer to the net on average than every defenceman in the NHL except for Tampa Bay's Mikhail Sergachev. That pairing does struggle a bit to move the puck out of its own zone though, despite Josi's ability to skate the puck up the ice.
Anaheim's top pairing is all about high-percentage plays, looking for short outlet passes with high rates of success, or carrying the puck out. They don't generate much offence, but their transition ability allows them to be indirectly involved in creating offence for their forwards.
The Blue Jackets pairing does it all, skating the puck out more than the rest of the pack, and creating far more puck movement in the offensive zone than anyone else. It's a little surprising that a pairing involving two young defencemen who are inclined towards offence doesn't try more stretch passes, but that could be a decision coming down from John Tortorella.
Calgary's top pairing is great all around as you would expect, boasting the best all-around passing game of the group, and very rarely skating the puck out. Hamilton likes to carry the puck a fair amount, but Giordano doesn't, he likes his passes far more.
Lindell and Klingberg are all about the stretch passes, and have become clinical zone-exit machines under Ken Hitchcock, but have been less directly involved in offence than you would expect.
Of course with defencemen you have to look at their play without the puck, so how do these pairings compare when we look at possession changes?
After a couple years of being a bit of a mess without the puck, the Stars' top pairing has become extremely strong in its own zone, leading the group in stripping the puck from opponents with successful defensive plays, and loose puck recoveries. Those strong plays without the puck are likely a big driver of their strong zone exits as well.
The Predators' top pairing is sort of the opposite of their top line. Where the JOFA line was extremely strong in the neutral zone, that appears to be where Josi and Ekholm are least involved, instead preferring to do their best work in their own zone.
Lindholm has long been a neutral-zone demon for opponents, and that has continued with Manson, where they lead the group defensively by a significant margin. You're not likely to get a clean zone entry against them. They're also really aggressive in the offensive zone to keep the play going.
Werenski and Jones are similarly aggressive in the neutral zone, but not quite as successful at recovering the puck once they knock it loose. They're also aggressive in the offensive zone, pinching to keep the puck in and challenging opponents with the puck.
Hamilton and Giordano don't really stand out from the pack anywhere here, they're just good at everything, which isn't that surprising. Giordano personally is brilliant at removing the puck from opponents, but Hamilton isn't as aggressive without the puck.
These pairings are all great, but what I'll be most interested in is how high that top pairing in Columbus can fly, because after a Calder-worthy season as a rookie, Werenski already looks close to Norris calibre, and Jones has been underrated for a while now.
In my opinion the strongest pair overall is in Calgary, which could look even better if the Flames ever figure out who works best with T.J. Brodie, which could give Giordano and Hamilton a bit more support.