The Washington Capitals are just six wins away from their first Stanley Cup in franchise history and they're in control of their conference final series. While the whole team has stepped up in a big way, it's no secret they wouldn't be in this position if it weren't for the play of the best player the team has ever had.
Alex Ovechkin has been dynamite in the playoffs. He's tied for the team lead in points with Evgeny Kuznetsov at 19 and he's scored twice as many goals this post-season (10) than he has in any other since 2009.
In fact, if you combine regular season and playoffs, Ovechkin's 59 goals this season is the third-highest mark of his career after 69 in 2008, and 67 in 2009. At 32 years old, he's arguably having his best goal-scoring year since he was 24, a truly remarkable feat.
The question then becomes how is Ovechkin doing this? At his age, his play should be dropping off a bit, and the trends in his shot rates year-to-year do support some level of decline. But let's look at the types of shots Ovechkin is getting to see if he's changed any tendencies recently.
A couple things to keep in mind when looking at scoring chance data from different years and comparing the regular season to the playoffs: scoring chances league-wide have been increasing over the past two regular seasons, but those chances usually drop in the playoffs as teams tighten up on defence.
Knowing those factors, we can draw some inferences from the data above. This season Ovechkin has increased his scoring chance numbers by a higher percentage than the league average has gone up, and his average shot distance at 5-on-5 has decreased from nearly 37 feet from the goal line in 2016-17 to just over 32 feet in this year's playoffs.
Getting closer to the goal is giving Ovechkin better looks and this is even more extreme on the power play, where he has made a concerted effort to get into his sweet spot on the inside of the left circle, rarely shooting from the perimeter anymore. In fact, during the playoffs this year, 62.5 per cent of all Ovechkin's power play shot attempts have come from that left circle inside the slot, up from 48 per cent in the regular season and 42.9 per cent last season.
More than just getting better shot locations though, it matters how those scoring chances are created, so let's look at what kinds of chances Ovechkin has put up for the Capitals.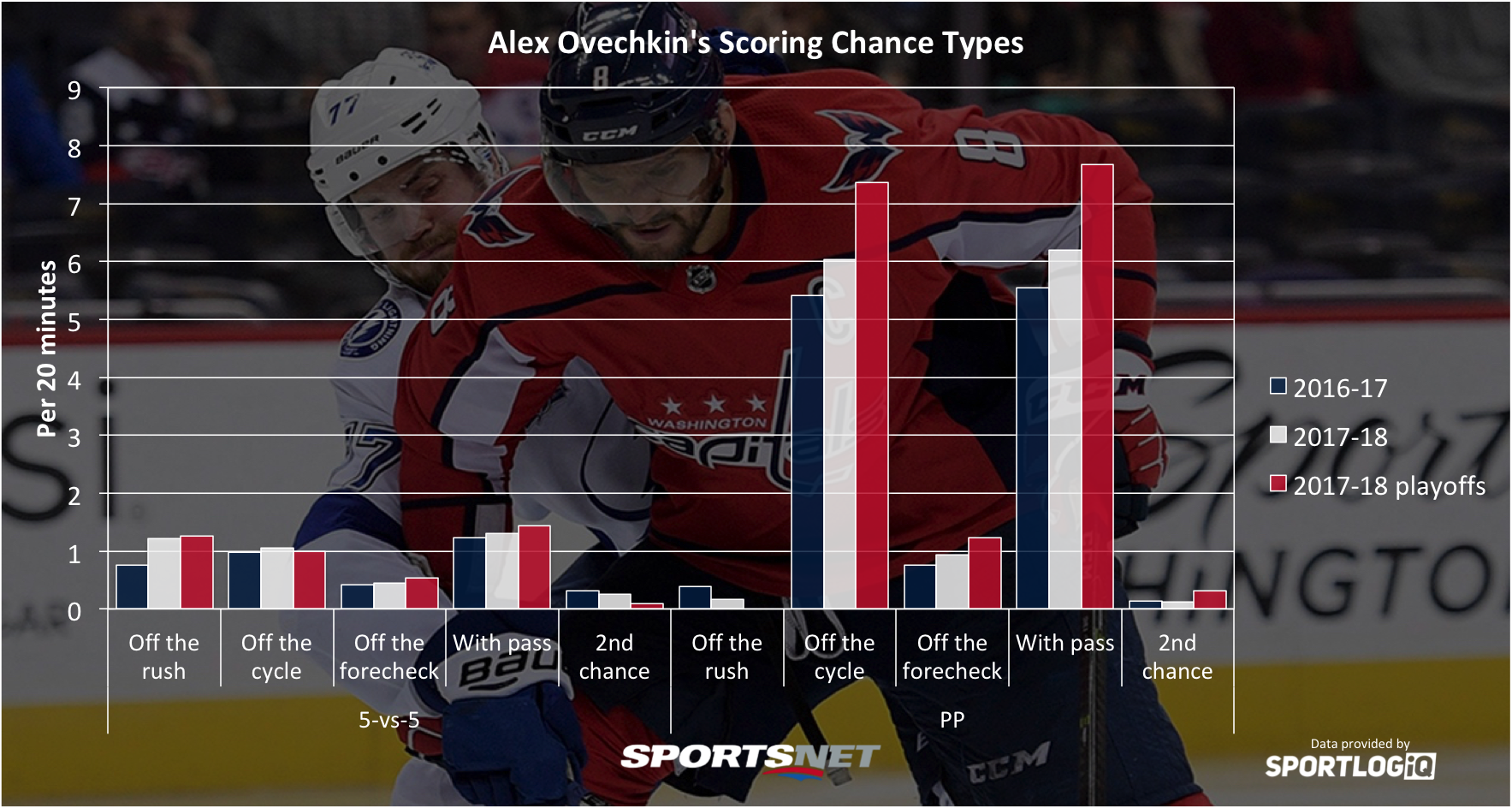 If you ever wondered why shots are so much more dangerous on the power play than at even strength, look no further than the percentage of Ovechkin's scoring chances that are preceded by a pass. Over the past two seasons and playoffs, 38.7 per cent of his 5-on-5 scoring chances have been immediately preceded by a pass, while 91.1 per cent of his power play scoring chances came off a pass. That makes goaltenders move and opens up space for Ovechkin's generational shooting talent to make easy work of them.
Passing on the power play has also gotten better for Ovechkin. In 2016-17 only 87.9 per cent of his scoring chances on the man advantage involved passing plays, but he was up over 92 per cent this regular season and just a hair below 93 per cent in the playoffs.
At 5-on-5, the biggest change for Ovi has been an increase in attacking off the rush, which uses tools in his game that he more often employed as a younger player. This is the result of how he worked on his skating in the off-season to come back feeling younger and quicker.
Shots off the rush are more dangerous than static ones, and we all know how well Ovechkin uses opposing defencemen as screens to wire a wrist shot between their skates.
Ovechkin's goal scoring improvement has come in two ways. He's increased volume by a significant degree and is getting more shots on net and more scoring chances at 5-on-5 and on the power play. He's also increased the quality of his shots by moving closer to the net, attacking more off the rush, and getting shots off immediately after receiving passes at a much higher rate.
How long Ovechkin can continue to be the NHL's best goal scorer is anyone's guess, but he keeps refining his skillset and working for better opportunities.
He's clearly not satisfied with just being great. He wants more, and he's inching closer to earning it for the Washington Capitals.