Consider the era.
That's a well-worn sports argument, true, but when you look at the looser zeitgeists in which Wayne Gretzky, Mike Bossy, Marcel Dionne, Guy Lafleur and Mario Lemieux skated, the name Alex Ovechkin sticks out on this list:
Tuesday night, the Washington Capitals "rock star" (coach Barry Trotz's words) became just the sixth NHLer to throw up six 50-goal seasons, and he'll probably be the only one to reach that nice, round number this season.
Ovechkin said reaching the 50-goal milestone is "100 per cent" more difficult today than when he entered the league nine years ago and scored 52 as a rookie.
"It's very hard right now in this league. Right now, my line, we play against the best D, the best PK forwards. The system for most of the teams is to play defence," Ovechkin told Hockey Central at Noon Wednesday.
"Sometimes you have to wait once [you have a] chance to put puck in, and if you don't use it, basically you don't get success."
League-wide, scoring is down, power plays are more scarce, and the Art Ross winner could have the lowest point total in 53 years.
Ovechkin tied Peter Bondra for the most goals in Capitals franchise history (472) with his 50th, and leads all scorers this season in both power-play goals (22) and game-winning goals (11). But it's his all-around play that has drawn praise from analysts; the Great 8, a dismal minus-38 last season, is up to a plus-11 under new coach Trotz.
"My plus/minus is better than last year, obviously," he said. "Honestly, I'm just doing my job."
Ovechkin was quick to give credit for his accomplishment to his teammates, namely longtime centreman Nicklas Backstrom: "He's our No. 1 guy at both ends, offence and defence." But he did admit to a bit of awe in the exclusive company he's now joined in the 6×50 Club.
"The names up there, it's pretty amazing," he said.
"I'm pretty sure we'll have time to celebrate when everything is over…. Right now, everyone's focusing on the playoffs and the Stanley Cup."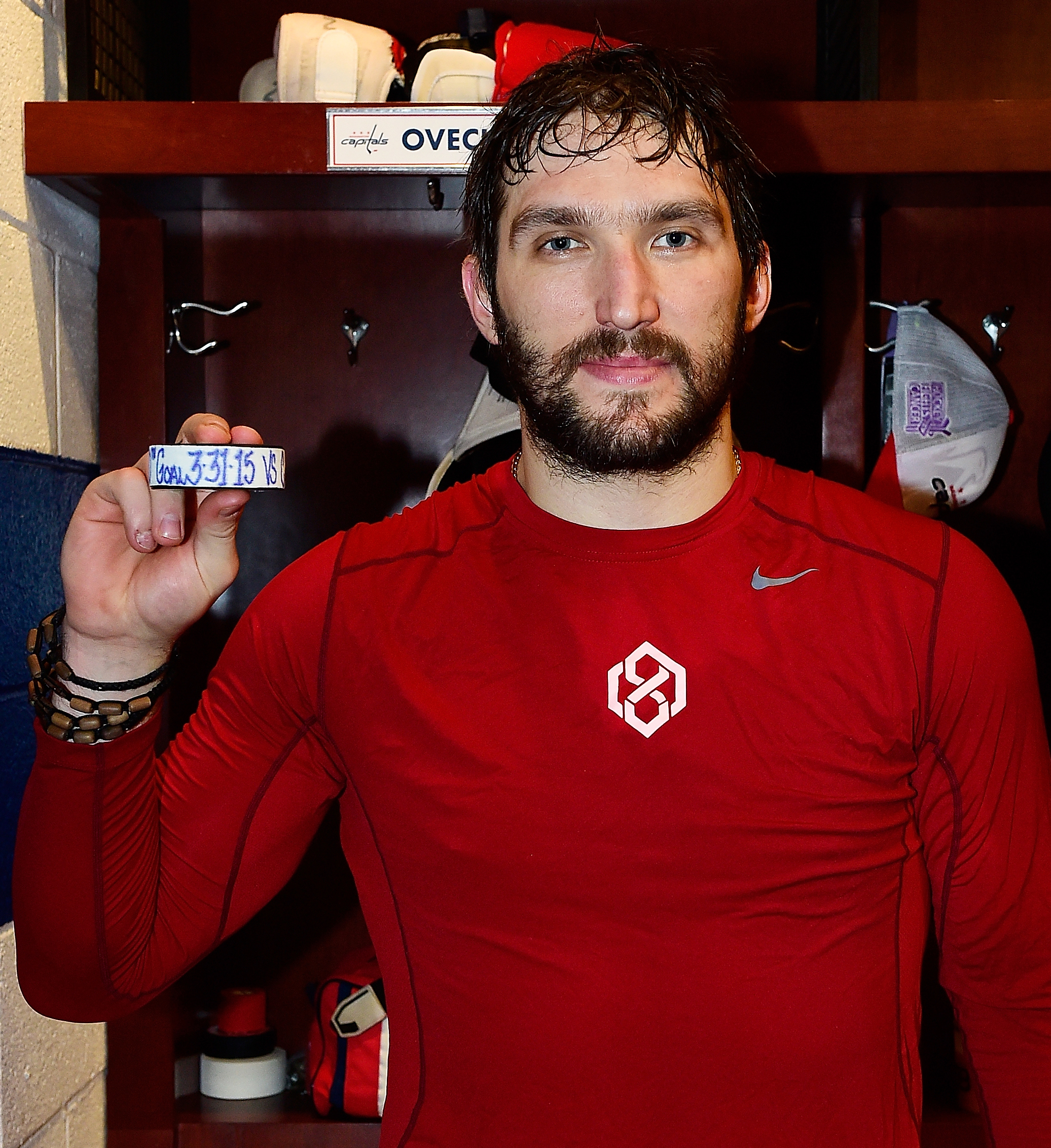 (photo via NHL)