As one long losing streak ended in mid-January, another has now stretched on seven games for the Anaheim Ducks, who have just two wins in their past 21 games and only managed to push four of those losses to overtime. In less than two months the Ducks have gone from ninth place in the NHL standings and fifth in the Western Conference, to 28th overall and last in the West.
Despite John Gibson's incredible play in the first three months of the season, this kind of collapse had looked inevitable from the outset. The Ducks are the only team in several seasons to control fewer than 40 per cent of the high danger scoring chances at 5-on-5, and their share of shots and shot attempts isn't much better.
Although they were a playoff team last season, for the past few years Anaheim was at the top of a lot of statistically inclined analysts' list of clubs due to fall off big time. But, the Ducks managed to fight through a slew of injuries to make it in last season, only to be embarrassed by the San Jose Sharks in a four-game sweep that saw Anaheim get outscored 16-4.
This season, Anaheim's core was a year older, suffered injuries at the start of the schedule just like last year, but the play on the ice was and has been much, much worse. In fact, there's been a gradual decline that's led us to the point we're at now, in every metric for which we use differentials.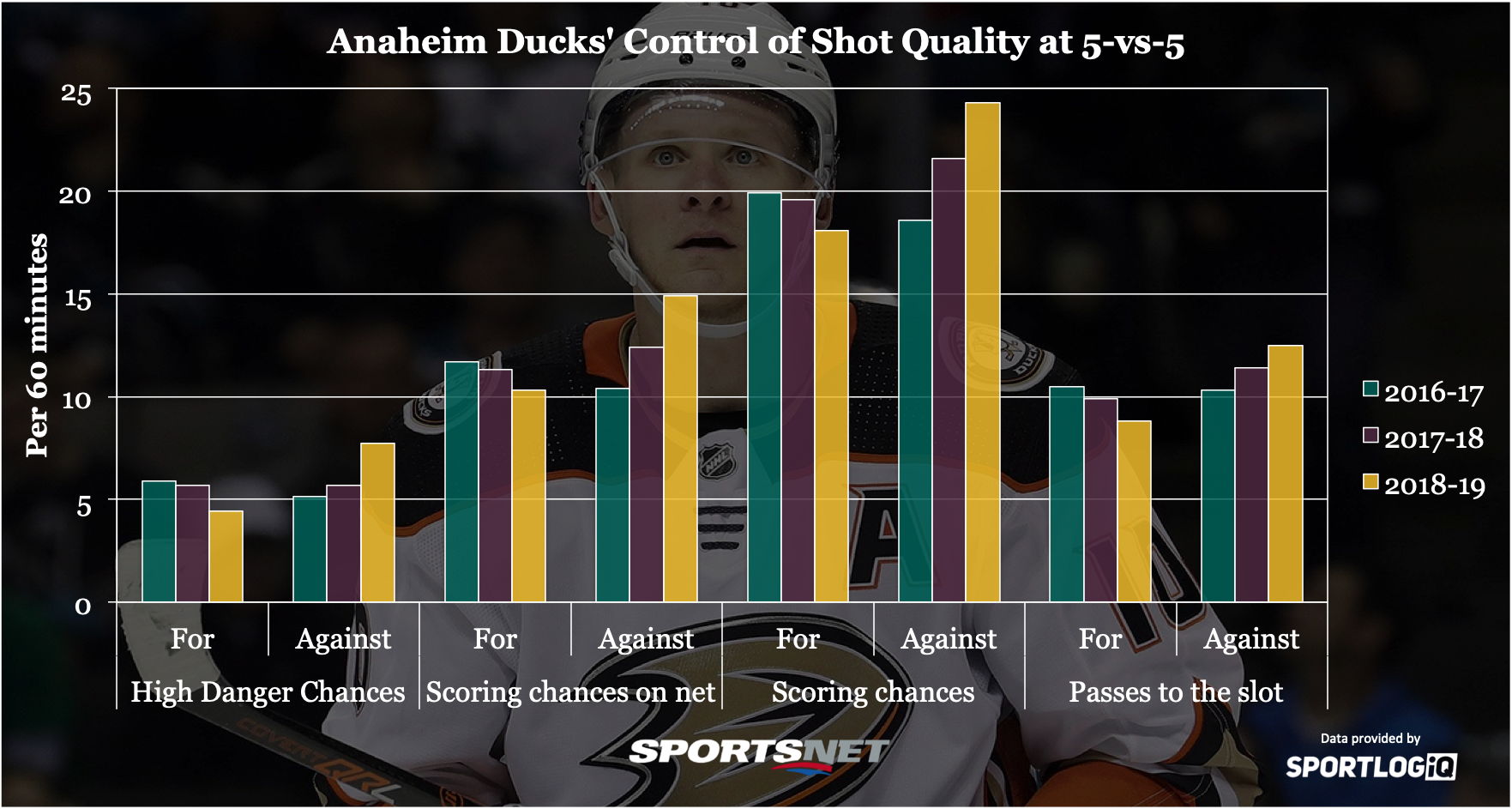 Looking at the past three seasons together, I've split the differentials up to see where the changes are. In both this season and last the Ducks have produced less offence than the season before, but the bigger change is in their defensive play, where the Ducks were generally very strong.
In the first two seasons under Randy Carlyle, Anaheim was a low event team at 5-on-5, but boasted some of the best defensive numbers in the league. That can be obscured a little bit by the NHL's offence increasing overall at 5-on-5 over the past few seasons.
One of the reasons I was a little gun shy on anointing Gibson as the next big thing was that, under both Bruce Boudreau and Carlyle, the Ducks have been a top-three team in limiting quality shots against until this season. And, under Carlyle, they also conceded a ton of perimeter shots, which makes for a perfect high save percentage scenario for any decent goaltender.
That all radically changed this season. The Ducks have conceded the second-most high danger chances in the league, and the 10th-most passes to the slot, which made Gibson's job several degrees more difficult than before. And though he was brilliant for a long time, his .891 save percentage over his past 17 starts has brought him back down to earth. He still has excellent numbers for the shots he's facing, but he's no longer the runaway favourite for the Vezina.
Aside from their drop in defensive play, the Ducks are also creating the fewest high danger scoring chances in the league, which makes this unmitigated disaster of a two-month period make a lot of sense.
So what exactly happened here? A good team with a seemingly strong core went from Stanley Cup contender to league-worst at 5-on-5 over a three-year period. That's a pretty sharp decline when you consider the players the Ducks have graduated and seen establish themselves over that time: Brandon Montour, Josh Manson, Rickard Rakell, Ondrej Kase, and Gibson among them.
Injuries certainly haven't helped, and it's worth noting they have an ageing core group of forwards in Ryan Getzlaf, Corey Perry, and Ryan Kesler. But the Ducks also have a star goaltender in his prime, four prime-aged defencemen between 24 and 27 who are all high quality players at the position, and at least one high-end forward in his prime with Rakell.
That should be enough to build around, but the aging and expensive contracts the Ducks are saddled with at forward have combined with a general inability to fill the lineup with affordable, play-driving forwards to seemingly bury the team.
Injuries to Perry and Kase are undoubtedly huge for this year's edition of the Ducks, and despite a lack of production, Perry's return has actually been quite strong with decent underlying numbers compared to the rest of the roster. But one of the big reasons why Anaheim had been able to weather the decline of Perry and Kesler before now is Ryan Getzlaf.
Senior Writer Ryan Dixon and NHL Editor Rory Boylen always give it 110%, but never rely on clichés when it comes to podcasting. Instead, they use a mix of facts, fun and a varied group of hockey voices to cover Canada's most beloved game.
Getzlaf has been one of the best centres in the NHL nearly his entire career, maintaining his spot as a dominant player in all three zones despite a lack of foot speed, history of injuries, and age presumably wearing down on him. Coming into this season I had him ranked as the ninth-most impactful centre in the league based on his past three seasons of play, but in 2018-19 he just hasn't been able to drag the Ducks' play forward enough while he's on the ice.
The crazy thing is Getzlaf's individual contributions are still the greatest on this team by a wide margin. He leads the team with 20.3 transition plays per 20 minutes to drive the puck up the ice, he's involved in the most scoring chances per 20 minutes at 6.88, but his high danger scoring chance differential is just 37 per cent, which barely moves the needle from the team's 36 per cent when he's off the ice.
While Kesler looks close to done after several major injuries, Perry seems to be alright, and Getzlaf's individual play remains superb, so I don't think the aging argument really holds much water here.
Carlyle's particular style wasn't helping, but GM Bob Murray has to take some responsibility for assembling one of the most lackluster groups of forwards in the league.
As dire as this situation looks right now, if Getzlaf continues to be his ageless self and the Ducks can find a coach able to take advantage of their strong collection of defencemen, the only real albatross is Kesler's contract. The Ducks may be the worst even strength team in the league this year, but they don't have to be again next season.