For all the consternation about the NHL sinking to offensive totals not seen since the 1950s, the game has never been in better hands on the blueline. Whether it's the continued stellar play from title-contender linchpins Drew Doughty and Duncan Keith, Brent Burns's goal scoring, Roman Josi's quiet excellence, John Klingberg's dynamic work or Norris Trophy–worthy play from D-men on non-playoff teams like Erik Karlsson, P.K. Subban or Oliver Ekman-Larsson, the NHL is flush with game-changing talents playing the position at the highest levels imaginable.
With speed and skill now at the forefront of the sport, defencemen have followed suit out of sheer necessity. What was once a post manned by lumbering players whose main purpose was to pulverize anyone who dared approach their goalie's blue paint or skate through the neutral zone with their head down has evolved into one inhabited by slick, effortless skaters.
---

Download it now: iOS | Android | Windows | Special Offer
---
The facelift has been a godsend from both aesthetic and intellectual perspectives, making the game more fun to watch and revising what it means to be a world-class defender. It's also meant that many of the old industry standards for statistical evaluation of defencemen have been called into question. And while the objective of scoring more goals than the opposition still remains the same at a team level, properly quantifying the contributions of blueliners isn't as simple.
Fortunately, the advancement of underlying metrics has provided us with additional means of measuring the more subtle on-ice impact of lower-event defencemen who provide value in sequences not necessarily captured by a rudimentary box score.
An excellent case study is Anaheim's Hampus Lindholm, who has emerged as not only the most important member of his own team's defence, but also as one of the game's premier players at his position. He has helped the Ducks tear through the Western Conference since Jan. 1 and cement themselves as the bona fide Stanley Cup contender fans and pundits had them pegged as prior to the season. Yet from looking at a collection of traditional statistics, you certainly wouldn't know it.
---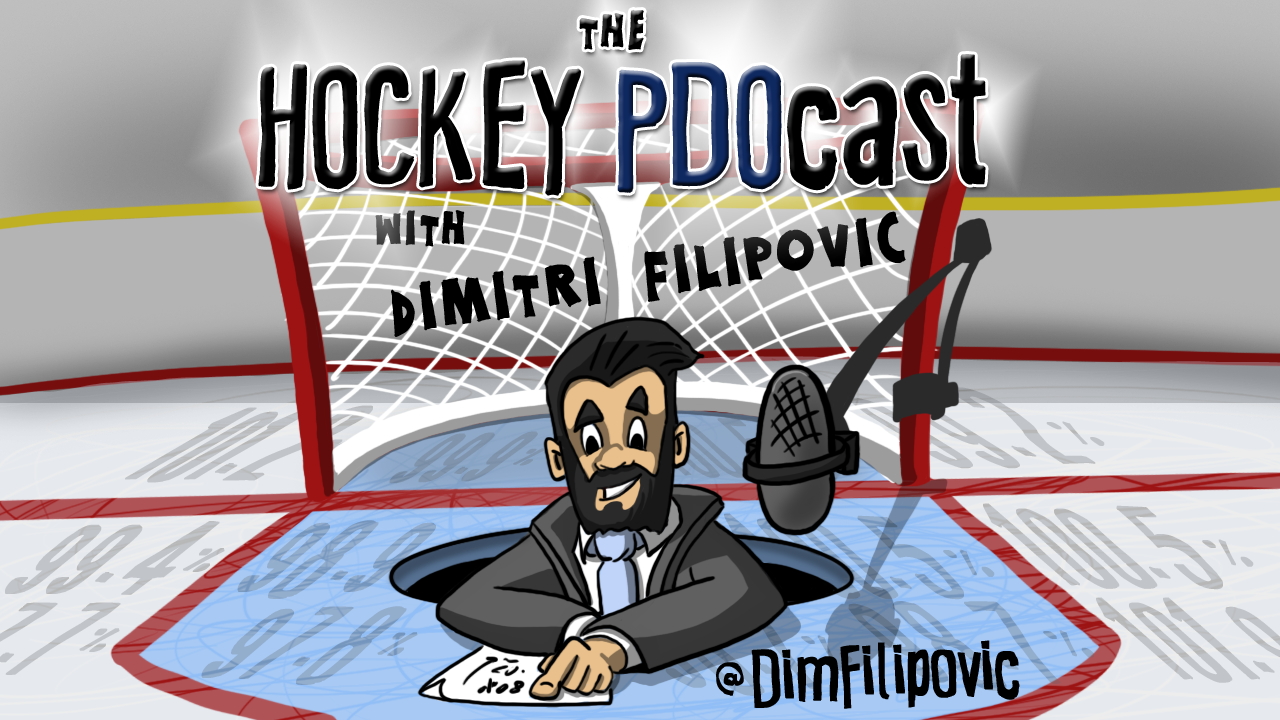 The Hockey PDOcast offers entertaining and thoughtful dialogue about the game of hockey. There's obviously an analytical tinge to the conversation, but it's not as nerdy as it may initially sound.
Listen now | iTunes | Podcatchers
---
Despite not registering big point totals or playing an overtly physical game, Lindholm's complete command of the ice is felt throughout the Ducks lineup. Trying to glean meaningful information on blueliners purely from goal totals for and against on an individual level is an exercise laden with flaws.
Aside from the few obvious outliers at the high end of the spectrum (like Karlsson), defencemen typically don't factor into scoring as frequently as forwards. At the other end of the ice, despite conventional wisdom preached for decades, they also don't generally have a significant impact on the percentage of shots their goaltenders save from year to year.
But the latter may not hold true for Lindholm. Thanks to a unique combination of skating ability and intuitive hockey sense, he hardly ever finds himself out of position defensively. The nearly perfect spacing he maintains between himself and oncoming attackers allows Lindholm to efficiently extract the puck from their control without having to expose himself to the rigours of blocking a shot or throwing a hit that could drag him out of the run of the play. And when he inevitably retrieves the puck, he swiftly gets it to where it needs to be.
That's reflected in Anaheim's possession numbers. Every single teammate Lindholm has spent at least 75 minutes with at 5-on-5 this season has had his shot differential skyrocket in relation to his ice time without Lindholm. While the Ducks have generally been good this season, they've made the leap to great whenever Lindholm has jumped over the boards. The importance of this can't be overstated for an Anaheim team that's endured dreadful shooting misfortune all year.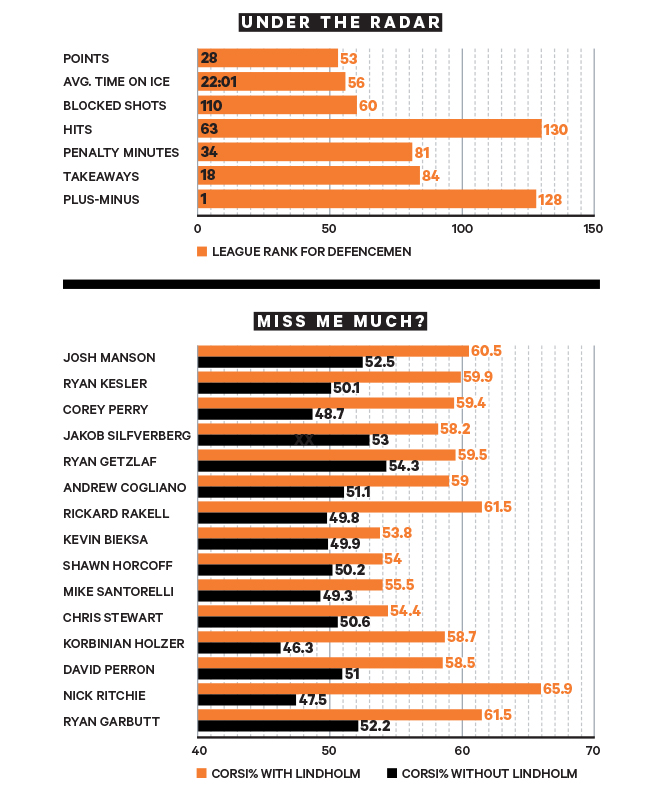 It was the Ducks' sheer volume of shot attempts that guided them through a first-half storm, making up for a 30th-ranked 6.3 shooting percentage at 5-on-5 that remained in the league's bottom five at season's end. Considering that their goaltending—which finished at 19th in 5-on-5 save percentage—has been largely pedestrian, it's quite possible Anaheim would've long since been submarined without that kind of possession game to fall back on.
Instead, they've opted to control their own fate, bottling up the neutral zone and suffocating the opposition. That fundamental change was put into motion the moment Bruce Boudreau put Josh Manson with Lindholm. Since then, they've allowed 40.66 shot attempts against/60—only Barret Jackman and Ryan Ellis have been more efficient at suppressing shots. Manson and Lindholm's mark is more than two shots fewer than Aaron Ekblad and Brian Campbell's, and more than three better than Doughty and Brayden McNabb's.
Despite his excellence, few players in the league have been more snakebitten than Lindholm this season. Just 5.1 percent of the shots the Ducks have taken with him on the ice at 5-on-5 had gone in through late March, which is the 20th-best rate on his team and 493rd out of the 523 skaters who've played 500 minutes. His counting stats and plus-minus have taken a hit as a result, but it ultimately hasn't mattered because of how markedly he's been tilting the ice in his team's favour.
His 57.9 possession percentage is good for fifth in the league among blueliners, and his 57 percent scoring-chance rate is third after Victor Hedman and Ryan Ellis.
Any way you slice it, the 22-year-old Lindholm's development has been a crucial revelation for the Ducks and their Cup aspirations. Despite not having the sexy counting stats of teammate and fellow restricted free agent Sami Vatanen—or many other defencemen—Lindholm's ability to move the needle for everyone he plays with puts him a cut above most defenders and makes the choice easy should Anaheim decide it can only keep one of its young blueliners.
While there is still debate within the analytical community about how best to gauge defencemen contributions, we are able to peel back the layers of what it means to be an impactful blueliner in 2016. And as perception finally catches up to reality, the skills of players like Lindholm are now more easily appreciated than ever before.