Remember in September, when fans and media alike were drooling over potential deadline acquisitions from the Vegas Golden Knights? James Neal, David Perron and Jonathan Audy-Marchessault were all expected to be made available and would have been hot commodities.
It's dangerous to project those sorts of things in the fall. Vegas is first in the West, meaning there's no Knights carcass to pick over. Meanwhile, many of the would-be vultures—teams like Edmonton, Montreal and Ottawa—are themselves likely to provide players to their more fortunate rivals in Toronto, Winnipeg and elsewhere.
Some of the trades might even involve players on multi-year deals. Max Pacioretty and Mike Hoffman have been grist for the rumour mill. It's hard to move those kinds of contracts during the season, though; usually it's far simpler to deal rental players on expiring pacts.
Without further ado, these are some of the top available options. In each case, we include a "performance percentile" chart, showing where each player ranks relative to the rest of the league at even-strength, with 100 per cent representing the best in the league and 0 per cent the worst.
Anthony Duclair, LW, Coyotes: It's weird that the 22-year-old Duclair, a pending RFA, is being sidelined in Arizona. He's above average in virtually every area: as a goal-scorer, as a playmaker, as a shooter and in terms of penalty differential. The Coyotes generate more shots (CF Rel.) when he's on the ice than off; they surrender fewer (CA Rel.) with him, too.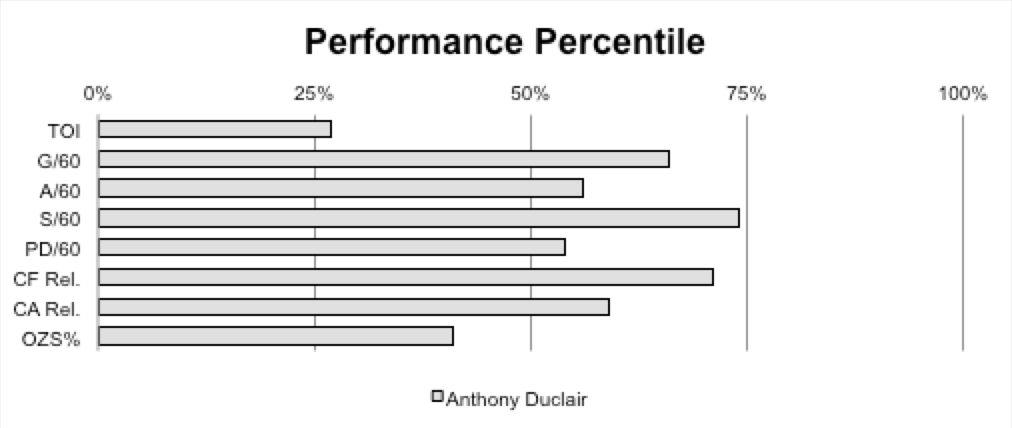 Mike Green, RD, Red Wings: There aren't many rental defencemen out there who can play above the third pair and while Green might be the exception, he's also a specialist. Detroit has leaned heavily on him this year and he's been a good offensive producer. Unfortunately he's well below average by virtually any defensive metric, and on a contender he's probably better suited to a role as a No. 4/5 even-strength defender and power play specialist.
Erik Gudbranson, RD, Canucks: Gudbranson had to be included on this list based on reputation, but the recent results are ugly. Like Green, he's a specialist, but while Green has produced offensively this year Gudbranson has not been effective as a shutdown guy in Vancouver. He's big and physical without taking penalties, and there's an argument that his defensive zone play results in lower quality shots against, but the Canucks don't get out of their own end much when he's on the ice.

Evander Kane, LW, Sabres: Kane is having quite the year. He takes way more penalties than he draws (PD/60) and he's started a lot of shifts in the offensive zone, but he's great everywhere else. His goal and assist totals are strong, but what really stands out is shot generation. His line takes a ton of shots, and he personally shoots more than almost anyone else in the NHL. He also plays on both special teams units.
[relatedlinks]
Mark Letestu, C, Oilers: Letestu is an odd player. He's here because he can win faceoffs, kill penalties and has shockingly good career numbers on the power play. He's also a righty, which makes him even more useful as a specialist. He barely plays at 5-on-5 these days, which makes sense given that he's in the bottom quarter of the league in virtually every category.
Pat Maroon, LW, Oilers: Maroon's ridiculous $1.5 million cap hit should make him attractive to any team with a money squeeze. He's a shooter, a goal-scorer, and he's a better playmaker than he generally gets credit for, too. He compares to Kane in terms of what he's good and bad at analytically (right down to penalties) though he does it with brute strength rather than pure speed.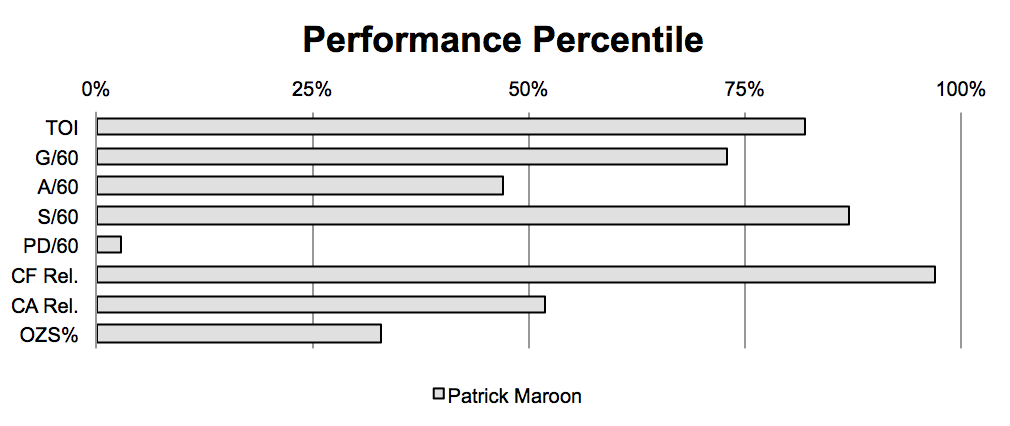 Petr Mrazek, G, Red Wings: The goalie rental market is uninspired this year. Mrazek, the one-time Detroit starter, is the best of the lot. He's a restricted free agent who likely won't be qualified at his $4 million salary this summer after two very difficult years. What makes him interesting is that he's just 25 and had a really good year as a starter in 2015-16. He also has an impressive playoff history, and could be an upgrade as a backup somewhere.
Tomas Plekanec, C, Canadiens: Is this finally the year Montreal moves on from Plekanec? The pricey ($6 million cap hit) pending UFA still has good elements to his game: he shoots the puck, sets up goals and has a long history in tougher minutes and roles. But his scoring touch is not what it once was, and his line has struggled to get and keep the puck in the right end of the ice this season.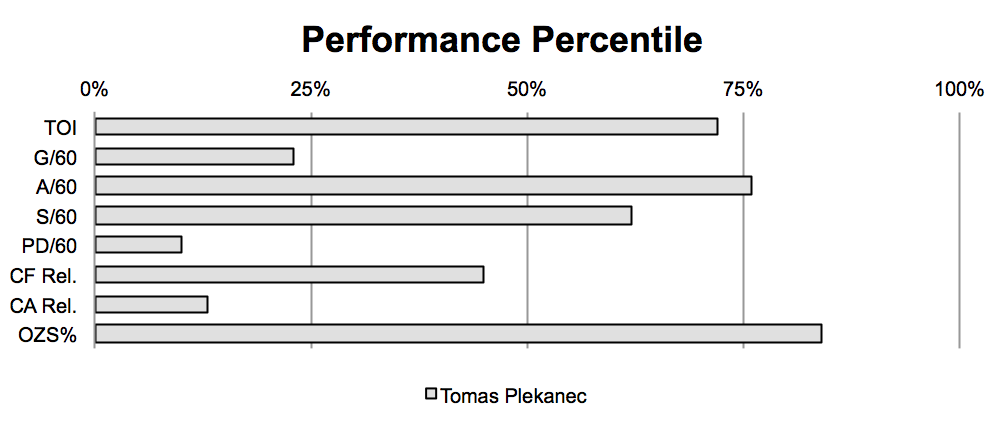 Benoit Pouliot, LW, Sabres: Pouliot still brings size and speed. He kills penalties, and despite a reputation for mindless infractions he's actually rather good at drawing calls for his team. Offensively there are some red flags in that he doesn't take a lot of shots and has scored on 15.4 per cent of them, plus his assist totals are wretched. At this point, he's an experienced bottom-six winger who can chip in offensively from time to time.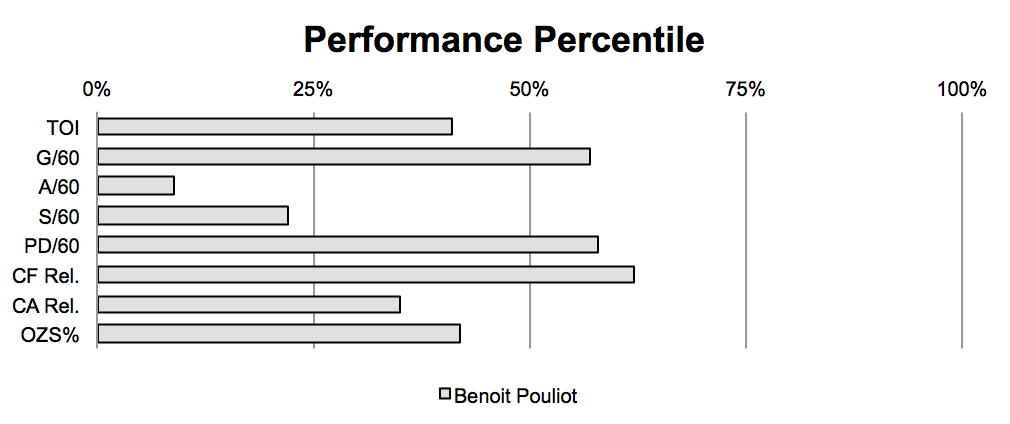 Thomas Vanek, RW, Canucks: Vanek is as one-dimensional as they come, but the dimension he brings is offence. He's a point producer at both 5-on-5 and on the power play. But even in a sheltered role in Vancouver, his line has bled shots against. A team desperate for scoring punch, but unwilling to pony up for a more rounded talent like Maroon or Kane, could take a chance on Vanek.