To say it's been a rough year for the Vancouver Canucks would be an understatement. And although their on-ice season ended more than a month ago, they managed to sneak one more loss into the 2015-2016 campaign with a highly questionable trade Wednesday night.
On its own, the decision to trade Jared McCann — who the team picked in the first round less than 24 months ago — is a rather curious one. While he unquestionably exhibited some growing pains during his first NHL season, he also showed enough flash as a teenager competing against grown men to warrant a spot in the big picture plans moving forward.
Amidst all of the chaos around him, he was one of just six Canucks forwards to finish in the black in terms of shot attempt differential relative to the rest of the team. Despite bouncing around the lineup and spending most of the year playing alongside depth forwards, McCann also managed to finish the year tied for fourth on the team in five-on-five goals scored with Radim Vrbata.
A major part of the rationale for the move appears to be that the Canucks were desperate to bolster their blueline and help generate some more offence from the back-end in an attempt to keep up with the Western Conference's elite. That argument certainly carries some water when you realize that only the Oilers, Devils, and Blue Jackets compiled fewer points from their defencemen this season: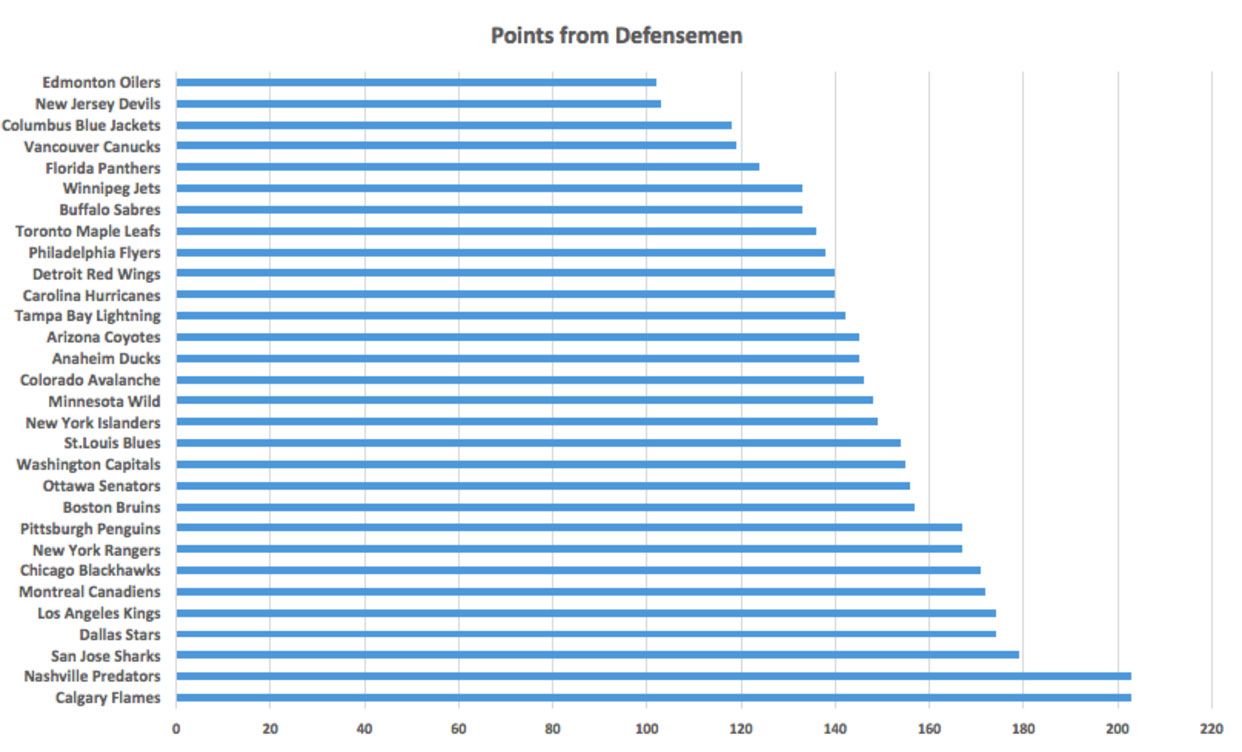 But if this trade was made to help boost offence from the back end, then it's truly baffling. Gudbranson has averaged roughly 11 points per 82 games played over the five years he's been in the NHL. Trading for a player who struggles to move the puck and hoping it helps generate some more offence is a head-scratcher.
This isn't to say Erik Gudbranson is completely devoid of useful qualities, because he's still a large man (listed at 6-foot-4) who has yet to celebrate his 25th birthday. Even though he'll probably never live up to the hype that led to him being selected third overall in a pretty good 2010 draft, he's still a serviceable defenceman. Before he was traded, Gudbranson was signed to a one-year extension at a reasonable $3.5 million cap hit, so the Canucks will be able to have an up-close look at him before deciding on how to handle him as an asset.
But should this inspire confidence for the fanbase? Maybe not, since this management group has made some other questionable moves in the past year.
The Canucks clearly have a lot of work to do before they can even dream of regaining the form they had at their peak a few years ago. Rather than trying to patch up holes and settle for mediocrity, what they really should be doing is swinging for the fences and trying to hit some homeruns by accumulating as many lottery tickets as possible.
Instead, this is now the second time in the past couple of months they've traded in a skilled player with a high ceiling for a safer option with less risk, but also significantly less theoretical reward. What's even more disconcerting is how freely the Canucks have been handing out draft picks under GM Jim Benning, which is surprising considering he was hailed as a scouting savant when he arrived. And it's not as though this is a team flush with dynamic young talent on the horizon, or a whole lot of financial wiggle room.
The Florida Panthers have made news recently for their big, fundamental changes to the organizational hierarchy. It's noteworthy that they've invested a fair amount of resources into a more numbers-based approach, which I'd argue is most useful in helping to avoid overtly negative personnel decisions that carry adverse long-term ramifications.
The Vancouver Canucks would do well to pay attention and take some notes, or risk continuing to be left behind.