After a pretty horrendous start to the season if you go by save percentage, Carey Price has looked closer to his regular self since the calendar turned to December. He's posted a .925 save percentage since Dec. 1, the second-best mark of the 24 goaltenders who have played 10 games or more over that time.
Even with a little more than a month of inspired play, though, his overall numbers this season have not been impressive on the surface. After last season where Price never really looked right and posted the worst save percentage of his career, it makes sense that there are questions about what's going on with him.
After a multitude of knee injuries that appeared to become chronic after Chris Kreider ran Price over in the 2014 Eastern Conference Final, a lot of analysts believe the Canadiens netminder is damaged goods who is unable to recapture his peak form.
Since Price's peak was among the best individual seasons for a goaltender since Dominik Hasek, and considering Price is in his 30's, that's a safe bet to make.
[relatedlinks]
However the question shouldn't necessarily be whether Price can tower over the rest of the NHL once again and assert himself as one of the best goaltenders in history. Rather, it should be whether or not he can get back to being among the best goaltenders in the league today?
Expecting a save percentage near .933 like Price produced in his Hart Trophy year is unrealistic, not just because he's older and has dealt with injuries, but because the average NHL save percentage has dropped from .915 to .909 over that time.
Price's current save percentage is also .909, which would mean he's about an average goaltender in the NHL, but there's a lot of noise in save percentage as a whole. For example, not every goalie faces the same amount of high quality chances — while overall shots against between two goalies could be similar, their expected save percentages could be wildly different due to where those shots are taken from.
So to drill a little deeper into Price's season, let's break down his save percentage by location.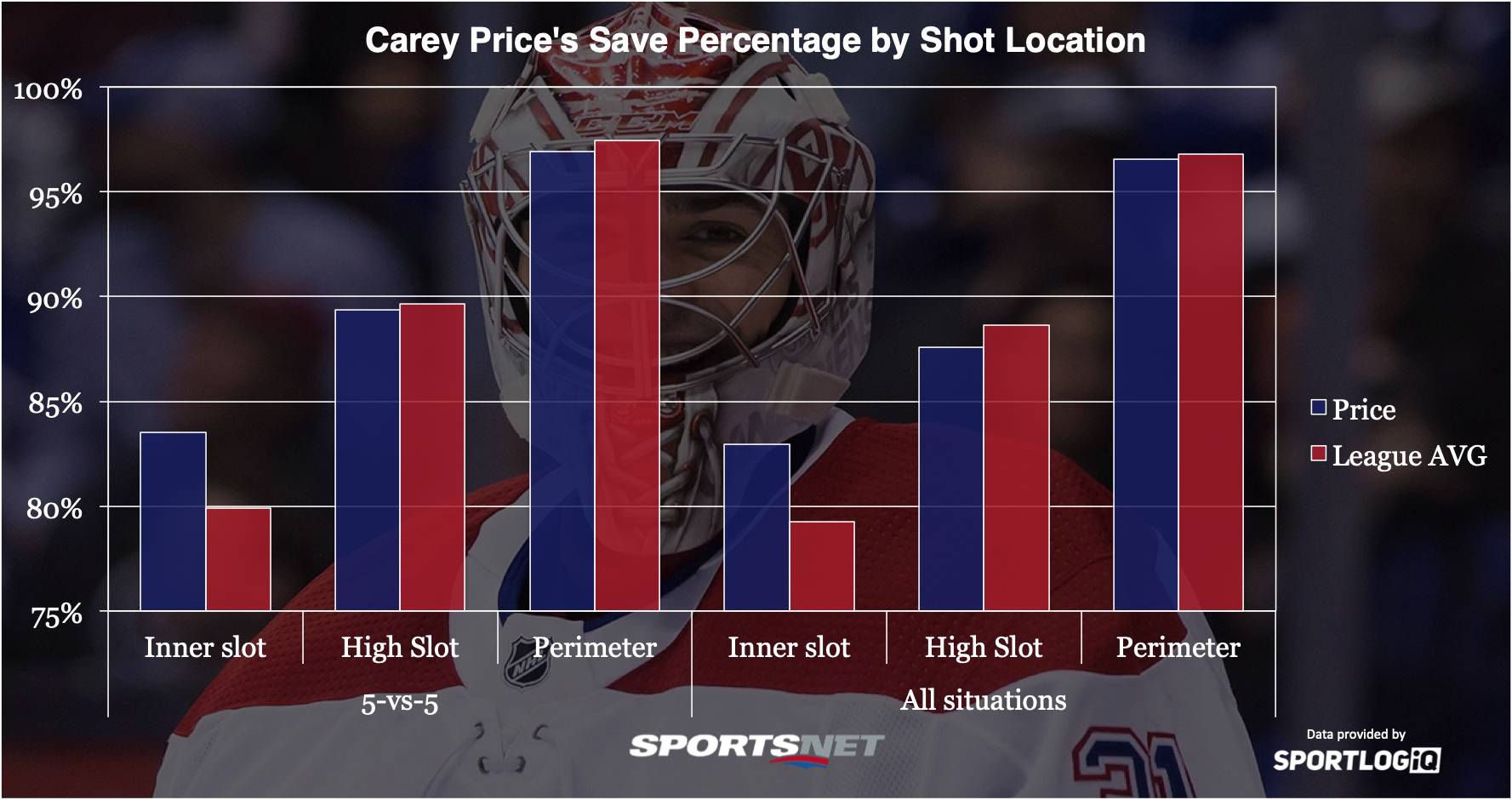 Earlier in the year Price was really struggling on shots from the high slot, but he seems to be working his way towards average numbers there at 5-vs-5 and in all situations, while he's a hair below average on perimeter shots. This means he's giving up a few more weak goals than usual and so far this season the gap would account for about one more goal than league average.
From the high danger area, where half of all goals in the NHL are scored from, Price has actually been quite good. He ranks ninth in inner slot save percentage, which is way higher than his overall save percentage ranking.
Usually a goalie's overall save percentage tends to regress along the same trend as their high danger save percentage, but there's more to Price's story than just where shots are coming from. The frequency matters as well.
It's clear Price was bad last season and that you have to go back to 2016-17 to see a version of him that played at an expected normal level.
Using that season as a standard, let's look at the types of shots Price was facing relative to the average NHL goaltender, then compare it to this season.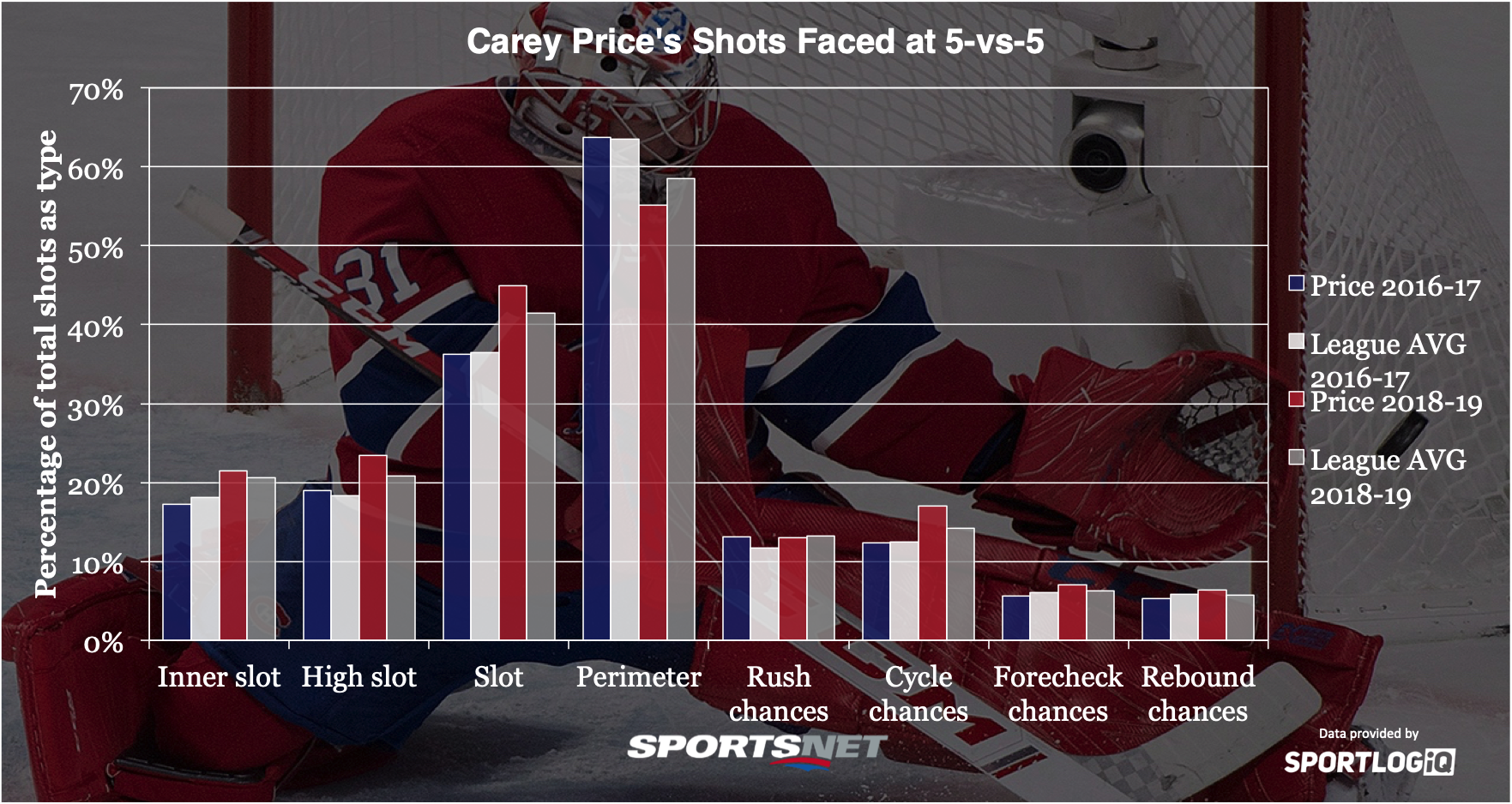 As I've written about before, perimeter shots are dropping around the league, so it's not a surprise that the percentage of shots from the slot Price faces has risen over time. However the rate at which he's facing scoring chances has risen far faster than league average.
What I find interesting about that is the Canadiens were among the worst teams at suppressing high danger chances in the 2016-17 season before Michel Therrien was let go, and Claude Julien turned them into one of the league's best defensive teams down the stretch. The top pairing of Shea Weber and Andrei Markov allowed pretty much no chances against at all.
To me, that takes the blame for the defensive problems away from the coaches a little bit, and puts it more on the roster. Outside of Weber and Jeff Petry, Montreal is sorely lacking on the defensive end.
Getting into more detail, we can see the Canadiens are actually better than league average at defending off the rush, so the issue isn't likely to be a lack of mobility. The biggest outlier compared to league average is in the number of cycle chances the Canadiens allow, which are scoring chances immediately preceded by a pass.
It isn't new to see Montreal struggling to stop passes in their own zone, but this season they've been especially poor. While that hurts at even strength, the problems can compound on special teams.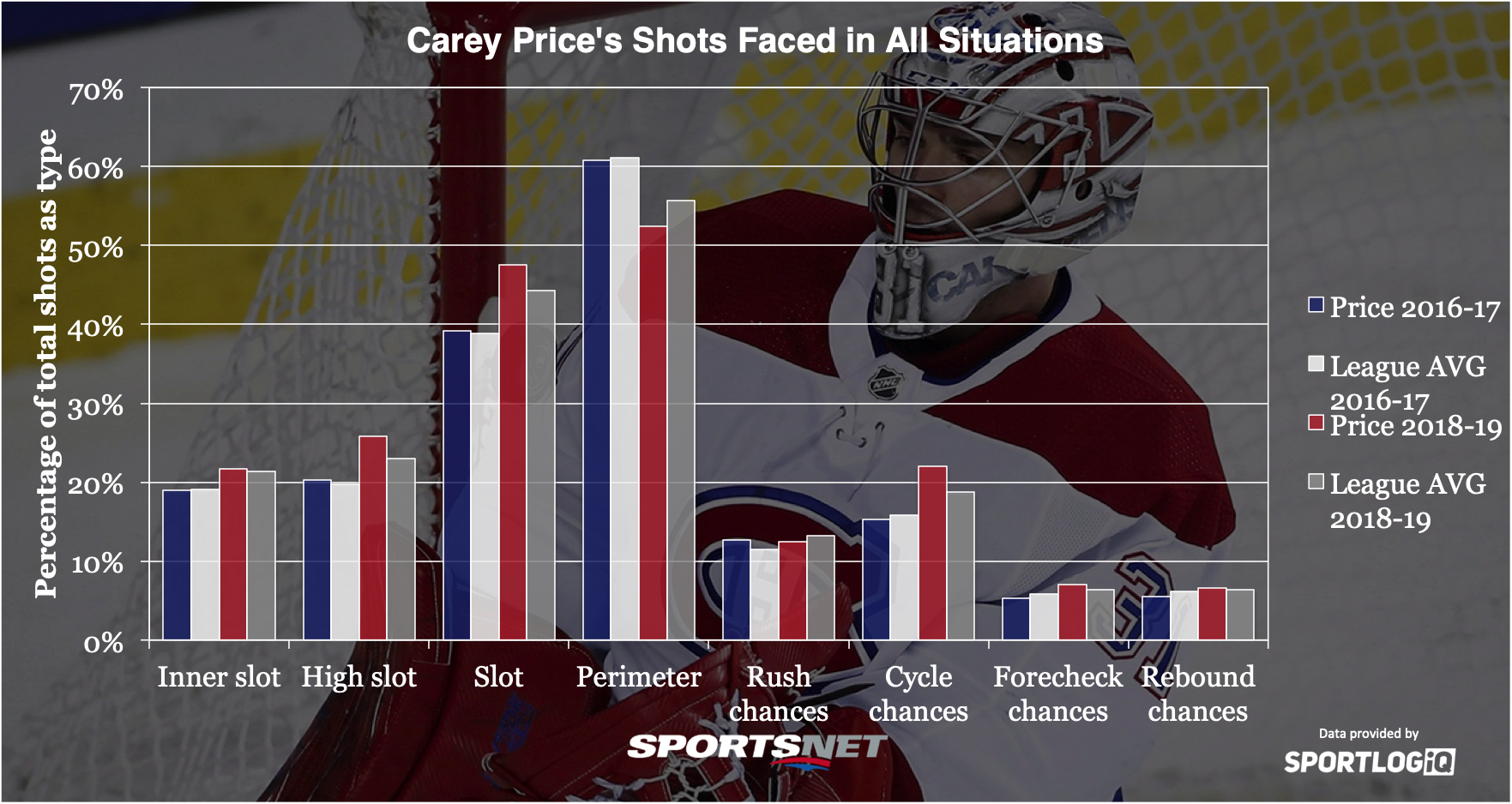 Looking at Price's shots against in all situations, the same trends hold. But the gaps widen in per cent of shots from the slot and shots preceded by a pass between what Price faces and the league average.
One thing that can't be put on the shoulders of his teammates are the number of rebound chances Price lets out. Recovering rebounds is something defencemen can help out with, but the change in play that has produced more rebounds has been Price's own; he's giving up rebounds on 63 per cent of the shots he's faced this year, as opposed to just under 58 per cent two years ago.
More dangerous shots against do produce more rebounds, but Price is also giving up more rebounds on perimeter shots – 56.1 of those chances are followed by a rebound, up from 52.2 per cent in 2016-17. That's an area he needs to improve in, as he's typically been one of the best rebound controlling goaltenders in the league.
[snippet ID=3322139]
Looking at all this data, it's relatively clear Price has had a tough job this season, but it all needs to be put into context as well. I'm not going to say he's been brilliant, especially by his own standards.
Based on the shot location alone that Price has faced this season, you would expect an average goaltender to save 90.4 per cent of them. Without adjusting for the excessive amount of passes that Price has to deal with, his current save percentage is actually significantly better than expectations and so far this season would put him in the range of 4.32 goals saved above average.
That doesn't place Price as a top-five NHL goalie, but he's climbing the list despite having to face the third-highest percentage of shots as scoring chances in the league. The only goalies who face tougher shots on average are Cam Ward and Carter Hutton.
Whether Price can ever recapture his status as the best goaltender in the league is up for debate, but those who think he's done are making decisions too quickly, and often base those conclusions on poor information.