After Game 3, I wrote about how the scoring chances in the Stanley Cup Final are closer than the games have appeared to be, but the passing game has heavily favoured the Capitals and given far more potency to their scoring chances. The result has been Marc-Andre Fleury's playoff-defining save percentage taking an onerous tumble to the land of replacement-level goaltending.
However, the defensive breakdowns from the Golden Knights in the series so far are even more startling when you compare them to the stellar efficiency they enjoyed in the first three rounds.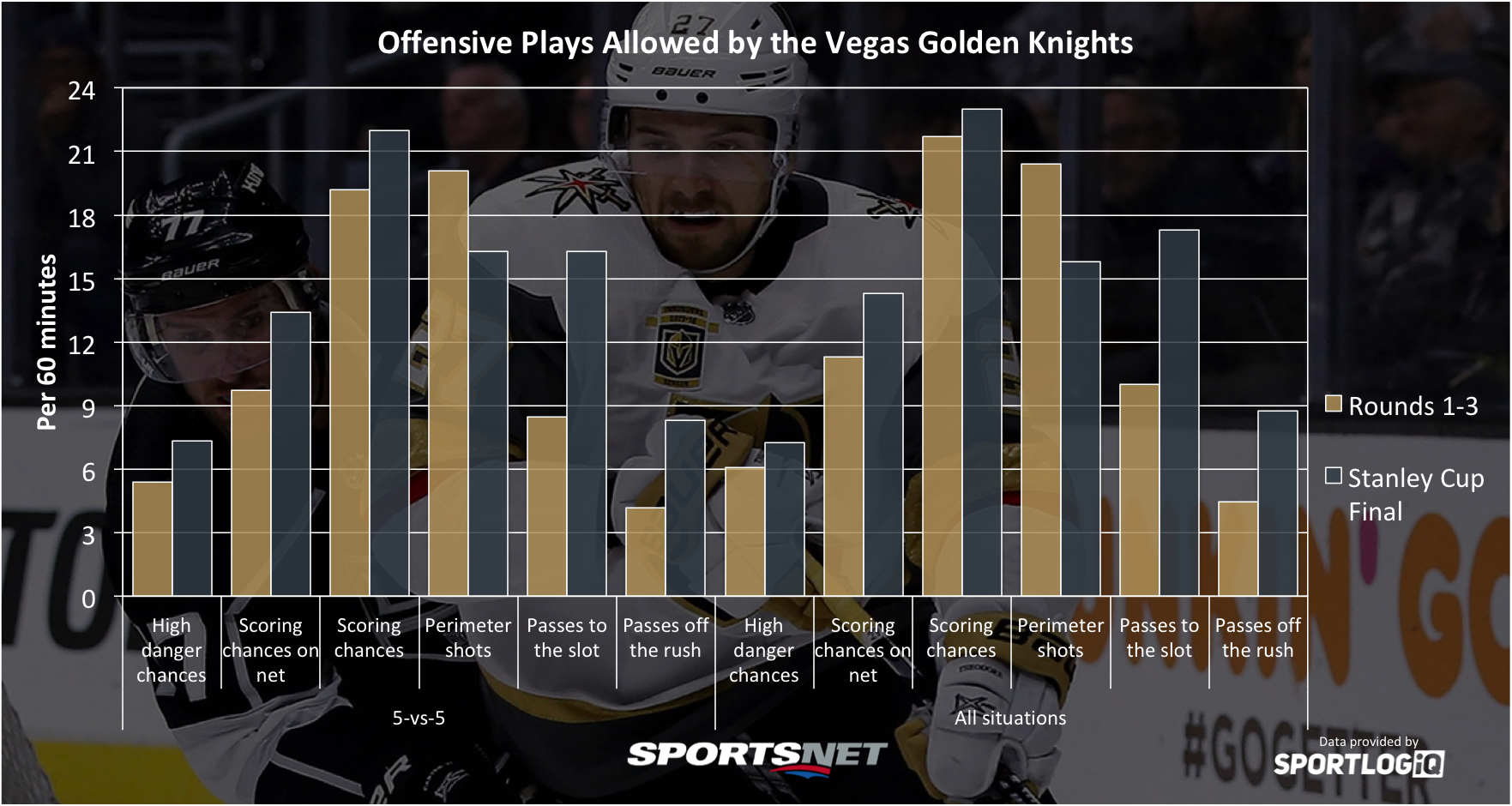 It's jarring to see the difference between Vegas' defensive performance in the Stanley Cup Final compared to the rest of the playoffs. Whether you attribute it to poor play by the Golden Knights, stellar play by the Washington Capitals, or a bit of both, the results have been terrible for Vegas across the board.
In some ways, the changes are relatively small. For example, Vegas allowing 23 scoring chances against per 60 minutes in all situations instead of 21.7 is not a backbreaker by any stretch, but when you consider that of those 23 there are three extra chances coming from the inner slot, you can see the workload Fleury is facing is much more dangerous than it was in the rest of the playoffs.
Add to that the areas of big change, specifically the fact that Vegas is giving up nearly double the passes to the slot in the Stanley Cup Final that it was the rest of the playoffs. Fleury is facing more shots from closer, which come with more pre-shot movement and many of them are going through the middle of the ice forcing Fleury to fully extend in his lateral movement.
[snippet id=3918715]
Those types of plays are what really expose goaltenders, and especially those like Fleury who are prone to over-reacting to plays and getting out position on second chances.
Complicating matters further for Fleury is that Washington hasn't been putting shots on net from the perimeter at nearly the rate that Vegas' previous opponents were. Fleury is facing five fewer perimeter shots on net per game against Washington than he did the rest of the playoffs. Those shots from the outside that have about a 3-4 per cent chance of going in are huge save percentage boosters, and in the Cup Final Fleury has stopped 62 of 63 of them, while getting run over in tight.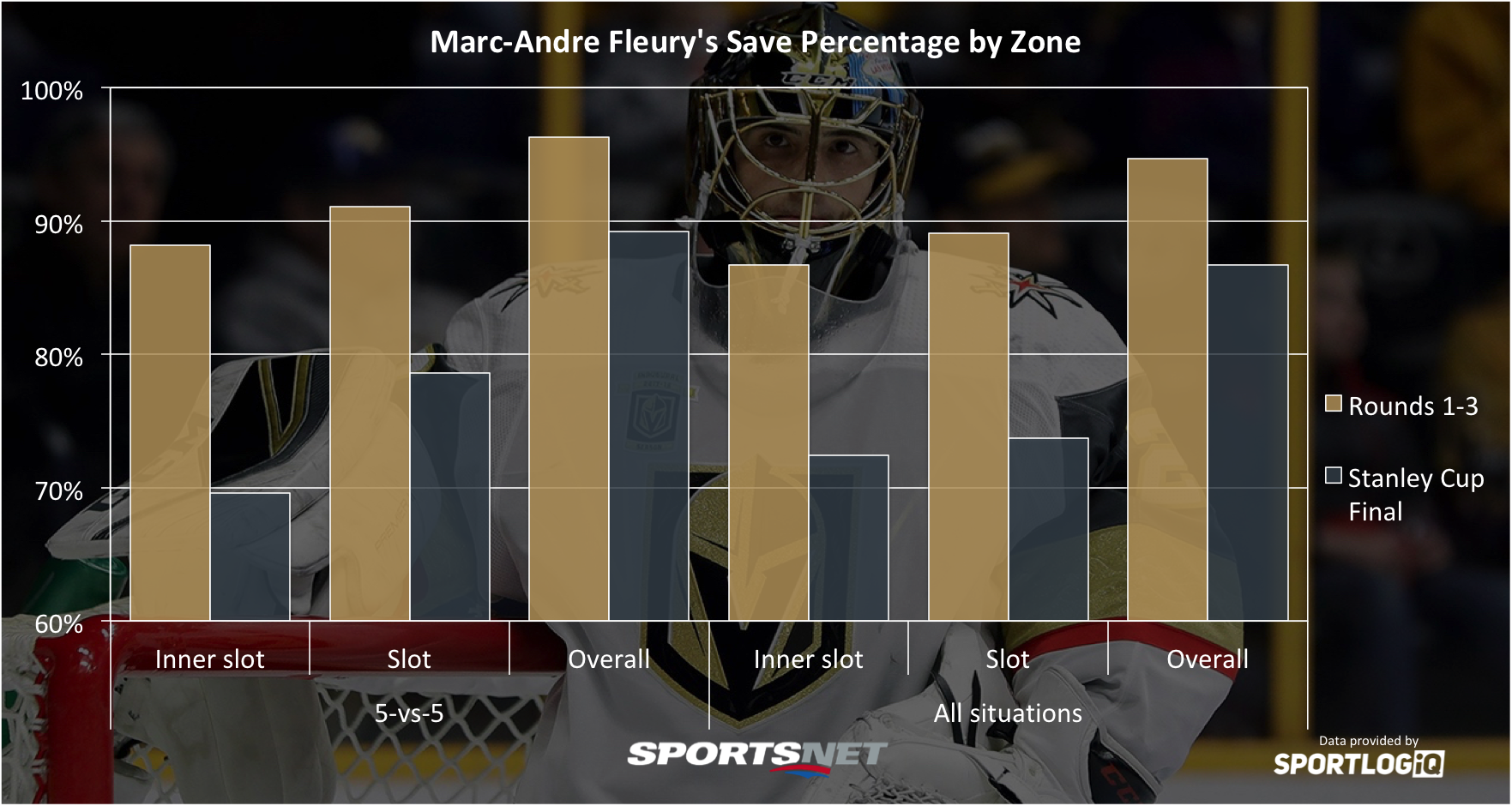 One thing to keep in mind with Fleury is that his performance in the first three rounds, even with how well Vegas was playing defensively, was far beyond his real talent level. There was bound to be some level of regression to his play eventually, but a regression that coincides with a complete collapse in the Golden Knights' defensive structure has taken him from looking like a god to looking like some ECHL goaltender they've plopped on the ice in the most important series of the season.
To be fair to Fleury, I think it's important to note that by saving more than 98 per cent of perimeter shots, he's not giving up weak, back-breaking goals that are killing the momentum for the Golden Knights. He's being beaten legitimately by great plays that are coming in a higher frequency than he's faced at any time this season.
[snippet id=3317857]
Fleury at his best or even at his average should be stopping more of these shots, but the biggest reason we're so focused on him isn't that he's giving up bad goals, we're just comparing him to his previous play and that he's facing fewer "easy" shots that give a boost to anyone's save percentage.
Fleury's inner slot or high danger save percentage in the Stanley Cup Final in all situations is an unimpressive 72.4 per cent, but the playoff average is only 78.6 per cent to put that in context, and most of those high danger chances he's facing also involve pre-shot movement. Fleury is underperforming to be sure, but not by the level that casual viewers believe him to be. I don't think he's the main reason the Golden Knights are facing the prospect of the Stanley Cup being awarded to their opponent in Vegas Thursday night.
If the Golden Knights have any chance of extending this series, they will need more than just a great performance from Fleury — they need to give him a chance to stop those pucks by playing better in front of him.
[relatedlinks]