The Toronto Maple Leafs have acquired Tomas Plekanec for their playoff run this season, shoring up their defensive depth and insulating themselves the rest of the season while Auston Matthews should miss a bit of time with a shoulder injury.
Going to the Montreal Canadiens in the trade is Rinat Valiev, Kerby Rychel, and Toronto's second round draft pick in 2018, while the Leafs also pick up depth NHLer Kyle Baun for the Marlies.
After a few insiders had assumed Plekanec would fetch about a third-round pick at the deadline, this seems like an overpayment on the surface. But that evaluation was likely always a bit pessimistic, considering how few centres usually move at the deadline and that Plekanec remains a strong shutdown option even at age 35.
For most teams, giving up two prospects and a second-round pick for a depth centre might be a bit extreme, but both players the Leafs moved faced uphill battles to get to the NHL. The Leafs have better and younger prospects in the system and still have another second round pick this season.
Dimitri Filipovic provides entertaining and thoughtful dialogue about the game of hockey with an analytical edge. Not as nerdy as it sounds.
In Montreal, there are far fewer high-end prospects in the way of Valiev and Rychel, so they hold more value for their new organization than they did for their old one. It was an acceptable package to give up for the Leafs, while the Habs got a much better return than expected for Plekanec and kept a respected veteran happy by keeping him in the Eastern Conference.
Valiev and Rychel may even get some games in the NHL this season as the Canadiens sell off some of their roster players. They could have a chance to prove themselves that they wouldn't get in Toronto, while Plekanec gets a chance to play for a Stanley Cup. This trade is a rare win for all the teams and players involved.
But Plekanec, obviously, is the most impactful player in the here and now, so what will he bring to the Leafs? We've already taken a look at his defensive play in detail this season, but how about offensively?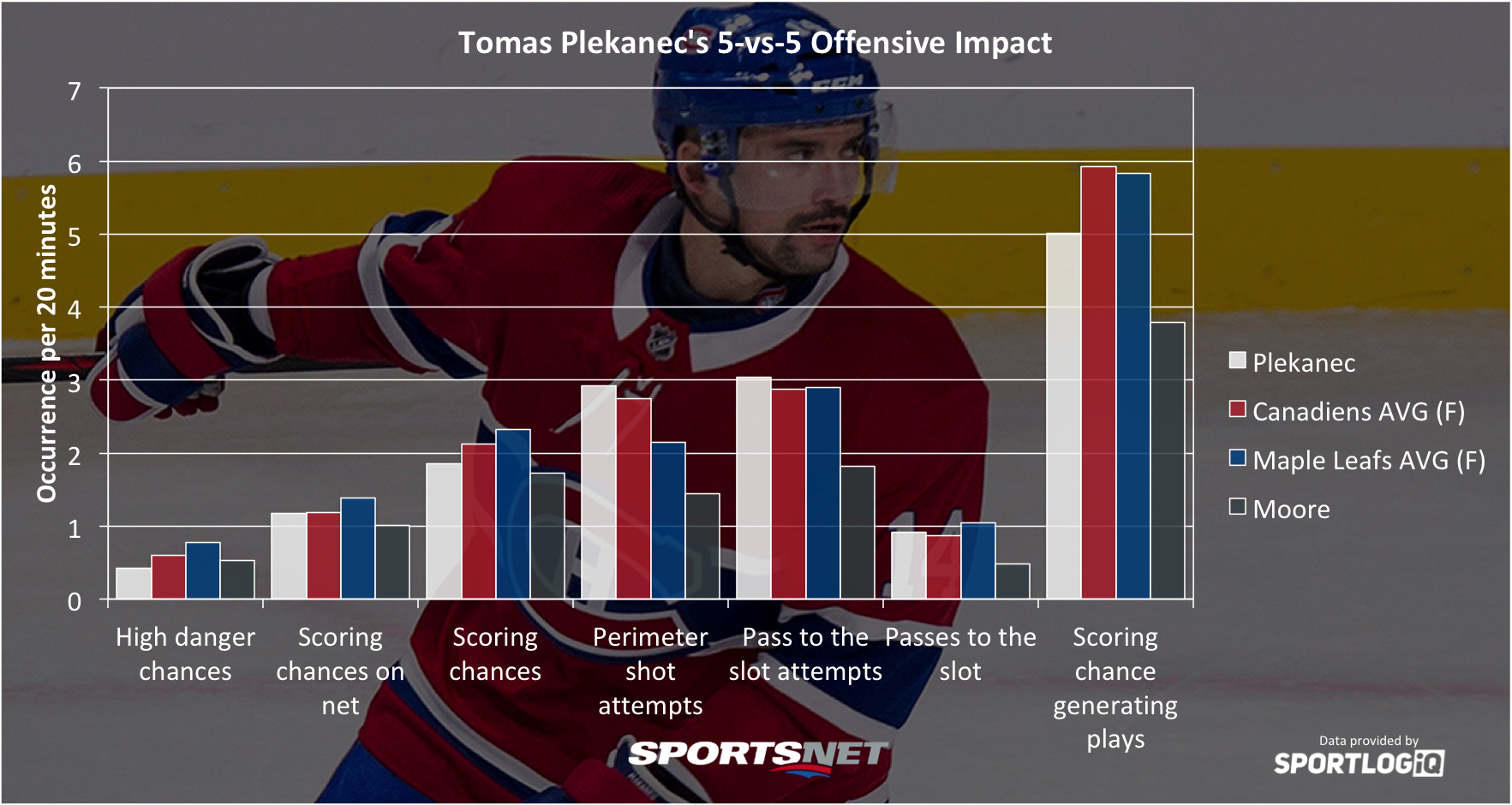 Toronto spends 49 per cent of its 5-on-5 time in the offensive zone compared to Montreal's 47 per cent, so even without accounting for the extra offensive zone time Plekanec should see with the Maple Leafs, he is a huge upgrade on current fourth line centre Dominic Moore both offensively and defensively.
Plekanec is a below team average offensive producer, but also plays against opposing teams' top lines and is still on pace for 33 points at even strength. He currently has 24 even strength points, which is tied for 65th in the NHL among centres and matches Tyler Bozak in three fewer games.
Plekanec is a big perimeter shooter, which partially explains his 4.8 shooting percentage this season, but he's been unlucky too, considering he still puts up decent shot rates and creates about five scoring chances for his teammates per 20 minutes.
His biggest strength at this point is his playmaking, and though his success rates with passes to the slot leaves a bit to be desired, he attempts to make things happen at a high rate. He actually completed more passes to the slot than the average Canadiens forward this season, which could see a bump up in Toronto with their superior offensive zone tactics.
One thing this trade allows the Maple Leafs to do is soften Nazem Kadri's minutes a little bit. They can lean on Plekanec to be their top checker and defensive zone starter, while Kadri is freed to create more offence. That trickle down impact could lead to the Leafs being even more dangerous offensively than they are already.
Plekanec may not be a top tier player anymore, but in a depth role he's a huge upgrade for the Leafs, and considering his defensive impact, don't be surprised if he gets a fair chunk of ice time.