Whenever a team makes a coaching replacement in the middle of a season, it's always a little tough to evaluate the changes the new coach brings in. Some things are more obvious to the eye than numbers would indicate, and sometimes changes are made that are so small you need the numbers to understand the impact.
With the lack of practices in the NHL now, and without the benefit of a training camp to implement stylistic and system changes, it's all the more difficult for an incoming coach to put their stamp on a team.
It's been about three weeks since the Edmonton Oilers moved on from Todd McLellan and hired Ken Hitchcock, so it's probably unfair to draw any conclusions about where things are headed for the Oilers. But perhaps we can get a bit of a feeling of what Hitchcock wants to change.
Starting with performance, the Oilers have been one of the hottest teams in the league since the coaching change, going 8-2-1 in 11 games, but how much of that is due to improved play? Let's look at Edmonton's 5-on-5 numbers before and after the coaching change.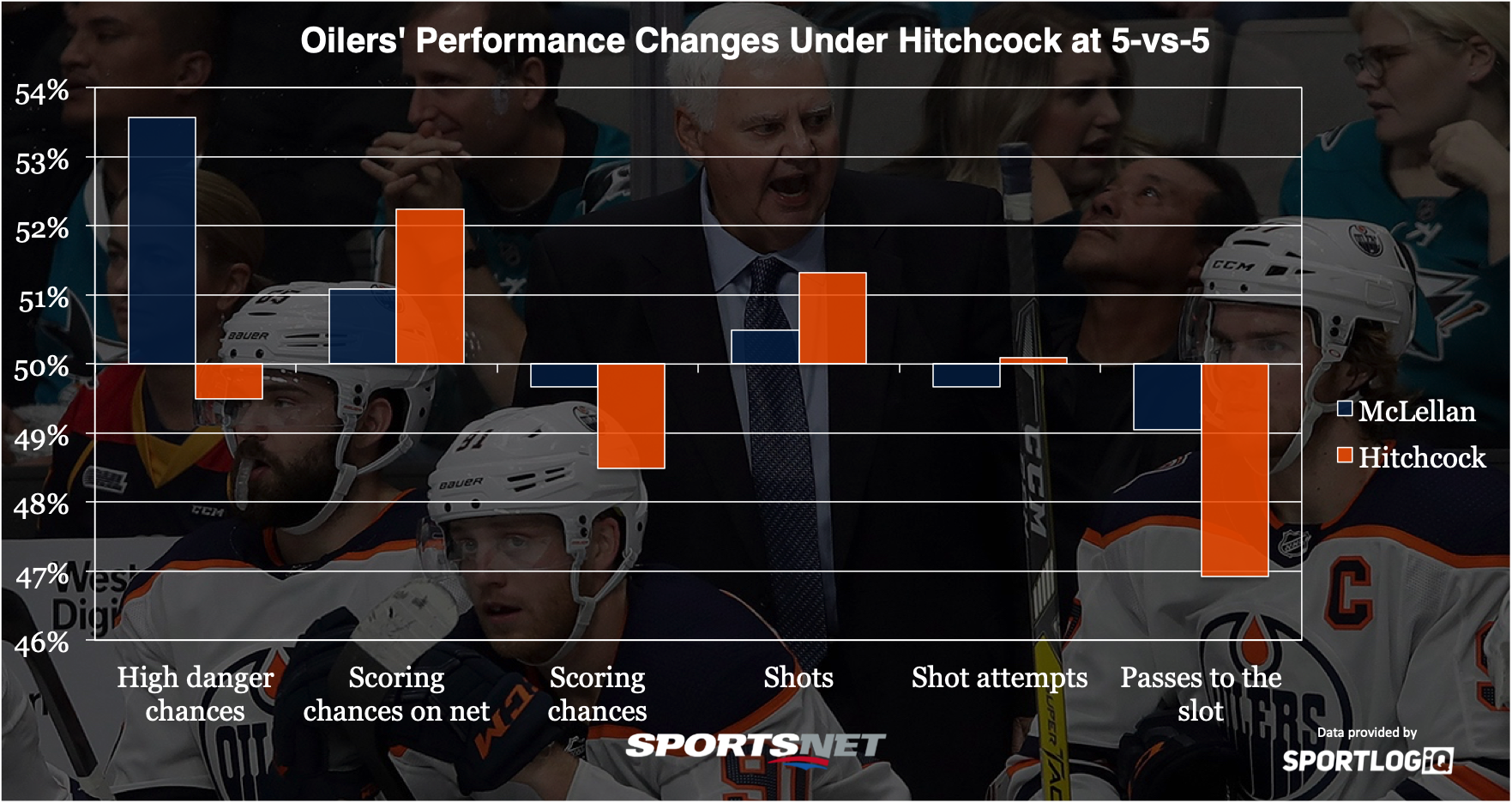 Looking at the shot differentials so far isn't that illuminating in terms of changes Hitchcock is trying to make, though it does show that not all the signs so far are good.
The Oilers have gone from a pretty strong team at controlling high danger chances to being outplayed from that area of the ice. At the same time, they've slightly increased their differential in scoring chances on net, shots, and shot attempts, even though their overall scoring chance and pass to the slot differentials have taken a hit.
The big difference in scoring chances on net and scoring chance differentials hint that there's more of a focus on blocking shots. An increase in blocked scoring chances from 3.72 per 60 minutes under McLellan to 4.65 under Hitchcock may sound small, but it's a fairly significant margin.
What appears to be the case on the surface is that Hitchcock has switched from a style that favoured shot quality a bit more to controlling shot volume, which is basically the opposite of what he tried to do in Dallas.
To get a better idea of what the changes are, let's look at the specific area Hitchcock is most associated with: defensive play.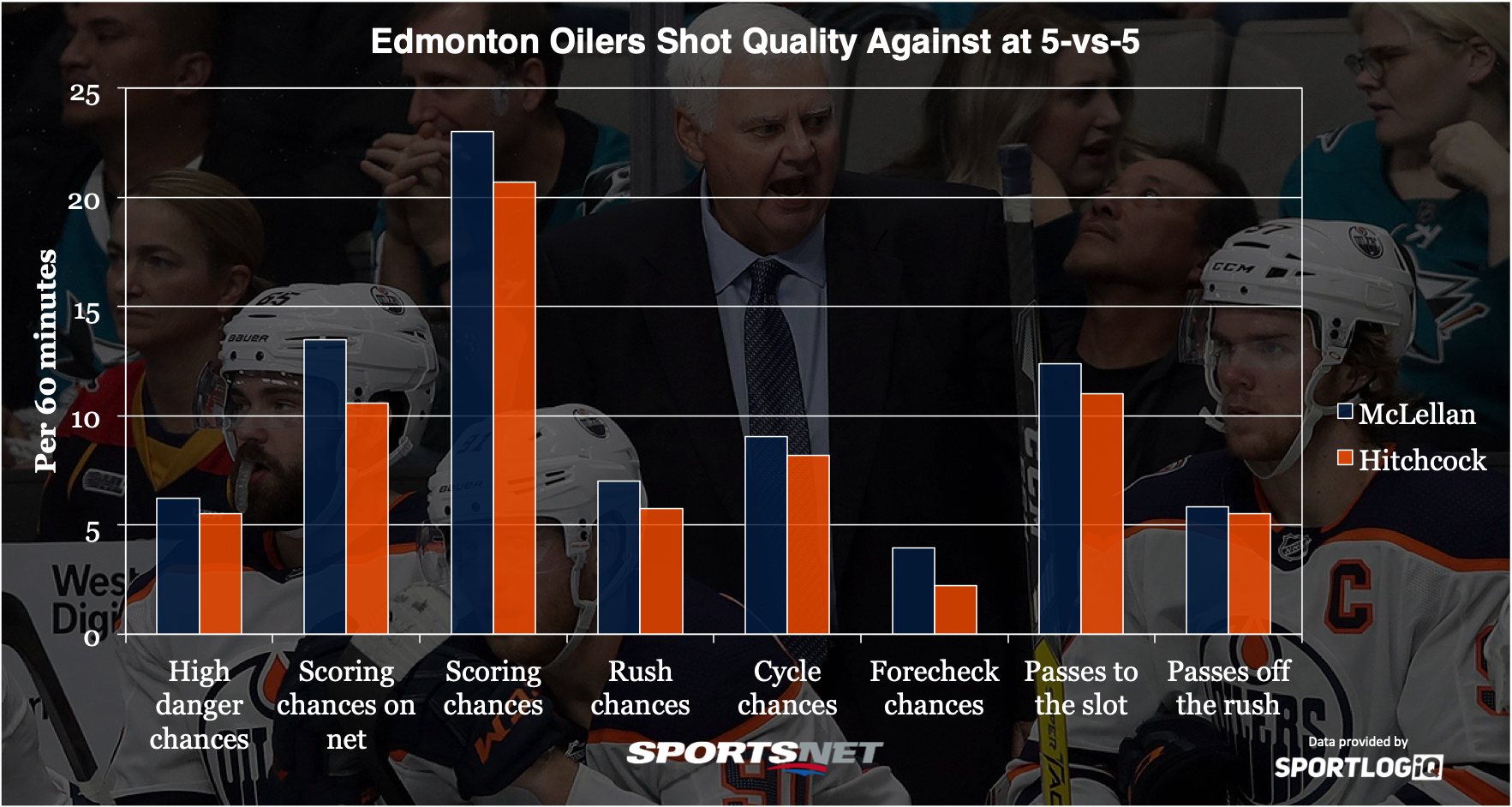 The Oilers have been producing far fewer quality chances themselves in the games since Hitchcock took over, but that seems to be a tradeoff in order to cut down on the chances against.
Not only are the Oilers giving up fewer opportunities across the board, the types of chances they're allowing are also less dangerous.
Under McLellan, the chances the Oilers were giving up were preceded by a controlled zone entry, a pass, or a mistake caused by a forechecking play that resulted in a change of possession 87.1 per cent of the time. Under Hitchcock, that number drops down to a flat 78 per cent, meaning not only are the Oilers' goaltenders dealing with fewer chances, those chances are of lower quality as well.
That's likely a big reason why Cam Talbot and Mikko Koskinen are boasting .925 and .936 save percentages since Hitchcock took over, as opposed to the .888 and .917 marks they had under McLellan.
Those are some big differences in save percentage and likely a lot more than can be expected based on the change in shot quality. But the early positive results go a long way towards getting players to buy in to what Hitchcock is selling — winning is a great cure-all.
The significant drop in offensive play at 5-on-5 is probably temporary, and having the ability to throw Connor McDavid on the ice 20 or more minutes per game is a good way to counteract it. But if the Oilers start to struggle to score, the defensive improvement may not matter much with the poor differentials they're currently putting forth.
Other changes the Oilers have implemented under Hitchcock include:
• an increased rate in dump-outs from the defensive zone, which account for 23 per cent of their zone exits now, up from 20.5 per cent under McLellan.
• a similar increase in dumps-ins to the offensive zone, which account for 55.1 per cent of their zone entries now, up from 53.7 per cent under McLellan.
The goal to increase the number of dump-outs and dump-ins may be an effort to curb the Oilers' turnover rates in the defensive zone. They've seen a drop from 39.6 turnovers in the defensive zone per 60 minutes under McLellan to 34.7 under Hitchcock, and a drop from 12.1 to 10.6 in the neutral zone.
Considering that the Oilers have typically struggled to defend, it makes some level of sense for Hitchcock to try and curb some of the more dangerous plays in favour of safer ones.
Whether all these small changes result in any long-term improvements for the Oilers is up for debate, but it hasn't taken long for Hitchcock to start putting his stamp on the team.
[relatedlinks]