Just over a week into the 2018-19 NHL season, Auston Matthews and John Tavares combined have scored more goals than 21 NHL teams. That is completely absurd, with Matthews scoring on more than half of his shots and Tavares scoring on more than a quarter of his — the dynamic duo looks unstoppable.
Of course, this kind of start has whipped Leafs Nation into a level of hype that we haven't seen before. There is some tempering of expectations when you see that the Leafs have needed 3-on-3 overtime for two of their four wins, and that they lost to the Senators. All six teams they've faced so far missed the playoffs last year, and they've allowed goals almost as frequently as they've scored them.
The brand of hockey the Leafs are playing is unbelievably fun. But the question I have is why haven't they been able to put teams away with the three dominant offensive lines they have and a power play as deadly as we've ever seen? What are they doing wrong?
In order to find out, let's take a look at those top-three centres and how they're driving goal scoring plays while they're on the ice at 5-on-5.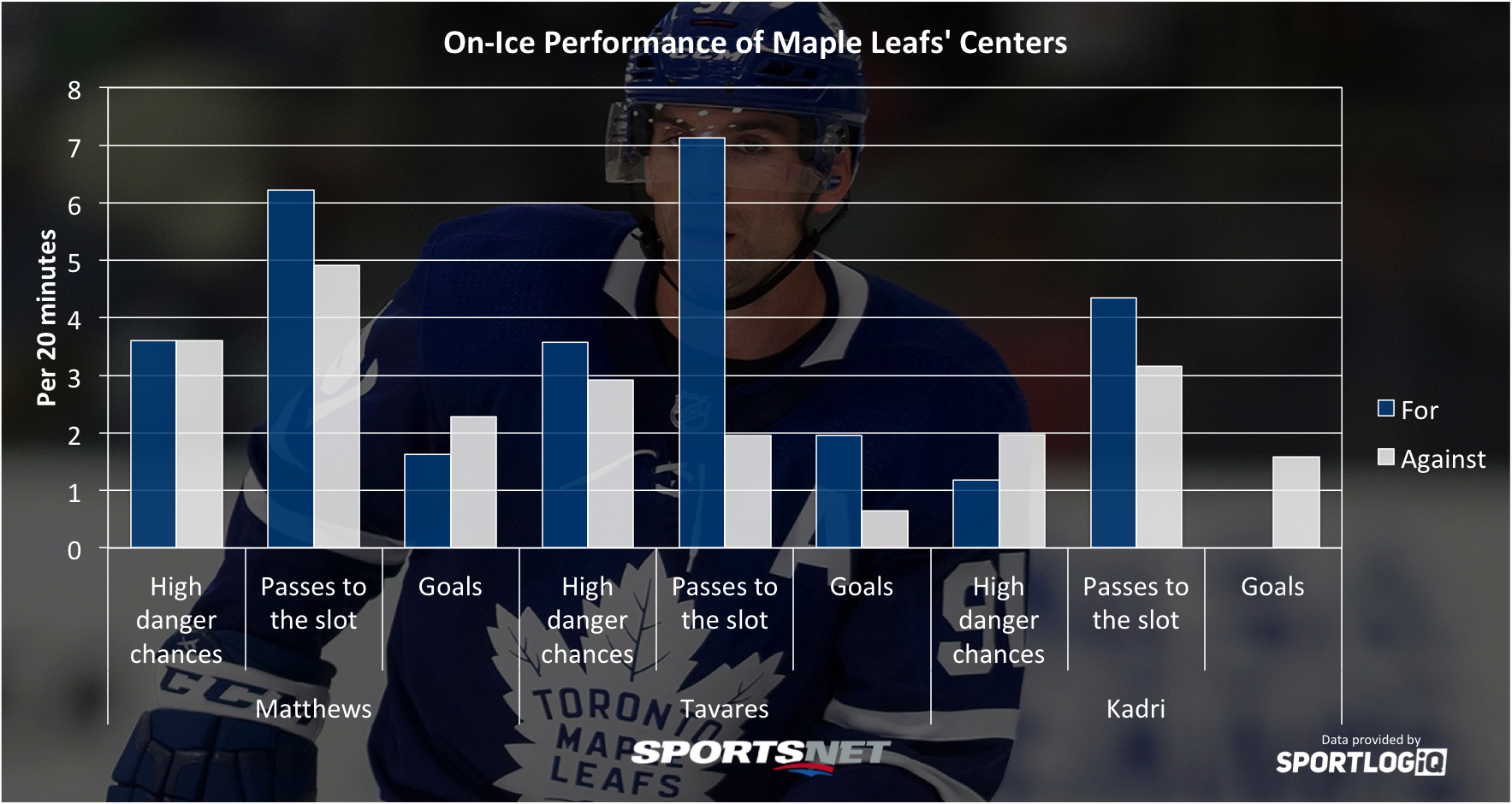 The Tavares line is essentially perfect. They're not just running hot, they're scorching and the play behind their goal numbers is incredible. Tavares and Marner are whipping the puck into the slot like it's laser-guided, and Zach Hyman is keeping plays alive on the perimeter, then deferring to Tavares in the slot, which is exactly what he needs to do.
The Matthews line is strange. With William Nylander still unsigned, Matthews has been forced to become the primary playmaker on the line, which has lead to a pile of high danger scoring chances for Kasperi Kapanen. But while Matthews and Marleau are both still above average on inner-slot shots, Matthews isn't as dominant there as usual.
Senior Writer Ryan Dixon and NHL Editor Rory Boylen always give it 110%, but never rely on clichés when it comes to podcasting. Instead, they use a mix of facts, fun and a varied group of hockey voices to cover Canada's most beloved game.
Matthews looks great on the power play, but the chemistry isn't yet there with his linemates at 5-on-5. That's especially true defensively, where they're giving up loads of quality looks and have actually been outscored. Some of that is the result of a small sample size and bad luck though, because even though the line isn't playing to its potential, it's still outplaying opponents overall with high quality plays.
The Kadri line is similar to the Matthews line in that it doesn't seem to be built perfectly. Andreas Johnsson's poor start to the season took away a potential high-quality linemate who goes to the dirty areas. Nylander's contract situation forced Kapanen further up the lineup, which took away another great option.
As a result, Kadri is having trouble generating chances with the more defensive-minded Connor Brown and Par Lindholm. The trio are still moving the puck around effectively in the offensive zone, but no one seems to be able or willing to occupy that area close to the net, so high-danger scoring chances have been hard to come by.
Kadri's line has been strong at limiting those chances against as well so it isn't so bad, but they have been outscored so far at 5-on-5 as well.
The trouble with small samples is you often get wild numbers that aren't going to last, and just as it's unlikely Tavares' line is going to continue to dominate passes to that high of a degree, it's also unlikely that Kadri and Matthews' lines will continue to struggle at even strength,
It's almost inevitable Nylander will sign a new contract with the Maple Leafs and when he does, it will allow Kapanen to join Kadri and bring some speed and scoring touch to that line. Eventually you have to think that Johnsson captures his game as well, which will only make Kadri's line better. This in turn will force tougher matchups for opponents and make all three lines better.
The Leafs as a team could tighten up defensively in a few ways, but those goals against are in the same small sample as the goals for. So far this season the Leafs are allowing only the 11th-most high danger chances against, 13th-most scoring chances on net against, 16th-most scoring chances against, and 22nd-most passes to the slot against in the NHL, so they're fairly close to average.
Until the Maple Leafs fill out their roster, you can probably expect the Tavares line and the power play to continue propelling them past lesser teams, which will come a lot easier when Freddie Andersen gets out of his annual October lull.