With the Detroit Red Wings on the outside looking in for the second straight year – and still up tight against the salary cap — all eyes are on what they're going to do with impending unrestricted free agent Mike Green.
At 32, Green is no longer the offensive force he once was, but it's likely he'd help a lot of teams come playoff time.
Throughout his career, Green has been pretty underrated and always dogged for his defence before the ascension of data-driven analytics that vindicated his play earlier in his career and labeled him a high-end possession driver and offensive force. Green remains the only defenceman since 1993 to score 30 or more goals in a season, according to hockey-reference.com, and since he established himself as a full-time NHLer in 2006-07, only five defencemen (Duncan Keith, Shea Weber, Erik Karlsson, Brent Burns, and Ryan Suter) have accumulated more NHL points.
With all that said, it's possible his early-career accomplishments have lead to Green being slightly overvalued at this juncture.
The first thing you want to know about a 32-year-old defenceman is whether he can still drive play, so let's look at Green's past three seasons.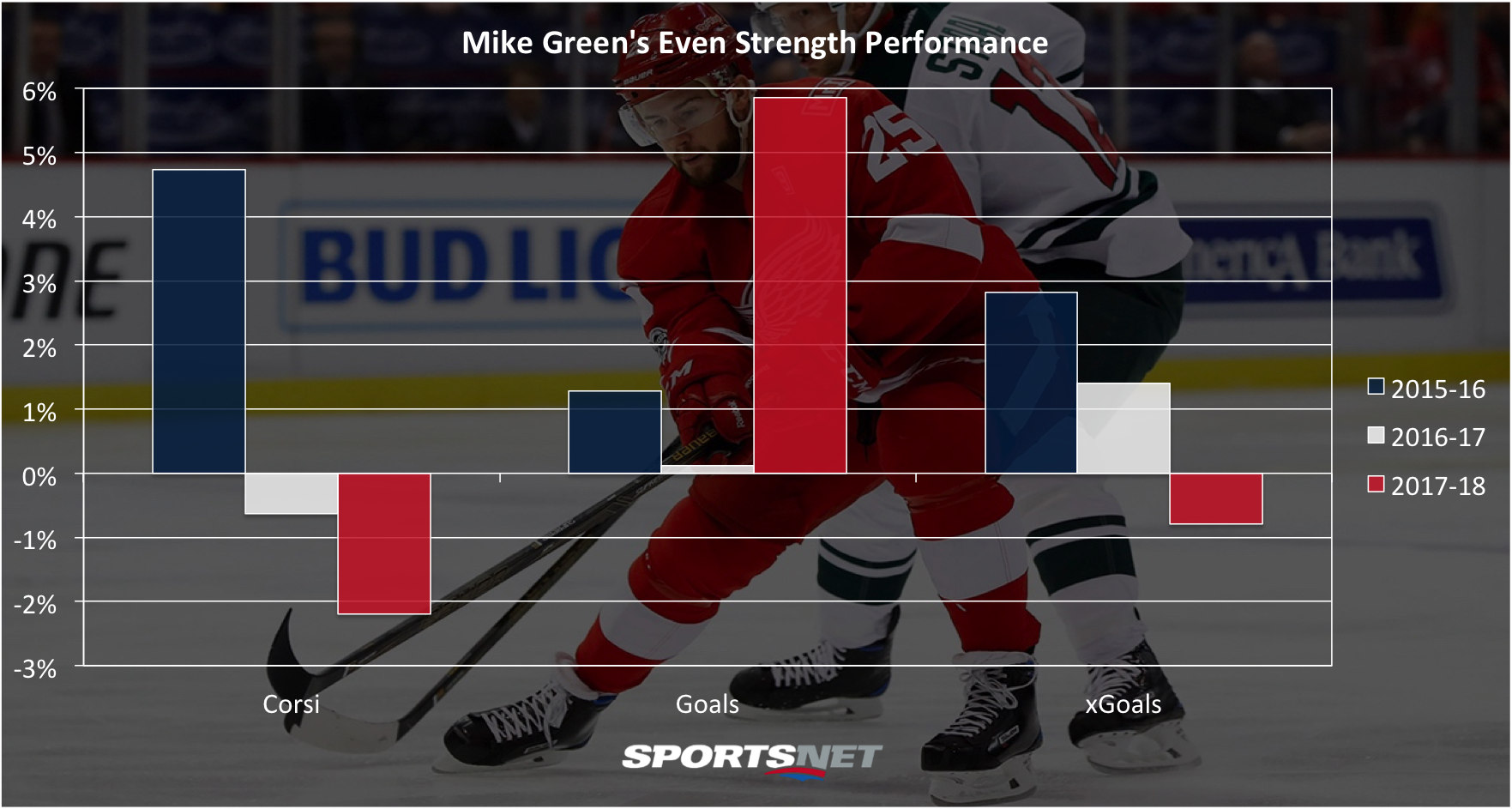 While there's a big spike in his on-ice goals for percentage this season, that seems to be driven primarily by a high on-ice save percentage relative to his teammates, while his shot attempt and expected goal differentials are dropping in what seems to be a fairly linear decline.
That's unfortunate for Green, but I do wonder if the nature of the Red Wings' defensive group hurts him here, because to be brutally honest, there's not much there to help him.
Any team acquiring Green wouldn't be expecting him to be their No. 1 defenceman. He currently plays 2:14 more per game than any other Red Wing, and on another team he would probably end up with a better playing partner than 37-year-old Niklas Kronwall.
Considering Green has been a positive possession player for essentially his entire career, I think it's fair to say that even though he's declining, he would be a better fit in a lesser role.
So the question turns to how much offence can he bring to a new team?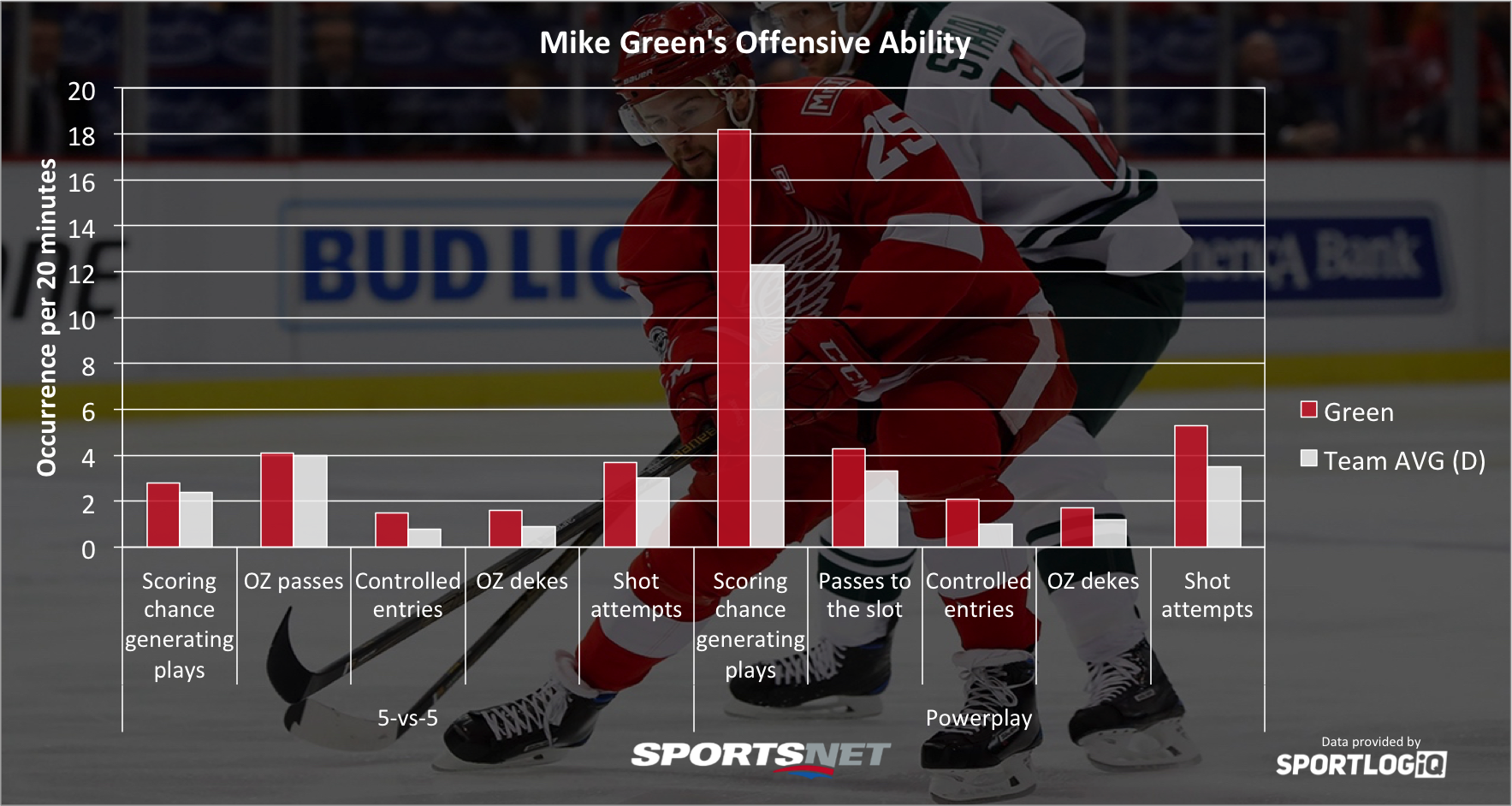 At even strength, Green is still better than average in generating scoring chances for his teammates, though he's not as slick of a passer under pressure as he used to be. His main contributions to offence at 5-on-5 are his ability to enter the zone cleanly with the puck, and improve shot quality by completing offensive zone dekes that open up lanes for better passes and shots.
Where Green truly separates himself, though, is on the power play. He is about 80th among defencemen in creating scoring chances at even strength, but on the power play he's first in the NHL at his position, and sixth overall including forwards. He's an absolute force on the man advantage.
That little bit of extra space makes all the difference, and Green's playmaking ability goes from decent to off the charts.
You could argue having a defenceman who's that involved on your power play reduces the overall shot quality a bit: the Predators were an example of this last season and the Red Wings have the 18th-best power play this season. But on a better team Green would accentuate an already-existing unit and wouldn't be tasked with running it, — though he could if the team wanted.
Green may not be at his peak anymore, but most teams could use the skill set he adds and the defensive risk associated with him has always been overblown. Assuming you're not selling off your top prospect to get him, Green is a very attractive option for any team that wants to add offence, especially if they have trouble gaining the zone with control.
[relatedlinks]