Since the beginning of the 2013-14 season, no team has a worse combined save percentage among all its goalies than the Edmonton Oilers, who somehow have an early 1990s level .897 over that time. That number has accumulated from the combined efforts of 10 different goaltenders, playing under three different coaching staffs.
The Oilers have watched as Devan Dubnyk rebounded to become a starting goaltender with the Minnesota Wild, and they've seen goaltenders who had stellar numbers elsewhere come in and collapse, such as Ben Scrivens and Cam Talbot.
For a while Dallas Eakins' system was blamed, then the goaltenders were blamed, and then the defensive core was blamed. The reality is likely a mix of the three, but as the Oilers have begun to get some good goaltending, now would be a good time to see how Todd McLellan's system, and the Oilers' roster in general, sets them up for success or failure.
Using Sportlogiq shot locations, we can see what is expected on average from NHL goaltenders. By looking at where shots and goals are coming from, we can map out zones where shots have a different expectation of beating the goalie, and create expected save percentages. Here they are, in each zone: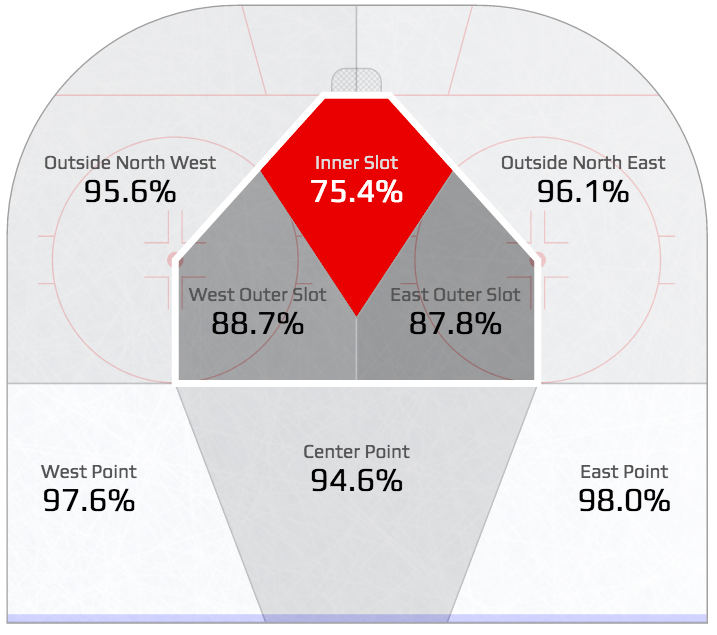 You can see right away how important getting shots on net from the slot is, as shots from the outside have a rotten chance of creating goals overall. That inner slot section is even more important, as each shot there has nearly a one-in-four chance of becoming a goal.
Knowing this information, we can look at where shots on net are coming from against specific goaltenders and see what we should expect from them.
Let's first look at Cam Talbot, who had stellar numbers last season and was expected to be the Oilers' starter this season. Here's where the shots against him are coming from.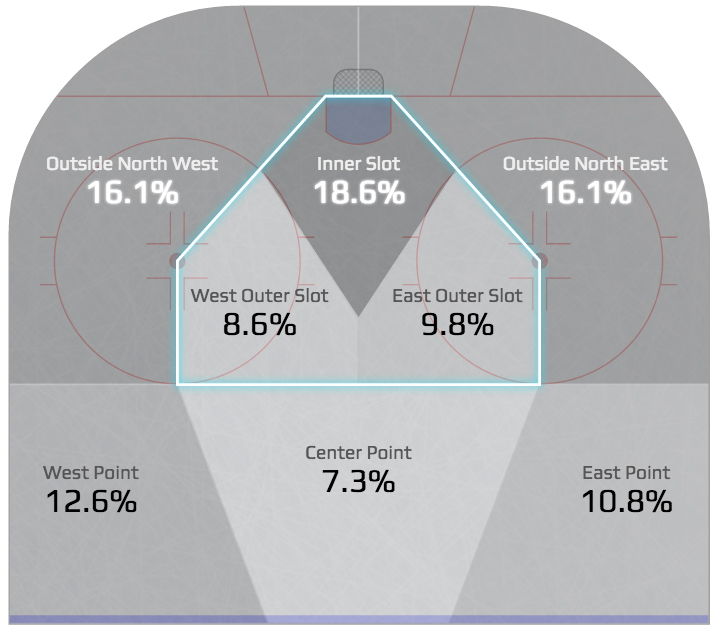 The Oilers certainly haven't made life easy on Talbot, as a ton of shots have come from the highest danger area. However, Talbot's .897 save percentage this season is still lower than you would expect, given from where teams are shooting. The expected save percentage for Talbot thus far is .909, which is significantly below the league average of .915, but even more significantly, it's higher than his actual performance.
We can go one step further as well, and look at where exactly Talbot struggled relative to league average. Here's his save percentages in each zone:
Surprisingly, Talbot is above league average in all but two areas, as he's let in a couple squeakers from the 'Outside North West' zone, and been brutalized in the 'East Outer Slot'.
There aren't enough data points in the 399 shots Talbot has faced so far to say he's decidedly above average in most areas going forward, but it doesn't seem very likely that he would continue to allow goals on more than 30 per cent of shots from the 'East Outer Slot' going forward.
Talbot's performance isn't as poor as his numbers would suggest on the surface, but has still been decidedly below what you would expect from a league average goaltender, and is entirely due to being lit up from that one area of the ice.
Is it possible that the Oilers are very poor at covering that area? To answer that, we have to look at where Anders Nilsson is facing shots from.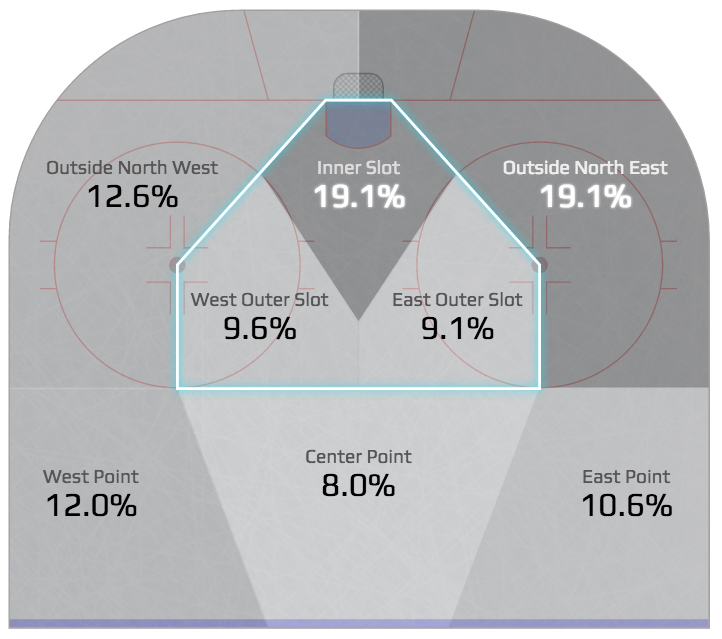 For whatever reason, a huge number of shots against Nilsson have come from the 'Outside North East' zone, and a very small number have come from the 'Outside North West', a very weird outlier in the NHL. However the more important point is that Nilsson has faced a slightly higher percentage of his shots from the slot than Talbot has in general, with 37.8 per cent of his shots against coming from there, and 37 per cent for Talbot. That isn't a large disparity, but it shows that Nilsson has not had an easier job.
In fact, Nilsson's expected save percentage on the shots he's faced is lower than Talbot's, at just .908, which shows that while Nilsson's actual save percentage of .914 is a hair below league average, his performance on the shots he's faced is better than league average. Here's a look at his save percentage numbers in these areas:
Like Talbot, Nilsson has been above league average at keeping shots from the outside out of the net in general, though he also has the slight dip in the 'Outside North West' area. What he doesn't have is the huge dip anywhere in the slot that Talbot has, and in fact he has a better than league average save percentage in the area where Talbot is weakest.
The trouble area for Nilsson is the high danger area, where he is 2.6 percentage points below league average. Because the Oilers allow so many shots from that area, that may end up costing Nilsson in the future, but as of right now, you can't fault the Oilers for running with him over Talbot.
In fact, the difference between Nilsson's and Talbot's performances thus far, if the Oilers's quality of shots against were at league average for both goaltenders, would be the equivalent of Nilsson being a .921 goaltender, and Talbot at .903.
It's unrealistic to predict what Nilsson will be going forward, but for the time being the Oilers are finally getting good goaltending.