One of the big stories early this season for the Winnipeg Jets has been the play of Josh Morrissey, who is currently tied for third on his team in points. He's solidly second in ice time, too, up over three minutes per game from last season.
After two seasons where Morrissey was developed more as a defensive player after being a high-end offensive defenceman in junior hockey, it appears that he's either gained enough of head coach Paul Maurice's trust that he can take more risks and get more opportunities to make plays, or Morrissey is figuring out what it takes to create offence at the NHL level.
That extra offensive touch he's displayed has come hand in hand with more power play time. Recently he's even managed to bump Dustin Byfuglien off the top unit.
Power play numbers at this stage of the season are in such small sample sizes, so to find improvement in Morrissey's offensive game it makes sense to look at his play at 5-on-5, because improvements that lead to power play offence should show up there as well.[sidebar]
Quantifying offence for defencemen isn't as simple as it is for forwards. For example, by and large blueliners don't get many scoring chances because the risk involved in a defenceman pinching below the top of the circles is often not worth the reward.
There are exceptions to that, though. Roman Josi in Nashville and Brent Burns in San Jose love to pinch aggressively and do it often, but those are rare kinds of players.
Most defencemen are support players in the offensive zone in order to help the forwards get better chances. They essentially create the situations for those players lower in the zone to take advantage of.
That doesn't mean defencemen don't create scoring chances, but on average they will directly create less than half the scoring chances for their teammates than does a forward.
So in order to get an accurate reflection of what defencemen contribute to offence, we need to look at more than just scoring chances.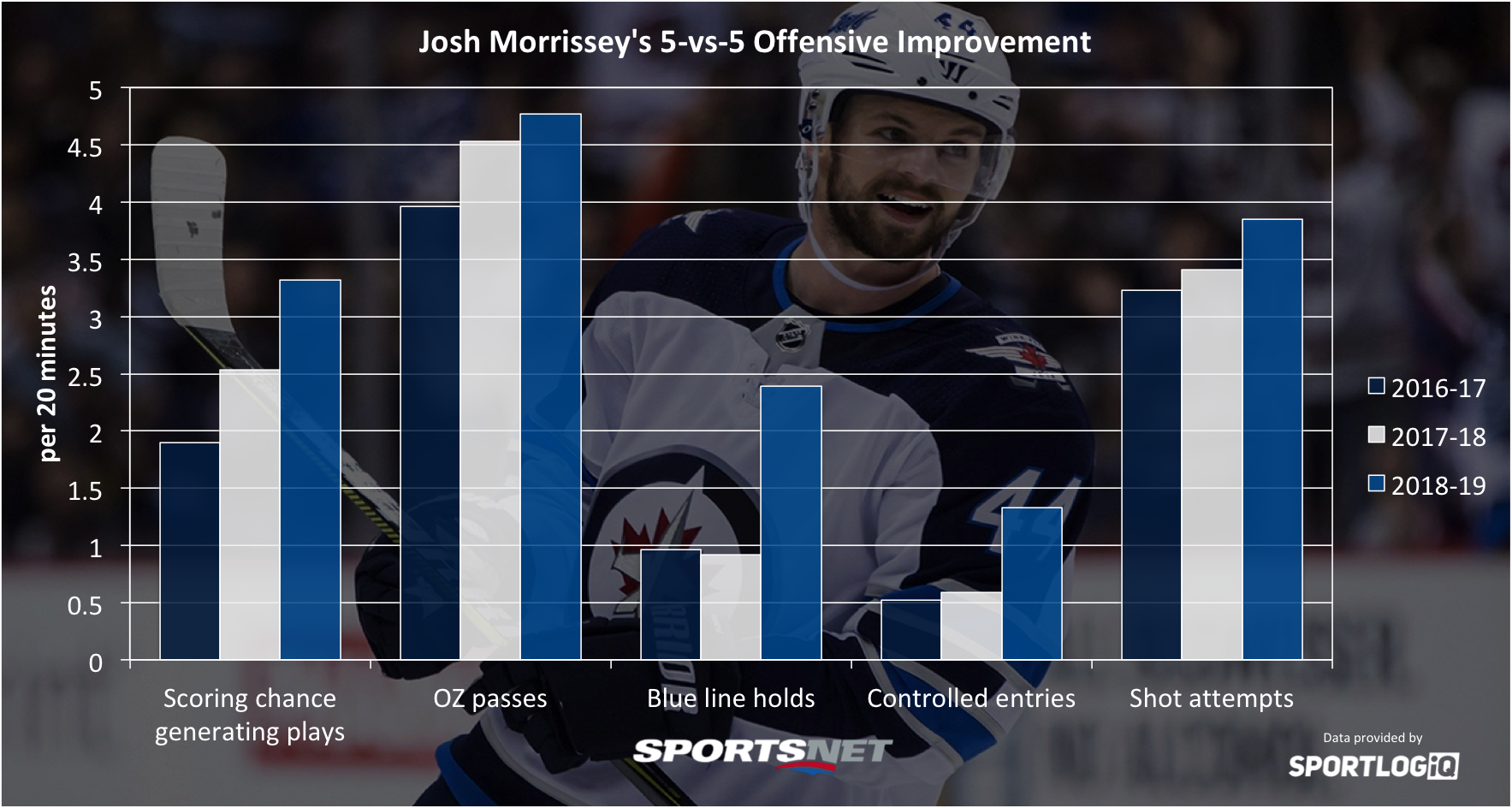 Looking at a cross-section of ways defencemen contribute to offence, Morrissey's improvement this season is a big jump up. But he also saw a near across the board improvement last season in his even strength offensive game, even if it didn't translate to a big increase in point production.
Morrissey is more involved in creating scoring chances than ever before, almost doubling the direct offensive impact he had at 5-on-5 in his rookie season, so it's no surprise he's also completing more passes in the offensive zone and shooting more often.
The passing and shooting improvements are fairly small, though, even if they are clearly important. Where Morrissey has really seen a huge increase in offensive productivity is his play on both sides of the offensive blue line.
Defencemen by and large aren't responsible for many controlled entries — they're far more likely to dump the puck in than attempt to carry it in, or make a pass at the blue line to find a streaking teammate. Morrissey is no exception there, but he has dumped the puck in fewer than most defencemen this year at just 63.3 per cent of his opportunities to do so.
[snippet ID=3322139]
The ratio of dump-ins to controlled entries that Morrissey produces isn't necessarily impressive, but the total frequency of controlled entries have more than doubled this year, which shows that he's controlling the pace of play more often and has confidence with the puck on his stick.
That extra puck control on Morrissey's entries creates more and better opportunities for the forwards and gives them longer possessions. That brings us to the other side of the blue line, where Morrissey has been far more aggressive at cutting down the opposition's clearing attempts.
Holding the blue line seems simple when you think about it, but with the speed and quality of shooters you'll find on an NHL ice surface, it's a tough thing to do. Defencemen need to constantly be aware of possibly bobbling the puck and then being a pivot or even a full stride behind an opposing forward who now has a breakaway or odd-man rush.
So far this season, Morrissey has been brilliant at knowing when to be aggressive and when to back off the blue line. He keeps the puck in the offensive zone over 2.5 times more often this year than last, which not only prolongs offensive zone possessions, but gives his team more chances against tired players.
All these little factors have come together and set Morrissey up for a breakout season. Will he continue to put up this same level of point production as the season goes on? Probably not, but the forwards Morrissey shares the ice with will benefit from his improved play.
[relatedlinks]