One of the big stories from Edmonton's start to the season has been the struggling Oscar Klefbom, who has gone from having a breakout season in 2016-17 to looking like he's drowning in the expectations of being a top-end defenceman for a contending team.
There are a few separate issues that have driven a slow start for the Oilers, but Klefbom's play and Andrej Sekera's injury have put undue stress on a defensive group that already wasn't exactly the envy of the NHL.
Despite it all, the Oilers are likely going to be just fine. There are too many positive trends in the way they're playing for them to be bad all season, but if they want to be Cup contenders they need Klefbom to get back to last season's level.
So what exactly has gone wrong for a defenceman who looked poised to be a strong top-pair guy for years to come? It starts with his play when the puck is on his stick.
Last season Klefbom was above team average when it came to puck management across the board. He was a bit below average in terms of pass success rate in the offensive zone, but that was more due to him trying difficult passes to his teammates than being a bad passer.
Outside the defensive zone this season, Klefbom's been below average, and while neutral zone play has been an issue for him, the glaring problem is in the offensive zone, where he's been just brutal.
If there's any zone you don't mind struggling in as a defenceman it's probably the offensive zone, so it's not like Klefbom has become a terrible player. But a lot of plays are dying on his stick, and a ton of turnovers mean he's having to defend more rushes as opponents break out of their own zones more often.
[snippet ID=3322139]
The results of those offensive zone struggles have been brutal, with Klefbom's expected goals for percentage relative to teammates going from +0.22 per cent last season to -7.1 per cent this season. To compound those struggles, he's started the season off with a PDO of 96.26 at 5-on-5, which has lead to the Oilers being outscored 16-11 when he's on the ice.
To get unlucky at the same time you're struggling can make a player look really bad, but it's important to note Klefbom still has a very small sample of playing at this level. We know how strong of a player he is from his past, so the Oilers just have to ride it out and maybe get him to simplify his game a little until he regains his confidence with the puck.
Part of the issue for Klefbom seems to stem from him feeling added pressure to create offence, because his tendencies passing the puck in the offensive zone have dramatically changed.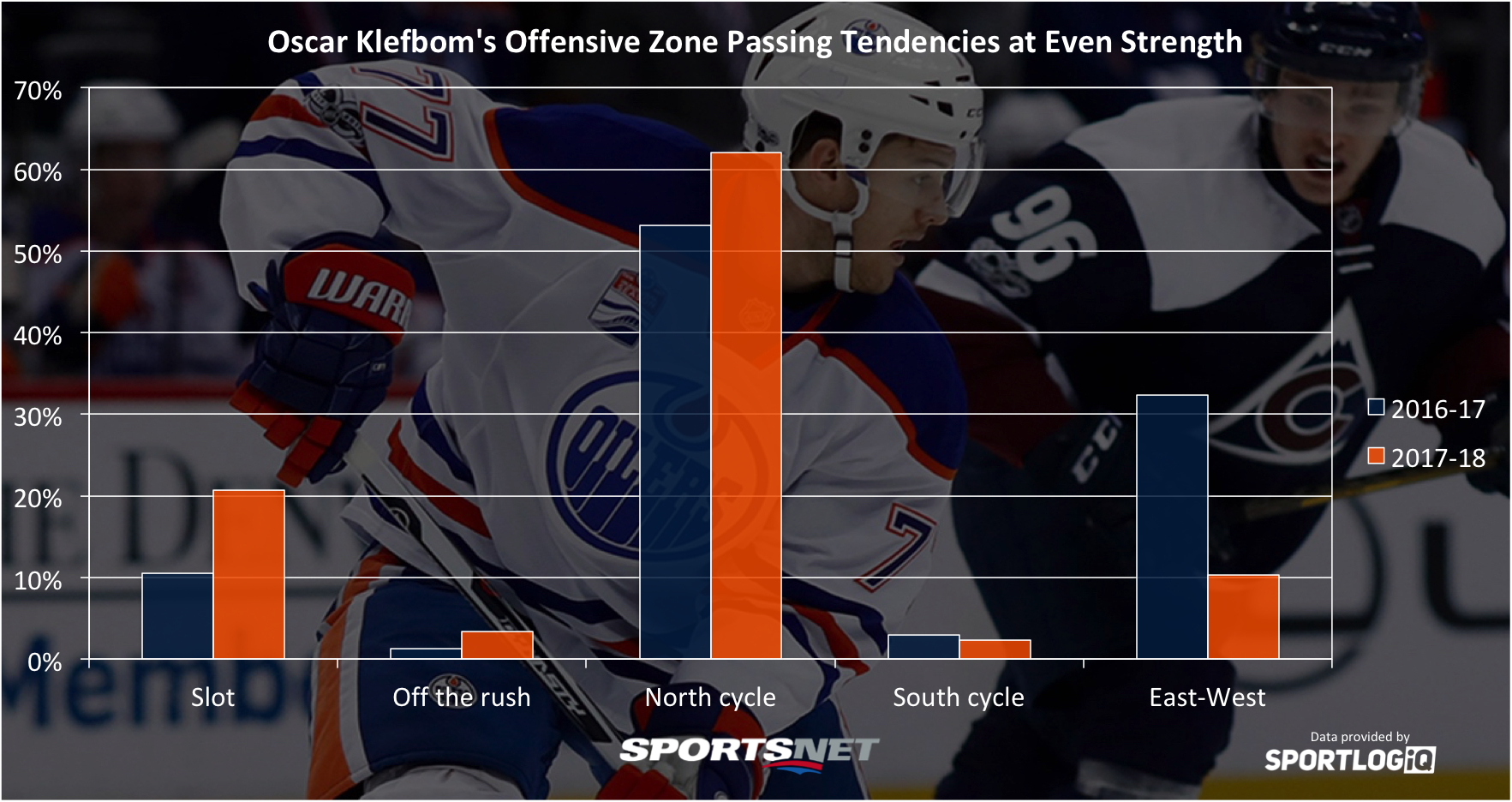 Klefbom has nearly doubled his attempted passes to the slot, attacked more often off the rush, and sent more pucks down low on the cycle. Most of that change has come from him cutting down his East-West passes by two-thirds, relying on his partner far less and giving himself less space to work with as a result.
Those East-West passes for defencemen are high percentage ones as well; Klefbom completed 96 per cent of those attempts last season, whereas passes to the slot and North cycle passes have an expected completion rate in the 58-65 per cent range for defencemen, depending on the team you're talking about.
Spector: More patience needed with young players
November 15 2017
Not all of Klefbom's struggles are due to him making tougher passes, though. His North cycle pass success rate this season is just 46.3 per cent, the lowest of all Oilers defencemen. Based on this change, I think the biggest problem is he's trying to do a lot more with less space, and he needs to relax a little bit and trust his defence partner to help him out.
Klefbom is too good to be a liability all season for the Oilers, and based on his past couple games he might already be returning to normal, or close to it. His poor start isn't just random variance or bad luck, but I don't think there's enough negative play here for the Oilers to be seriously worried.
[relatedlinks]