With a disappointingly short playoff run leaving a bitter taste in their mouths, the management group of the Winnipeg Jets faces arguably the toughest test of their careers this off-season. They'll face a series of big questions surrounding the future of the team and how they can manage their cap situation.
Since the Jets came to Winnipeg it's been reported that the team operates on an internal cap that's slightly below the NHL's salary cap, but this past season they got so close to the upper limit that it probably barely matters. The plan for the Jets long-term may not be to spend to the cap, but during this window where they should be Stanley Cup contenders, I think we can assume they'll keep spending in a similar style to 2018-19.
Even with that increased spending, general manager Kevin Cheveldayoff faces a tough challenge with three of the most important restricted free agents any team has to deal with up for new contracts in Patrik Laine, Kyle Connor, and Jacob Trouba.
There are a series of big questions the Jets have to answer internally in order to take the next step forward as a Cup contender, starting with Trouba.
[snippet ID=3322139]
What is Jacob Trouba worth?
A sizeable raise for Trouba would not hit too hard since he already made $5.5 million last season, so even bringing him up to Dustin Byfuglien's salary level is cutting out an extra $2.1 million on the salary cap. The Jets have about $55.6 million committed to just 12 players next season, with a salary cap ceiling estimated to be about $83 million. Assuming the Jets spend $4-5 million below the cap like they did this season, they have around $23 million to play with.
The Jets' relationship with Trouba has been a rocky one. He's requested a trade before, then rescinded that request. He went to arbitration last summer without coming to terms with the Jets on a contract before the arbiter ruled, which is exceedingly rare.
For whatever reason, Trouba and the Jets haven't ever seemed to find a consistent agreement on where he fits in terms of value to the team. Earlier in his career there was a disagreement on ice time and which side he played on, and now it's about contract value.
Trouba's agent Kurt Overhardt also has a history of tough negotiations with his clients while they're restricted free agents, sometimes resulting in those players being traded to a team that is willing to pay — Ryan Johansen and Kyle Turris for example.
The road to getting Trouba signed is likely to be tough. The Jets may have to swallow the fact that he isn't going to budge on his contract ask, but here's the thing: Trouba is worth the difficulty.
Trouba and Josh Morrissey formed the Jets' top pairing this season, with the former hitting a career high 50 points on top of perhaps his best defensive season. Trouba took a huge step forward this season, but even if you disregard his 2018-19 his previous three years put him in the upper-echelon of the league anyway.
Looking back at the ranking project I did for Sportsnet before the season, Trouba stood as the 48th-best defenceman in the NHL from 2015-16 to 2017-18.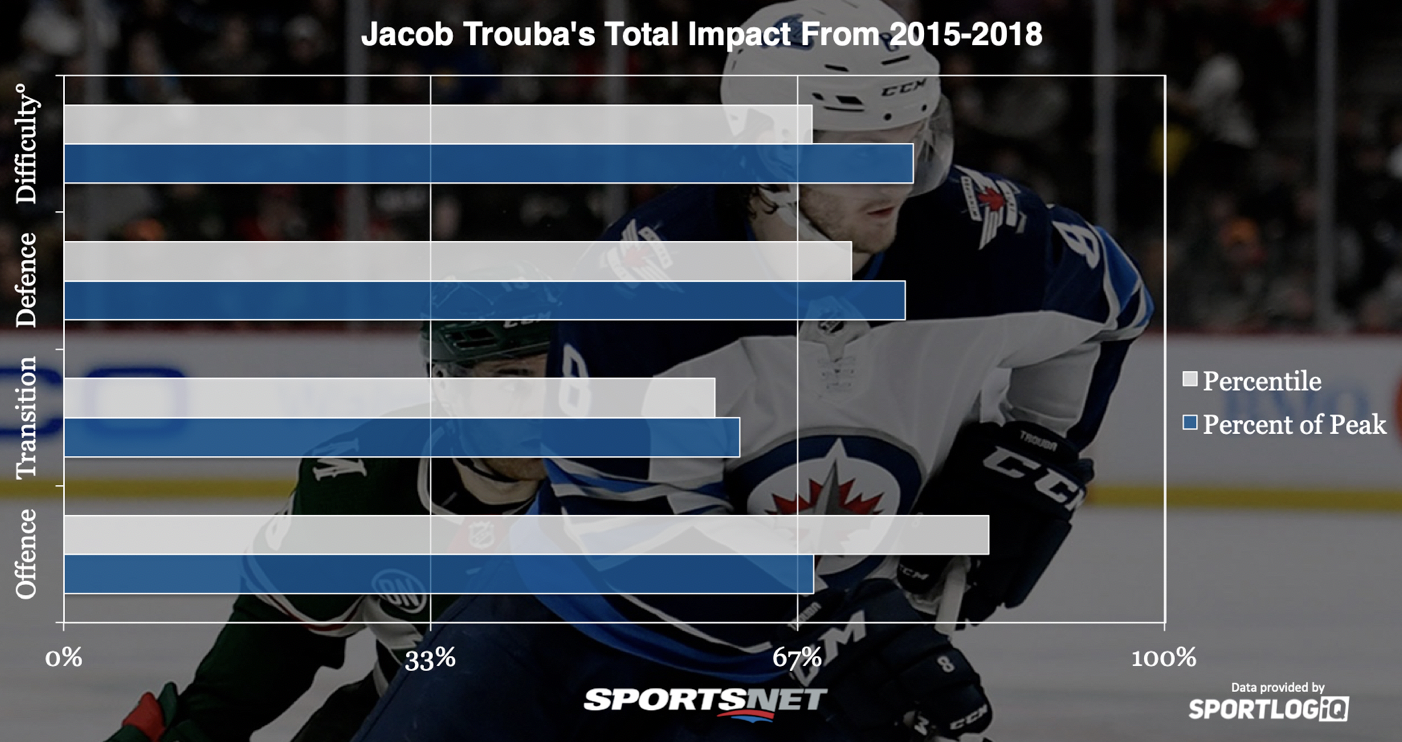 Coming into the season, Trouba was a top-pairing defenceman offensively and defensively, and in terms of difficult he played top pair minutes as well. Trouba's difficulty of minutes went way up this season, especially with how much time Dustin Byfuglien missed, and he paired that with big improvements in performance.
Moving the puck up the ice is Trouba's weakness and it's an area where he's closer to a high-end second-pairing defenceman. That area of his game continued to lag behind in 2019 and it's what keeps him from getting into franchise defenceman territory.
That Trouba isn't a franchise level defenceman isn't a criticism — he's not asking for Drew Doughty money after all. The rumoured ask is above $7 million (the rate he asked for in arbitration last summer), which isn't extreme at all for a top-pair defenceman who is a year away from unrestricted free agency.
Unless Trouba's camp refuses to go long term and wants a contract that just takes him to free agency, or they straight up ask for a trade again, I think Trouba is the easiest question the Jets face this summer.
Byfuglien is amazing, but he's 34 years old. Morrissey is great and getting better, and has excellent chemistry with Trouba. Sami Niku will likely be a good rookie next season, but after that there isn't much to write home about the Jets' defence. They need Trouba.
How to handle the next contracts for Kyle Connor and Patrik Laine?
Rounding up for Trouba's contract in order to be safe, let's say the Jets have $15.5 million in cap space remaining under their internal cap after signing him. The largest portion of that is going to be eaten up by the Jets' two RFA forwards. Including all of the bonuses on their entry-level deals, Connor and Laine could only combine for $5.35 million against the cap last season, and that's about to go up a lot. Tripling it wouldn't be surprising.
Connor is coming off of his second straight 30-goal season, and while Laine had a bit of a disastrous season both from a defensive point of view and in terms of offensive consistency, through ages 18-20 only three players in NHL history have scored more than Laine's 110 goals: Jimmy Carson, Dale Hawerchuk, and Steven Stamkos.
Carson and Hawerchuk played the beginning of their careers in the highest scoring era in the history of the NHL, so we can take Stamkos as a comparable for Laine. Stamkos' second contract was a relative rarity in that it was a five-year extension that took up only one year of unrestricted free agency. That likely brought the cap hit down, plus living in Florida keeps the cap hit down as well due to no state tax.
The most important off-season for Jets GM Cheveldayoff
April 23 2019
Stamkos is a centre, and a better two-way player than Laine by a significant margin. But when you take out the tax advantage and consider that Laine could sign for more term that accounts for more of his UFA years, his contract may actually keep the percentage of the cap relatively similar to what Stamkos bargained.
Back in 2011, Stamkos signed for 11.66 per cent of the salary cap according to Cap Friendly, which in today's world would mean Laine's AAV would work out to $9.56 million. That alone is well over half of the Jets' remaining cap space and would make Laine the Jets' highest paid player by $1.31 million over Blake Wheeler, which I doubt the team is keen on doing, especially after the season he just had.
Laine is, if not a generational-level goal scorer, as close to one as you can get. So even though he's a defensive liability, you pay for that level of talent because it's rare.
Similar to Laine, Connor has not proven at this point to be a play driver. He's not the liability without the puck that Laine can be, but he's not great either. He's spent most of his career riding shotgun with Mark Scheifele and Wheeler, and he's a huge offensive contributor with those two, but he hasn't done much without them.
Connor strikes me as the most likely candidate for a bridge deal, but if the Jets decide to go long-term with him they're going to have two big new contracts for offensive forwards who haven't proven to have much of a two-way game or an ability to drive play in the right direction. That would put them in a spot where they'd have to be extremely careful with the rest of the dollars they spend — and even if all three of these guys get new deals they still have lots to spend on.
Where can they trim costs?
This is probably the biggest question facing the Jets heading forward. Even if they have to pay more than they want, keeping their own young stars is probably the correct move instead of searching for trades from a position of weakness. Still, they'll have to find savings somewhere.
Winnipeg loves their grind line of Adam Lowry, Brandon Tanev and Andrew Copp, and to be honest they should. Those three are very hard working players who produce more goals than you would expect. However, with Copp a restricted free agent due for a raise and Tanev an unrestricted free agent, that line as a whole may be a luxury the Jets can no longer afford. [sidebar]
Tyler Myers is stuck as a third-pairing defenceman in Winnipeg behind Trouba and Byfuglien, so it doesn't make any sense to bring him back at a high salary. That gives them some flexibility to improve on the left side and find a full-time partner for Byfuglien who can be an upgrade on Ben Chiarot, but not by a ton.
Even if we assume Laine takes a discount and signs for, say, $8 million, and Connor does the same and signs for $6 million, the Jets would have about $1.5 million to sign a left-handed second-pair defenceman, two third-pair defencemen, five forwards, and a backup goaltender.
That's not even possible, so something has to go. Dmitry Kulikov is the easiest player to point to — he's making $4.33 million for one more season and primarily plays a third-pair role. That's just not cost efficient and he's likely a tradable asset due to his style of play and that he's on an expiring contract. Shedding Kulikov gets you part of the way to where you want to be, but the Jets will have to look at some other players, too — namely three forwards making decent money on long-term deals.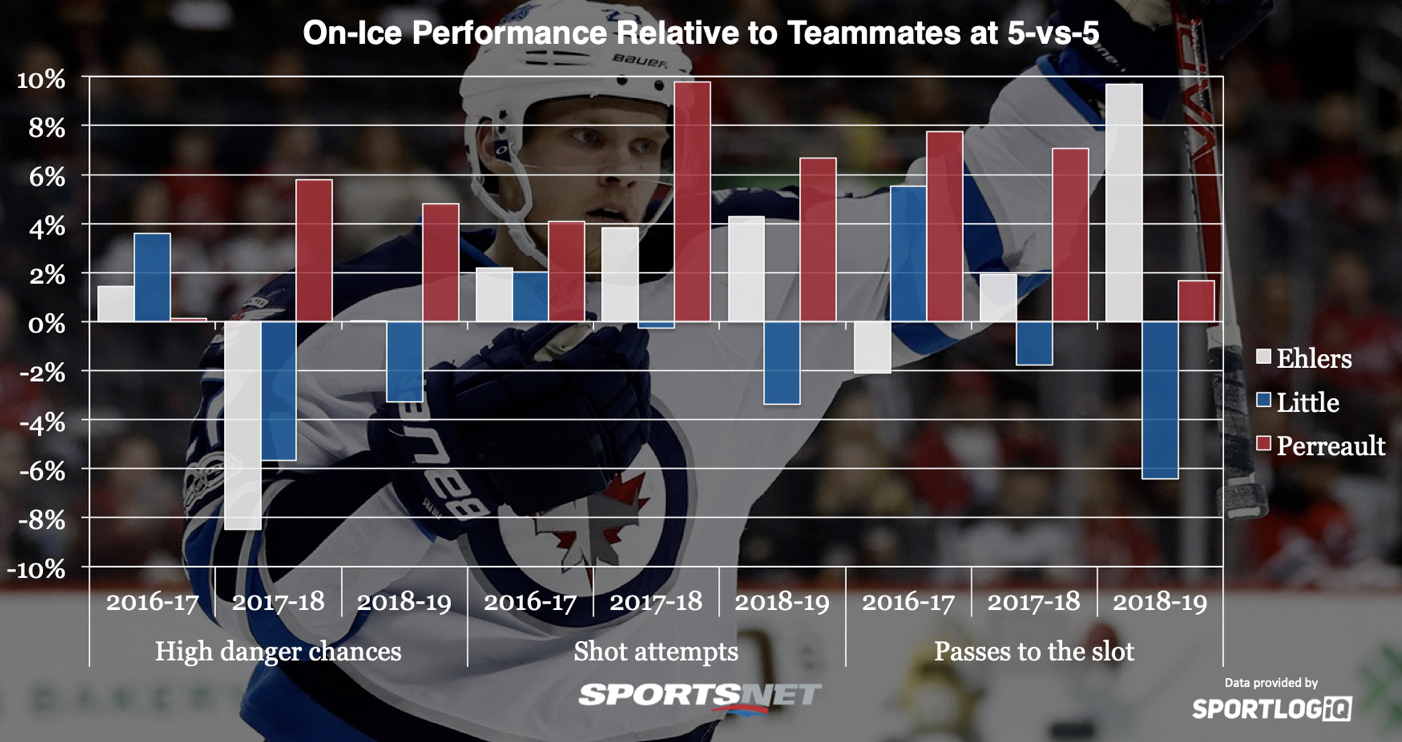 The Jets have three forwards with term making a good chunk of change that aren't named Scheifele or Wheeler, and it's entirely reasonable to explore how all three of them fit into the long-term picture.
There has been a lot of speculation about Nikolaj Ehlers, specifically because he's making $6 million per year through 2024-25, but he's the one player of the three that I would consider untouchable.
His lack of playoff goals and an inconsistent offensive season in 2018-19, combined with a series of injuries, might make you question Ehlers' place among the core group of Jets, but don't do it. He's getting more impressive with each season, and until the Jets acquired Kevin Hayes this year, Ehlers was the main reason they were able to generate anything at all off the rush.
He was able to hit the 20-goal mark despite missing 20 games and he's arguably the Jets' most important transition player.
Mathieu Perreault is on the wrong side of 30 and his on-ice impact is starting to wind down a bit, but he's consistently been a positive impact player throughout his career. Injury issues make it tough to rely on him to be in the lineup night in and night out, so it would be completely understandable if the Jets chose to move on from him. Still, across the board he's a positive impact player.
The real trouble here seems to be coming from Bryan Little. He's turning 32 in November, still has five more seasons left on his contract at a $5.291 million cap hit, and he's fallen off big time.
Two seasons ago Little was a fantastic hockey player, but the past two have been rough for him. And with how much money and term are committed to him going forward, he'd be the guy I would be gunning to move on from in the off-season.
The trouble is that contract is a lot to take on and 30 other NHL teams have watched the Jets attempt to upgrade Little's spot as the second line centre at the past two trade deadlines. It's pretty tough to trade a player making second line money when you consistently show even you want to improve on him.
Nothing about this summer is going to be simple for the Jets, but if Cheveldayoff navigates it as stoically as he handled the initial construction of the team years ago, it's not impossible to come out of this on the other side with a contending roster intact.
[relatedlinks]