Heading into a pivotal Game 5 in Boston, the Bruins could possibly be without their 42-year-old captain, Zdeno Chara, after he was struck in the face by a Brayden Schenn shot that deflected off his stick. He has been listed as a game-time decision so at such an important time in this series we have to ask: just what is Chara's impact these days?
At the peak of his career, Chara was one of the biggest game-changing defencemen in the world, boasting a monstrous impact on defence that created a nearly impenetrable unit for the Bruins when he shared the ice with Patrice Bergeron. However, his prime is in the past so that's not the Chara the Bruins are potentially losing in the Stanley Cup Final.
There are intangible losses to when such a long-tenured captain goes down, and Chara's leadership qualities are unquestionable at this point. But on the ice would his absence be something that spells the end for the Bruins?
In a league that keeps getting younger and faster, that Chara is still an impact player at all is a testament to his intelligence, talent, and conditioning. But how impactful is he exactly? Let's try to put it into a little bit of context by looking at Chara's past decade of work in general using Corsica.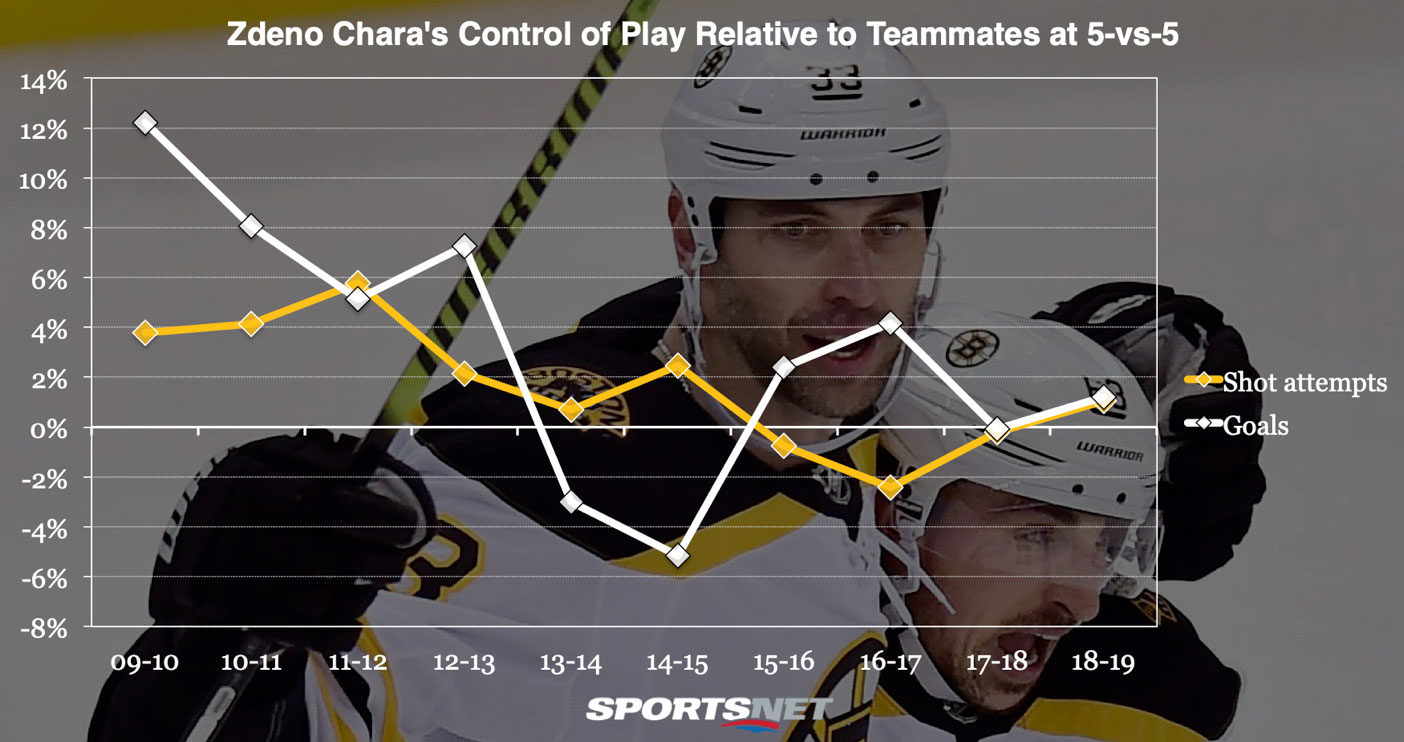 Goals are a bit more random, but Chara has been one of the biggest impact players on shot attempts since the statistic became publicly available on all players in the 2007-08 season. Going back through 10 seasons, we can see Chara has been an incredibly resilient possession driver throughout his career, lasting until age 39 when he had a year where the Bruins were worse in shot share while he was on the ice than when he was off.
That dip below breaking even lasted three seasons, but he had a bit of a career renaissance in 2018-19. The temptation when analyzing an older player who had a big uptick in play is to look at who they're playing with. Seeing Chara spent more than half his 5-on-5 minutes with an up-and-comer like Charlie McAvoy, it would be easy to give the young kid the credit here. But surprisingly there's not a huge drop for Chara when he was away from McAvoy according to Natural Stat Trick's line tool.
With McAvoy and Chara together the Bruins controlled 54.7 per cent of shot attempts at 5-on-5. Chara dropped to 53.2 per cent without McAvoy, while McAvoy stayed steady at 54.7 per cent without Chara.
Bruins success in this series will be dependent on defense
June 05 2019
I think it's safe to assume that McAvoy helps Chara out, but the captain clearly didn't struggle without the youngster this season either.
Even if Chara only has a fraction of the on-ice impact he had during his prime, it appears he's someone the Bruins would miss. But let's cut things down a bit finer and look at how Chara has impacted the Bruins' performance in the playoffs.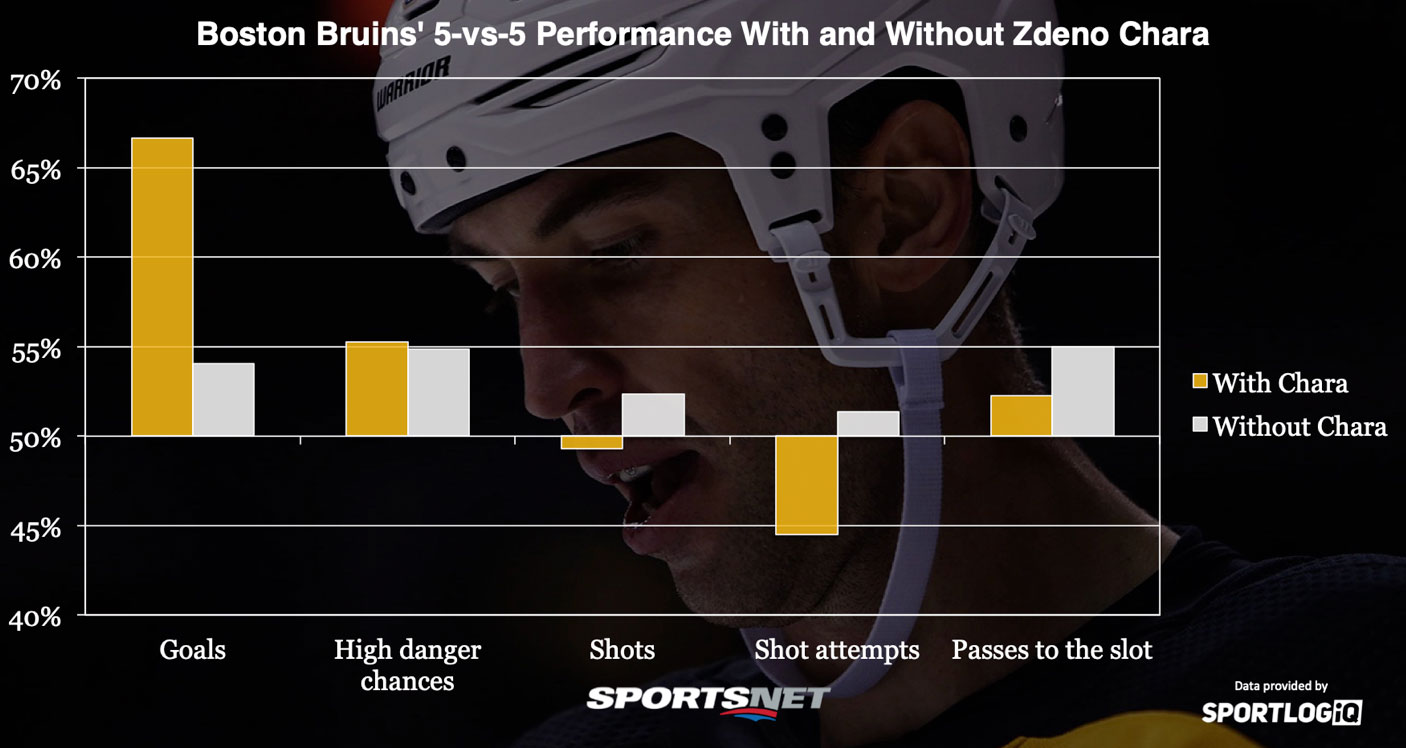 On the surface of things, Chara's impact on the Bruins' run to the Stanley Cup Final has been enormous. Boston has scored twice as often as they've allowed goals while he's been on the ice, but small sample sizes and goals are known to be unreliable indicators of performance. When we take a look at other metrics, Chara's impact is less pronounced.
The Bruins are slightly better in high danger chances while Chara is on the ice, but surprisingly that probably isn't coming from him. His offensive impact at 5-on-5 is sort of negligible at this point, and that's where they've been better in the playoffs.
On the other side, the Bruins are allowing more high danger chances per minute played while Chara is on the ice than when he's off. In fact, only Torey Krug and Brandon Carlo are allowing more on the Bruins' blue line.
In shots and shot attempts Chara is a little bit behind the play, and the result is that the Bruins haven't controlled the puck nearly as often.
Even in an area where you expect the big man to have an enormous impact, the Bruins are controlling the passing game slightly better when he's on the bench and his defensive impact there is dead on team average.
Obviously we have to account for Chara facing top matchups night in and night out. It's the playoffs afterall, where matchups matter far more than in the regular season.
Looking at Corsica's quality of competition metrics, you can measure a player's level of difficulty in several ways. You can look at average ice time of the opponents a player faces, the average Corsi for percentage, and the average expected goals for percentage.
In time on ice quality of competition, Chara ranks first among the Bruins' defencemen, but in Corsi he ranks fifth, and in expected goals he ranks third. What stands out about the Bruins' defence at 5-on-5 is that there's hardly any spread in quality of competition by any metric.
If Chara is out of the lineup the Bruins will lose some leadership, some intimidation factor, and some physicality, but if the supremely underrated Matt Grzelcyk is healthy enough to draw in (he's a game-time decision like Chara), don't make the mistake of thinking Boston can't still win this series.
Chara is a unique specimen that is impossible to replace, but while the intangibles have value, his overall impact simply isn't what it once was.
If he sits, the Bruins can weather this.
[relatedlinks]