TORONTO – The NHL's Iron Man was back in town Monday, a place where he developed into the machine he is today.
Andrew Cogliano of the Anaheim Ducks played in his 737th consecutive game on Monday night against his hometown Toronto Maple Leafs, setting the table to make history Tuesday versus the Montreal Canadiens.
At 738 games, Cogliano will move into first place on the list for the most consecutive games played by an active player.
On Monday, Cogliano tied St. Louis Blues defenceman Jay Bouwmeester for fifth all-time.
For anyone drafted into the NHL at age 18, playing in 738 games is a daunting task in itself, let alone doing it consecutively.
"It wasn't something that I thought about early in my career," said Cogliano in the visitor's dressing room after Monday's morning skate in Toronto. "I've been very lucky. It's not really anything you can really describe or you set out to do, but it happened and it's still happening. Hopefully it's something I can continue to go with."
At 964 consecutive games played, Doug Jarvis is the all-time NHL Iron Man, a record he set back in 1987. At 29, Cogliano is still years away from topping the list, but if things continue to go his way he has a shot.
His teammates certainly paint the picture of someone who has the drive and work ethic to do so.
"I've known Cogs for a long time, even when we used to play against each other, but to see him day in and day out and how in tune he is with his body, it's impressive," said Ducks defenceman Kevin Bieksa. "He's constantly working out 24 hours a day. He's not a guy who just shows up to the rink and goes on the ice."
Listed at 5-foot-10 and 184 pounds, it takes a certain amount of luck to achieve a streak as long as Cogliano's, but to never miss a game in your entire career most certainly involves more than that.
"I've surrounded myself with some good people that have helped me along the way," he said. "Overall, I don't do too much different than any other guy, it's just stay fortunate, stay lucky. I care about nutrition, I care about working out, I care about doing things in the summer and being prepared. I think all of them combined has obviously worked out for me."

(Darryl Dyck/CP)
On the outside, there is a little bit of modesty exuding out of the 29-year-old forward. A quick poll around his locker room (even his opponents') will tell you that Cogliano actually does do things differently than most.
"Anyone that knows Cogs knows that his regiment is second to none," said Ryan Getzlaf, captain of the Ducks. "He takes care of his body everyday and fights through things. He's not a guy that takes a shot here and there and stays out of the lineup for any reason."
Down the hallway Monday, the feat did not go unrecognized by his opponents.
"He still has that streak going?" said James van Riemsdyk, with wide eyes. "Wow."
While van Riemsdyk was shocked that the streak was still alive, he was by no means taken aback. Over the past couple of summers, he has been able to witness Cogliano's worth ethic first hand while working out with the same trainer.
"You see how meticulous and particular he is about his training and how he is always looking for the edge, so it's not a surprise that he's been able to put together a streak like that," he said. "Obviously, it's pretty insane."
No matter how fit a player is or how hard they work, in order to play meaningful time in the NHL they still have to produce.
After a quick scan down Cogliano's career stats, he not only has "82" down every year under the games played column (with exception to the 48 for the lockout year) but he's scored double digit goals in every year except 2015-16.
But this season Cogliano has eight goals in 33 games played – whereas last season he only had nine all year. The 20 goals and 40 points this season are marks he's only reached once and twice respectively over his 10-year career.
Traditionally he's been a shutdown line/special teams type of guy, but based on statistics that find him sitting seventh on the team in scoring this year, head coach Randy Carlyle has moved him up into the top-six in recent weeks.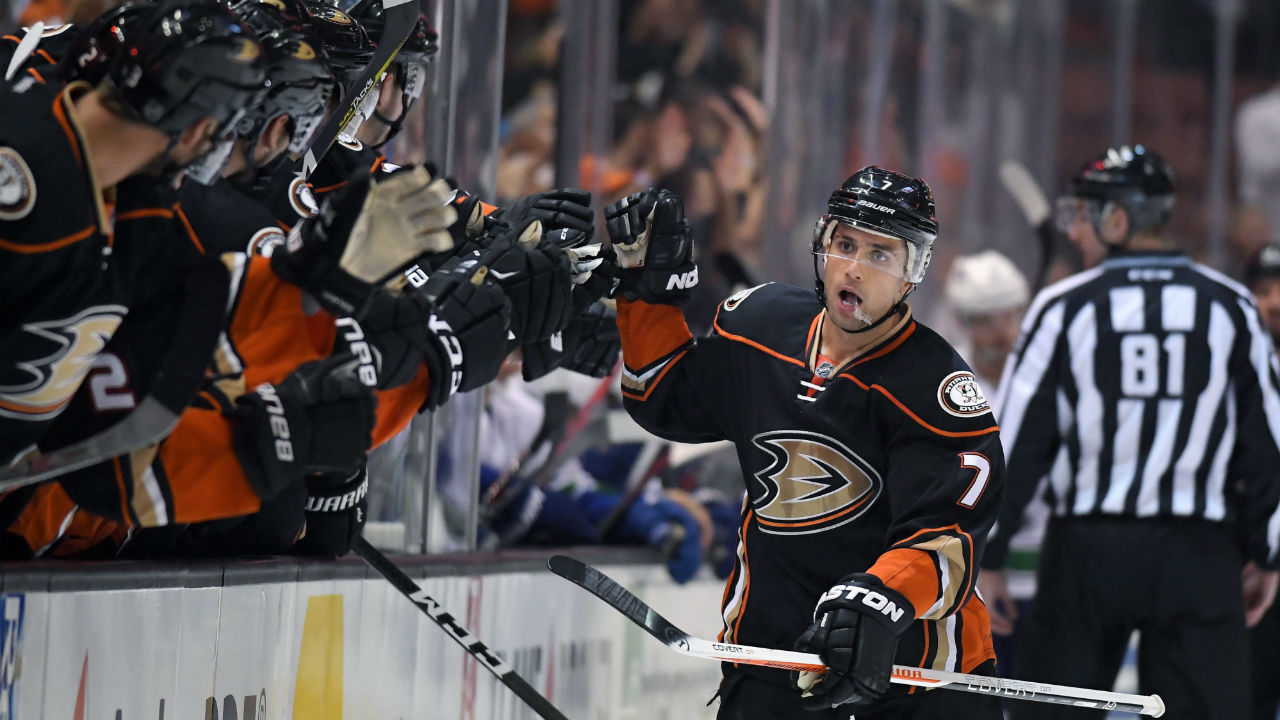 (Mark J. Terrill/AP)
Finding the scoresheet night in and night out is one thing, but consistently doing the little things right is another.
If you're only going to put up 20-40 points a year, then in order to succeed for an extended period of time in the NHL you must also excel in other areas.
"He's always working hard on the ice. He's a tough guy to take out of the lineup because he does a lot of things out there that is good for the team," said Frederik Andersen, current Toronto goaltender and Cogliano's former teammate in Anaheim. "Even though he doesn't show up on the scoresheet every night, he's a big part of the penalty kill and always works really hard."
It's Cogliano's defensive zone play that makes him so valuable. He has the ability to put up points despite starting in his own end in 53 per cent of his shifts this year.
Perhaps what is most surprising about his durability has been the style of play he employs.
"We're talking about a guy who plays pretty hard," said Bieksa. "He gets into the forecheck, he throws a lot of hits, he penalty kills so he's blocking shots. It's pretty impressive."
And come game time, it's not long before his style of play is noticed on the ice.
In his first shift against the Leafs on Monday, van Riemsdyk had the puck at the side boards and Cogliano made a bee-line for him, finishing the check on the play. All night long he was battling in the corners and getting physical with the players whenever he had an opportunity to.
During the course of an 82-game season, it's inevitable that a player will incur various bumps and bruises, but, from Bieksa's perspective, Cogliano doesn't show it.
"He's not a guy who walks around limping or anything, if he has any injuries he kind of keeps them to himself," he said. "I think that's the professional in him for sure."
As with anything in life, success breeds success, and Bieksa has noticed that Cogliano's work ethic is starting to rub off on his younger teammates.
"You can see a lot of the younger guys start to hang around him and kind of mimic his warmups. They try to learn off him because it's a tremendous streak."