Anthony Duclair was demoted to the AHL for a two-month stint this season and it looks like at least one fan was pining for his return to the desert.
Gracie, a four-year-old Coyotes fan, proposed to the Arizona winger on Thursday, prior to the team's game against the Detroit Red Wings.
She delivered a note to the 21-year-old Duclair, who rejoined the Coyotes on March 3 following a demotion to the AHL's Tucson Roadrunners.
"I love you. Are you happy to be back? Will you marry me," the note read.
Duclair didn't even need to think about his answer.
Check out the cute video below.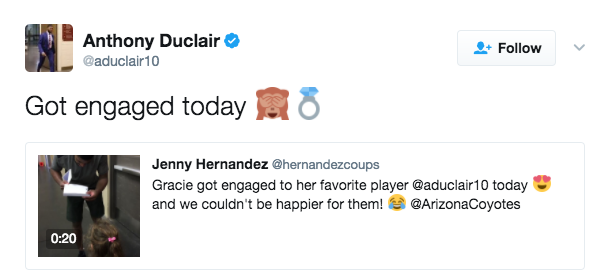 Gracie got engaged to her favorite player @aduclair10 today and we couldn't be happier for them! @ArizonaCoyotes https://t.co/V7gTsCjIS8