The Ottawa Senators seem determined to be the NHL's most confusing team, as they've started the 2017-18 season with a stellar 3-0-2 record, grabbing a point out of every game they've played with a plus-11 goal differential after just five games.
And yet, when you look a little deeper it sure seems like they've been severely outplayed.
A look around Corsica.Hockey reveals the Senators are dead last in the NHL in 5-vs-5 Corsi at just 42.06 per cent, and 20th in Corsica's expected goals model at 48.41 per cent. When you adjust for score and venue, Ottawa jumps up to second-last in Corsi at 44.25 per cent, but drops to 25th in expected goals for percentage at 46.68 per cent.
Those aren't the numbers you expect to see behind an undefeated team, especially one with playoff and maybe even Cup-contention aspirations. However, this is also a team that has been without its best player to start the season, one who fundamentally changes things for them in a way only a handful of other players do.
Erik Karlsson is set to return to the Senators' lineup against the Vancouver Canucks, and though he may not be immediately up to speed, he will likely be their best player anyway.
Just look at the difference between Karlsson and the rest of the Senators' defence: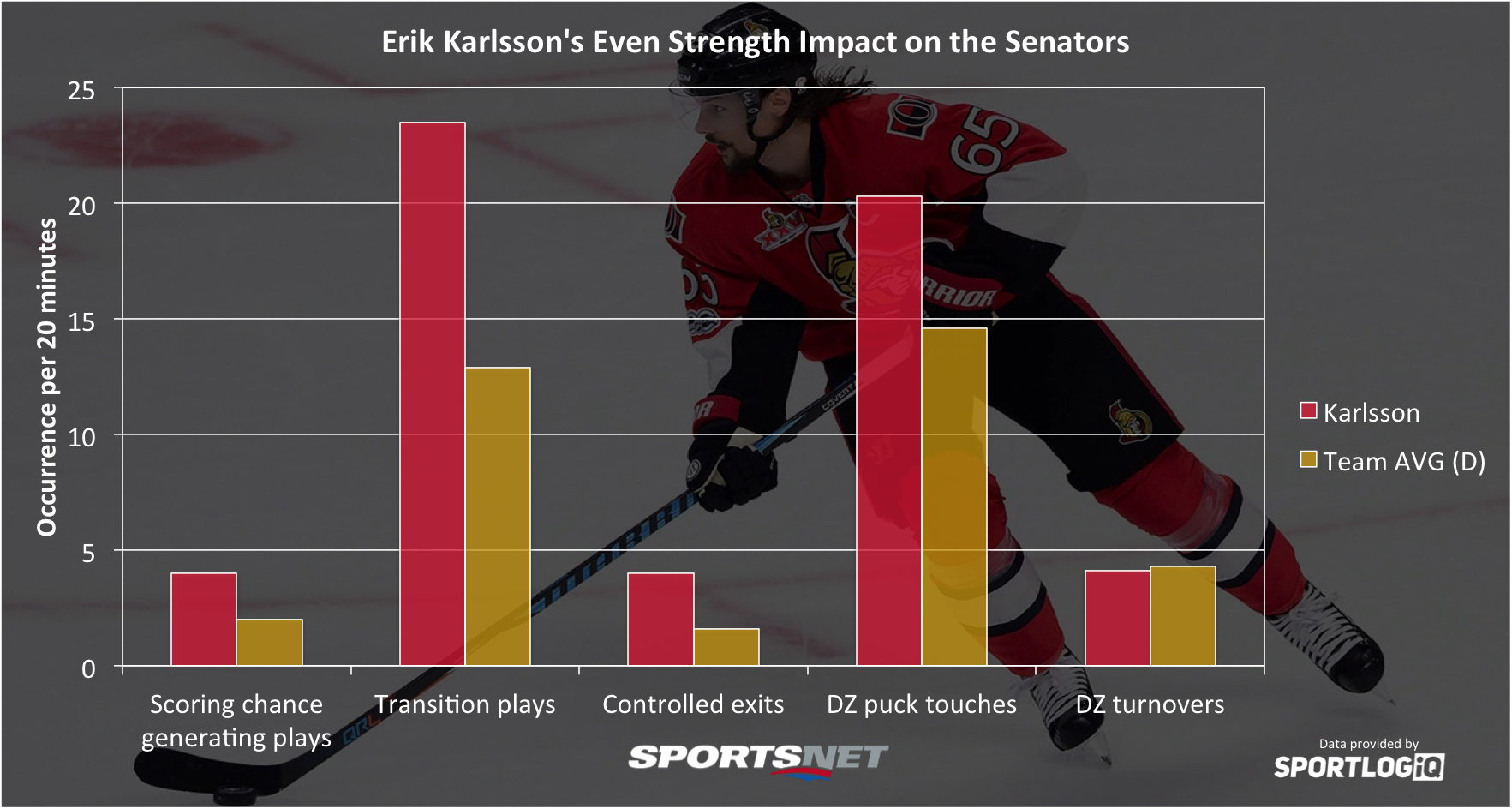 The gap between Karlsson and his teammates on defence in Ottawa is so large it's almost offensive to look at. Karlsson creates twice as many scoring chances for his team than the average Senators defenceman, transitions the puck up the ice nearly twice as often, exits the defensive zone with control more than twice as often, and turns over the puck far less often per play in the defensive zone.
There's some troubling things behind the Senators' hot start here, largely due to the fact that Karlsson hasn't been there. They boast the highest defensive zone turnover rate in the NHL, the lowest controlled exit rate, and they're currently only turning 54 per cent of opposition dump-ins into defensive zone exits when the league average is over 70 per cent.
Without Karlsson in the lineup, even the simple stuff that teams do becomes difficult for this group. But they've managed to squeak out eight of a possible 10 points so far, and they've got the best defenceman in the world returning to the lineup now.
So despite those troubling signs to this point, getting good results early has the Senators set up for yet another season where they're likely to outperform expectations. Will they go on a run similar to last season? Probably not, but the playoffs aren't out of the question.
That's how big of an impact Karlsson is.