Every season as we approach the trade deadline, there are lists of the best players available and which teams are interested, but as we know from previous deadlines: the teams that miss out on the top-end names available and bring in players to augment their depth often get some great deals.
With that in mind, we wanted to look at some of the best bargains around the NHL that can fit in depth roles to help teams put themselves over the edge. These aren't star players, they're flawed skaters who excel in specific areas that a team or three might need to shore up heading into the post-season.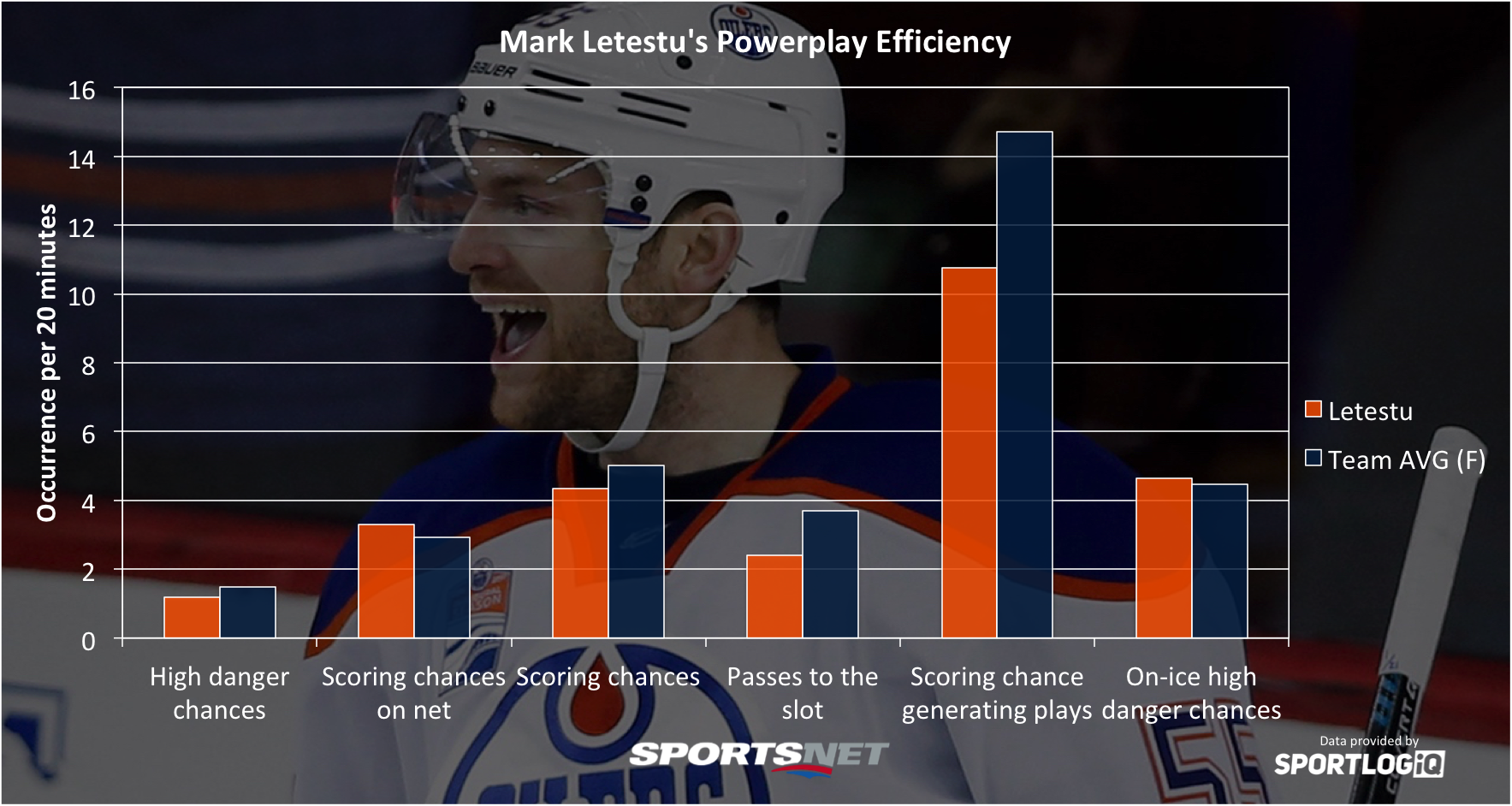 Letestu isn't a flashy name for a team to acquire, and to be honest he's not very good at even strength. However, for a team that could use some power-play help, Letestu is a great option.
From a volume perspective, Letestu's numbers on the power play don't look that impressive, but remember to factor in the Connor McDavid effect on all Oilers forward averages, and notice that Letestu has an ability to get his scoring chances through blocks and on net at a very high rate, and while he's on the ice the Oilers produce more high-danger scoring chances overall, despite the fact that he isn't a great playmaker, and hangs out in the high slot.
Letestu is a role player to an extreme degree, and he's actually been really unlucky this season on the power play after a great season last year. Based on where he shoots from, and how often, Letestu should be scoring on nearly twice as many of his shot attempts on the power play this season, and lots of teams could take advantage of some inevitable regression come playoff time.
Playing on a second-unit power play with some good playmakers could see Letestu put up the kind of numbers he did last year, which including playoffs, amounted to 15 power-play goals.
Another Oiler, Maroon has been a big beneficiary of playing regular minutes with McDavid, but he's a solid player in his own right. When I ranked players by position over the summer, Maroon sat 52nd among left wings, between Boone Jenner and Andrew Ladd, and he was pretty equally proficient offensively, defensively, and in transition. He doesn't blow you away, but he's one of those players that can contribute without any major glaring weaknesses.
What's nice about that for buyers is that along with versatility in role, he's an above-average shooter in every style you could want to play. Examining his scoring-chance types, he's better than team average in every category, meaning that at 5-on-5, he can fit into any style proficiently.
Playing with McDavid obviously boosts Maroon's numbers (he's been with the Oilers captain for 58 per cent of his ice time this season), but a team buying Maroon isn't going to expect him to slide onto its first line and put up 27 goals like last season; he'll be playing somewhere in the middle-six, and he can absolutely do damage there.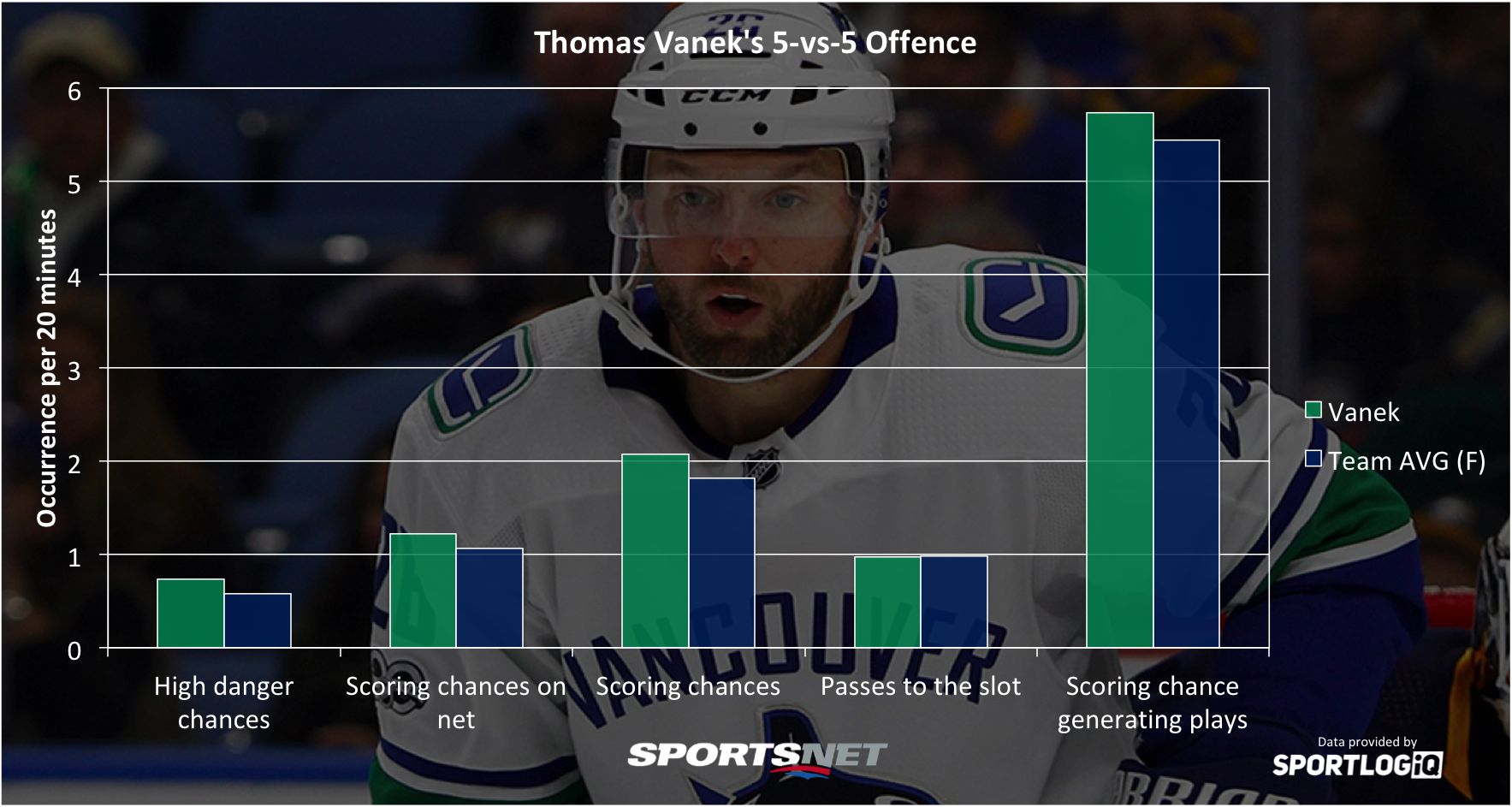 He's not the player he used to be, and he lives up to his poor defensive reputation, but Vanek remains a surprisingly strong offensive contributor. Unlike Maroon, Vanek isn't a very versatile shooter when it comes to shot type, he's a great attacker off the cycle and off passing plays through the middle, but you can't expect him to keep up off the rush or forecheck.
Vanek is in the 78th percentile in offensive contributions among left-wingers over the last three seasons, but the 39th, and 37th in transition and defensive play, so with him you have to expect some glaring weaknesses.
With that said, his offence can help, at even strength and on the power play.
Despite his lack of physical engagement in most areas, Vanek has never been afraid to drive the net and put pucks home in tight, and he produces more scoring chances from the low and high slot than team average. Granted that's not a lot of chances overall in Vancouver, but a rising tide lifts all boats, and more offensive zone time on a better team means a more productive Vanek.
As a playmaker, he's not as strong at even strength as he used to be, but he continues to be a better-than-average bet, which is something every contender could use on their third line and second power-play unit.
Vanek has more name recognition than the others on this list, but when he was traded last season it was for a third-round pick and a soon-to-be 25-year-old prospect. That's not a big haul, so it's unlikely Vancouver could expect much more with this deadline being full of high-end wingers available.
For a team that misses out on an Evander Kane or Rick Nash, Vanek could fill a scoring role for likely less than a third of the price.
[relatedlinks]