On Friday, Dallas Stars CEO Jim Lites thrust his two best players into the spotlight when he publicly ripped captain Jamie Benn and leading scorer Tyler Seguin in an expletive-filled rant.
Lites' words tore through the hockey world and, 24 hours later, we're only just beginning to sort through the potential damage he may have done to the organization and question what this could ultimately mean for the club going forward.
First, the quotes:
"They are [expletive] [expletive], I don't know how else to put it," Lites told The Athletic's Sean Shapiro (subscription required).
"These guys are not good enough," Lites said, singling out Benn and Seguin. "They're not good enough for me, they're not good enough for the owner, and they're certainly not good enough for the general manager [Jim Nill], who I can't speak for, but it's not good enough for the job he's done. But we've had meeting after meeting after meeting. The accountability on the ice is not there.
"These guys were signed to big contracts because they were the third- and sixth-leading scorers in the National Hockey League over the past five years. They get their money, we expect them to not be outplayed every game we play in. And if they were as good as they've been in the past we wouldn't be having this conversation."
When asked about the comments on Saturday, Benn had this to say:
"I read the article, and it is what it is. People have their opinions on the outside and all it really is is noise. I think when there's a situation within the organization, I try to keep it within the organization and deal with it face-to-face but that being said, I come to the rink every day and wear the Dallas Stars jersey proudly and play hard for the fans and my teammates in here."
Sportsnet's insiders addressed the drama in Dallas during Saturday's Headlines segment on Hockey Night in Canada, and discussed some of the possible fallout.
"Make no mistake about it, both these players were blindsided," Nick Kypreos said. "They know the scrutiny that follows their salaries and the inability to deliver the offence, so they're OK with that. Usually that is handled between the general manager and the coach within the dressing rooms."
When you look at the stats, Benn and Seguin are, technically, having slightly down years — but not by much. Benn's 15 goals and 30 points through 38 games has him on pace for one of his lowest totals. His best season came in 2015-16 when he had 41 goals and 89 points, beating his previous personal best from the year before, which earned him the Art Ross Trophy. Seguin's 11 goals and 32 points gives him the team lead in points but has him outside the top 50 in the league.
The team's recent offensive struggles might not be so obvious if they weren't in a division as unforgiving as the Central. As it stands now, the 19-16-3 club is just barely hanging onto the second Wild Card spot in the West with more than half a season still to be played.
So while their performances are well-documented, the public call-out was unexpected.
"They were totally surprised to see what transpired out of the ownership group including Jim Lites," said Kypreos. "Now it's really a matter of now 'where do you go from here?'"
Will NHLPA get involved?
According to Kypreos, there's "no question" the NHLPA would like to have a say in this matter.
"They probably would've made some sort of statement today, but Dallas is playing tonight so they want to make sure that they talk to both players," explained Kypreos, who later questioned what the optics would be if the roles were reversed and it was a player who made the kind of statement Lites did. "But the feeling is, they certainly are disappointed and not happy about Jim Lites. They called it unprofessional. I don't know, outside of maybe making a statement, what they can do. Maybe it's more out of the league's office now to sit there and say, do they feel it was detrimental to the league? Could they fine him? It's the profanity, really, that I think they would have the biggest issue with."
Gaglardi chimes in
"To me the biggest question is, what does this mean?" Sportsnet's Elliotte Friedman said. "Does this mean that Dallas wants to trade these guys, who both have no-move clauses? There were some quotes about Jim Nill — is he in trouble?"
Friedman reached out to team owner Tom Gaglardi, and received the following statement in response: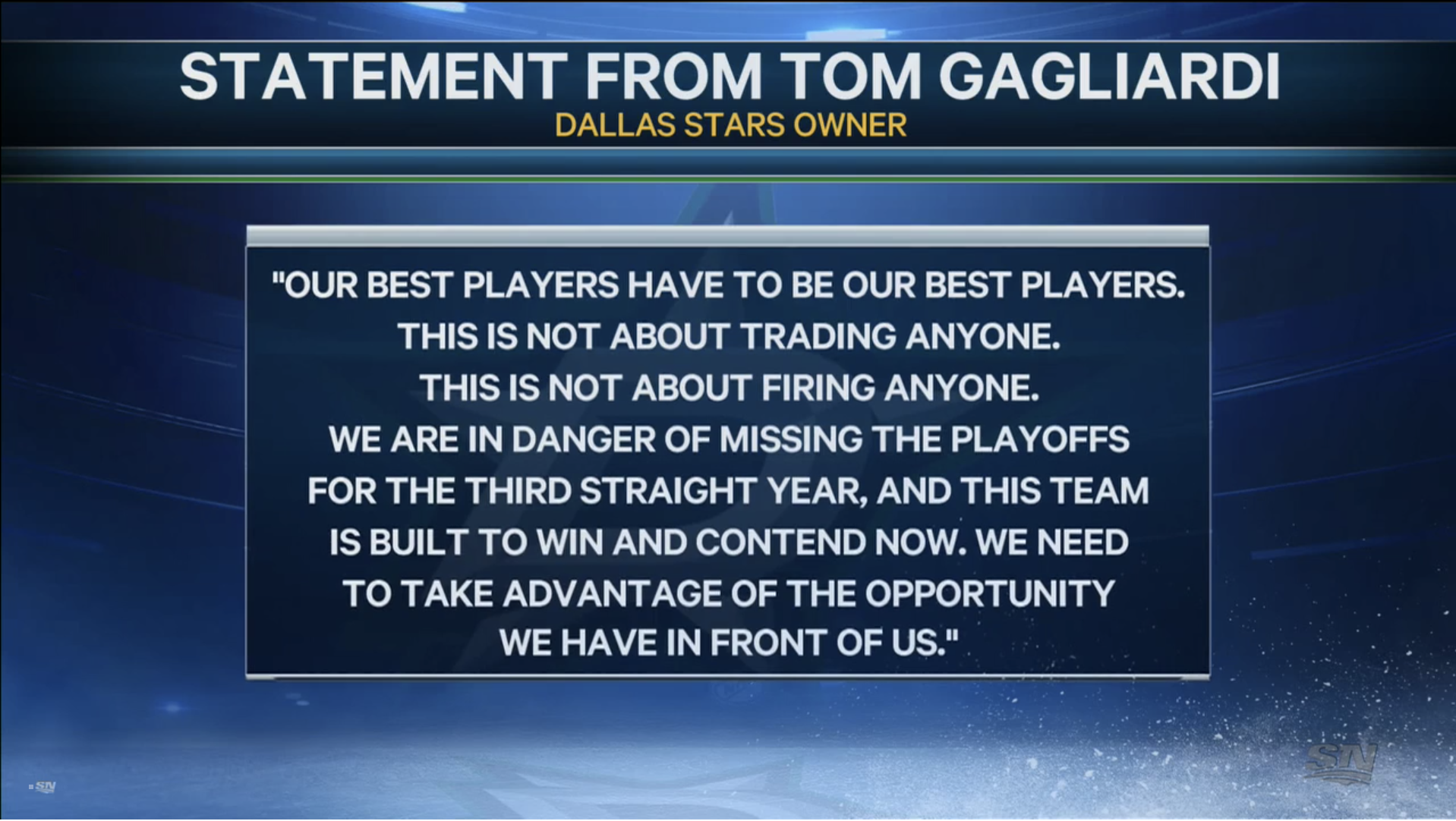 Money matters
"Dallas, in terms of actual cash spent, they're at $85 million this year — it's one of the highest in the National Hockey League," Friedman explained.
Benn counts for $9.5 million against Dallas' salary cap, having signed an eight-year extension in 2016 that came into effect last season. Seguin, three years his junior, just signed an eight-year extension of his own that will see him earn $9.85 million starting in 2019-20. He counts for $5.75 million this year.
"Other teams are telling me they're ranked around 23rd in ticket sales," Friedman continued. "I think this is a sign of, if they don't make the playoffs this year, all bets are off about the future of Dallas. It's desperation."
As for how the players and the team responded on the ice, the Stars came out victorious Saturday night against the Detroit Red Wings to get their second straight win since the NHL's Christmas break. Seguin registered one assist in the 5-1 win and Benn was held off the scoreboard.
Next up is a home game against the Montreal Canadiens on New Year's Eve, but its safe to say all eyes will stay on the team as the rest of the season unfolds.
[relatedlinks]