In the midst of a blistering hot streak with 11 points in his last five games, Mitch Marner is back on pace for 100 points this season if he plays every game, after a stretch that started in February where he was "cold" with a dismal… nine points in 13 games.
Nine points in 13 games is a 59-point pace, not far off from the 69 he put up last season or the 61 he put up before, and the fact that it was seen as a cold streak for Marner should illustrate how much the goalposts of expectations have moved for the soon-to-be 22-year-old Maple Leafs forward.
Marner's spectacular season has come at the perfect time for him and his agent, with an impending contract battle with the Leafs looming this summer. After Toronto managed to sign William Nylander and Auston Matthews, Marner is the last major piece they need to get under contract to keep this core intact, and the speculation has been all over the place.
Since last season, there has been a $10M per season number floated around concerning Marner, with Bruins forward Brad Marchand recently trolling the Leafs on twitter suggesting Marner should get as much as $12M.
I cant wait to see this kids new deal… 12m AAV?? It better be#Marnerwatch

— Brad Marchand (@Bmarch63) March 5, 2019
Ironic, considering Marchand is on one of the most team-friendly deals of any star player in the league.
Marner is having a great season, but even a $10M cap hit would be an unprecedented number for a winger not named Alex Ovechkin or Patrick Kane, with the highest-paid winger in the NHL outside of those two this season being Corey Perry at $8.625M. Nikita Kucherov and Mark Stone are coming up next year at equal cap hits of $9.5M in a salary cap expected to be around $83M.
Marner is a phenomenal talent, coming into this season I had him ranked as the eighth-best right wing in the game, and he'll certainly move up that list after this season, however I think the Leafs will be a lot more hesitant to commit a salary that large to Marner than most people suspect. That doesn't mean I think there's any chance at all that a trade is made, only that this contract negotiation shouldn't be easy.
For back-to-back seasons now Marner has been one of the best goal-drivers on the power play in the NHL, so I don't have any hesitancy in saying his production there is to be expected and will probably continue, but at even strength, there are a few… let's not even say red flags, there are some yellow flags.
Sportsnet NOW gives you access to over 500 NHL games this season, blackout-free, including Hockey Night in Canada, Rogers Hometown Hockey, Scotiabank Wednesday Night Hockey, the entire 2019 Stanley Cup Playoffs and more.
This season Marner has the eighth-highest 5-vs-5 PDO in the NHL among players with 500 or more minutes played, fourth highest among forwards, and most of the reason for that is a sky-high 12.05 per cent on-ice shooting percentage, which is the second highest number in the NHL for forwards behind only Alex Ovechkin.
While Marner has exhibited some ability to impact on-ice shooting percentage, during his first two seasons he averaged a 9.29 per cent on-ice shooting percentage, way below what he's posted this season. So while Marner has certainly made improvements to his game this season, playing with Tavares and the puck bouncing his way have been big influences on going from 2.1 points per 60 minutes at 5-vs-5 over his first two NHL seasons to 3.1 this season, the third-best mark in the league.
Comparing Marner to his contemporaries on the wing, you get names like Nikita Kucherov, David Pastrnak, Johnny Gaudreau, and Mark Stone. So how does Marner compare to those players in terms of the underlying plays that create goals at even strength?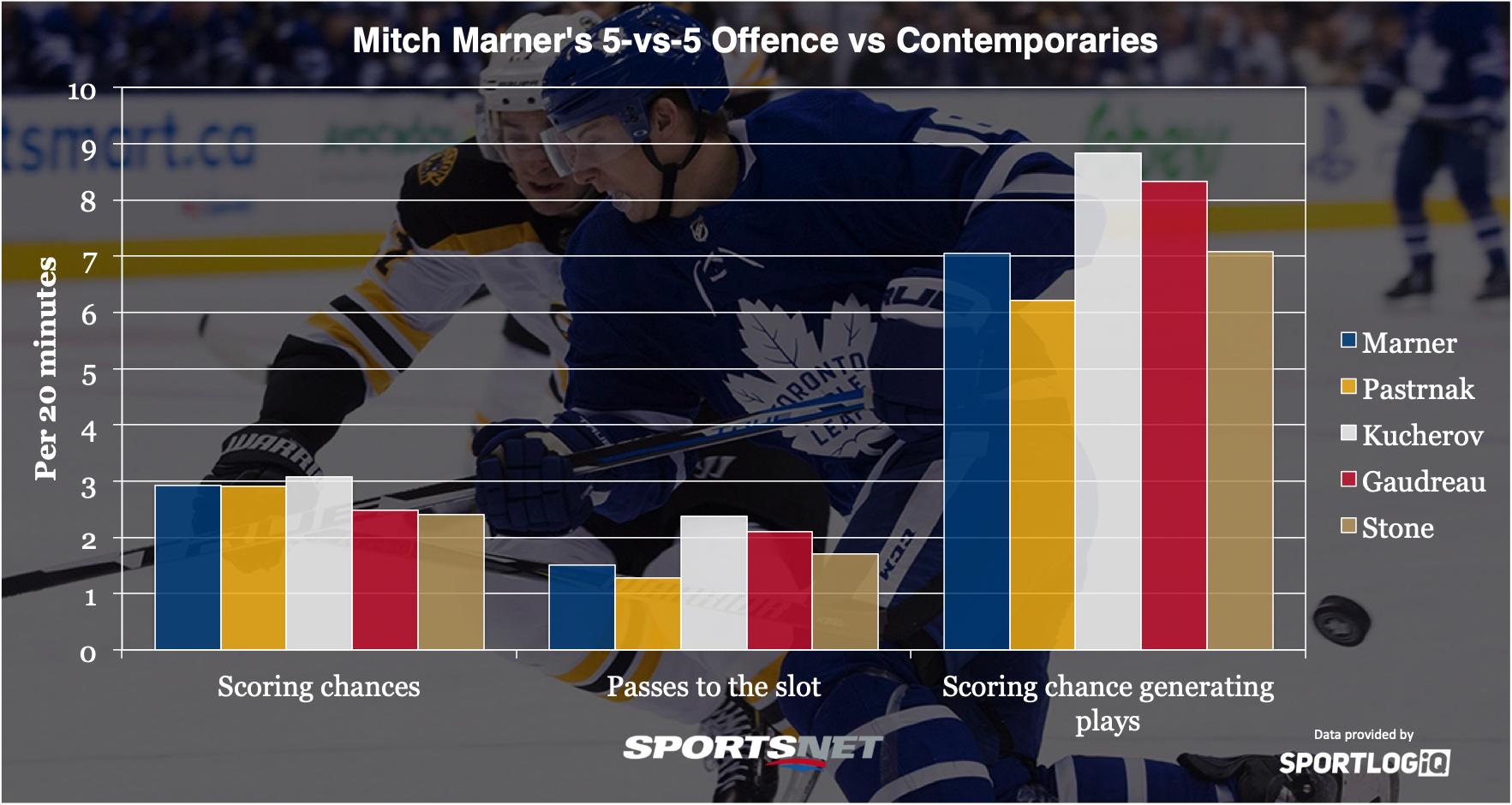 Overall, Marner compares pretty well to this group, he creates more chances for his teammates than Pastrnak, who is more of a finisher on the NHL's best line, is about equal to Stone, but trails Kucherov and Gaudreau.
What's impressive to me about Marner is that he's vastly increased his shooting rate from the slot over previous seasons, but at even strength he isn't the game-breaking playmaker that he is on the power play, he's just very good.
It's important to note that Marner is younger than all these other wingers who recently signed long-term deals, and it's entirely fair to expect him to take further steps in his development at just 21-years-old, especially considering the vast improvements he's made to his game on the defensive side in the last calendar year, however when looking at potential contracts, you also have to consider that all these players, save Pastrnak, had fewer restricted free-agent years left when they signed, so their salaries should be higher.
Taxes are a complication that the Leafs have to face compared to the Tampa Bay Lightning and Vegas Golden Knights, but looking at the contract as percentage of the cap at the time of the contract kicking in, the rumoured numbers for Marner start to look a little crazy.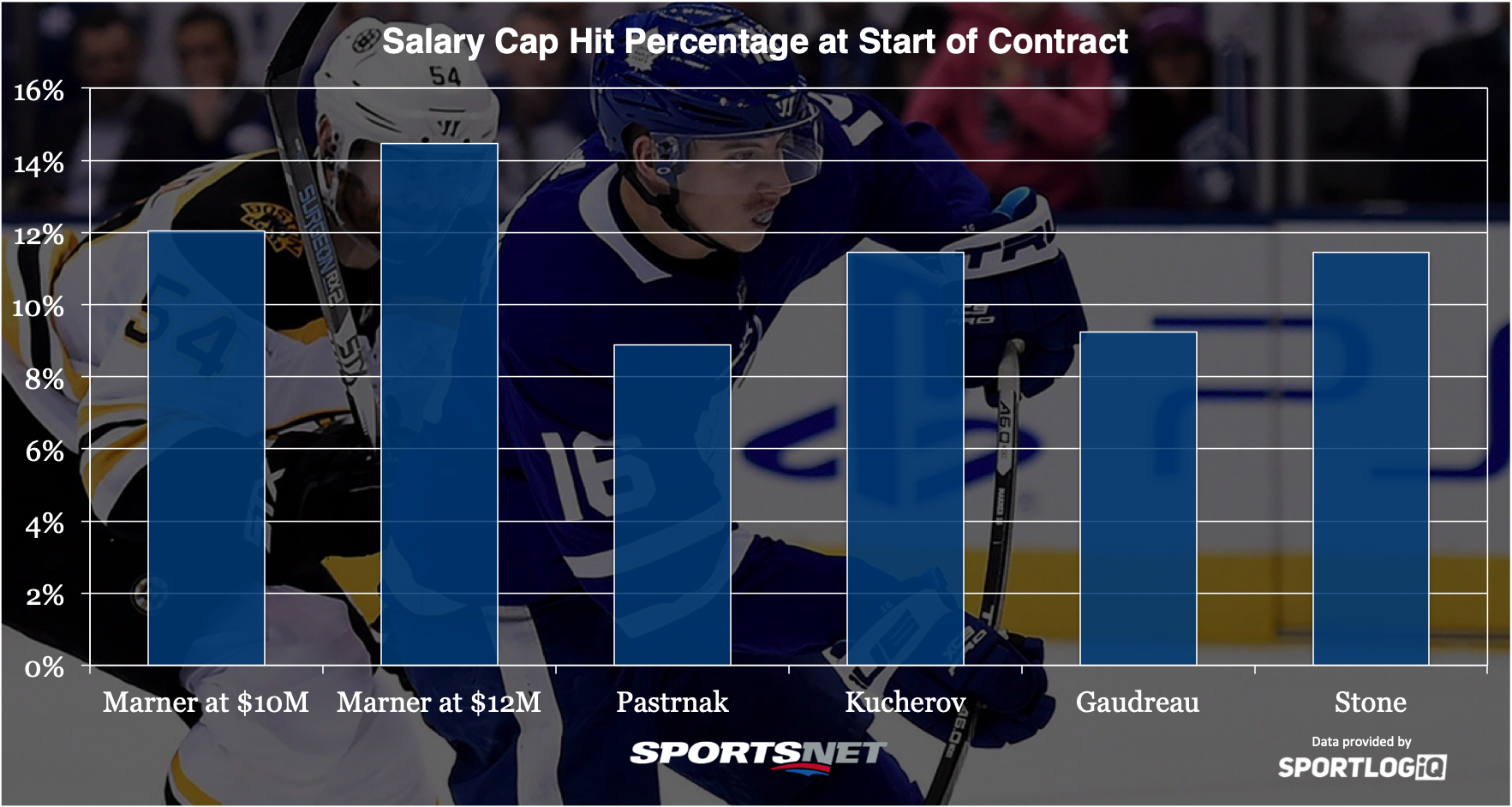 Even at $10M per season, Marner would be the highest cap percentage of any recent elite winger to sign a contract, and at $12M, it would be the seventh-highest contract signed by cap percentage that currently exists in the NHL according to cap friendly; comparable to Sidney Crosby and Evgeni Malkin.
The Auston Matthews contract certainly changes the landscape for players coming off of entry level deals, and I get why many fans believe Marner is the superior player even if it's clearly not the case. Let's put this in context a little bit though.
This season Marner is creating just over seven scoring chances for his teammates per 20 minutes at 5-vs-5, that's very good, but it ranks 48th in the NHL among forwards. Matthews ranks 18th with 8.28, and John Tavares ranks 15th with 8.33. Marner is clearly a top-line player, and a fantastic power-play quarterback, but at even strength he's closer to a mid-tier first liner. That isn't bad, but teams who pay elite player money for power-play production can get burned.
Marner is a great hockey player, but based on his accomplishments, his underlying numbers, the good luck he's been fortunate enough to have this season with one of the NHL's best centres, and his contemporaries, the rumoured numbers circulating for his next contract strike me as completely unrealistic.