PHOENIX, Ariz. – There's a running joke among the guys who keep the Arcadia Ice Arena going year-round about the Zamboni now being the most valuable thing in the place.
The 50-year-old rink is tucked behind a Walmart in the corner of a mall parking lot and has a certain time-worn charm about it. In this unexpectedly fertile ground for hockey, Arcadia holds two significant distinctions:
1.) It is the oldest of the 11 sheets of ice currently operating in the Valley of the Sun.
2.) It is the place where Auston Matthews joined his first mite team after being turned away elsewhere.
That helps explain how the Zamboni came to have the 19-year-old's signature scrawled large across a panel below the driver's seat. Matthews stopped by a couple days before the NHL draft in June and arena worker Rob Holthaus seized on the opportunity to have him gild the ice resurfacer.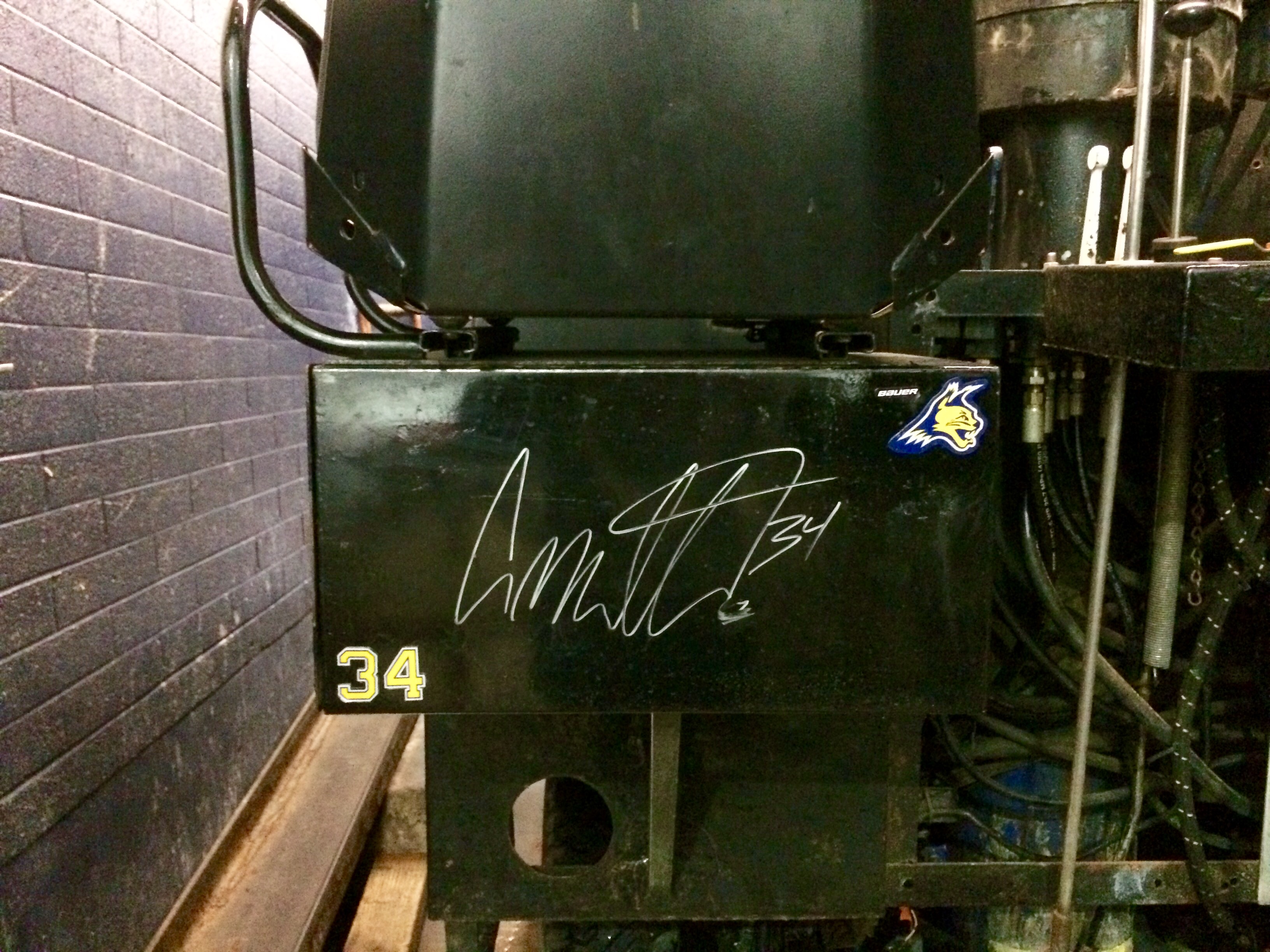 He even took a picture of Matthews wielding the sharpie in case anyone ever called its authenticity into question.
"He's just such a humble kid," said Holthaus. "I figured the only thing better than getting something signed for myself was getting something for the entire rink."
At this ice cube in the desert, securing ice time is a challenge. The facility is open 365 days a year and the schedule is crammed full – well, other than the four one-hour sessions that just opened up on Friday night.
You see, so many families involved with the Arizona Bobcats youth program have bought tickets to see Matthews play his first NHL game at Gila River Arena that the coaches decided there wasn't much point in holding practice.
The Coyotes-Leafs game had been circled on calendars here for months, but the interest went up another notch earlier this week when word started circulating that Matthews had committed to joining Arizona forward Max Domi for a picture with all local youth hockey players in attendance afterwards.
"It just blew up," said Cammielle Becker, the board administrator for the Bobcats.
Never mind that the organization had already pre-paid at a rate of $350 per hour. Call it a sunk cost in the name of dream-building.
"They're willing to walk away from four sheets of ice in order to go to a game so that the kids that skate in this program can see someone who wore their logo," said Becker.
Matthews is already a beacon. A local legend.
The folks at Arcadia are so mindful of his growing status in the wider hockey world that they carefully protect any memorabilia tied to him. The Zamboni is kept behind an "authorized personnel only" sign in an area not visible to the public. A signed Bobcats sweater and some pictures hang behind closed doors in the office of Jim Rogers, who owns the facility and was Matthews' first coach.
Even a trophy won by the 2003-04 Vosha Mustang Mites – featuring No. 14 Auston Matthews – is tucked away in the pro shop, away from where others are more openly displayed.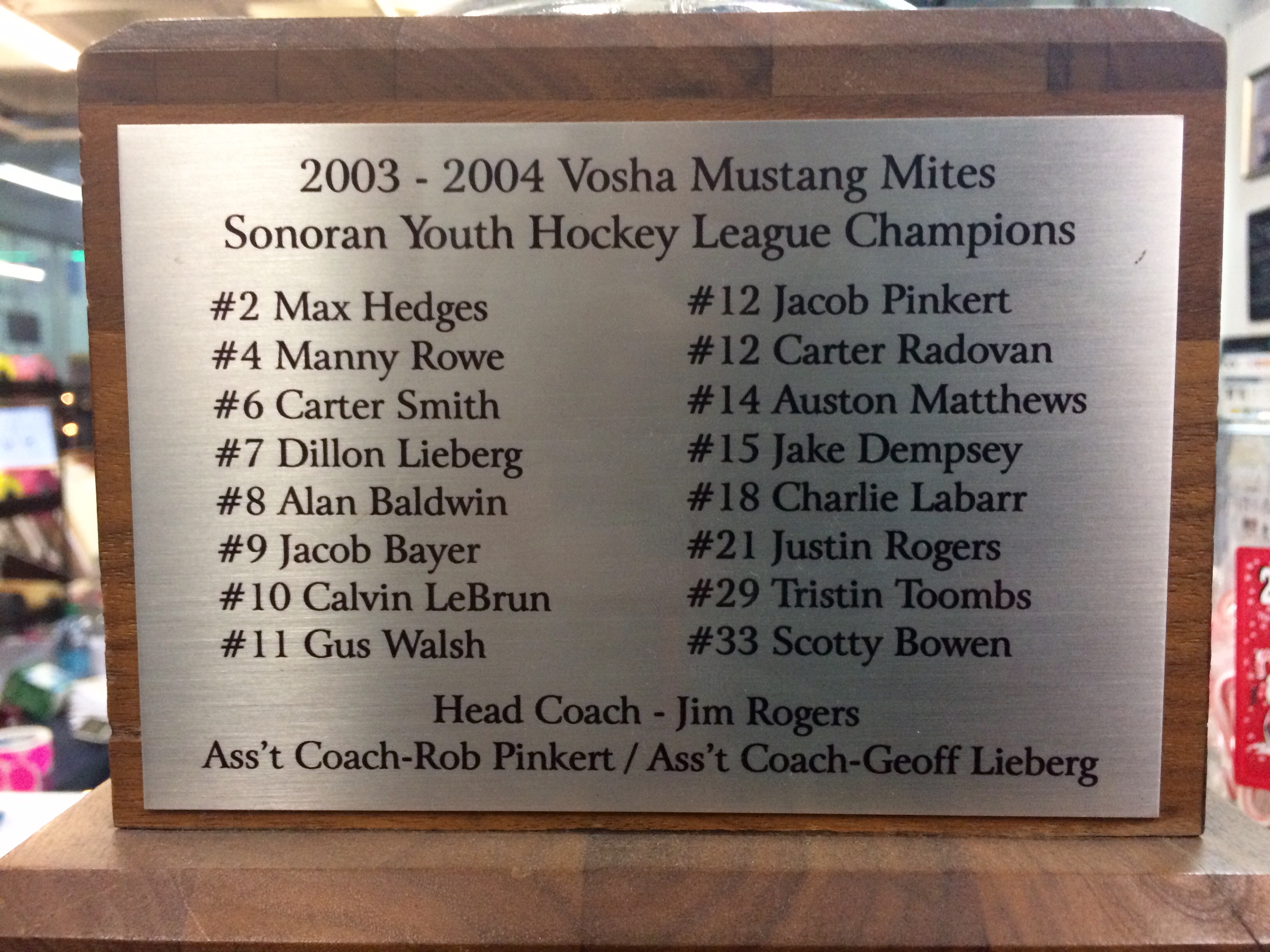 That was the first organized team Matthews played for.
Rogers still recalls the young boy showing up here with his father Brian – "tears in his eyes" – after being denied the chance to join other organizations. The six-year-old Matthews was given a spot on the eight-and-under Mustangs, thus starting a unique journey to the NHL that saw him play all over the Valley.
"He just went wherever he could find competition," said skills coach Boris Dorozhenko, an influential figure who became a close family friend. "Everyone put a little pebble in his development."
Matthews is, in many ways, the product of a divided system.
The Bobcats and Jr. Coyotes organizations are fierce AAA rivals – akin to the Montague and Capulets, according to Becker – and have been known to court each other's players.
Matthews spent time with both youth programs and several other teams. It took him to the Oceanside Ice Arena in Tempe and a now-shuttered 3-on-3 facility closer to where he grew up called Ozzie Ice. He also skated in close proximity to his Coyotes heroes at the Scottsdale Ice Den.
Rogers describes Matthews as a strong-minded kid who possessed an insatiable desire to score goals. His path from modest beginnings to stardom with the Toronto Maple Leafs isn't much of a mystery to a man who witnessed his first formative strides.
"There was no magic wand," said Rogers. "It all started with Auston's character."
It is still too early to quantify what kind of impact he's had on hockey in the region, although former Coyotes GM Mike Barnett predicts it could end up being as significant as anything Wayne Gretzky did previously in the U.S. southwest.
"He can make it the game everyone wants to try and play here," said Barnett.
His son, J.T., was also raised in Scottsdale and is currently playing in the KHL. He's five years older than Matthews and phoned his dad one day after participating in a skills session led by Dorozhenko at Arcadia.
"He called me in my office and said: 'I just skated with the sickest 13-year-old I've ever seen; his name is Auston Matthews,"' recalled Barnett. "I've never forgotten that conversation."
Barnett, now a senior advisor with the New York Rangers, will be there to watch Matthews play on Friday night.
So will Dorozhenko and Rogers and Ron Filion, his Arizona Bobcats coach for three seasons.
So will an estimated 500 local youth hockey players, many of whom will be wearing the same yellow Bobcats jerseys Matthews once donned.
"A lot of people are claiming to know him," observed Coyotes captain Shane Doan.
Here at Arcadia they seem more proud than possessive.
The rink was buzzing during two afternoon public skating sessions this week. They even lowered a fully decorated Christmas tree onto the ice surface, claiming it was the only place other than Rockefeller Center you could find such a thing.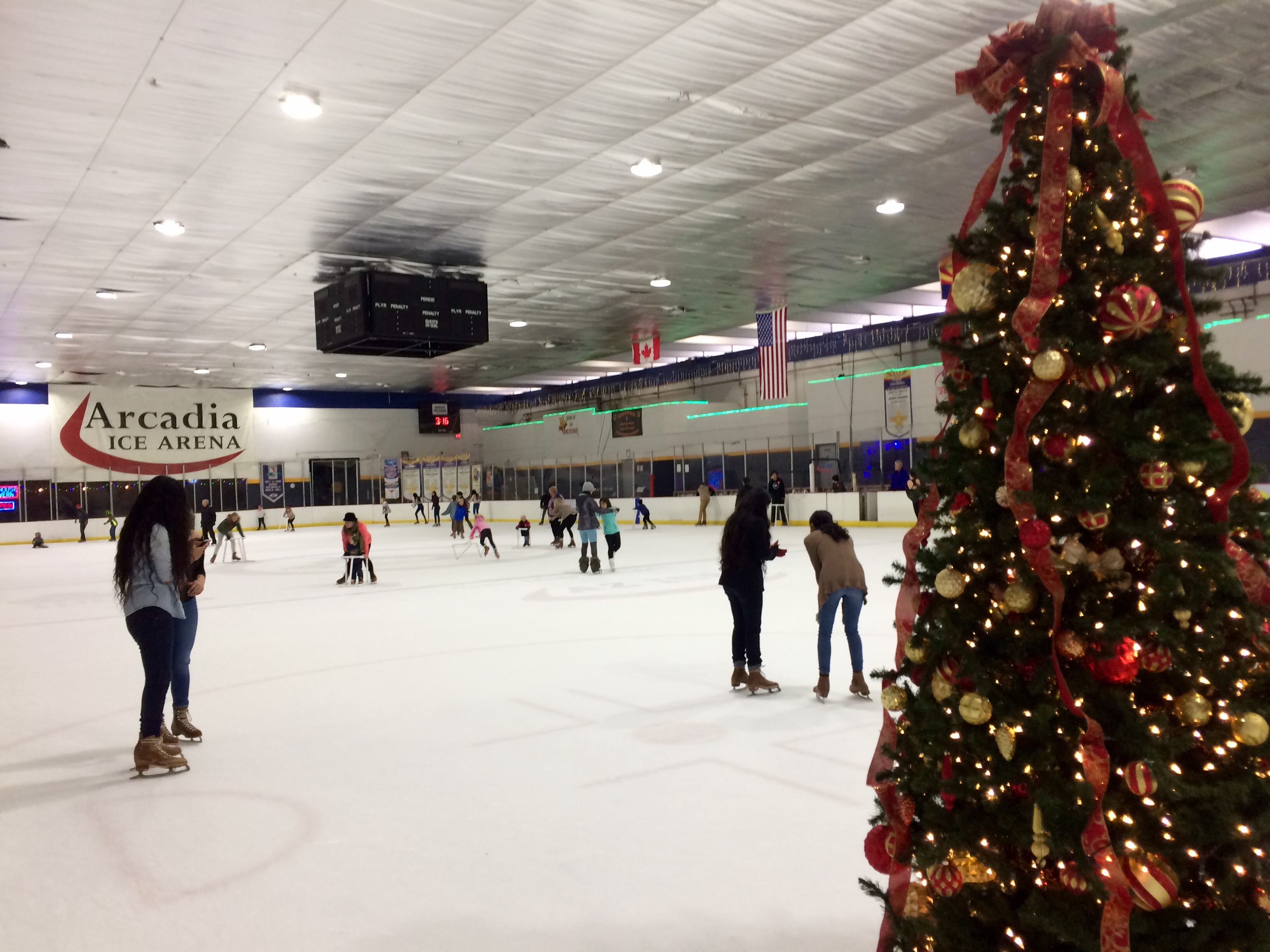 They speak fondly of Auston's last visit here in the summer – "He signed everything," said Becker, including her son Blaise's blocker – and are following his career closely.
They packed the Ice House Tavern built into the visitor's end of the rink for a party on the night Matthews was drafted – nearly missing him become Arizona's first No. 1 pick because the power went out – and grew to an overflow crowd again as he scored goal after goal in a record-breaking NHL debut against Ottawa.
Now they'll get to see him play the Coyotes live and in the flesh.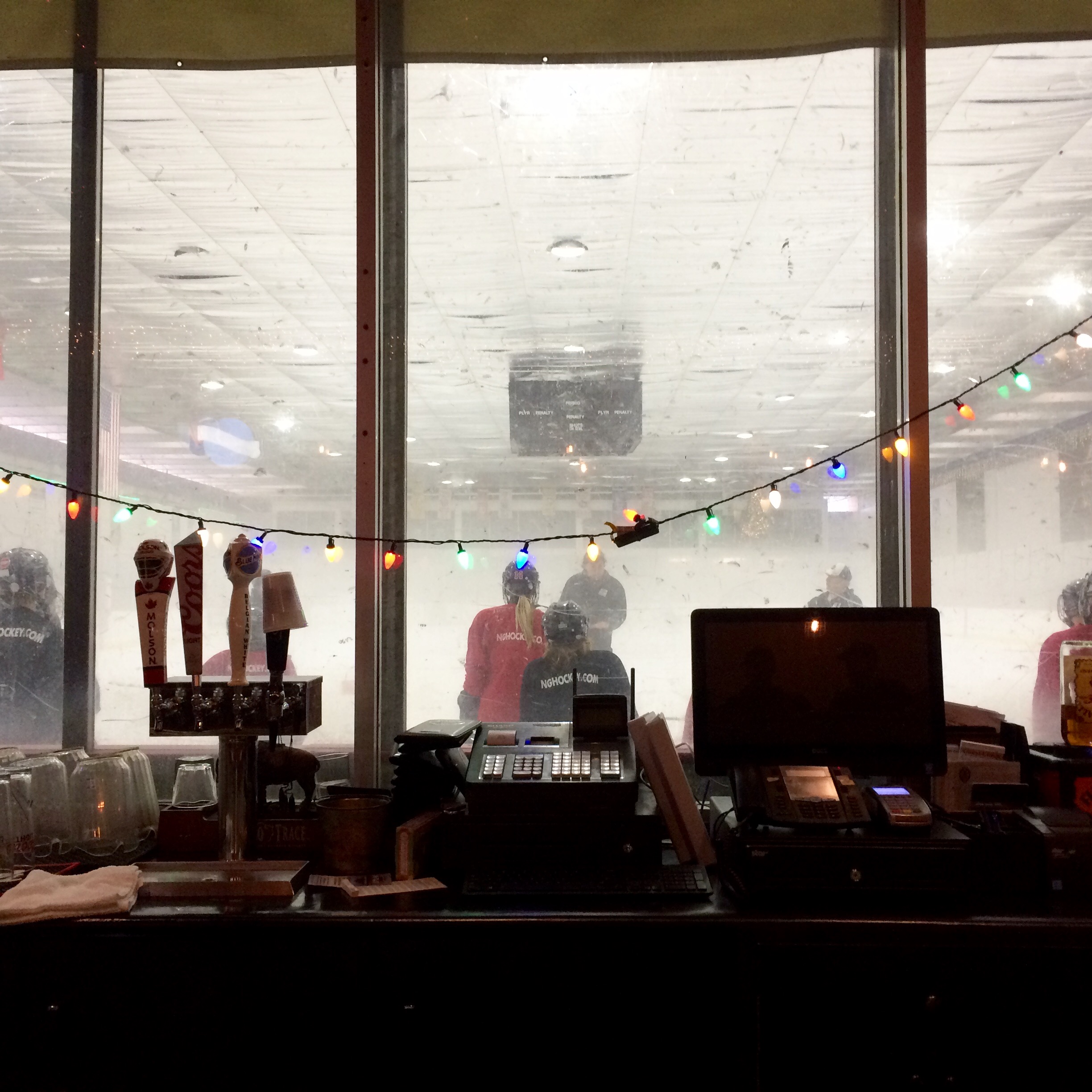 For Rogers, a straight-talking local who was drawn to hockey by Team USA's "Miracle on Ice" at the 1980 Olympics, an event like this is a long time coming. He lied about his age to land a part-time job driving the Zamboni at Arcadia back in high school and has since turned the sport into his life's work.
He's also a Coyotes season-ticket holder who has seen a lot of kids take their first tentative steps on a rink he now owns. One of them was a six-year-old who could improbably fire the puck over the net from centre ice.
His name? Auston Matthews.
"People say it's a one-shot wonder, but we're going to have another one," said Rogers. "I promise you that."