DENVER — It's not the first time two opposing players have suggested a post-game meeting in the parking lot.
However, this time there was no threat of violence involved. This meeting was born out of a familial connection, which is what Cale Makar and Justin Braun have.
The opposing players are related, but had never met.
"Cale is my wife Jessie's second cousin," beamed Braun, a San Jose Sharks veteran defenceman. "We finally met after Game 2 in the parking lot. I'm not really related — I'm married into it.
"Her dad (Chicago Blackhawks legend Tom Lysiak) said his favourite cousin was Cale's dad growing up. It's kind of awkward because we're in a playoff series, but Jessie had been writing him and she wanted to meet with him."
The meeting came after Makar's Avalanche beat Braun's Sharks last Sunday, just two weeks after Makar made his NHL debut.
"She said 'Hi' and he met Madison, our little daughter — it was a quick little meeting," said Braun. "I'm sure throughout the years — next year or whatever — we'll have him over and get to know him a little bit more."
Makar said he felt like he knew Jessie a bit, as his family watched closely six years ago when she was a culinary star on reality TV.
"I had never met her but we kind of followed her after she finished top three in Master Chef," smiled Makar, 20, who was 14 at the time.
"She came to Medicine Hat when Tom Lysiak's number was retired by the Tigers but I wasn't there at that point. It was just cool to meet her."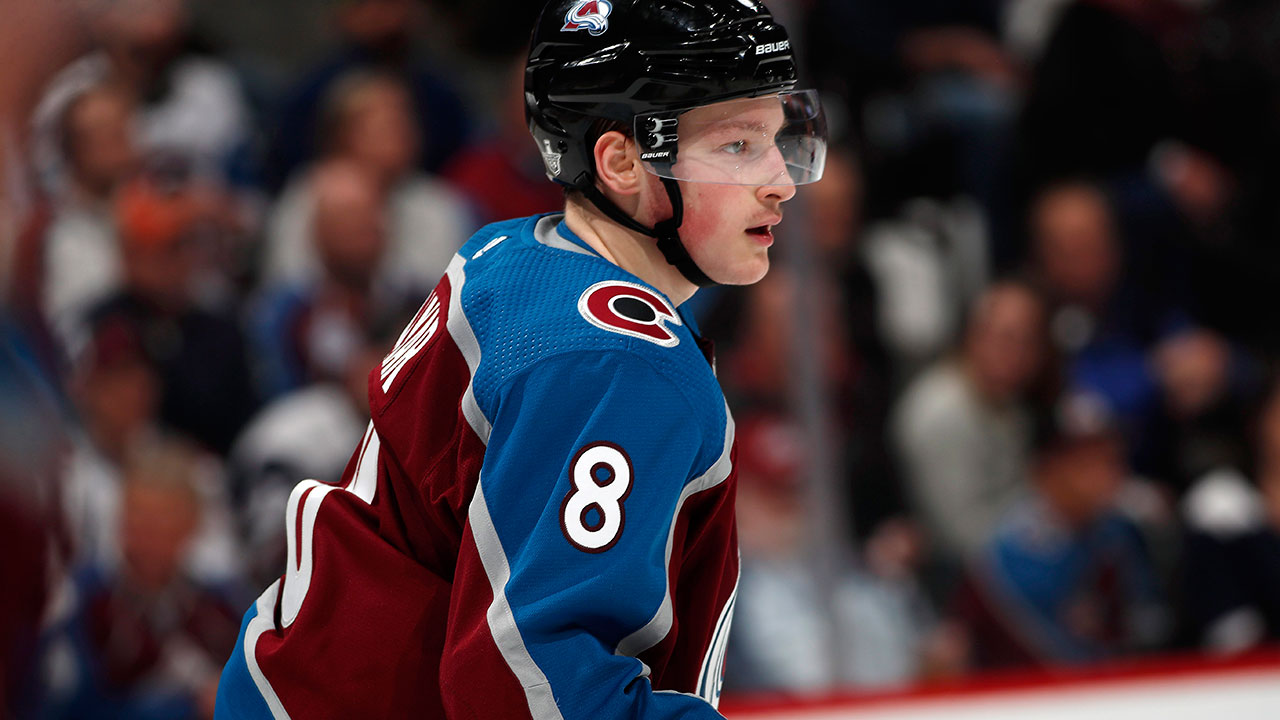 It turns out Makar and Braun had been introduced to one another online years earlier.
"I think I emailed him before I committed to UMass — it was kind of funny how that whole connection worked out," said Makar, who left the University of Massachusetts-Amherst as a sophomore sensation on April 14 to sign with the Avalanche, two days after winning the Hobey Baker Award and one day after losing in the NCAA final.
"I knew he went to UMass and I was looking at the school and picked his brain. He was just telling me about the school and what to expect. It was pretty funny how that connection all worked out."
Braun, whose club holds a 3-2 series edge and could eliminate the Avs Monday night in Denver, remembers the email exchange.
"They were recruiting him and he wanted to ask me a few questions about the process and everything so I gave him my input," said Braun, 32, who spent four years at UMass.
"I just told him, 'If you are comfortable there and you can see yourself being there for four years, do it.' Obviously he left there a little quicker with some hardware.
"I told Jessie when he got drafted fourth overall, 'I think I told him to go to the wrong school,' because I didn't know how good he was.
"When I was there the big schools were always Boston University, Boston College and those were the schools where the top recruits go. Usually the fourth-overall pick doesn't go to UMass. But it worked out. It was great for him — he won the Hobey and played in the national final."
It's safe to say over the last five games the two are getting to know each other on the ice somewhat. After all, Makar has been one of the biggest stories of these playoffs, debuting with a goal on his seventh shift and adding four assists in eight games.
"I obviously watched him in the Calgary series and he looked like he'd been playing for 10 years already," said Braun, who has a lone assist.
"He's a special talent. You don't go fourth overall by accident. He's tearing us up a little bit."
Sharks teammate Kevin Labanc got wind of their familial connection and got a kick out of it.
"It's pretty funny — they're polar opposites, but they're related to one another," chuckled Labanc of his stay-at-home teammate.
"Braunie is a good, hard defenceman, and Makar is kind of good at handling the puck and is very smooth."
If there are there any unwritten rules about laying off of one another or taking it easy on the ice, Makar was certainly unfamiliar with them.
"I'll drive him wide every game," smiled Makar, with a wink.