You are kicking yourself for not dreaming up the idea first.
But you weren't in that Toronto beer-league dressing room in late May when post-game chatter excitedly turned to the Maple Leafs' big-splash hiring of head coach Mike Babcock and one of the players stumbled upon a fine business opportunity.
"Wouldn't it be great if we all had a pair of Babsocks?" blurted out Jake Mednick, a lifelong Leafs fan. He was joking.
"Everyone in the dressing room sort of looked at me. And my one friend, Tom, really looked at me and said, 'Hey. I think you may have just come up with something.' "
"He's the whole reason we got this product off the ground. Not just because his name rhymes with socks."
Fast forward some five months later, and men's-league teammates Mednick and Thomas McCole can't keep their creation — a stern and successful Babcock face stitched into a pair of white and blue foot cozies — in stock.
A first order of 200 Babsocks — at $20 a pop — vanished immediately upon their slick website's launch on Saturday. That night they tapped a couple friends who had helped out with their venture, slipped on their crafty Babcock masks and greeted fellow Leafs supporters outside Air Canada Centre during Hockey Night in Canada's 2015-16 debut.
"The reaction we got from fans was amazing. Everyone wanted their picture taken with us. Everyone wanted a pair of socks. Unfortunately we had just sold out inventory," says sudden entrepreneur Mednick, taking a break from his day job in Toronto's parks and recreation department.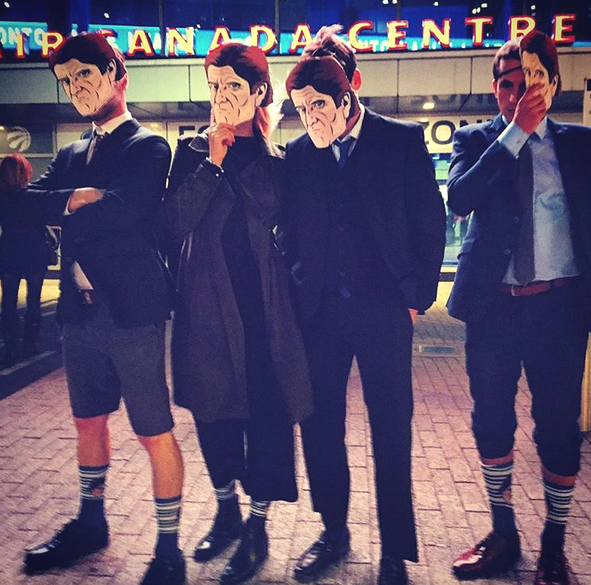 Diehard Leafs junkies, Mednick and McCole — "just two guys from the east end of Toronto who came up with an idea" — barely miss a game. So what if their favourite club is embarking on a painful rebuild? They want to get Leafs fans excited again.
"There's been a lot of negativity, especially last season, around the team, around the organization – and it wasn't as fun to be a fan anymore. We want everyone in the city to have fun and feel good to be Leafs fans," Mednick says.
Neither Mednick nor McCole (who works in marketing) have experience working in clothing or starting a business, but they've worked tirelessly to jump on their idea, which goes beyond just ordering another shipment of 500 to 1,000 pairs of men's socks.
"This is a new adventure for me. This is bizarre territory, but we're excited," Mednick stresses. "I want there to be a game-day ritual in Toronto where fans roll up their Babsocks and everyone can unite." Or whip them around over their heads like rally towels.
But why stop at Babsocks? Could the franchise not diversify to include Babclocks, Babsmocks, or Bibcocks for the very young and very old Leafs fans?
"We've got a few ideas percolating. For those frosty Toronto winters, we've got Shanahands—the gloves collection. And we're working on something for Uncle Lou up there; there's a few ideas we're tossing around. We're open to growing it," Mednick says.
For now, however, they're starting at the bottom. Just like their muse.
"He's the whole reason we got this product off the ground. Not just because his name rhymes with socks," Mednick says. "Because we think he's a great coach and we're finally going to turn the franchise around with him at the helm."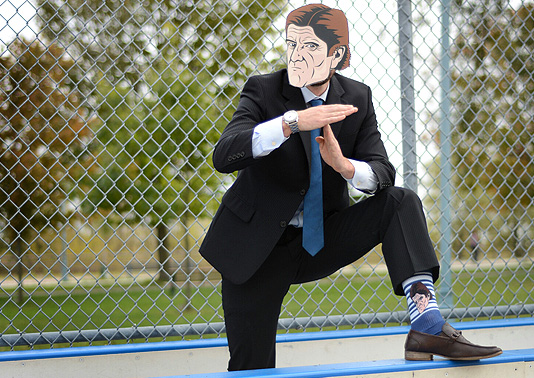 One-Timers with Babsocks co-founder Jake Mednick:
On bleeding blue and white: "We've been Leafs fans since we were kids. There was a brief time when I was about five or six years old that I flirted with the New Jersey Devils. I'm worried that might come out as some type of political scandal one day. But we think being a Leafs fan means being a fan of the best sports team in the world."

On whether having a coach as the face of your team is a problem: "When you see great players, you see a good group of management. Babcock, for us, is the best coach in the NHL and one of the best winners in the NHL. We're going to get a good team on the ice, and it's going to start with him and Shanahan. We've had trouble with management. It's not a problem. There's some young players on the team right now that are better off put out of the spotlight. Babcock is a great coach. He doesn't have to prove anything to anybody. He's got Cups, he's got gold medals. It'll help the players grow more organically and bring that winning mentality to the organization. That's why we're excited for the first time in about 10 years."
On when to plan the Maple Leafs' Stanley Cup parade: "Is that if we do or don't sign Stamkos? I think winning the Stanley Cup is about being a great team and a bit about luck. Within five years, we'll be a team that—if we get the right luck—can win the Stanley Cup."