BUFFALO — You have to admire Tyson Jost's forthright honesty.
"My mom won't like me for saying this, but school kind of is second," he said.
The unusual part of that statement is that Jost, possibly a top 10 pick in the NHL draft this month, is committed to play next season at the University of North Dakota after turning down chances to play in the Western Hockey League with the Everett Silvertips.
This season, Jost starred for the Penticton Vees of the BCHL to keep his college eligibility intact, and recently was named the Canadian national Jr. A player-of-the-year. Usually, when a player picks college over junior, it's because he wants a chance at an education, or perhaps his parents prefer that he take that route to give him a backup career option if hockey doesn't pan out.
---
More on the 2016 NHL Combine here:
---
Not the ambitious, focused Jost. He's going to the hockey powerhouse in Grand Forks, N.D. because by his calculations, it's the straightest line to the NHL. He's done his research, and notes that 15 per cent of North Dakota players make it to the NHL.
"That's a huge number. I didn't decide to go to college just because I wanted a college degree," he said Thursday in an interview at the NHL Combine in Buffalo. "I went to college because I want to play in the NHL and I want to win a Stanley Cup."
Jost, a centre, and Penticton teammate Dante Fabbro, a defenceman, have been linked all season because both decided to play for the Vees. Jost's rights are owned by the Silvertips, the same WHL franchise that couldn't convince Auston Matthews to report, while Fabbro's rights are owned by the WHL finalist Seattle Thunderbirds.
Both won gold with Team Canada at the Ivan Hlinka tournament last summer, again with Canada West at the World Junior A Challenge in December, and were part of the Canadian team that was routed 10-3 by the U.S. in the bronze medal game at the IIHF world under-18 tournament last month.
"I wanted another gold medal. I think three in one year would have been special," said Jost. "Losing to the States like that was disappointing and, quite honestly, embarrassing.
"But I also wanted to go in that tournament and prove I could play with the world's best players, and prove that I fit right in with the CHL guys. I think I did that. I think I proved that."
In fact, NHL scouts have suggested both Jost and Fabbro played so well at that event that it "removed the asterisk" from beside their names that existed because they were playing in a league generally viewed as inferior to the CHL.
"For me and Tyson, our time to compare ourselves came at those national and international tournaments," said Fabbro. "I don't think playing in the BCHL hurt our development at all."
The BCHL hasn't had a first rounder since Pittsburgh took Beau Bennett 20th overall in 2010. That league has never had three first rounders in a single year, but there's speculation that Chilliwack Chiefs defenceman Dennis Cholowski might join Jost and Fabbro among the first 30 players taken in Buffalo later this month.
"I want to go as high as I can," said Jost, who broke Connor McDavid's record for points by a Canadian player at the world under-18s.
"I'm just a competitive guy."
While he and Fabbro are linked, they didn't grow up together. Jost grew up in St. Albert, just outside Edmonton, and was raised by his mother, Laura, along with his sister, Casey, a competitive volleyball player.
Jost's father left when he was young and isn't part of his life.
"My mother is a pretty special lady," he said. "She's sacrificed a lot for me and my sister. It wasn't tough at all because my mom did such a great job for us. She gave us everything to succeed. I care a lot for her, and hopefully one day I can repay her."
For his bantam years, he moved to Kelowna to live with his grandparents and attend the Pursuit of Excellence Hockey Program, then was part of the Okanagan Rockets squad that made it to the final of Telus Cup.
He and Fabbro got together with the Vees, and have been roommates the past two years. Fabbro grew up in Coquitlam and played with Islanders first rounder Mathew Barzal at the Burnaby Winter Club.
His father, Steve, went to college on a golf scholarship, and his sisters, Gina and Sophia, are on soccer scholarships at Austin Peay State University in Clarksville, Tennessee.
Rumours continue to suggest one or both of Jost and Fabbro will be swayed to play in the WHL next season, but both say they are set in their plans.
Jost, captain of the Vees, said he doesn't even mind that the coach who recruited him, Dave Hakstol, left to coach the Philadelphia Flyers last season.
"I'm pretty happy with the decision I made," he said. "I want to be an NHL player and I think North Dakota can get me there."
Fabbro is expected to be one of six defencemen likely to go in the top 20 picks at the NHL draft, and sounds just slightly less firm on his college decision. Boston University was stung earlier this season when it lost A.J. Greer after he decided to jump to Rouyn-Noranda of the QMJHL, a team that made it all the way to the Memorial Cup final before losing to the London Knights.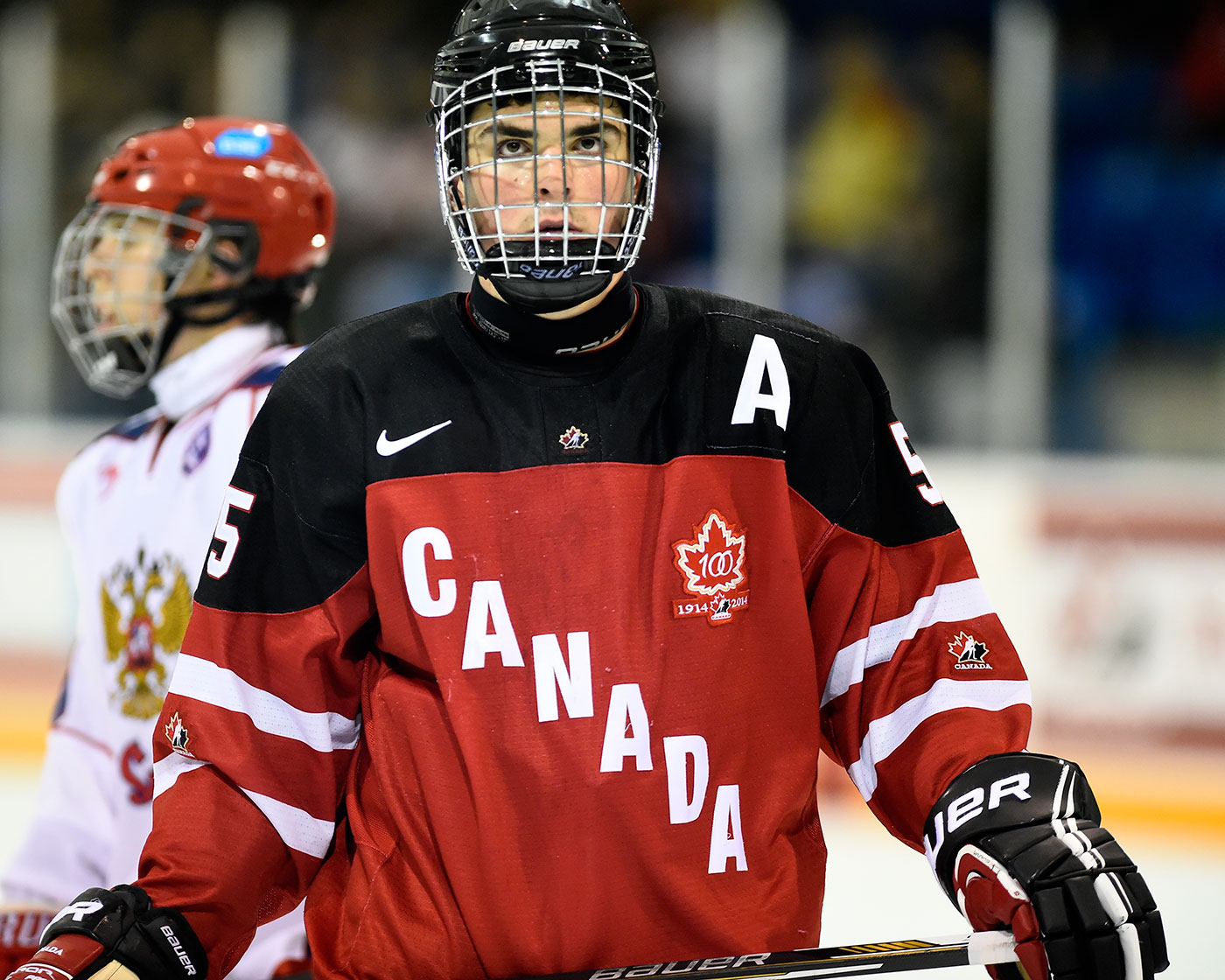 "Right now, my decision is pretty firm on heading to BU. But a lot of things can happen," said Fabbro. "As of now, I'm committed to BU. And I've never really been a guy to back out of a commitment."
Together, the two Penticton players have been part of the NHL draft puzzle this season, as scouts try to assess them against players like Matthews, who played pro in Switzerland, or a player like forward Riley Tufte, who started the season with Fargo of the USHL, left to play for his Minnesota high school team, then rejoined Fargo for the final part of the season.
Throw in goalies and unusual prospects like centre German Rubtsov, part of the Russian team that was abruptly yanked from the world under-18s amidst a cloud of performance enhancing drug use accusations, and you can see that this draft isn't just about comparing apples and oranges, but all manner of exotic fruit.
That's the challenge for NHL teams. For now, Jost and Fabbro, the two Penticton roomies, have a bet they're waiting to see settled in Buffalo.
"You can see how big (Fabbro's) head is," smiled Jost. "We have a bet right now as to whether his draft hat is even going to fit on his head."