Perception plays a huge role in creating hockey reputations. It's generally harmless when fans think of a player to be something he isn't (unless you're Larry Murphy), but when the same mistake is made by management the results can lead to major problems.
Earlier in the season I looked at Douglas Murray and his fraudulent reputation as a shutdown defender. He's a blueliner who spends a lot of time in his zone defending, and as such is seen as a defensive defenceman—as though he decided to spend all that time defending and has acquired great skill at doing so.
---
MORE CANADIENS-BRUINS:
Chris Johnston: Opportunity knocks for Canadiens in Boston
Habs sell out Game 7 for viewing party
Thomas Vanek: Gun for hire
Canadiens try to ignore Bruins' taunts

---
People also tend to perceive defending as happening solely in the defensive zone. That notion ignores 60 percent of the ice. Keeping the puck in the offensive zone is the best defence, denying zone entries with strong gap control and challenging at the blueline is also a good tactic.
Murray's warts are somewhat overshadowed by his physical play and shot-block totals—it's easy to see why he's cast as a shutdown guy. The problem is that he isn't mobile and handles the puck like a grenade. He has zero offensive skills and virtually every play driven in the offensive zone doesn't include him. Because he's slow, Murray's play in the neutral zone is extremely cautious, which translates to poor gap control and easy zone entries. In the defensive zone he needs to collapse to force forwards wide, but in doing so he allows possession. When he does retrieve the puck he lacks the transition skill to start offensive possession.
The result? Horrific possession results. In fact during these playoffs, Murray has been worse on the ice at even strength than 12 other teams while shorthanded during the 2013-14 season.
Murray is a perfect example of the trouble with coaches buying into a reputation and perceived abilities. In just under 32 minutes of 5-on-5 time these playoffs, Murray has been on the ice for 50 shots against. In game four he played 12 minutes, finished with a 16.7 Corsi% (four shot attempts for versus 20 against when the score is close) and his man, rookie Matt Fraser, scored the winning goal in overtime. Unless big hits count for 16 bonus shot-attempts for, this is nothing less than a disaster. But look what Montreal coach Michel Therrien said of Murray post game:
To put Murray's numbers in context, the Canadiens are essentially playing six to eight extra minutes shorthanded against the bottom half of the Bruins lineup. Considering how important possession is to playoff success, it seems like self-inflicted destruction.
The solution is a defender who has high end offensive skills, is probably the most fluid skater in the Canadiens system can make stretch passes like P.K. Subban and Andrei Markov. His biggest flaw? Inexperience. I get why a coach may consider a rookie untrustworthy in the playoffs, but it's harder to understand when another rookie beats your immobile veteran blueiner to the puck for the winning goal in overtime. And even harder to understand when you look at the past two Stanley Cup champions from Montreal, teams that dressed 14 rookies combined en route to their parades.
Defencemen with high-end offensive skills always have a hard time being considered defensively responsible. When a Norris Trophy winner like Subban can't shake an irresponsible reputation, what chance does a rookie like Nathan Beaulieu have? He's been in the press box every game save one these playoffs even though he is a superior player to Douglas Murray or Francis Bouillion.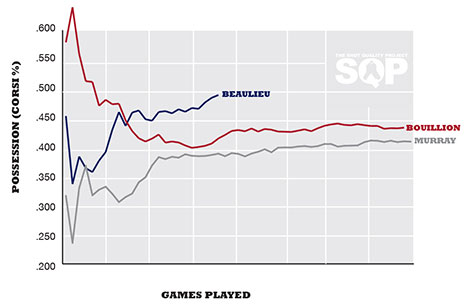 It may be a small-sample coincidence that a team being shredded by the Bruins in possession through five games (41 percent possession is essentially Sabres/Leafs territory) immediately improved to 50 percent with Beaulieu in the lineup. If we take his larger sample possession numbers which are close to 50 percent and insert him into the lineup for the Bouillon/Murray combo the Habs are looking at around an 18-shot improvement. That would push their possession level up to a more respectable 47 percent when the score is close. Not elite, but it puts Montreal in a better position to win games with strong special teams and goaltending.
I am not suggesting that the Habs would have been guaranteed victory had they started Beaulieu from game one. But in a series that could be decided by one lucky bounce, optimizing the lineup is a necessity and the Canadiens failed to do so for five games. If the Beaulieu Hail Mary works, it was a great adjustment. The problem is it should have been made in game one.