It might not be the biggest trade deadline deal ever made, but it was certainly one of the best. Maybe the best and most impactful.
It was certainly the first to have the kind of impact general managers dream about. It's a trade that gave deadline day and the days leading up to it new purpose and proportions.
And it was a trade, at first, Butch Goring wished hadn't happened.
"I was really unhappy at the time," recalled Goring. "I was in the second year of a six-year contract with the Los Angeles Kings. I'd signed it with the purpose of playing my entire career in L.A. What was not to like about playing in L.A.? You get out of the rink, jump in your convertible, it's warm … life is good. To learn I was traded, it didn't matter to who, I was really upset. I was happy in L.A."
[snippet id=3816507]
On March, 10, 1980, at the trade deadline, Goring was traded for winger Billy Harris, the New York Islanders first ever draft pick, and defenceman Dave Lewis, two very popular players in the dressing room.
He really didn't see it coming.
"In the fall there was a lot of talk about being traded to Colorado for Barry Beck, but that all subsided. In January and February, I really wasn't playing that much… probably in hindsight I should have felt a trade was coming. If I had known that, I would have talked with management because I didn't want to move."
After the initial disappointment, the 29-year-old Goring quickly realized the New York Islanders were a team that had hit a wall of great expectations the previous two springs, upset by the Leafs one year, then the Rangers the next, but something special could still be on the horizon.
Upon his arrival, Goring shared that wisdom with his shell-shocked new teammates, telling them they didn't know how good they really were, that they had every facet of the game covered, that all that was left was to win.
"Everyone knew what the N.Y. Islanders were all about," said Goring. "They had finished first overall in 1979, and I knew they had a legitimate chance to win a Stanley Cup without me, they were that good. I looked at it and I didn't think I was going to win one in L.A., but now I had a chance."
Islanders' general manager Bill Torrey believed he was just a player or two away from finally winning big, of getting over the hump of disappointment. Torrey believed he needed a second line centre to take the pressure off Bryan Trottier.
Torrey had tried to acquire Darryl Sittler, who wanted out of Toronto, but the Leafs wouldn't co-operate. Torrey had remembered how well Goring had played in the playoffs a year earlier. He was a gifted all-round player, talented and tenacious.
Goring, like Torrey, was confident he could be a difference maker – on and off the ice.
"One of the reasons they brought me in, they knew exactly what they were getting," said Goring. "They knew I was going to be a good fit on that second line. I think they felt I was going to be able to provide some offence and some penalty killing.
"I don't think they were too surprised about what I could bring on ice, but I think they were a little surprised with what I brought off ice. I was a care-free individual and I brought a different attitude to the dressing room that maybe they didn't have before. They were a very serious group and I became kind of a lighthearted guy in the room."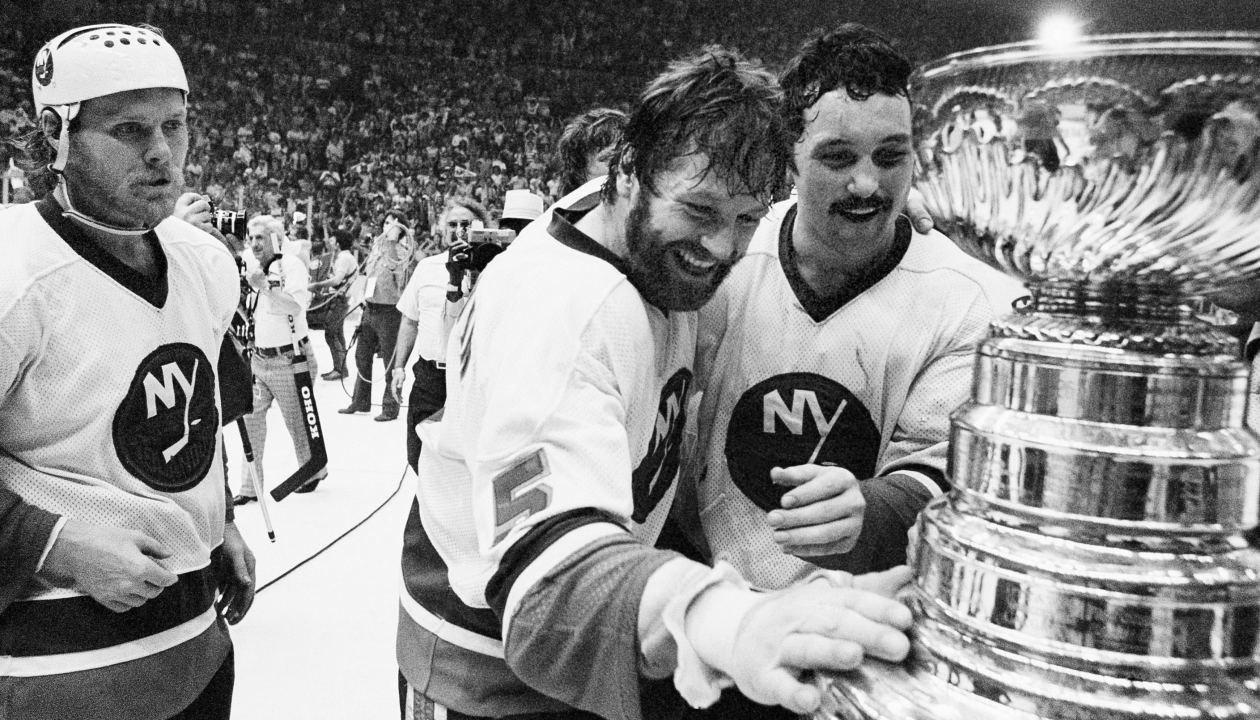 Years later, former Islanders captain Denis Potvin confirmed that as good for the team as Goring was on the ice, he was a breath of fresh air off it, truly lightening up the dressing room.
After Goring arrived, the Isles were unbeaten in their final dozen games of the regular season. But when the 1980 playoffs began, they were still feeling the pressure to win.
"The interesting thing I noticed right away coming into their dressing room, it was a completely different feeling," said Goring. "The talk was never about losing, there was a legitimate fear or legitimate expectations of winning. You could sense that pressure. You look at the two previous years and they had been very successful, but just couldn't find a way to win the big one and it was a learning experience for them."
There was a game in the first round of those playoffs that proved to be a turning point for the franchise, ultimately the start of a dynasty.
"Everyone was really nervous, particularly myself because it was the L.A. Kings, of all teams, were playing in the first round," said Goring. "We split at home and we went to L.A. and were down 3-1 after two periods.
"I remember being in the dressing room and we were done. The Isles had over the last couple of years been in tough spots and couldn't find a way to win. There was that sense in the dressing room. I'll never forget it. You could see it on their faces. I said to Clarke Gillies, who I was playing with, 'we've got to go out there and win this game. We've got to be the game-changers and we were."
Gillies, with an assist from Goring, scored to cut the deficit to one, then Goring scored to tie the game and force overtime.
[snippet id=3638287]
That's when another key addition that season scored in overtime. Ken Morrow had joined the Isles after the 1980 Olympics and became a nice addition to the blue line. Gord Lane, Morrow and ultimately Goring were three key adds Torrey made that season.
"I like to think that game was probably my most important contribution to the organization to that point in time," said Goring. "The fact that our line was able to score a couple of goals and get them over the hump… because once we got past that game everything seemed to change."
The Isles ended up beating the Kings 3-1 in the series, then beat Boston 4-1 in the quarter-finals, defeated a very strong Buffalo Sabres team 4-2 in the semifinals, then a strong Philadelphia Flyers 4-2 in the Stanley Cup Final.
And the mood afterwards?
"It wasn't the celebration you might think," said Goring. "Once we got in the dressing room, everyone was exhausted. You could hardly move in there. The room was packed with family, fans. The guys were mentally drained, so tired. They didn't quite know how to celebrate. There were smiles on their faces, but everyone was exhausted."
Once the Islanders won that first Stanley Cup, their confidence grew and winning became a habit. Goring was a huge part of the second championship the following spring, winning the Conn Smythe Trophy with seven goals and 19 points.
"As difficult as it was to win the first Cup," he said, "it was a breeze to win the second Cup. That team never took a deep breath. All the pressure was off. They knew exactly what they had to do to win. They just went about their business. That team was so good, so relaxed and so confident."
They became a dynasty, the last team to win the Stanley Cup four consecutive years, just one shy of the record held by the 1956-60 Montreal Canadiens.
Over the years, there have been trade deadline deals that have been difference makers, but in many ways the Goring trade might still be the best because of those four consecutive Stanley Cup wins, almost five, and a record 19 straight playoff series victories.
"The bottom line is that we won four Stanley Cups in a row," he said. "Until that next trade can match that, I think I can hold the crown and say, 'you know what, Islanders got the best result'."
To this day, NHL general managers search hard at the deadline for the next Butch Goring, the next difference maker, the next missing piece.