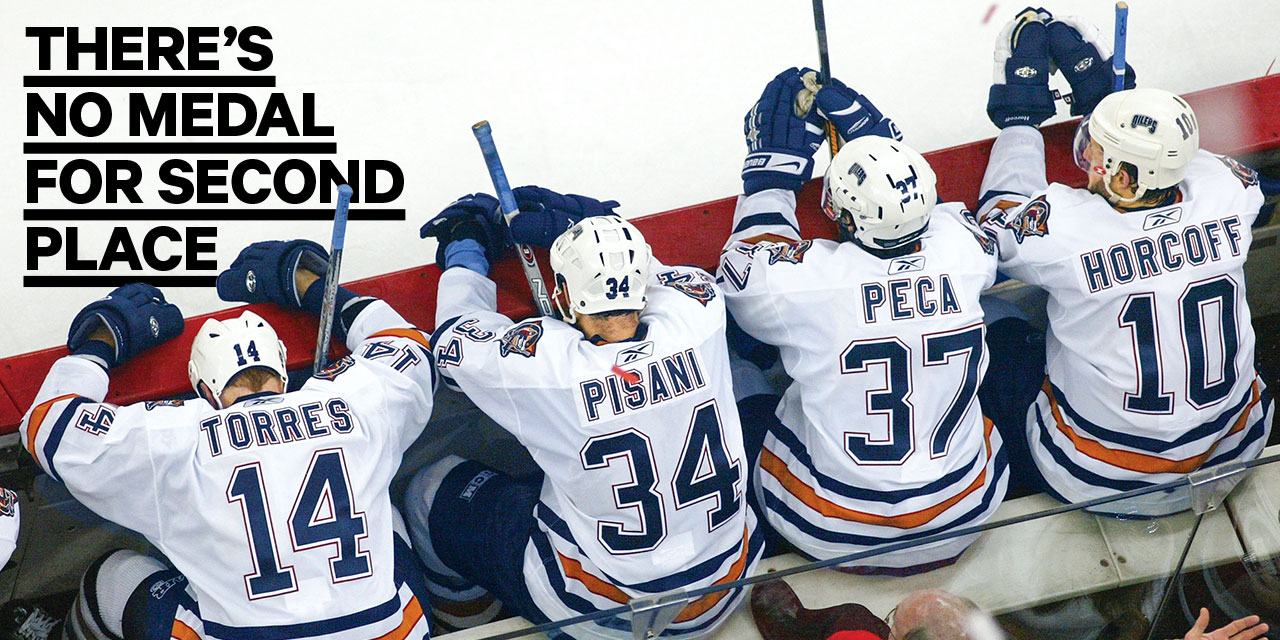 Many Stanley Cup winners say there are no words to describe the feeling of triumph. Losing game seven of a Cup Final, however, is a very different story.
As told to Dave Zarum
It doesn't happen often. And maybe that's why the sting of losing a Stanley Cup Final game seven lasts so long. Since 1994, seven teams have done it, and for that select group of players, it's a struggle to balance the pride of reaching the biggest stage in the game with the crushing reality of falling just short when they get there. It's something the men featured in this story know all too well. And while everybody deals with the pain differently—some philosophically, others with sorrow—they can all agree on one thing: Losing hurts. Bad.
CRAIG CONROY (2004 Flames) There was a game during the stretch run leading to the playoffs: We were in St. Louis, and we beat them. And we never beat St. Louis. I remember talking to some of the Blues guys after that, and they were saying, "Man, I think you guys are going to be tough in the playoffs. We wouldn't want to play you." That was interesting. Nobody ever said that about us—usually they'd want to. Once we got past Detroit in the second round, we said, "Maybe we can do this!" That's when the belief started.
FERNANDO PISANI (2006 Oilers) The last two months of the season, we were already in playoff mode because we were fighting tooth and nail to solidify that last spot. Once we got into the playoffs, it was like a huge monkey off our backs. We just went out and played. We were confident, but nobody else gave us a chance against Detroit [in the first round].
RAFFI TORRES (2006 Oilers, 2011 Canucks) In Vancouver, we were a No. 1 seed. But in Edmonton, we were hovering around .500 all year, and it took a big push at the end of the season to get into the playoffs. We went up against Detroit, San Jose, Anaheim—some big-name teams—and we were knocking them off. It was one hell of a roller coaster. After beating Detroit, we knew that was the big step we needed to take to reach the ultimate goal.
KIRK McLEAN (1994 Canucks) We'd had strong seasons prior to that and kind of underachieved in the playoffs. We'd get into the second round and end up losing. Going into '94, we thought we'd have a pretty good shot at it. Coming down to the trade deadline, we were still underachieving. To make the push, Pat [Quinn] made a few trades, and that seemed to get us over the top. We clinched a playoff spot with four or five games left in the season. We backed our way into it. We went through a tough first series with Calgary, coming back from 3–1 down and winning three games in overtime, and it just kind of snowballed from there.
NATHAN LAFAYETTE (1994 Canucks) Then suddenly in the Final we were down 3–1 again. That's when you get the mentality that there's nothing to lose. I remember, years later, seeing a great picture of Kirk McLean and Trevor Linden. It was taken after either game five or six of the Final. And they just looked absolutely exhausted. And they're not celebrating at all. You could tell. They're congratulating themselves after one step of the process and are already thinking about the next game. That's what it was like at that point—we've got one job to do, and that's to get this to game seven.
Getting there is one thing—living it is another. In the moments before it began, most players treated the biggest game of their lives like it was anything but.
McLEAN The hype was huge in New York. I remember we were escorted from the rink down one-way streets the wrong way by motorcycle cops. We were like rock stars. And the bus had drapes on it and they were keeping them closed so people couldn't see. It was quite comical, [but] that was the magnitude of it.
CONROY It felt like a really long flight getting into Tampa, but other than that, for us it was just a regular game day. We had a morning meeting where we talked about the penalty kill. Then we had lunch. One thing about Darryl [Sutter, Flames head coach] is that he likes to keep it very regimented, so we were just going to do everything normally.
McLEAN It was pretty much the same routine. Game-day skate. Go back to the hotel. Have our meal. Have a little nap. I probably didn't sleep as much as I usually would.
PISANI I couldn't keep my eyes shut. I was just laying in bed thinking this is something I dreamt about as a kid. You're always playing street hockey and yelling "game seven of the Final!" And now you're there. Not too many people get to live that.
TORRES Those childhood memories of raising a fake Cup, playing in the driveway… Unreal, man.
McLEAN The toughest part is that two-hour window from having your pre-game nap to hopping in your car to go to the rink. That's when you really start thinking about what's going on. Visualizing it, all that jazz. There are nerves, but when you get to the rink, you're in your element, so everything calms down. You're among your teammates, and the fun begins.
LAFAYETTE The first game seven [in the first round, against Calgary], I was still hoping I was going to play. Hoping I would get two or three minutes on the ice. Trying to avoid making a big mistake and still getting used to being in the playoffs. By the fourth playoff series, by game seven of the Stanley Cup Final, all of that was gone, and it was just about going out and playing hockey.
PISANI Everybody knew what was at stake. Nothing needed to be said. Everyone went ahead with their game routine, preparing as if it were any other game.
TORRES I'll never forget it. Just looking around the room and seeing over the course of five or six weeks leading up to the Final—guys playing hurt, nobody saying, "I don't know if I can go tonight," just everybody putting everything else on the back shelf. Whatever it takes. And here we are.
CONROY The whole thing was electric, although I think everybody was a little tense, too. The fans, the players. I mean, think about it: They're giving away the Cup at the end of this game. One team or the other is going to get it. We're battling for the same thing, and both teams thought, "We're going to win this thing tonight."
All seven of the losing teams since 1994 failed to get on the scoreboard first, but that doesn't mean they lay down.
McLEAN We'd been in those situations before. That's how we approached it. For me personally, I say, "OK, well, I've got to shut them down and we'll pick away at it here." We were in a zone—especially as a goalie, we always talk about that zone—and you're oblivious to everything around you. Everything slows right down.
CONROY When they scored their first goal, the building just came alive. It was like, "Uh-oh." [But later] I found myself at the point and took a slap shot, and the instant it went in I just felt the tide turn. You could just feel it: "We're going to find a way to tie this up."

NICKLAS LIDSTROM, 2009 RED WINGS (POST-GAME) I thought we were coming after [the Penguins] really well in the first 10 minutes or so of the game. We were trying hard in the second period, [but] pressing a little bit too much… Once they got the first goal, they felt a lot more confident.
McLEAN The first image that pops into my head is actually their third goal in the second period. It was kind of a scramble, and I think it was Messier who was leaning on top of me. And somehow the puck found the net.
CONROY Down the stretch, Jordan Leopold had an unbelievable chance—I actually thought it was going in—but [Nikolai] Khabibulin came across the net and made an unbelievable save. There wasn't much time left.
LIDSTROM We had a chance that hit the crossbar late there, in the winding-down seconds. We still had chances late in the game.
CONROY I remember there was a tough call against us. Andrew Ference hit Marty St. Louis. Marty had ducked down behind the net and got hit. Ference hit him, sure, but when someone small leans down now, it looks like a hit to the head. I'm thinking, "Boy this is a tough call for us at this moment."
RHETT WARRENER, 2004 FLAMES [Ference] absolutely drilled him, but I can't believe they called it. I lost it. I threw my stick onto the ice and it ended up hitting our backup, Roman Turek, in the back of the head.
GEOFF COURTNALL, 1994 CANUCKS There was a power-play goal [scored by Trevor Linden] in the third that brought us to 3–2. The puck came to me on the half-wall and I faked the shot, slid it to him backdoor, and he had an empty net…
The difference between winning and losing a game seven is so thin it often comes down to one play. Or at least that's how everyone remembers it. Two in particular stand out.
THE POST
Late in the third period, with the Canucks trailing 3–2, Lafayette—a rookie who'd been traded from St. Louis to Vancouver midway through the 1993–94 season and started their playoff run as a healthy scratch—fired a one-timer on an empty net but hit the post.
LAFAYETTE Some plays, as the years pass, you remember differently than how they actually happened. But that one I remember exactly as it looks when you watch it on video.
McLEAN I can picture it vividly right now. I can see the play developing.
LAFAYETTE I got a nice pass across the ice from [Geoff] Courtnall—I still don't know how he saw me, but he found me.
COURTNALL Nathan had made a great pass to me, too, earlier in game six. He wasn't on my line for the first half of the playoffs, but by then we were getting used to playing together. I remember seeing him get loose on the far side going to the net, and that was when I got that puck in the corner and passed it out to him.
LAFAYETTE I chose to do what I guess you'd call a cross-body one-timer. I was trying to get the puck on net as quickly as I could before [Mike] Richter had the chance to come back across. It almost worked.
McLEAN I had a better angle than a lot of people did. It wasn't as open a net as everybody thinks it was, and the pass wasn't as accurate. Actually, it wasn't accurate at all and had to be taken at a weird angle. On a lucky day, that hits the inside of the post and goes in. It's just one of those things.
LAFAYETTE For me, it didn't really stand out at the time. We had been in their zone and had two other close opportunities where we hit the side of the net or had an open net and the puck slid across the crease. For me it felt like, "OK, we got close a few times. One of these will go in."
McLEAN I've seen [Lafayette] two or three times since then. We don't really talk about it, but how can you not feel for him? He's a pretty level-headed guy, so he's able to get past it. I'm sure it hurt at the beginning, but life goes on. That's what everybody remembers: that he missed an open net and would have tied the game. It wouldn't have won us the game. It would have tied it. And there were still six minutes left.
THE SAVE
With his Oilers down 2–0 early, Pisani (who led the '06 playoffs in goals despite never scoring more than 20 in a season) brought his team within one of the Carolina Hurricanes. Then Torres put the puck on net—the rebound went to Pisani, but Cam Ward dove to make maybe the biggest save in playoff history to preserve the lead.
PISANI I scored on a rebound goal, crashing into the net to bring us within one. We score that goal and then it's like, "OK, we just need one more here."
TORRES He was unreal. You could see it in his face. It was as if he was having an out-of-body experience in those playoffs. You could see it when he showed up, in his preparation. And by game three, he was doing something special.
PISANI I had another good opportunity late in the game. A rebound came out to me, and the puck bounced just over my stick. Their goalie made a save. That's something you can never forget. If that didn't bounce over my stick, I could have tied that game. And those are the things that run over in your head.
TORRES [Ward] back-doored it. F–k, man, I take my hat off. But after that, we didn't score there. It was tough, man. It was crazy.
PISANI You always look back saying "coulda, woulda, shoulda." Ward was one of the leaders of his team and made some key plays in key moments like that.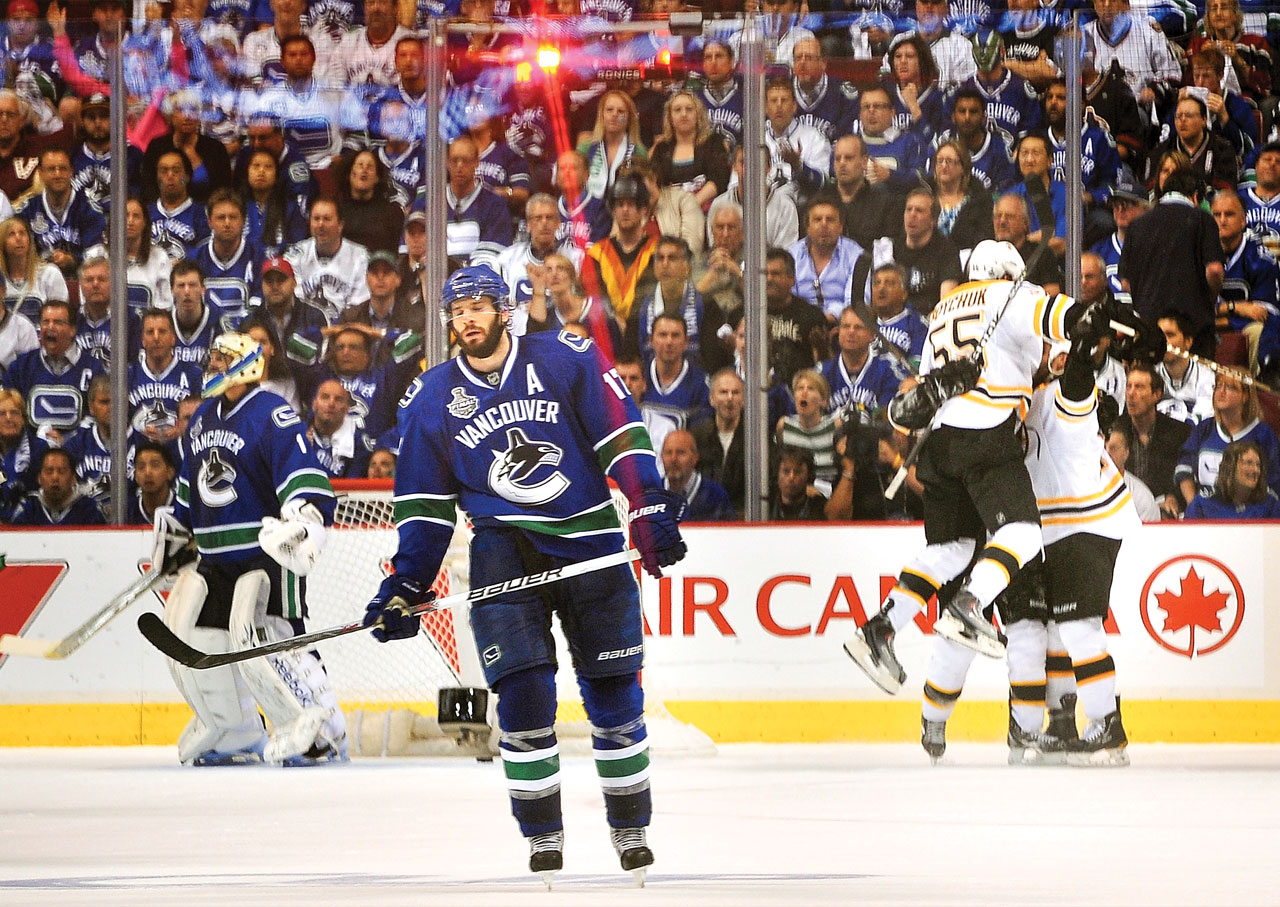 From ice level, the waning moments of a winner-take-all Stanley Cup contest are as frenzied as you'd imagine. And by the time the final horn sounds, it can be hard to process the missed opportunity. But it sinks in, eventually.
TORRES The last 12 minutes of that game [in 2006], man. It was friggin' high-intensity. Trying stuff. It was just reckless abandon, putting guys through the wall, putting pucks on the net. You didn't want any regrets.
LAFAYETTE The team believed in each other so much. I honestly remember there being five seconds left on the clock and still thinking that we were going to tie it up. That's the truth.
McLEAN They pulled me in the last minute, so I was on the bench. I was seeing what was going on and just wishing and wishing that something would happen. And then the final buzzer went off.
PISANI When the buzzer sounded, it was one of the most heart-wrenching noises I've ever heard.
CONROY "What? It's done?" It was one of those moments where you're just in shock. The other guys were celebrating, of course, and it was loud.
McLEAN The first thing I saw was Mark Messier jumping up and down, throwing his stick. And you try to look the other way.
PISANI You go through the lineups, shake hands. You don't really say too much. Congratulate the other team on winning. You're not really feeling good about it.
McLEAN My most vivid memory of the lineup involved Doug Lidster. I played with Doug since I got [to Vancouver] in '87, and then he was traded that year and ended up in New York. Here's your ex-teammate you played with for the better part of six years getting ready to hoist the Cup.
LAFAYETTE I remember the buzzer going, but I don't remember shaking hands.
CONROY You know what? I really don't remember shaking hands and all that, either. I remember mainly just being stunned and sitting in the locker room thinking, "We were so close."
WARRENER I didn't even think of [shaking hands] at the time. I went straight to the room and started breaking things.
McLEAN Back in the room, everyone sat in silence. What can you say? Everybody is thinking the same thing. It was a time for everybody to deal with it, to think about what we just went through, and we'll talk about it later. Over a few beers.
PISANI It's such a grind. You're basically playing until the third week of June, knowing that you're starting again in August. It's exhausting, mentally and physically. So you can imagine it's a sombre room after something like that.
LAFAYETTE I don't even remember going into the room. I shut it out completely. I was in denial. The next thing I actually remember is standing in front of the mirror and shaving off my playoff beard. So I go from the buzzer to the beard, and I blacked out everything in between. And I kind of wish I could have blacked out hitting the post, but unfortunately I remember that. [Laughs]
TORRES It was tough, man. F–k, we were pissed off.
McLEAN I looked around, and I remember feeling completely bad for a guy like Murray Craven. That was his third kick at the can—he was there twice with Philadelphia then comes with us and couldn't win it. You think about that for a bit, and then it hits you: OK, time to shave the beard. [Laughs]
PISANI You realize you were one goal away. And that feeling never really goes away. All the hard work and effort you put in and to come up short… It's tough to swallow.
CONROY We had it. We had two chances and weren't able to find a way… [But] that's sports. It's the closest I'd ever gotten, and it was pretty heartbreaking, to say the least.
WARRENER That was my third Cup Final. I had lost against Dallas—the Brett Hull "no goal"—and lost to Colorado in four straight. [Calgary] was the closest I got, but I take no consolation in that.
McLEAN It sinks in more afterwards. When you're in it, you're hardly thinking about how big the moment actually is. Deep down, you know, but it's only afterwards, when you kick back, that you say, "Holy, we were so close to winning it." All this blood, sweat and tears for two months of hockey—and a lot of it, because we played a ton of overtime games—[but] it's all for naught. Yes, we gained a lot of experience, and it was a fantastic run. But you're the bridesmaid. There's no medal for second place. It's just them hoisting the Cup, drinking champagne out of it.
TORRES The reason I was able to stay sane after going through that is because I knew we had left it all out there. There's no remorse that you half-assed it, that you didn't go hard every shift. I gave everything I had to this team. We came up short, but that's why I can take the positives from it and cherish it, because we each left it all out there. If you don't, it'll haunt you.
EPILOGUE
For some, going through it once wasn't enough—they had to relive it 17 years later. Enter the most recent game-seven Stanley Cup Final loser, the 2011 Vancouver Canucks, and an all-too-familiar pain.
TORRES It's nuts—nuts, man. We should have won [in 2011]. But you have to be able to win a game on the road. We went into Boston and it was too much. They were too good, too strong. It was a great, physical series—back and forth, some big hits. We had a chance to win it on home ice and we didn't do it. That's the way she goes.
McLEAN I was at game six in Boston. They brought some of us out to watch the game. We were in the stands and, unfortunately, right from the get-go you could see they weren't in the game. So that was tough, flying back with the team. There was chatter that they wanted us to go down on the ice with them if they won game seven. That's the stuff you have to think about, you have to plan, even if you don't want to jinx yourself.
LAFAYETTE Certainly the media saw the connection between me—I think specifically because of my play on the post—and that team getting back to a game seven of the Cup Final. Vancouver has had some great teams, and to think that they've been to the Cup Final just twice now with that type of consistency and quality is amazing. It shows you how tough it is to get back there. A lot of things happened in the early part of my career, things you take for granted and figure they'll happen again—until they never do. I knew if Vancouver had a Stanley Cup in their history then my post would be a lot less significant. But it's tough, because I remember watching [game seven in 2011] and asking myself, "If you have to lose a game seven, is there an easier way to lose?" And I don't think there is.
McLEAN We [the '94 Canucks] were a team that came from behind to make a go of it, as opposed to being up 2–0 and letting it slide. And at the end of the day, [the 2011 team] wasn't really in it for games six and seven.
LAFAYETTE It's hard to lose game seven. Those two [Canucks] teams lost in very different ways. And I'll tell you: They both suck.
This story originally appeared in Sportsnet magazine. Subscribe here.