Although it seems like the injury isn't as serious as initially thought, the Tampa Bay Lightning will once again be without Ben Bishop in Game 3 of the Eastern Conference Final. They may be forced to rely on Andrei Vasilevskiy for most of this series, if not all of it.
Even if Bishop does return, his injury could linger and have a negative impact on his performance.
That brings us to the question of whether the Lightning can win with the inexperienced, but talented, Vasilevskiy in goal. In order to see how the goalies compare to each other, we can break down their save percentages by zone. Because Vasilevskiy has only played a few minutes in the playoffs, we'll use the entire season for both him and Bishop.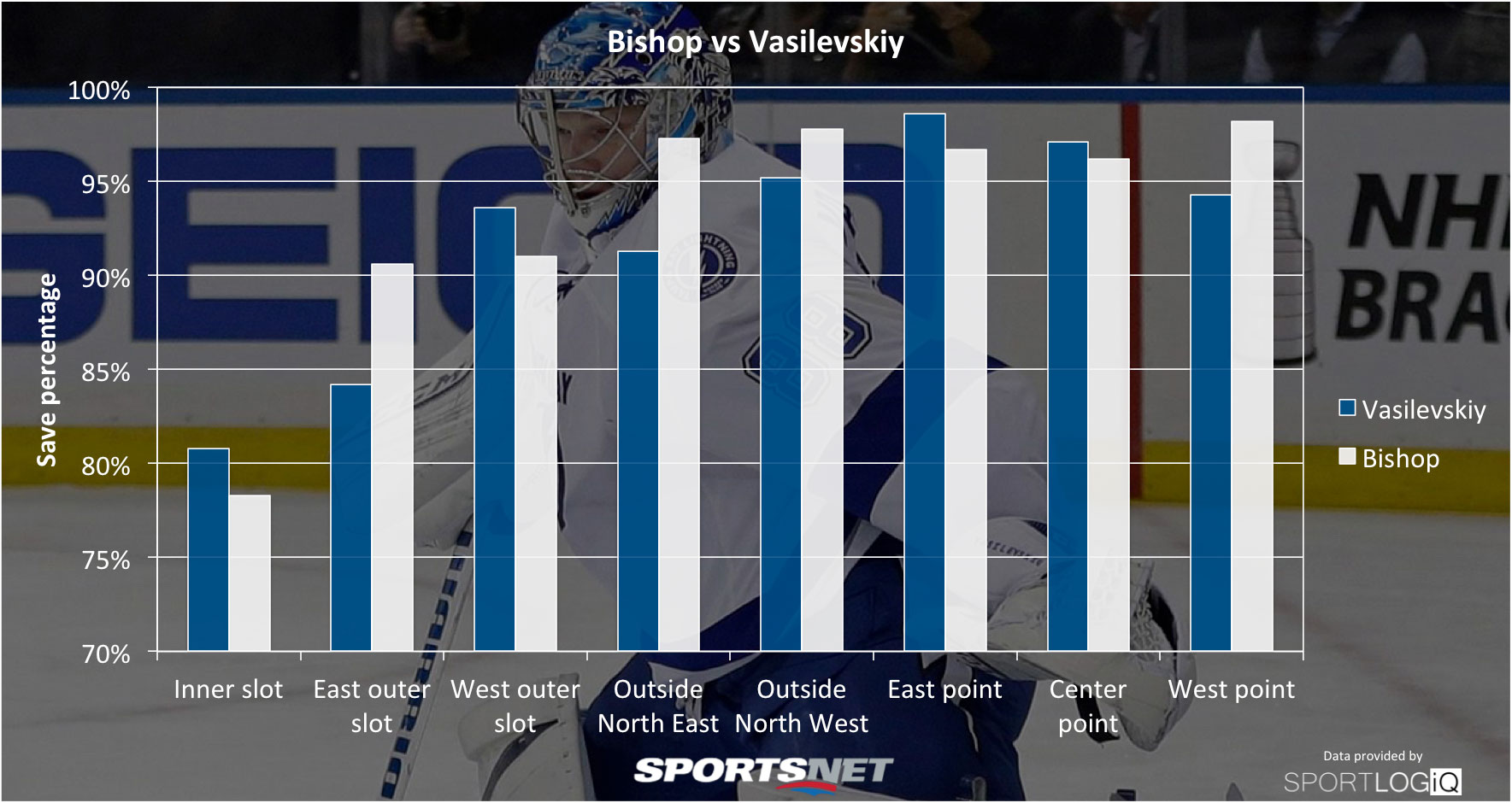 Surprisingly, the younger goalie has boasted the better save percentage in the highest danger area, though in the playoffs Bishop has been better. Vasilevskiy also holds a slight advantage on shots from the point. However, he has a weakness when facing shots coming off the right wing.
Bishop is an extraordinarily consistent goaltender, with very little fluctuation on shots coming from his left or right side, but Vasilevskiy is significantly worse than the average NHL goaltender on shots coming from his left.
Whatever the reasoning for this, it hasn't been a problem so far against the Pittsburgh Penguins. But it is a weakness the Penguins could theoretically exploit by having left-handed shooters attack off the right wing.
Fortunately for the Lightning, their best defenceman happens to be Victor Hedman, who is positioned on the left side, and happens to be playing the best hockey of his career.
It may necessitate a different focus than playing with Bishop in net, but it doesn't look like Vasilevskiy is enough of a downgrade that he would prevent the Lightning from being competitive. His superior save percentage in the Inner Slot may actually give him a net advantage, with such a high percentage of goals in the NHL coming from that area.
One area where the Lightning may miss Bishop doesn't have anything to do with stopping pucks. Bishop is among the best puck-handling goaltenders in the NHL, completing 1.6 controlled zone exits per 20 minutes of play at even strength, whereas Vasilevskiy completes just 0.6 per 20, putting slightly more pressure on his defencemen to move the puck.
It may not be a big difference, but Bishop's ability to hit players in stride for chances on the rush has been a difference-making skill in the playoffs before, and it will be interesting to see if his absence hurts the Lightning's transition game.