CHICAGO — It was the most important "pushing and shoving" of the season for the Chicago Blackhawks.
Patrick Kane was cleared for contact and practiced with the team on Monday. The dynamic winger, who broke his collarbone in February, then received medical clearance to play in Game 1 of the playoffs on Wednesday night in Nashville.
"Patrick has been working extremely diligently with his rehabilitation and has recently returned to full-contact practice without any difficulty," team physician Dr. Michael Terry said in a release. "After discussions with Patrick and the team, and examining Patrick today, we collectively feel it is appropriate, with minimal risk, for him to return to full participation."
STANLEY CUP PLAYOFFS: | Broadcast Schedule | Rogers GameCentre LIVE | Stanley Cup Playoffs Fantasy Hockey
New Sportsnet app: iTunes | Google Play
Kane wasn't hit hard in practice, but said he is nearly ready for the physical demands of a game. After he had surgery on Feb. 25, Terry said a full recovery would take "approximately 12 weeks."
"I wouldn't necessarily call that contact," he said of Monday's skate. "It was more like pushing and shoving."
Kane missed the final 21 games of the season, and the All-Star still finished second on the team with 27 goals and 64 points. He was a candidate for the Hart Trophy for NHL MVP when he was hurt in the first period of a 3-2 shootout win over Florida on Feb. 24.
"We'll see how he does again tomorrow," coach Joel Quenneville said long before the Blackhawks issued the statement with Terry's comments. "I thought he had real good progress today. He got cleared for contact and handled everything pretty well."
So could Kane be in the lineup Wednesday?
"Yeah, he could," Quenneville said.
Also speaking before Terry's statement, Kane said his return hinges on getting medical clearance.
"I feel pretty good," he said. "Obviously itching to play. Any hockey player who would be in this situation where you're off for almost seven weeks (would be).
"But obviously you don't want to go back to Square One. You want to be able to contribute and be able to help the team out."
Forward Brad Richards and defenceman Kimmo Timonen, a pair of veterans who were acquired to give Chicago depth for a long playoff run, both said they are ready to play after missing the last three regular-season games with upper-body injuries.
---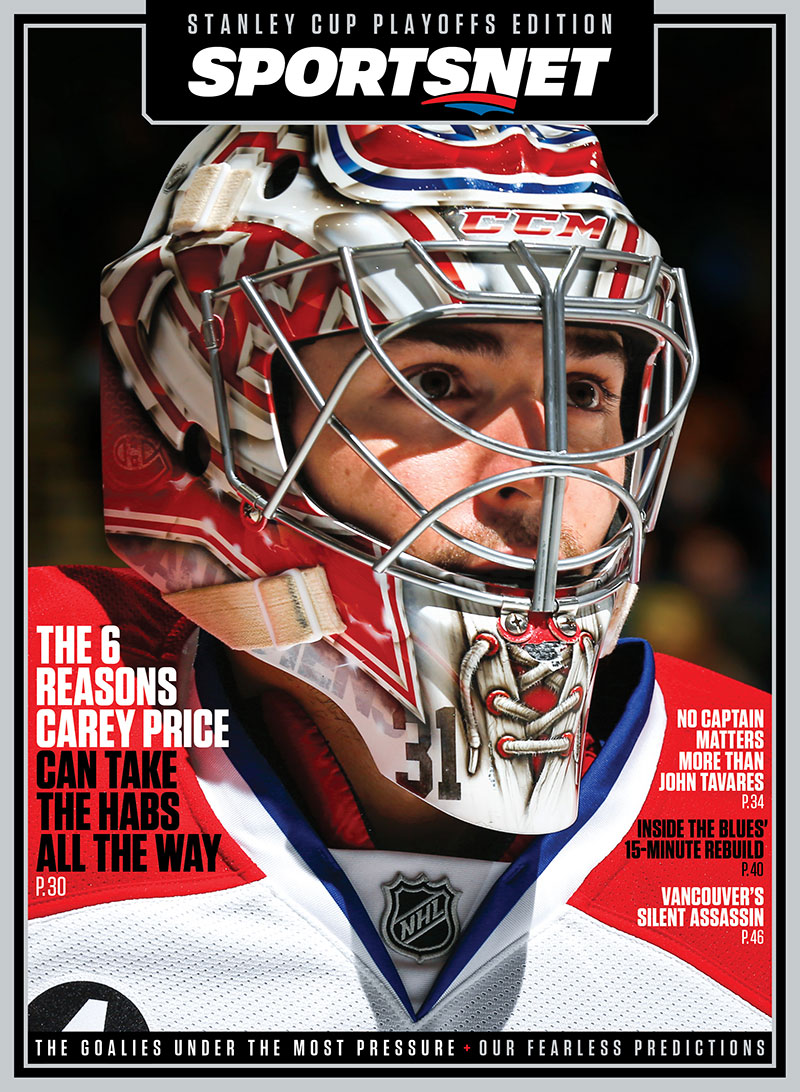 Sportsnet Magazine Stanley Cup Playoffs Edition: The six reasons why Carey Price can take the Montreal Canadiens all the way. Download it right now on your iOS or Android device, free to Sportsnet ONE subscribers.
---
Richards signed a $2 million, one-year contract with the Blackhawks last summer after being bought out by the New York Rangers.
The centre, who turns 35 on May 2, is on the second half of a stellar career, but has produced in spurts for Chicago this season. He had 12 goals and 37 points in 76 games.
"Today was another day that was a step in the right direction for Kaner and for other guys," Richards said. "Either way, it's exciting for everybody … the best part of what we do is starting Wednesday night."
The 40-year-old Timonen joined the Blackhawks in a trade deadline deal with Philadelphia to give them experience and depth on defence. He hadn't played all season for the Flyers as he recovered from a blood disorder that caused potentially dangerous clotting.
He averaged just under 12 minutes of ice time per game in 16 games with Chicago.