Gone are the days of the nightly program at hockey games.
Sure, they're still distributed in front of ticket gates at NHL games, but nobody relies on them for information they way they used to.
We know the players' numbers, we can see their names clearly on their backs and now there's this thing called the internet.
One thing that hasn't changed is the hunger for hockey art.
The Columbus Blue Jackets have been creating game day posters this season that promote the team's home tilt with each visitor.
Their one-night-only design feels like a game program of old with a hint of Broadway theatre. One poster promoting a game versus the Maple Leafs features a Blue Jackets fans mowing the lawn. Another has a wiley Coyote chasing the Jackets' mascot 'Stinger' along a desert highway.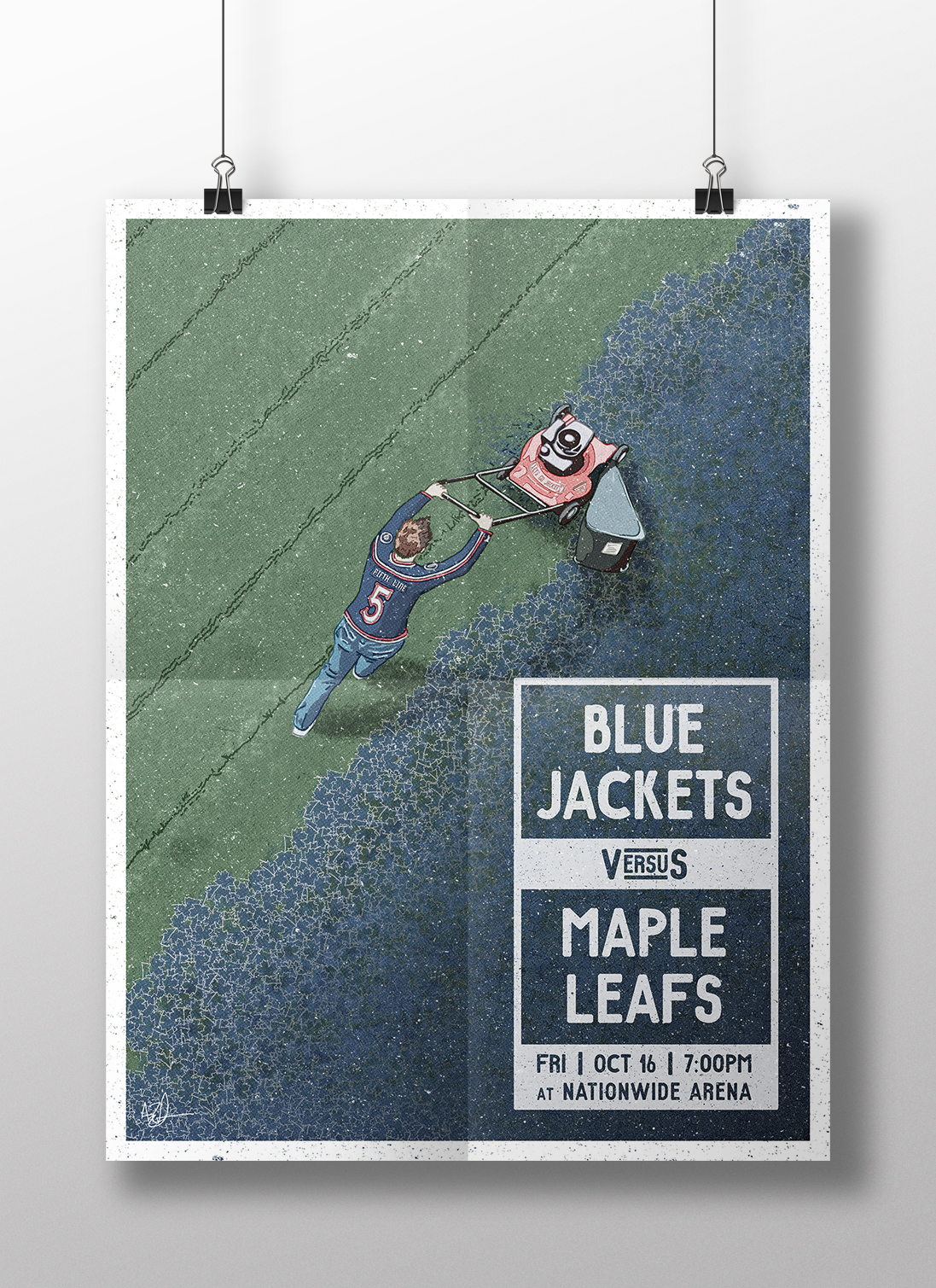 For hockey fans who want more than just a game day preview article outlining their club's recent power play record, meet graphic designer Anthony Zych — the man behind the art.
Zych was a student at Ohio State University a few years ago when the athletic department reached out to the Blue Jackets on his behalf. Now he does everything from posters to tickets to 50-foot displays outside the arena.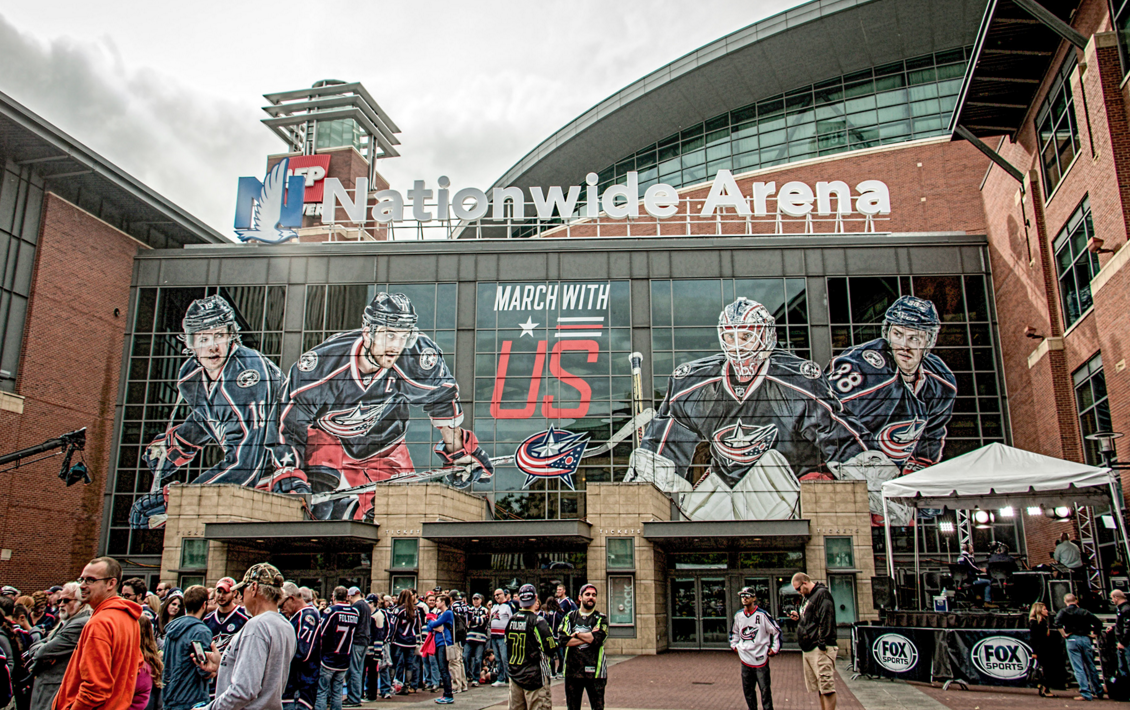 "The response has been overwhelmingly positive," Zych told Sportsnet. "I had to step back and say, 'wow – I can't imagine how this happened in the first place.'"
The NHL game is promoted on a 24-hour cycle. Morning skate reports, injury updates, intermission interviews, on the bench interviews, HBO and Epix — everything is about right now. That's why these posters seem to work so well as a comment and good-natured jab at the visiting opponent.
"That's been kind of the idea is to (have the look of) an old theatre cover for a show you'd see on Broadway or something," said Zych (his favourite is the Leafs poster.) "That's where some of the inspiration comes from is programs where it wasn't so much about information, it was intricate paintings and illustrations of your favourite players."
As much as the hockey media should be about reporting on the realities of the game, the game is also reality television.
"I'm a graphic designer by title but what's very important is we need to communicate," said Zych. "I like being able to tell some kind of a story, an engaging element.
"I like to have a subtle dig with each poster," Zych continued. "With the Islanders one, from 1995-97 they had the fisherman logo and that's always been a touchy aspect to the team's history. It's a little way to poke fun at something."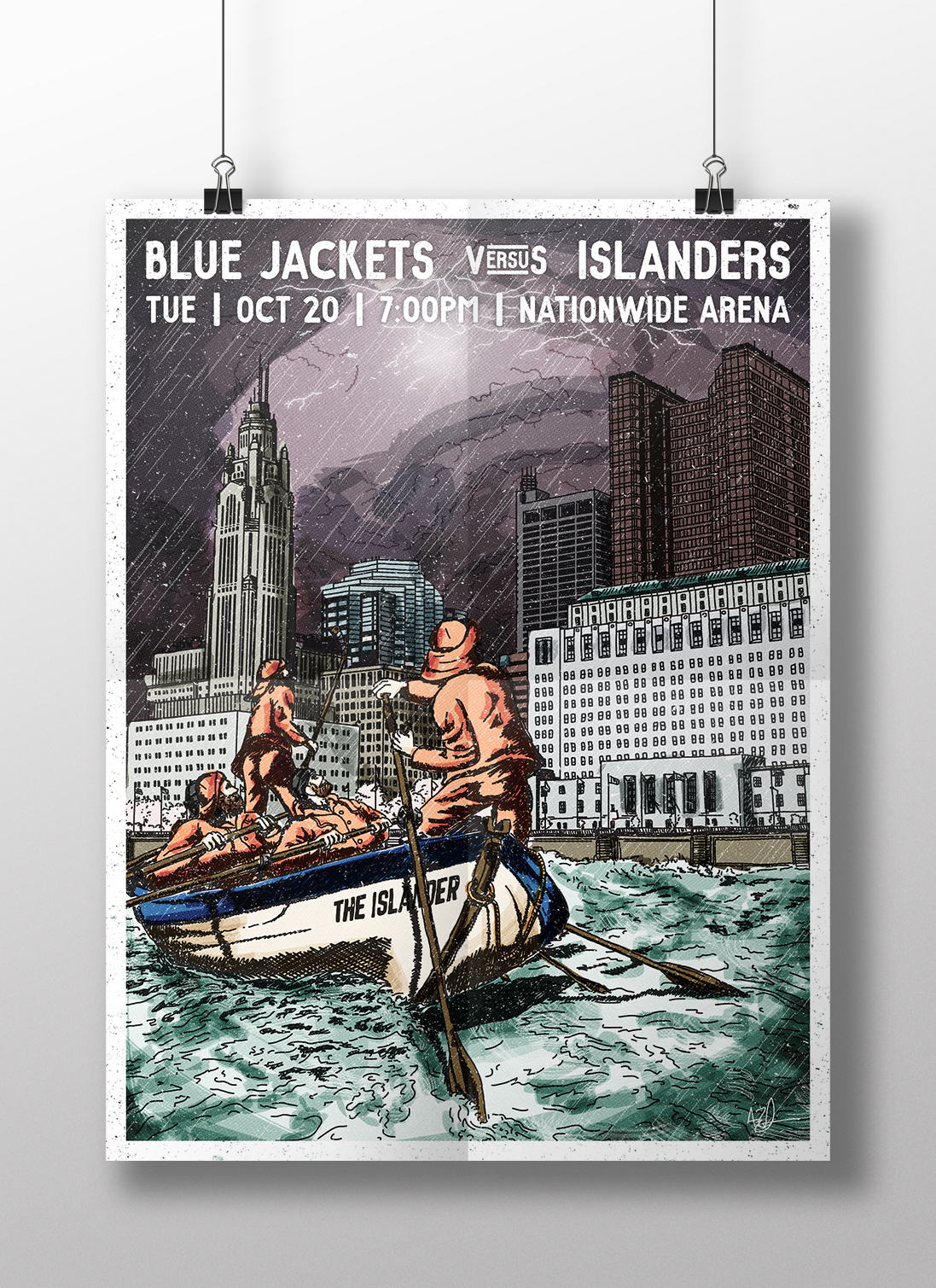 For a recent expansion team like the Blue Jackets (relatively speaking), honing a loyal and passionate fan base can be a slow burn. Intermittent playoff successes and the allure of college football in Ohio makes growing a hockey following a constant challenge.
"It's fun to work with a team, it's fast-paced and exciting," said Zych. "My big passion within design and sports is branding. Actually helping a team come up with a voice for themselves. It's about helping other people discover their true voice. I love what it means to fans to put on a jersey. That involves a lot of branding: what's on the jersey and how does it make the person feel?"
Anthony hasn't yet pitched a jersey idea to the team but said it would be a dream of his. Check out his complete works here.
"I'm not saying I'm going to make fans out of this but it helps the organization take a different focus on how we're promoting the team, even simply what game is coming up," he said. "Communicating differently – I nerd out over that stuff."
The Blue Jackets' Twitter account has become a favourite to follow, but not just for Columbus folk. Their prominent voice, along with a young, talented roster — hiccups included — could not only mean that these posters are about to blow up but that they could become fodder for copycats.
"You always see marketing trends in sports," said Zych. "It will interesting to see if other teams pick up on doing these game posters. There are MLS teams that have fans creating the posters for each game, maybe we'll start to see that in the NHL — a fan project rather than just coming from one source."
The Jackets finally won their first home game against the Arizona Coyotes this past Saturday, a detail that a superstitious Zych is fully aware of.
"Now I feel like I'm bad luck," he said. "When the team struggles, I'll stop going to the games. I've always been superstitious with sports — I wear the same Blue Jackets jersey to every game, the same jeans. As a former pitcher who wouldn't step on the lines, you never want to throw of a team's mojo and I hope these posters aren't bad luck."
Whatever the score is at the end of the season, it should be a great story.