As we near the NHL's trade deadline day on Feb. 25, new rumours appear almost daily about who could be available and which teams are interested. However, the biggest add that any team could conceivably make as a rental has been out there as a name since before the season even began: Artemi Panarin.
Panarin's career has been nothing short of brilliance, spending two seasons with the Chicago Blackhawks on a line with Patrick Kane that had some wondering if he was a product of the superstar American, followed by the last season and a half in Columbus, where he has been even more impressive without an elite-level linemate.
Through 291 career games in the regular season, Panarin has accumulated 290 points, placing him seventh in the NHL over that time behind Kane, Nikita Kucherov, Connor McDavid, Sidney Crosby, Blake Wheeler, and Johnny Gaudreau. When you cut things down to even-strength points only, Panarin is third behind McDavid and Kane with 137. That's some elite company, with none of those other names even close to becoming available. But Panarin is an unrestricted free agent after this season, and has stated he wants to play near the ocean.
As the season has gone on it seemed at points that Panarin was willing to think about staying in Columbus, but a statement from his agent recently threw water on that idea, saying Panarin wouldn't discuss anything until after the season.
That's an uncomfortable situation for the Blue Jackets to deal with. Sergei Bobrovsky is in a similar situation, though it's looking even less likely that he'll be back, so there's a somewhat decent chance that Panarin could be had for a contending team.
Why a team should want Panarin
Beyond the offensive components of his game, which are obvious, Panarin is one of the league's premier transition players, and his defensive game isn't something to be ignored either.
Transition is where I would focus most though, because while I had him ranked as the third-best left wing in the game coming into the season behind Brad Marchand and Taylor Hall, when it comes to moving the puck from the defensive zone to the offensive zone, there's no one better at his position.
Overall, Panarin makes 24.5 transition-driving plays per 20 minutes of ice time, but if you're a team looking to improve that area of the game, where specifically does Panarin stand out?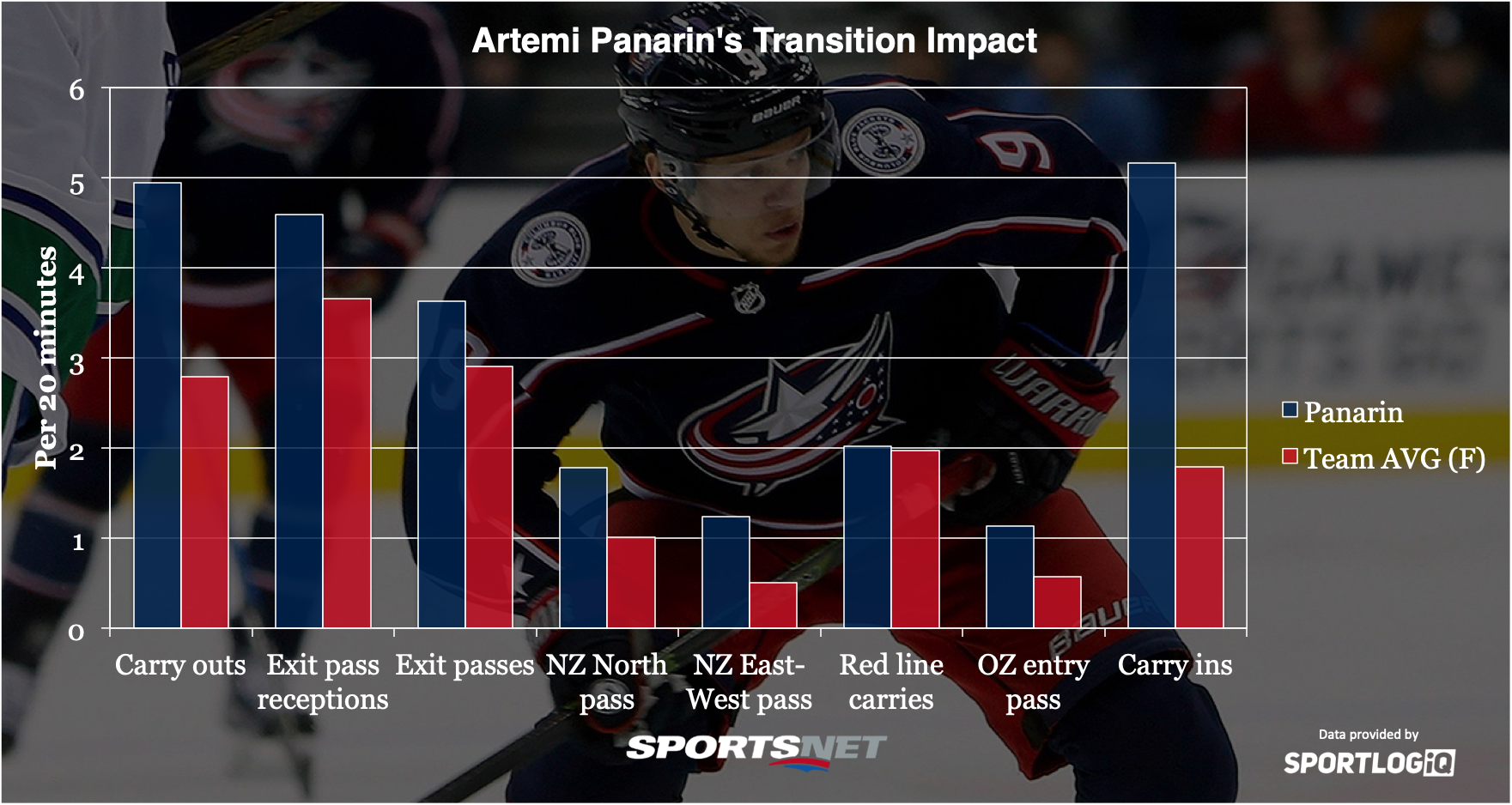 The better question might be, 'Where does Panarin not stand out?' He doesn't like to carry the puck across the red line very often compared to other Blue Jackets forwards, but everything else he does more often.
On zone exits, Panarin is a one-man zone clearing machine, carrying and passing the puck out more often than any other Blue Jacket forward, while also being available for exit passes when he's not the one with the puck. In the neutral zone he's all about puck movement, creating lanes to enter the zone, and completing more offensive zone entries through passes than everyone in the NHL except for Mikael Backlund.
While the Blue Jackets as a team prefer to dump the puck in, Panarin carries nearly three times as often as the rest of the roster.
Even if we take the next-best transition forward on the Blue Jackets in Pierre-Luc Dubois, he completes nearly seven fewer transition plays per 20 minutes as Panarin, which so far translates to about 300 fewer on the year.
As one-man impact goes, especially on the wing, there aren't many bigger than Panarin — it's no wonder why he sports an absurdly impressive team-high Corsi relative to teammates of +10.56 according to Corsica.
Playoff teams whose forwards struggle with transition plays, like Nashville and Dallas, or teams who struggle moving the puck up the ice overall, like the Islanders and Maple Leafs, could see Panarin adding a whole new dimension to their roster.
Should Columbus keep him?
The one hiccup in all this is that the Columbus Blue Jackets are in a playoff spot, and while they're just hanging on, it has to be tempting to go for it with Panarin and Bobrovsky and try to get some playoff success for a franchise that's been knocking on the door for a few years now.
I'm not one to suggest that there's no difference between a team bringing in Panarin as a rental and the Blue Jackets treating him as a rental. It's wholly different to add a player of Panarin's caliber to a team that's already a playoff contender than it is to simply keep him, and the argument that they wouldn't be spending assets to keep him doesn't work for me either.
While Columbus doesn't need to spend anything other than Panarin's salary to keep him the rest of the year, they would be in effect spending the potential assets they would get back in a trade.
With that said, losing Panarin would make the Blue Jackets first-round fodder at best, and miss the playoffs at worst, so the question becomes, 'What is more valuable: potential assets in return for a Panarin trade, or playoff success?'
It's the kind of thing that can only be judged in hindsight, but for a team like Columbus that will probably take a couple of years to get to this level again if Bobrovsky and Panarin leave in the off-season, you have to think that the potential of winning a playoff series or even two is worth more to the Blue Jackets as a franchise than a low first-round pick and a couple of prospects.
At a certain point, teams have to stop spinning their wheels and go all in, and keeping Panarin and Bobrovsky for a playoff run wouldn't be losing them for nothing — it could be a franchise turning point.