Put on some comfy pants, load up the calculator on your phone and sit back in a comfy chair. We're going to get a little armchair GM action going here.
In one of the more intriguing scenarios we could see this summer, the idea that Erik Karlsson could use his UFA powers to join the Tampa Bay Lightning is a mind-bending salary cap exercise. How exactly could the Lightning, already one of the seven teams facing cap hell, also afford the biggest name available? It'd take some massaging of the roster for sure, but don't scoff at the possibility.
"I still think Erik Karlsson's going to be this year's John Tavares," Sportsnet's Chris Johnston said on The FAN 960 in Calgary. "Taking a few suitors and getting wooed and seeing what's out there. I think that he's going to leverage the market and really make a life decision for himself.
"It would be a surprise to me if we see him sign an extension before June 23 when he's able to officially start talking to other teams."
Tampa Bay is facing some tough questions anyway, but the fact they followed up a record-tying 62-win season with a first-round sweep perhaps makes giving a jolt to the roster a little more urgent.
You're not going to tear this thing down or trade your best players, but if you can add someone on Karlsson's level for a relative bargain it would be worth exploring. They've tried to get the player a few times before and with Julien BriseBois in the GM's chair now, he may not be as attached to the moveable pieces on the roster as the former GM who put them there.
Other teams such as the New York Rangers, ones with plenty of cap space and an opening window to move out of a rebuild toward contention, may be more natural or plausible landing spots. But the Lightning are a legitimate dark horse in this race.
Chris Johnston weighs in on the Hurricanes/Bruins series and Karlsson's future
May 16 2019
"Tampa requires some serious surgery to their roster, but there's been a long song and dance between the Lightning and Karlsson," Johnston continued.
"They tried to trade for him out of Ottawa a couple years ago. He and Victor Hedman are very close. And that's an organization I can see being bold just for the sheer fact they've been hanging around and not won a Cup yet. I could see Julien BriseBois, entering his second year as a general manager, making a Kawhi Leonard type of move for their team to shake things up that might result in Erik signing there. I also believe he would give them a little bit of a discount for the Florida factor and that it's such a nice place to live and some of the other star players have done the same.
"Don't rule out the Lightning if they start making moves to clear cap space."
So what exactly is their situation and how may this scenario possibly play out?
Let's have a peek at Tampa Bay's cap outlook. Keep in mind they're also still being charged $1,833,333 for Matt Carle's buyout.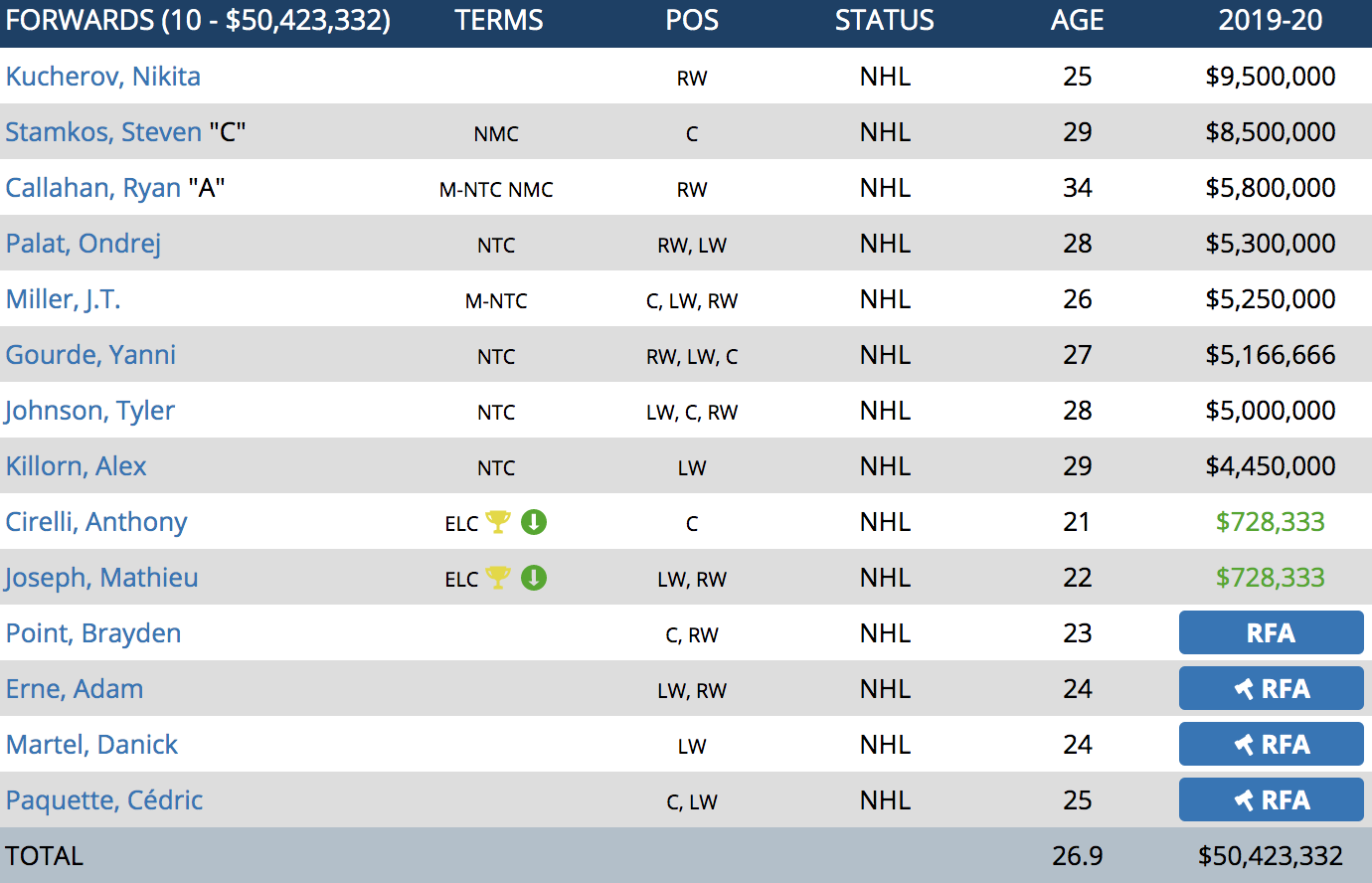 First, assuming next year's cap ceiling is $83 million, Tampa Bay heads into the off-season with $8,576,669 in room with 17 players under contract. The first order of business is to sign RFA Brayden Point, who as a centre should be the most valuable of all the big-ticket RFAs.
Of course with the state tax situation what it is, we'd expect him to follow Steven Stamkos and Nikita Kucherov and take a little less against the cap. Evolving Wild has Point's projected cap hit at $8.24 million if he signs a five-year extension, so if we add that to their current cap number Tampa would already have only about $300,000 in room. You can see the problem here.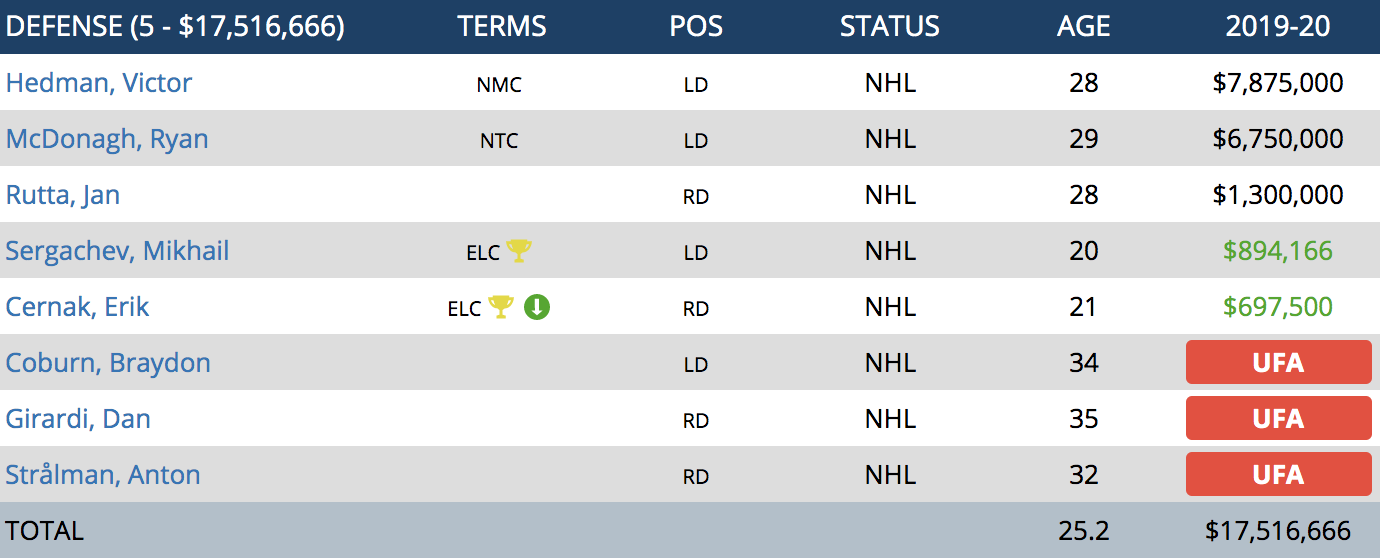 The reason Karlsson is even being discussed as a target, though, is because Tampa stands to lose three blue-liners to free agency already. Given they should be contending for the Cup again in 2020, they'll want to replace some of those guys with more than farmhands looking to make the next step up. And if Karlsson is going to become a Lightning, we're working on the assumption that none of Anton Stralman, Ryan McDonagh or Dan Girardi are back in 2019-20.
So let's try and work this thing out step by step. Starting from the position the Lightning are in today, with 10 forwards, five defencemen and two goalies signed for next season with $8,576,669 in cap room and three other RFAs on the roster, how can they get to a place where Karlsson fits in with a competitive salary?
Here's how that may look:
TRADE RYAN CALLAHAN
The assistant captain has just one year left on his contract, so a buyout to clear room is less than ideal because the Lightning would face a charge in 2020-21 that they otherwise wouldn't have on the books. A trade is the preferred route here. Callahan has a modified no-trade clause through which he can submit a list of 16 destinations. We're not too restricted here.
Callahan is not the same player Tampa acquired in the Martin St. Louis trade five years ago and he hasn't even hit 20 points since 2016. At 34 years old, Callahan alone isn't going to entice any GM to make a trade, but if the Lightning add a sweetener, some team with plenty of cap space would gladly take on one more year of Callahan at full value ($5.8 million). The Lightning already put their first-rounder on the table as a condition in a trade with the Rangers, but since they didn't win the Cup they'll keep it. Perhaps it can still be used in a move like this. In fact, if New York isn't going to land Karlsson, would they take back Callahan for a season if it means adding the first-rounder anyway?
Cap space after trading Callahan: $14,376,669
TRADE J.T. MILLER
Finding a way forward in this fantasy isn't as simple as picking two or three players off the roster making $4 plus million and sending them away via trade. That's because some of those who would be great candidates to move — Tyler Johnson, Ondrej Palat and Alex Killorn — all have full no-trade clauses. Sure, maybe one of them would be fine to move away from an elite contender like Tampa Bay, but the odds aren't in favour of that outcome.
So we'll instead turn our focus to Miller, who has only been part of this for the past season and a bit, and who only has modified no-trade protection. According to CapFriendly, Miller can have a list of eight teams he wouldn't accept a trade to, so the Lightning would have lots of options.
Unlike with Callahan, Tampa wouldn't have to add anything in with Miller — this could be a move for futures where no salary comes back to Tampa Bay. Miller is right in his prime at 26 years old, has four more years on his contract with a $5.25-million cap hit and is a good bet to approach 20 goals and 50 points. That's decent second line production and he also brings some net-front sturdiness, which more teams could be after following what we've seen in these playoffs.
Cap space after trading Miller: $19,626,669
[snippet ID=3322139]
TAKING CARE OF YOUR OWN RFAs/FILLING OUT THE ROSTER
To get Karlsson the Lightning would need to squeeze out all the cap room they can, so let's tie up the loose ends at the lower end of the salary chart. Adam Erne, Cedric Paquette and Danick Martel are three RFAs on the roster, so to gauge what they may sign for we'll again turn to Evolving Wild's model. Assuming Erne goes for $1,016,778, Paquette for $1,463,096 and Martel for $769,044, the total of the three would sit at $3,248,918. With Callahan and Miller out of the picture and these three RFAs signed, the Lightning would still sit with 11 forwards at this point and a cap picture that suddenly looks close to being able to afford a discounted Karlsson.
Cap space after signing the three RFA forwards: $16,377,751
SIGN POINT TO A BRIDGE DEAL INSTEAD
Even though we still have all this cap room, it's going to go away in flash. At first blush, if the Lightning slot in both Point and Karlsson at $8 million, Tampa Bay would have 12 forwards, six defencemen and two goalies with $377,751 of cap space. That leaves no space for scratches or room for recalls so we still need to find more room. As you can see, this would all be very tight.
Heading back to Evolving Wild's contract projections, if Tampa Bay walks Point straight to free agency with a four-year deal, the model has that coming in at a $7,696,313. If a three-year deal is in the cards, according to the projections that would shave off a bit more and come in at a $7,280,895 cap hit. Let's choose that route.
This would mean in three years time Point would be up again, but still be a year away from UFA. Considering the years you'd be buying on that deal, he'd basically be treated as a UFA anyway, but in the meantime, you could shave off enough money to maybe put you in position to land Karlsson. Arguably, everyone would be OK with this as it would put the team in its best position to win.
Cap space after signing Point to a three-year bridge contract: $9,096,856
HOW ELSE CAN WE SAVE MONEY?
We'd basically have to look back to Paquette and Erne, who we signed for a combined $2,479,874 and downgrade on them. Whether you can trade them for their own cheaper replacements or simply shed those contracts for futures and swap in a couple of players from the minors, these depth spots are interchangeable parts of the lineup.
Carter Verhaeghe, 23, led the AHL with 32 goals and 82 points this season. He's also an RFA, but likely wouldn't cost much more than $800,000. Alex Barre-Boulet, 22, also scored 32 goals in the AHL and will cost only $759,258 for another two seasons. Cory Conacher, 29, was the third-highest scoring Syracuse Crunch and costs only $700,000 against the cap. He's the most experienced of the three and has 74 points in 189 NHL games. Not bad for a depth player.
So let's take out Erne and Paquette to replace them with these three players. We now have 13 forwards and are set for 2019-20 at the position.
Cap space after using the farm to add cheaper talent: $9,317,472
DETERMINING KARLSSON'S COST
This whole thing can come crumbling down for a variety of reasons, but chief among those is if Karlsson isn't open to taking some kind of a discount.
Right now the highest-paid defenceman in the league is Drew Doughty, who signed last July for an $11 million AAV. P.K. Subban comes in next at $9 million on a contract signed in 2014. Oliver Ekman-Larsson signed for $8.25 million last summer, and John Carlson for $8 million in 2018 as well, just before he became UFA eligible. Victor Hedman signed for an AAV of $7.875 million on an eight-year deal in 2016, but makes $8 million in actual salary for the first seven of those. Basically, $8 million is the minimum starting point here.
If Karlsson signs for that great, you can fill out your seventh defenceman position with a low-cost player and have a few hundred thousand to maneuver with. But for every dollar more Karlsson costs, that squeeze gets even tighter. It all comes down to how much Karlsson would want to be a Lightning and what kind of discount he would give to do it.
For fun, let's assume Karlsson becomes the third-highest paid blue-liner in the league and costs Tampa Bay an AAV of $8.3 million.
A LOOK AT OUR FINAL TEAM
With everything except the seventh defenceman filled out, we have about $1 million in cap space remaining.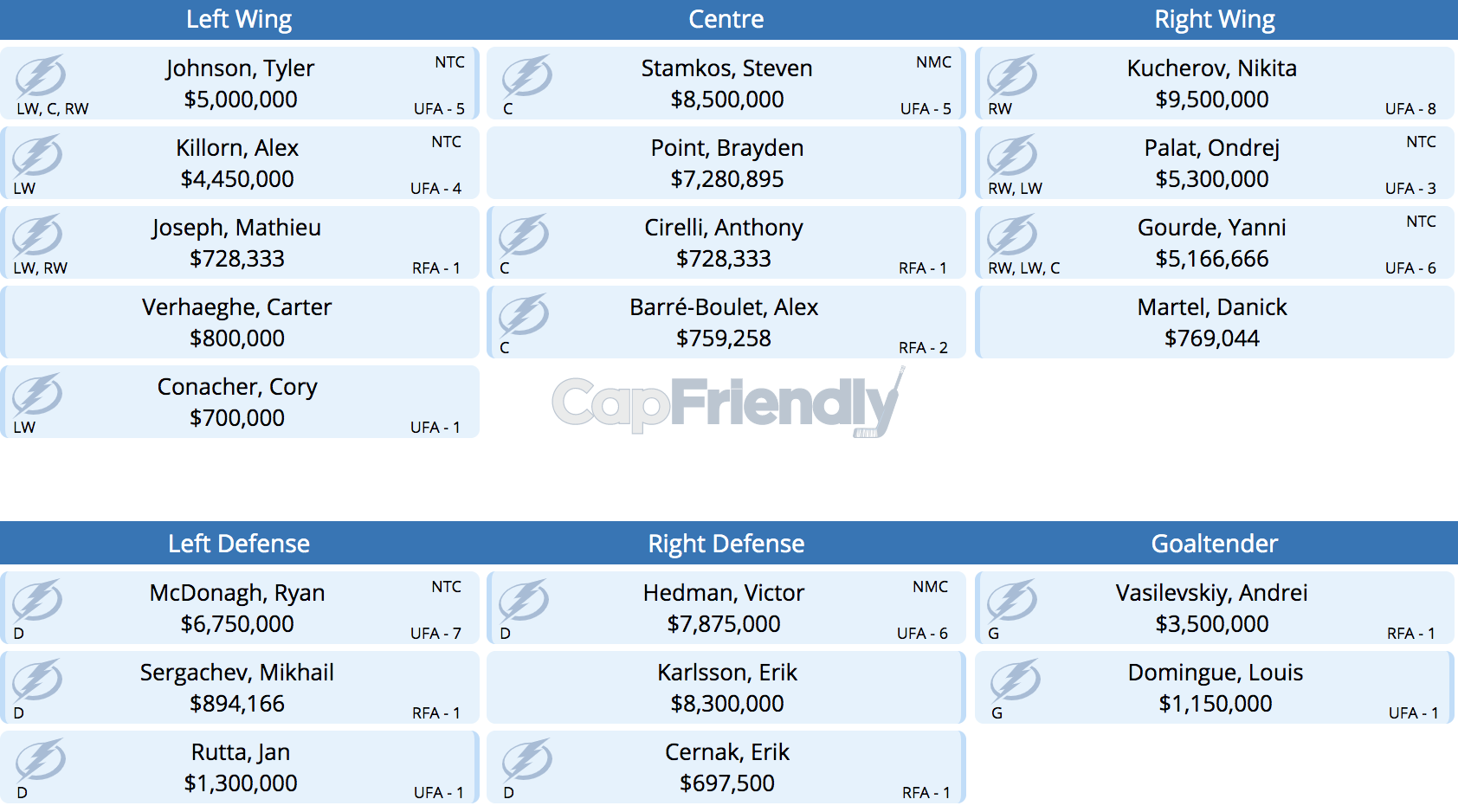 OK, SO KARLSSON SIGNS WITH TAMPA BAY — WHAT'S NEXT?
This was already a difficult exercise, where we had to do cartwheels to fit Karlsson under the cap. But we only figured this out for 2019-20.
The reality is Karlsson is still in his prime years, turning 29 years old in nine days, and looking for more than a one-year deal. Given his injuries, term figures to be a sticking point for Karlsson anywhere he considers signing. And that's the biggest conundrum when trying to fit Karlsson under Tampa Bay's cap — how will this keep working beyond next season?
Elliotte Friedman: Sharks haven't given up hope on keeping Karlsson
May 21 2019
One year from now, Andrei Vasilevskiy will be an RFA turning 26 years old in the summer. He'll be after a hefty raise from his current $3.5 million and, considering they'd be buying mostly UFA years, that price tag may double. Anthony Cirelli will also be coming off his entry-level contract and in line to become a multi-millionaire. Mikhail Sergachev, too, will be off his ELC. Right away, you're probably at least looking at an extra $10 million added against the cap with those three.
You would have one more trading option next summer. Alex Killorn's no-trade clause turns into a modified one where he can submit a list of 16 teams to be dealt to. You'd basically have to move him for this to keep working.
In 2021 the Seattle expansion draft comes into play and warps this entire outlook.
The conclusion is that, yes, the Lightning can find a way to fit in Karlsson, but it wouldn't be easy. He could potentially narrowly fit in next season, but that crunch gets even tighter a year from now.
Should one or two of the players with no-trade clauses waive them this summer, everything opens up a bit more. If there's a blockbuster deal out there involving one or more of Johnson, Palat or Killorn for the Lightning to re-work significant portions of their roster, then this picture could get a little clearer. But we can't count on that outcome today.
Looking at this as practically as we can for a pie in the sky scenario makes it obvious that it would take great pains for the Lightning to accomplish. And with all the injury concerns floating around Karlsson, the big question is whether or not he's worth all this hassle at this stage of his career for a team that already has plenty of great pieces in place.
[relatedlinks]