ST. LOUIS — It's become a stock question over the years: "What are you going to say to your players before the big game, coach?"
I've got news for you. They never tell you the truth.
There are platitudes like "playing the game the right way," "gap control," and "taking it one shift at a time." But to get to the real words that will resonate in the St. Louis Blues dressing room over the next 24 hours, let's go back a few years.
Back to 2013 when the Blues, after having lost in Round 2 to the Stanley Cup champion Los Angeles Kings the year before, dropped their Round 1 series to L.A. a year later. They were absolutely devastated that day in the room; their program built to move ahead had taken a huge step back.
I was in the visitor's room at the Staples Center that day and asked Ken Hitchcock what message he would leave with his team to chew on for another long summer in St. Louis. By then, there was no point in telling any fibs.
"What I'm going to tell them is, it's not good enough," he said that day. "If you want to be a champion, it's not good enough. You can't allow the goalie to outwork you. If you want to be a champion, you've got to find a way.
"You get opportunities … you can't miss those opportunities," he continued. "I hope our players, when they pause and reflect on this, that they're really, really pissed off. We brought everything to the beach, and didn't get it into the water."
The Blues have been to the beach so many times since their last visit to the Stanley Cup back in 1970 — ironically, the last time the National Hockey League playoffs took place without a Canadian team — and never come away with anything but a sunburn. The Blues once made the playoffs for 25 consecutive seasons, yet went as far as the Conference Final only twice.
In 1986, when they emerged from the Norris Division, the Calgary Flames awaited. In 2001, they were a speed bump on Colorado's Cup tour. Since Hitchcock's arrival in 2011, it's been a mix of Los Angeles and Chicago, with a Minnesota upset last spring thrown in.
Today the Blues lead the defending Stanley Cup champion Blackhawks three games to one, and are on the verge of scratching an itch that has been perturbing this Original 12 town for a long time. And you should believe them when they say they're not getting too excited quite yet.
"I think we've smartened up to falling into those traps in previous years of thinking we've accomplished something before we've accomplished anything," captain David Backes said on Wednesday. "In order to win a series, you've got to win four games. We've only won three, so we've got a tall task still ahead of us."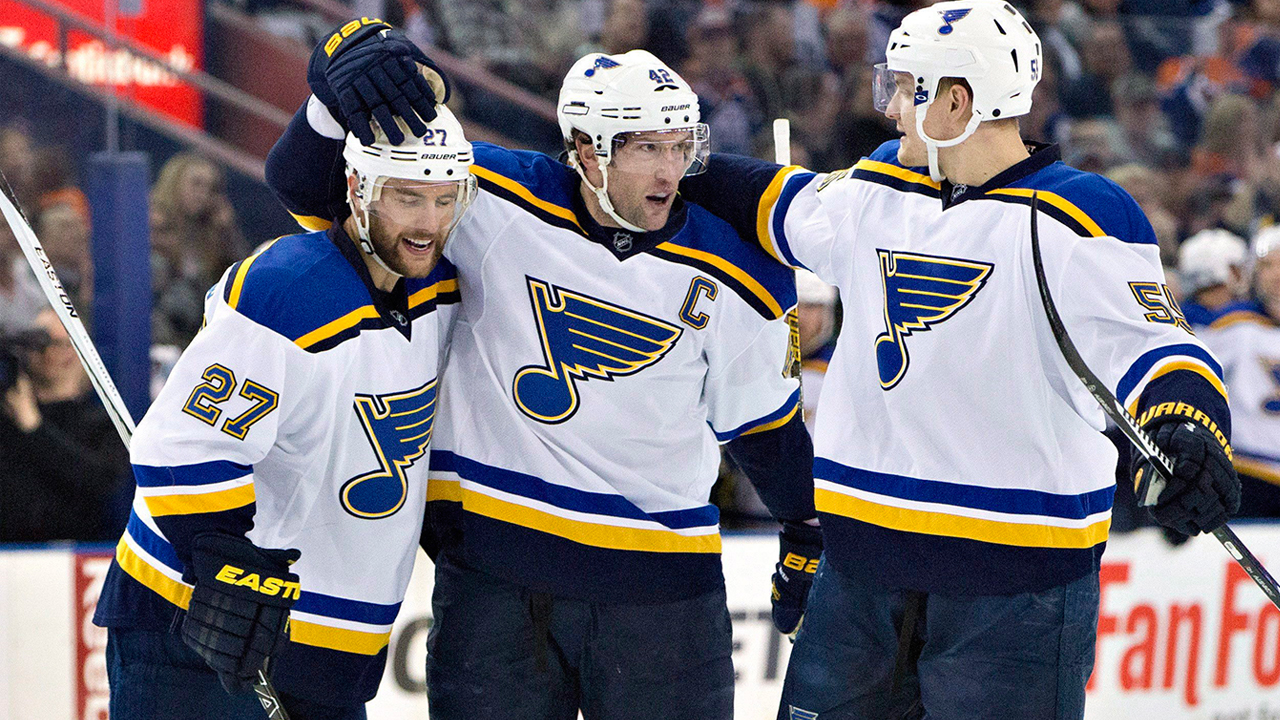 This is a team with a history of disappointment, in a town that couldn't win in the Plager years, the Federko years, the Sutter years, the Gilmour years or the Hull, Oates and Cujo years. And they might not win it all this spring — but knocking off those smug, successful Blackhawks would go a long ways for hockey fans that sport the Blue Note.
"I've been here five years," Hitchcock began. "The Minnesota series [in '15] was a strange series because we walked into a team that was on top of their game and they had a goalie who was lights-out. They were a hot team. [Prior to that] we lost to Cup champions. We weren't good enough."
Nobody knows when he doesn't have enough horse to win like the jockey. Hitchcock went to the whip but he knew his team didn't have the chops to compete with the Kings and Hawks.
"We gave everything we had," he said. "I've never seen a team pour everything into that series we had in L.A. [in '13], and that series against Chicago [in '14]…
"I left the L.A. and Chicago series' feeling like, 'Man, we just max'ed out, and it wasn't good enough.' Yes, it was in overtime, or it was a close game. But it wasn't good enough. Now, we feel like we're a real team."
These Blues are deeper than the Blackhawks on both forward and defence, and thus far are getting better goaltending from Brian Elliott than the Blackhawks are from Corey Crawford. Patrick Kane was in alone twice in Game 4 and didn't score. Alex Steen was in alone once and did.
Kane and Artemi Panarin have one goal between them in this series. Vladimir Tarasenko has three, with one called back on a close offside review.
St. Louis has learned how to win by losing, and surely, they've learned a lot over the years. The Hawks are depleted, vulnerable and perhaps ready to enjoy an extended summer.
The time is now for these Blues. Time to deliver.
Finally.