The Toronto Maple Leafs face an interesting situation this year as the trade deadline approaches. They've had an up and down season that hasn't instilled confidence this is a Stanley Cup contending year, especially since they'll have to face Boston or Tampa Bay in the first round. It's not a big deal if this isn't their breakthrough season, since when the Cup window does arrive, it should be open for a long time.
The additional issue is that in what might be a really tough year to go on a run in the playoffs, the Leafs also have a couple of pending unrestricted free agents who could bring in some nice future assets in Tyler Bozak and James van Riemsdyk.
Bozak is in the midst of a disappointing year, coming off arguably the best season of his career, while van Riemsdyk is on pace for his usual 30ish goals per season.
Both players generally play relatively sheltered, third-line minutes in an offensive role.
Dimitri Filipovic provides entertaining and thoughtful dialogue about the game of hockey with an analytical edge. Not as nerdy as it sounds.
The question for the Leafs is whether trading either or both of these players would significantly hurt their chances of a playoff run this year, and if the long-term benefit to the team is worth it.
Considering the Leafs' organizational depth at wing, the temptation is to think van Riemsdyk is the more replaceable player, but I'm not sure that's true.
One reason is that the Leafs have begun to experiment with William Nylander at centre, and it turns out he's really good there – and probably better than Bozak, which makes Bozak pretty replaceable.
Bozak may be having a disappointing offensive year, but overall he's been fine and is above team average in Corsi and expected goals. Part of that is due to being sheltered, but that doesn't explain everything. Since centres are always in demand, Bozak's trade value would probably surprise most Leafs fans — remember Lars Eller brought back two second-round picks in 2016.
Eller had two years left on his contract at the time, which is a factor, but prices are sometimes higher at the deadline.
On the other hand, van Riemsdyk is a fairly unique player, and if the Leafs moved Bozak at the deadline and lost JVR to free agency, it would prove very difficult to replace both van Riemsdyk and Nylander (who would be moved to centre) on the wing, no matter how much depth they have at the position.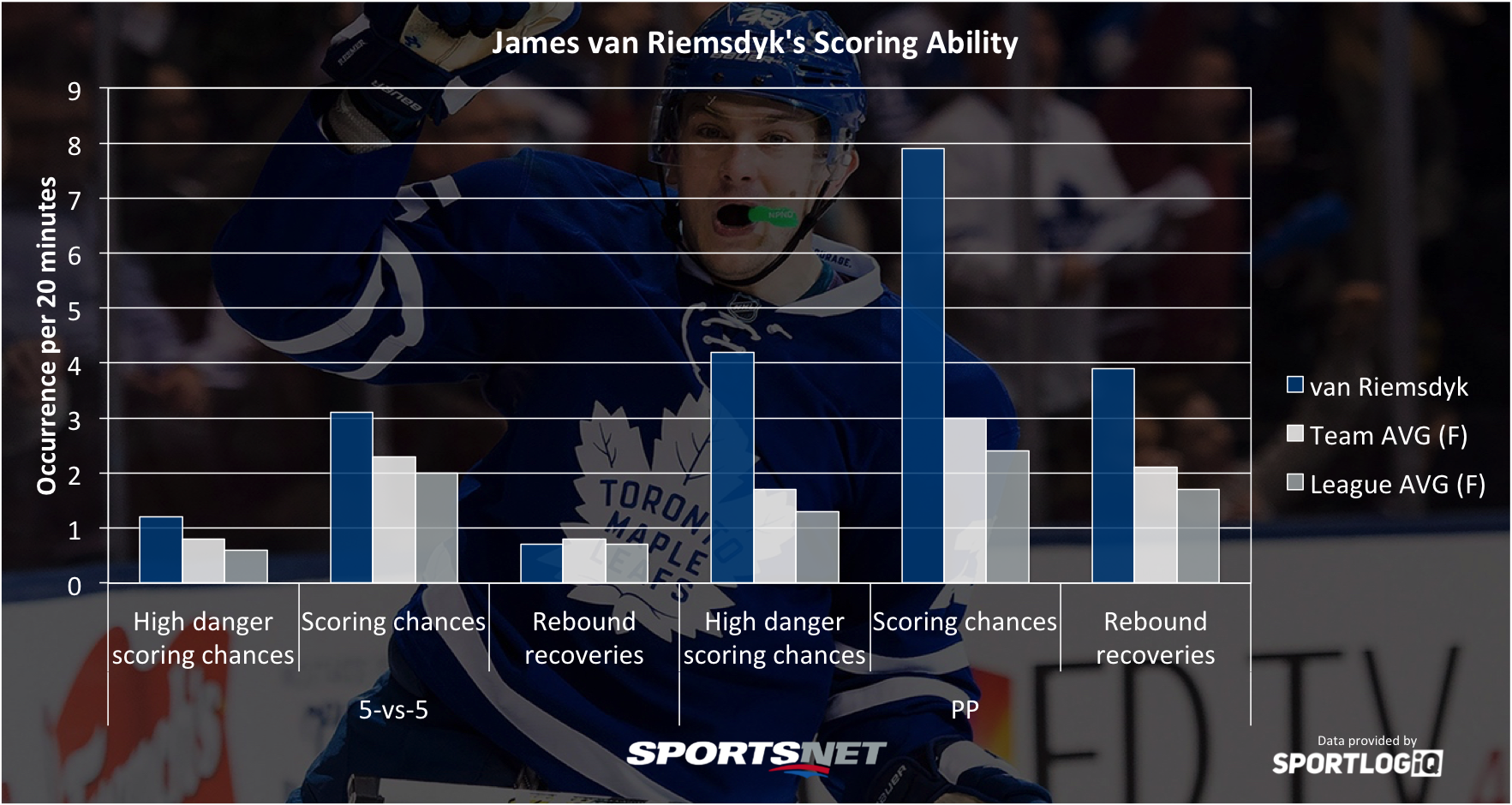 Compared to the rest of the NHL, van Riemsdyk is a scoring chance machine, especially from in tight to the net, and on the power play. The only player on the Leafs who comes anywhere close to him in high danger chances is Auston Matthews, and while Matthews is ahead at even strength, van Riemsdyk dwarfs him on the power play due to his net-front role and ability to recover rebounds for second chances.
No player in the league recovers as many rebound chances on the power play as van Riemsdyk on a per-minute basis, and that abundance of second chances creates scoring opportunities and goals that otherwise would not exist. JVR's talent is not easy to find or replace.
You may find a player within the Leafs' organization who creates as many scoring chances as van Riemsdyk in total, but the kind of scoring chances might be the same as another linemate, and they can't both shoot from the same area.
Senior Writer Ryan Dixon and NHL Editor Rory Boylen always give it 110%, but never rely on clichés when it comes to podcasting. Instead, they use a mix of facts, fun and a varied group of hockey voices to cover Canada's most beloved game.
It's true that van Riemsdyk is one-dimensional, there are some serious warts to his game, and the Leafs might not want to give him big money in the off-season at 28 years old when they have so many wingers ready to make the jump. But his specific profile is something you need in the playoffs, and they don't have anyone else like him.
Those facts mean his value should be excellent on the trade market, but I think his value to the Leafs is higher than what they would get in a trade. Even if they don't end up signing him in the off-season, crazy things can happen in the playoffs, and he would be a huge part of any success the Leafs could have.
For Bozak, it makes sense to move him considering the value he could have on the market, and Nylander's ability to slide in perfectly on a line that's already designed to play offence and not much defence. I would be extremely surprised if the Leafs were planning on retaining Bozak as an unrestricted free agent anyway.
It wouldn't hurt Toronto to keep Bozak for the playoffs, but they might be a better team by putting Nylander in his spot and promoting Kasperi Kapanen, or another solid Marlie, permanently.